If you are in Murray, Utah and looking to become or continue to be an 'RVer', be sure to check out Terry's RV. Located at 5545 S. State Street in Murray, near Salt Lake City, Terry's RV has been in business since 1967 as one of Utah's premiere RV dealerships. As can be seen in their reviews on Facebook and Google, they have been so successful in business due to their great prices and excellent customer service. Offering a large selection of RV types and models, from a list of manufacturers known for quality, gives customers the ability to compare models side by side to make sure the RV they choose is the best fit for their lifestyle.
Financing New & Used RVs
Terry's RV carries both new and used RVs that are available for test drive and offers financing and takes trade-ins. Being that they go through RV lending specialists, they are able to finance customers with a lower down payment requirement on average. Additionally, you can finance your RV for a longer term which keeps your monthly payments lower. Longer finance terms are offered because RV lending specialists know that RVs hold their value and resale appeal for longer than common vehicles used for daily commuting.
Parts & Services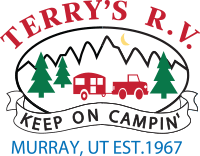 Along with their eclectic RV inventory, Terry's RV also has top of the line parts and service departments to help keep your RV ready to go on your next adventure. The parts department carries a large inventory and will gladly order anything they don't to give your RV what it needs. The service department consists of meticulously trained technicians that are dedicated to keeping your RV at peak performance for years to come. They are well aware of how important your time in your RV is and work to get you back on the road in good working order as quickly as possible while maintaining a high level of quality.