Have you ever wondered what the most popular RVs are in the RV world? We have some insight on that. As the longest standing RV classifieds website on the Internet, we've learned a thing or two about what RVers are looking for when it comes to buying an RV. Using data from our over 1.5 million visitors per month on RVUSA.com, we crunched the numbers to find out which RVs are catching the interest of RVers around the country. These website stats helped us create this list of the top 10 most viewed RVs on RVUSA.
Finding the Most Viewed RVs on RVUSA
While data may fluctuate slightly from month to month, these are the rigs RVUSA users are viewing over and over. They may not start out searching for these rigs (that's a stat for another blog post), but these are the ones searches land on time and time again. 
There are two different manufacturers that dominate this list, and the RV type varies from fifth wheels to travel trailers and Class C motorhomes. If an RV made this list, that's a good indication it's worth a look as you shop for your next RV.
Keystone Montana
It's no wonder the Keystone Montana is one of RVUSA's most viewed RVs considering it's North America's No. 1 selling luxury fifth wheel. It has been in production for over 20 years, and Keystone has perfected the design over the years with feedback from real life Montana owners. This RV looks remarkably modern inside and has all the features you'd expect in an upscale RV. On newer models, you can choose units outfitted with a variety of different levels solar packages for extended boondocking trips and a closer connection to the outdoors.
Keystone Cougar
There seems to be a pattern with Keystone RVs and views from RV shoppers. The Cougar is made in both fifth wheel and travel trailer units, and depending on the type and floor plan you choose, they can be towed with a half-ton or a full-size truck. These rigs are perfect for family RVing as Keystone has designed the Cougar's range of floor plans to fit families at many different stages of life. The key (pun intended) is finding the Keystone Cougar floor plan that meets your family's needs.
Keystone Springdale
The final Keystone on our most viewed RVs list is the Keystone Springdale. There's more Keystone Springdale inventory on RVUSA than any other Keystone rig, so you're bound to find one at an RV dealership near you. This aluminum sided travel trailer is a great entry level RV and is priced more affordably than some of Keystone's other options.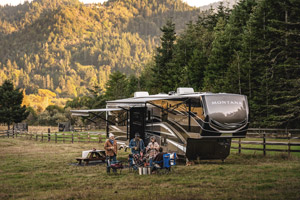 Want to find your perfect Keystone RV?
Grand Design Reflection
Grand Design is the other RV manufacturer that dominates our most viewed RVs list, and their Reflection travel trailers and Reflection fifth wheels are a great combination of luxury and value. Both types of Reflection RVs put an emphasis on easy towability and have convenient features like pass-through storage, auto leveling, universal docking stations and more.
Grand Design Solitude
The Grand Design Solitude is Grand Design's highest end RV. It makes sense why this rig is garnering so many views: this luxury fifth wheel is designed for extended stays yet the price tag is surprisingly reasonable considering its elegance and abundance of features. Features like the residential refrigerator, pull-out trash and recycling bins and a stainless steel cook top and oven make this rig feel so much like home, you may never want to return.
Grand Design Imagine
Rounding out the Grand Design rigs on our most viewed RVs list is the Imagine. This travel trailer is lightweight but doesn't skimp out on features. It boasts an industry-leading tank capacity so you can camp longer without filling up your tanks. It's a great rig for small families and families with pets – some floor plans even have a pull out pet food tray!
Want to make a Grand Design RV your own?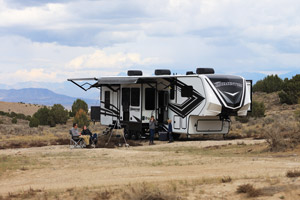 Heartland Prowler
While this is the only Heartland rig on our most viewed RVs list, this manufacturer is one of the most popular brands on RVUSA. The Prowler is their most popular rig on our classifieds site, which checks out: Heartland bills this travel trailer as the best-selling RV of all time. This aluminum sided rig is reliable and easy to use, which makes it a great rig for new RVers. It sports Heartland's beautiful interior design yet boasts an affordable price point.
Jayco Jay Flight SLX
Naturally, at least one unit from one of the oldest RV manufacturers out there has to make the list. Tons of RV shoppers love checking out the Jayco Jay Flight SLX travel trailers. The SLX is the shorter, single axle version, while the double-axle SLX 8 is much more spacious and in some floor plans, can sleep up to 14! Either way, there are a wide variety of options for traveling parties of any size. It's a perfect first RV for any family.
Coachmen Leprechaun
The Coachmen Leprechaun is the first non-towable RV to make the most viewed RVs list. This rig falls under the Forest River, Inc. umbrella and is available on both Ford and Chevy chassis depending on the floor plan. While many Class Cs are designed as couples coaches, the Leprechaun is actually a fantastic family rig.
Thor Motor Coach Four Winds
The Class C category gets a little more love on our most viewed RVs list with the Thor Motor Coach Four Winds. It's also available in both Ford and Chevy chassis varieties and is big enough to fit the whole family. Features like the upgraded suspension package for a smoother ride and a backup monitor make RVing easier than ever.
Shop the Top 10 most viewed RVs on RVUSA
This list is a fantastic place to start if you're looking to buy an RV for the first time or upgrade your current rig to a new model. With the growth of the RV industry, there are plenty of people looking to purchase their first rig, and lists like this can help you wade through the many options out there. When an RV is this popular with the avid RVers that browse RVUSA, that's an indication it's worth your consideration. As you shop these RVs on RVUSA, you'll find available units at RV dealerships near you where you can go see the rigs in person. Each RVer is different and has different camping needs, so let this list be your jumping off point and dive in to your RV search today!
Ready to find an RV for your adventures?