Newcomer's RV Guide
Between the diverse types of RVs and their range of capabilities it can be difficult to understand what's what. However, we've created multiple guides to make things easier. Below is our listing of models and types so you can easily identify the differences. This New RV Buyer's guide will explain the differences between the many types of RVs and towable trailers so you can find the one that's right for you!
However, you may be more interested in lifestyle questions. If so, click HERE to examine our Beginner's Guide to Full Time RVing.
You can also check out our RV Forums to meet other RV enthusiast and ask questions.
Bus Conversion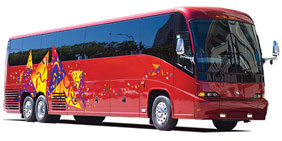 Basic luxury coaches that are designed to be used by private individuals as a luxurious means of travel, having all the comforts of home, living quarters, kitchen, bath and additional entertainment space with a touch of elegance found in 5 star accommodations.
Find Bus Conversions For Sale
---
Diesel Pushers (Class A Diesel)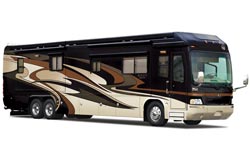 This class A motorhome is feature-rich and luxury-focused like the class A Gas motorhome below, making it ideal for both short trips as well as full-time living. What sets this motorhome apart is the powerful, rear-mounted diesel engine. Ranging from 20 - 45 feet, typical diesel pusher floor plans will include slide-out room extensions, large storage bays, complete kitchens, and even washer/dryer.
Find Diesel Pushers For Sale
---
Motorhome (Class A)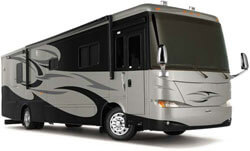 The living unit has been entirely constructed on a bare, specially designed motor vehicle chassis. It's a virtual "home-away from-home" on wheels, fully loaded and equipped for short trips, lengthy vacations and/or full timing. Price range is $50,000 to $900,000. Class A motorhomes are available with a powerful, rear-mounted diesel engine which is referred to as a Diesel Pusher, or with a front-mounted gas- or diesel-powered engine.
Van Camper (Class B)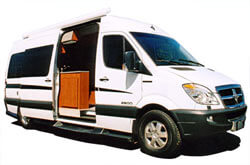 A panel type truck to which the RV manufacturer adds any of the following conveniences: sleeping, kitchen and toilet facilities. Also 110/120-volt hook-up, fresh water storage, city water hook-up and a top extension to provide more head room. Price range is $37,500 to $71,000.
Mini Motorhome (Class C)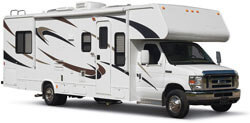 This unit is built on an automotive manufactured van frame with an attached cab section. The RV manufacturer completes the body section containing the living area and attaches it to the cab section. It's sometimes referred to as a mini-motorhome because it provides the conveniences of a larger motorhome in a scaled-down version and at a lower price. Price range is $42,000 to $121,000.
Fifth Wheel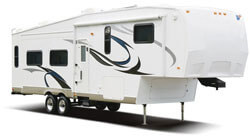 This unit can be equipped the same as the travel trailer but is constructed with a raised forward section that allows a bi-level floor plan. This style is designed to be towed by a pickup truck equipped with a special hitch in the truck bed. These two-level units can provide the greatest living of all towable RVs because they come equipped with all the comforts of home and are perfect for weekend getaways. Price range is $12,000 to $98,000.
Find Fifth Wheels For Sale
---
Travel Trailer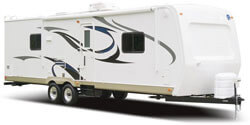 Ranges typically from 12 feet to 35 feet in length and is towed by means of a bumper or frame hitch attached to the towing vehicle (car, van or pick-up truck). The travel trailer provides all the comforts of home and is perfectly adaptable for weekend getaways, family vacations or full timing. Price range is $9,000 to $76,000.
Find Travel Trailers For Sale
---
Tiny House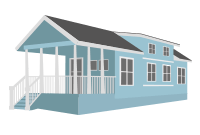 Tiny Houses, also referred as Tiny Homes, Micro Homes and Mini Homes, have burst onto the scene and are incredibly popular. These stylish homes are all about downsizing and living a simpler life all the while providing a cost-effective way to live, whether it¡¯s to rid yourself of mortgages or acquire a beautiful cabin for your favorite vacation destination. Each model is packed with residential amenities but with limited space, manufacturers have learned new ways to maximize space through functionality, creating unique models designed to meet different needs. Shop our inventory of Tiny Houses for Sale today on RVUSA. We feature a wide variety of dealers located throughout the United States and we¡¯re confident you¡¯ll find the perfect Tiny House!
Toy Hauler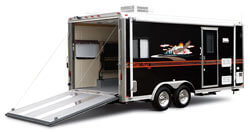 Available in fifth wheel, travel trailer, class A and class C versions, this RV has a built-in garage specifically designed to haul your "toys" including motorcycles, ATV's and any other sports equipment you may need to take along. Typically sleep up to 8 people. Price range is $21,000 to $58,000.
Find Toy Haulers For Sale
---
Expandable Trailer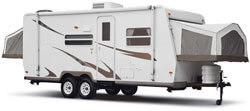 A hard sided trailer with pop out canvas type sections on the front and sometimes rear. Price range is $10,000 to $50,000.
Find Expandable Trailers For Sale
---
Folding Camping Trailer (Popup)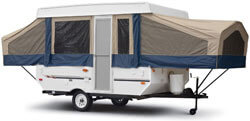 A recreational camping unit designed for temporary living quarters which is mounted on wheels and connected with collapsible sidewalls that fold for towing by a motorized vehicle. The folding camping trailer combines the experience of open-air tent camping with sleeping comforts, basic conveniences and weather protection found in other RVs. Price range is $3,500 to $18,000.
Truck Camper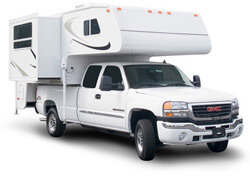 A camping unit designed to be loaded onto (slide-in camper) or affixed to the bed or chassis (chassis-mount camper) of a truck, constructed to provide temporary living quarters for recreational camping or travel use. The truck camper is popular for back road journeys, accessing remote locations and family recreational camping. Price range is $3,300 to $25,000.
Find Truck Campers For Sale
---
Park Model Trailer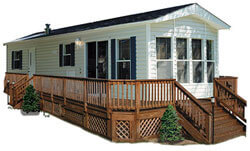 Designed for those RVers who like to spend the summer at their favorite campground or for those who prefer to head south during the winter. Park Models are often an economical and convenient alternative for long-term or seasonal camping. When set, park models may be connected to utilities necessary for operation of installed fixtures and appliances. It's built on a single chassis which is mounted on wheels. Price range is $20,000 to $55,000.
Find Park Models For Sale
---
Frequently Asked Questions

RVUSA has the answers!