If you've taken any sort of US history class (or watched the movie Hocus Pocus), you likely know about the Salem Witch Trials. Salem, Massachusetts is a neat place to check out anytime of year, but during the fall months, the area is booming with all things witches, warlocks and Halloween. There are so many extra things to see and experience, which is why we think you should plan to RV in Salem in October!
If you're still brewing up your fall RV travel itinerary, we've harvested a few reasons why you should include Salem on your list.
About Salem, Massachusetts
In case you need a little history refresher: Salem, Massachusetts is famous for the Salem Witch Trials of 1692. Depending on who you ask, though, it may be even more famous for being "home" to the Sanderson sisters! This town located northeast of Boston executed nearly 20 people in the 1600s because they believed them to be practicing witchcraft. It then went on to be the setting for the 1993 Disney film Hocus Pocus, about 3 sisters who were executed for being witches in those trials, now come back to life to hunt for children on Halloween night. While the reality of the town's most famous event is quite ghastly, they embrace their witchy lore. Even the high school's athletic teams are called the Witches. That's why you should RV in Salem in October! Here are a few of the best things to do and places to see.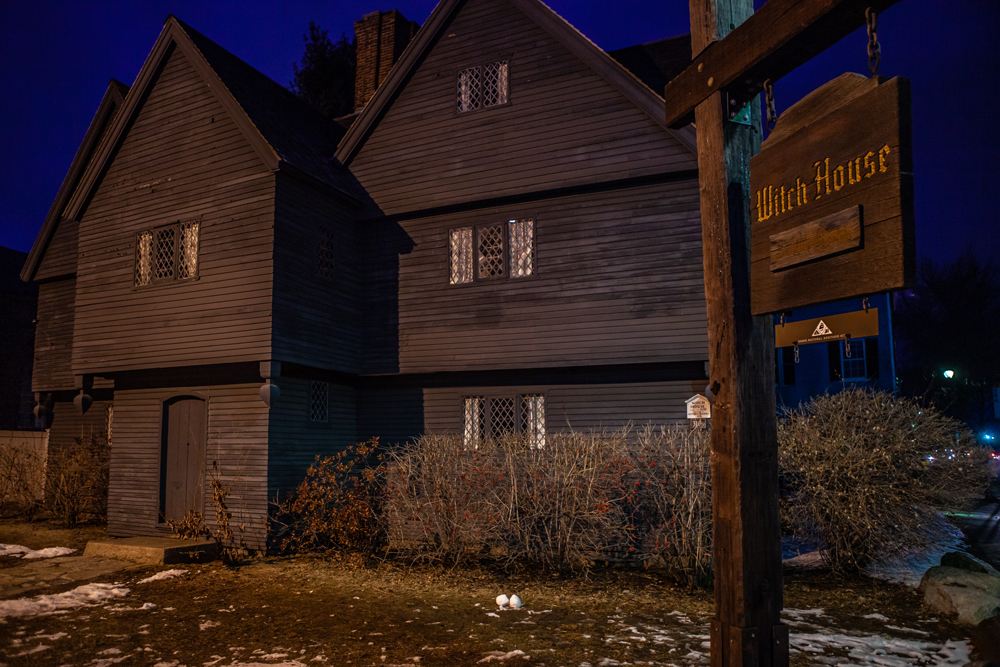 Salem Witch House
The first and probably most obvious stop for most tourists wanting to RV in Salem in October is the Salem Witch House. The mansion was once home to Judge Jonathan Corwin, who served as the judge during the Salem Witch Trials in 1692. It's dark and ghoulish exterior feels as unsettling as the history within the house itself. You can take a self-guided tour inside the house to learn about the trial and the time period in general. Though the town is completely surrounded with witchy history, this is the only still standing building that is directly tied to the trials.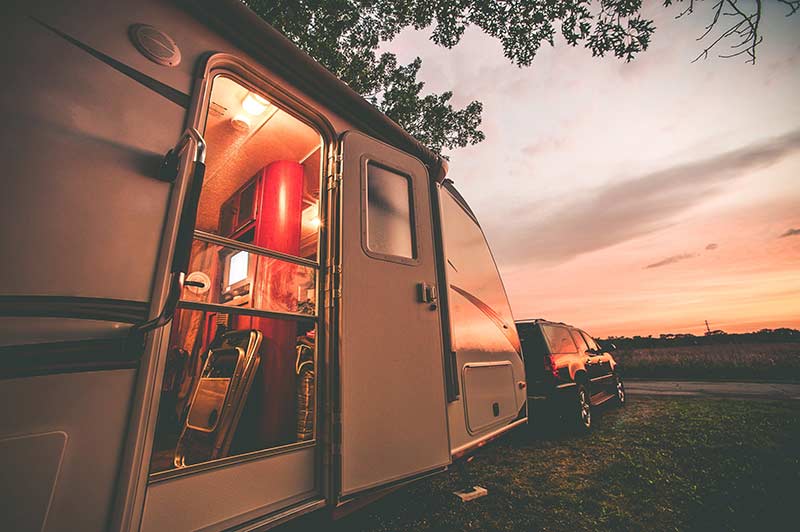 Need the perfect RV for spooky season adventures?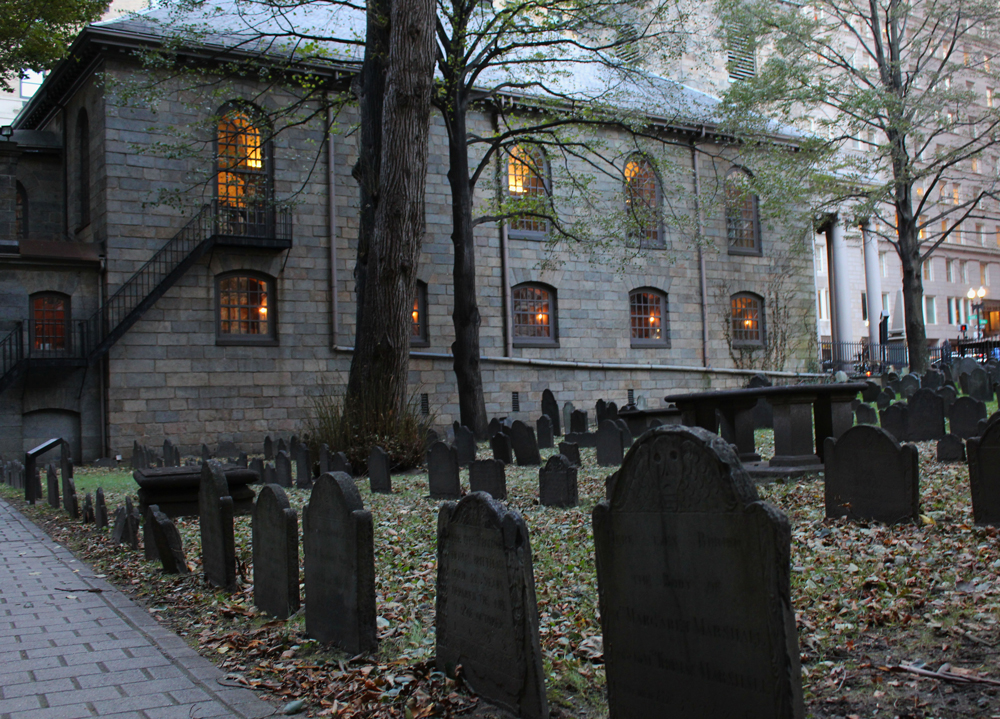 Haunted Tours
To no one's surprise, Salem is packed full of different spooky tours to participate in. Ever wanted to meet a true witch? At the Salem Witch Walk, you'll be able to talk to modern day witches and discover your own magic. You'll be blessed in a magic circle, visit magical places throughout Salem and learn about spells, potions and more.
You could also make a stop in the haunted neighborhood surrounding the Salem Wax Museum. Here, you'll find books, merchandise, witchy trinkets and more. The magic comes especially alive in October during Salem's "Haunted Happenings" event! This area becomes a haunted neighborhood, home to some of the best walking and haunted tours in Salem. One of those is the Candlelit Ghostly Walking Tour. Sign up for this spooky walking tour and you'll visit tons of haunted locations, all lit by candlelight. You'll learn about each building's supernatural activity and even the best practices for ghost photography! And there's extended hours during October to make sure you don't miss out.
If haunted houses are your thing, check out Frankenstein's Castle at the Wax Musem. Voted Salem's best haunted house, the castle is open nights and weekends, and you can find discounts online. Walk into the infamous dungeon of Dr. Frankenstein and become a master scientist yourself!
Witch Dungeon Museum
If you really want to know how the witch trials of 1692 went, head to the Witch Dungeon Museum. Here, you'll find a live reenactment of the trials along with a guided tour through the dungeon. It will take you back in time to understand how such a horrific event took place and how it felt to be a resident of Salem at the time. Out front, you'll also find a set of different sized stocks much like the ones used for the suspected witches back in the 17th century.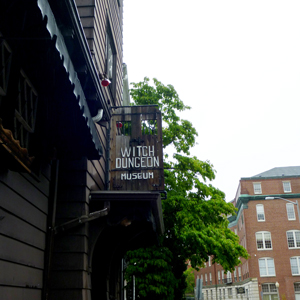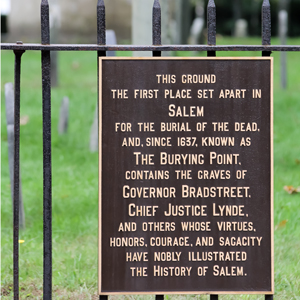 The Burying Point Cemetery
Founded in 1637, some of Salem's most important residents lay here in the town's old cemetery. It's one of the oldest cemeteries in the US! One notable figure that's buried here is John Hathorne, one of the main judges in the Salem witch cases. His great-great-grandson was Nathaniel Hawthorne, American novelist and author of the famous book The Scarlet Letter. And no, that isn't a typo – he added a W to his last name! It's suspected this could be to distance himself from his family's dark past.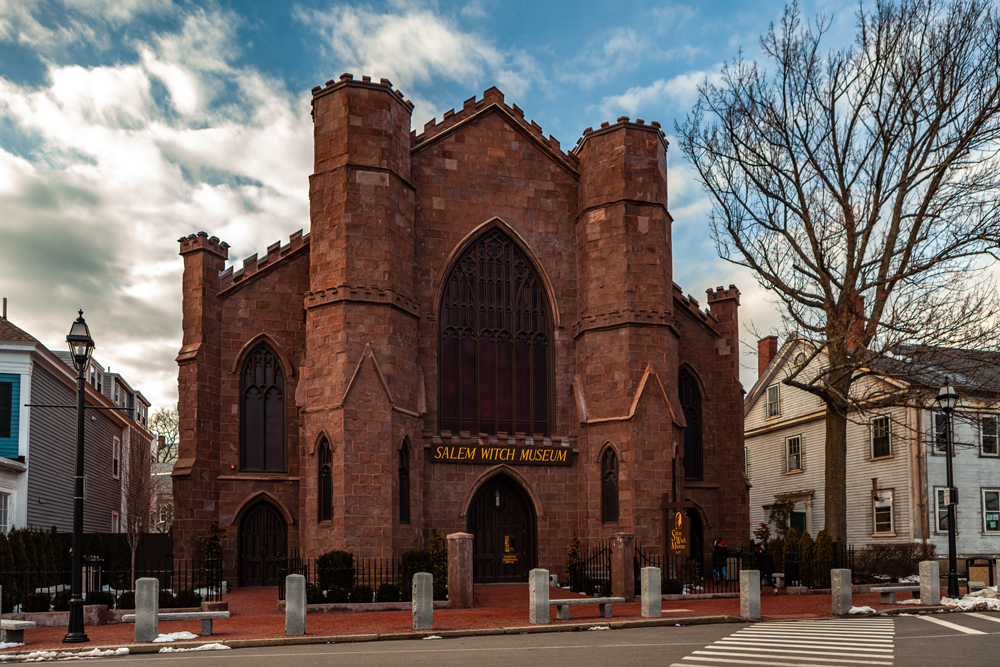 Salem Witch Museum
This is the place to go if you want a deep dive into the real history of the Salem Witch Trials. Take a deeper look into the actual causes and events that began the witchcraft frenzy in this gorgeous historical building that houses the Salem Witch Museum. It's an immersive experience where you'll see life size sets of those dark days in the 17th century. There's also an exhibit where you can examine the evolution of the term witch, from where it started to where it stands today.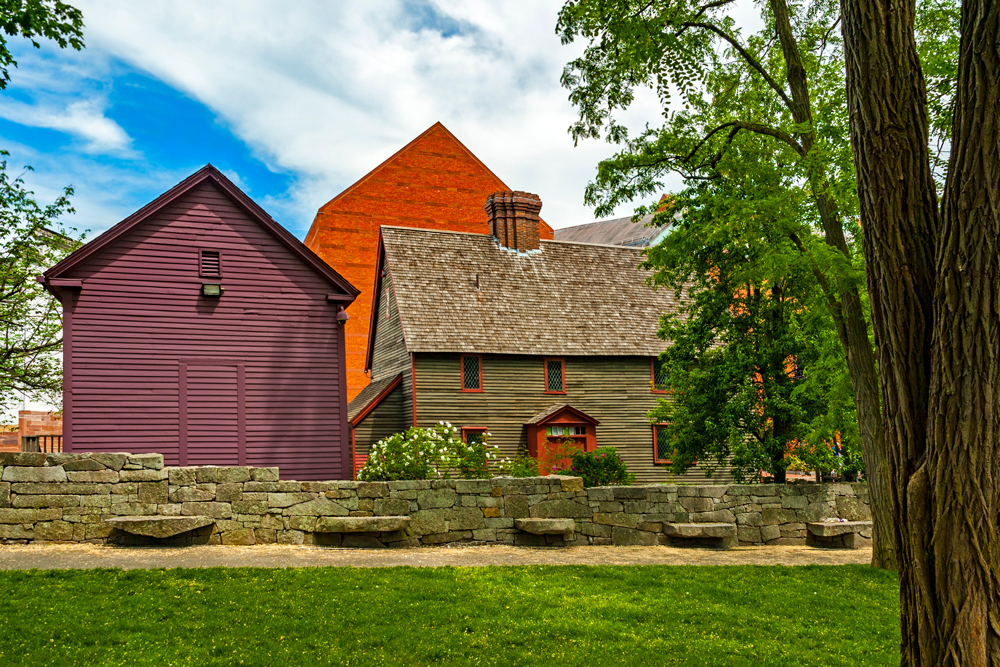 Salem Witch Trials Memorial
While all the spooky stories can be fun, the truth of what actually happened in Salem in 1692 is quite dark. To pay homage to the real life convicted "witches" of Salem's past, visit the Salem Witch Trials Memorial. Located just behind the Old Burying Point, it's a place for visitors to reflect and remember those who were condemned over 300 years ago. Benches within the memorial state the names, execution dates and manner of execution for each of the 19 victims. This creates a rather quiet environment for visitors to think about those who chose to die rather than compromise their own truths.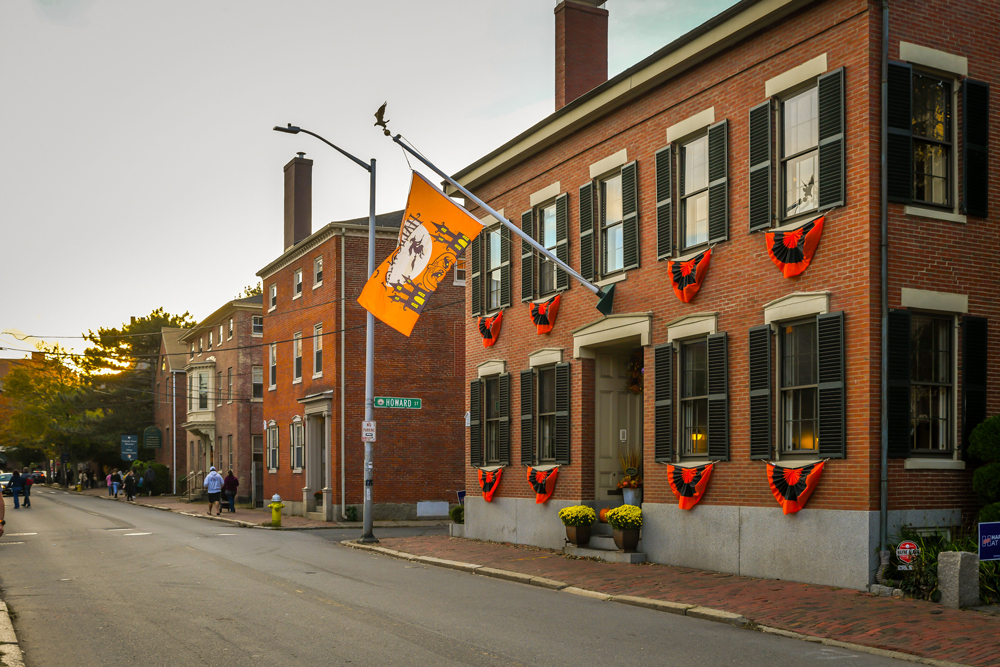 Less Spooky Stops in Salem
If witches aren't your thing, there are still historical sights to be seen in Salem. Believe it or not, Salem's Pioneer Village is America's first living history museum. The village has tons of awesome examples of colonial architecture like thatched-roof cottages, wigwams, the Governor's Faire House, a blacksmith forge and culinary and medicinal gardens. If you're making your way around town, follow the Salem Heritage Trail! All you have to do is follow the red line on the ground: it's the Heritage Trail that connects all of Salem's main attractions. It provides an easy way to see all of the main sights in town.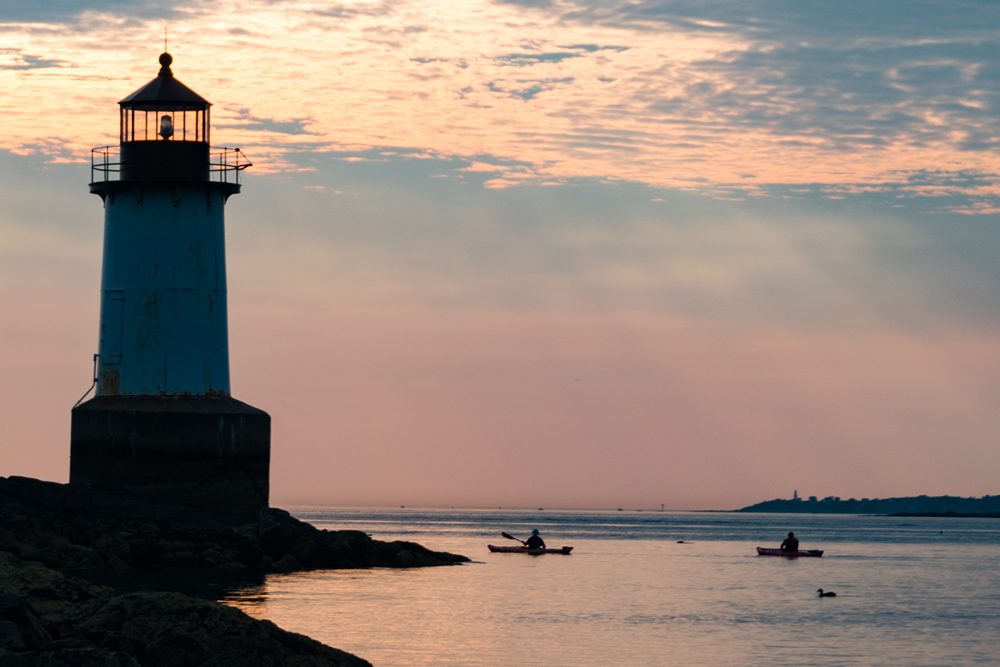 Where to stay when you RV in Salem in October
While there aren't a ton of RV parks around this area, there are a few great spots to stay when you RV in Salem in October. At the top of our list is Winter Island Park. This picturesque coastal park is a great escape from the more macabre scenery in Salem. It has RV campsites as well as a public boat ramp and a beautiful lighthouse. These campsites book up quick, so plan well in advance! You can also try signing up for a Harvest Hosts membership where you can check for nearby hosts and take a day trip to Salem.
Plan an epic Halloween RV Trip to Salem, Massachusetts
With these tips, you're on your way to the most magical Halloween RV trip ever! Try planning some time RVing in Vermont while you're in the northeast for epic leaf peeping, or check out our blog for more fall RVing tips!
Ready to find an RV for your adventures?