RVs come in all shapes and sizes. You can get large Class A motorhomes or small popup campers, even a mid-sized travel trailer. While campers are all different, they do have at least one thing in common across the board: a pretty small kitchen. Even with limited space though, you can use these RV kitchen cooking tips to make the most of your kitchen area no matter what type of RV you have.
Simple Tips for Cooking in Your RV Kitchen
Cooking in a small RV kitchen can be a challenging situation for many people. All too often the solution that most people come up with is simply to eat out more often. They decide to only use the RV kitchen sparingly. While we are fans of a nice dinner out, it just isn't feasible all the time. It costs a lot of money, especially if you are full-time or on a long vacation.
Though it may seem like a difficult undertaking,  it doesn't have to be that way! With these super simple RV kitchen cooking tips learned through years of camping experience, it's entirely possible to feed the whole family—and feed them well—in even the smallest RV kitchen.
Ready to upgrade to your dream RV Kitchen?
Meal Plan Your Meals Ahead of Time
Meal planning is a lifesaver! It is the easiest way to make sure you can cook every meal right in your RV kitchen without any additional stress.
Without a plan, it's very easy to find yourself stocking up ingredients you won't use or wondering why you only have hotdogs and peanut butter and jelly sandwiches to eat for the third day in a row. 
Everyone has slightly different tastes and enjoys different types of food, so it is important to keep in mind the types of food that you and your family actually enjoy eating when putting together your RV meal plan. You don't want to pick out recipes that are difficult to cook or that you aren't sure you will even enjoy just because you saw them on Pinterest one time. Picking out meals that are easy to make with simple ingredients that you know you already enjoy will help deter you from just giving up and going out to eat instead of cooking.  
Your next step is to think about the type of trip you're taking. If you plan to spend every day adventuring and only return to the RV to eat and sleep, consider more Instant Pot meals, slow cooker recipes, or recipes that can easily be thrown together without a ton of work. 
If your dream is to do nothing but relax around a campsite for the week, you can easily plan a few meals to be cooked over the fire and spend more time prepping and making recipes. 
Once you know the type of trip and what kind of recipes you'll need, you can start planning your actual meals. Write down the different dishes you want to make, write down the ingredients you need to make them, and then head to the grocery store with your list in hand to get only what you need. 
If you don't want to grocery shop before your trip, you can go the even easier route and place a pickup or delivery order that you can get once you get to your spot. Places like Instacart and Shipt will deliver to most campgrounds or you can easily do a Walmart grocery pickup at the closest Walmart to your campground.
You can also prepare some freezer meals at home before your trip and pull them out to thaw and use throughout the week.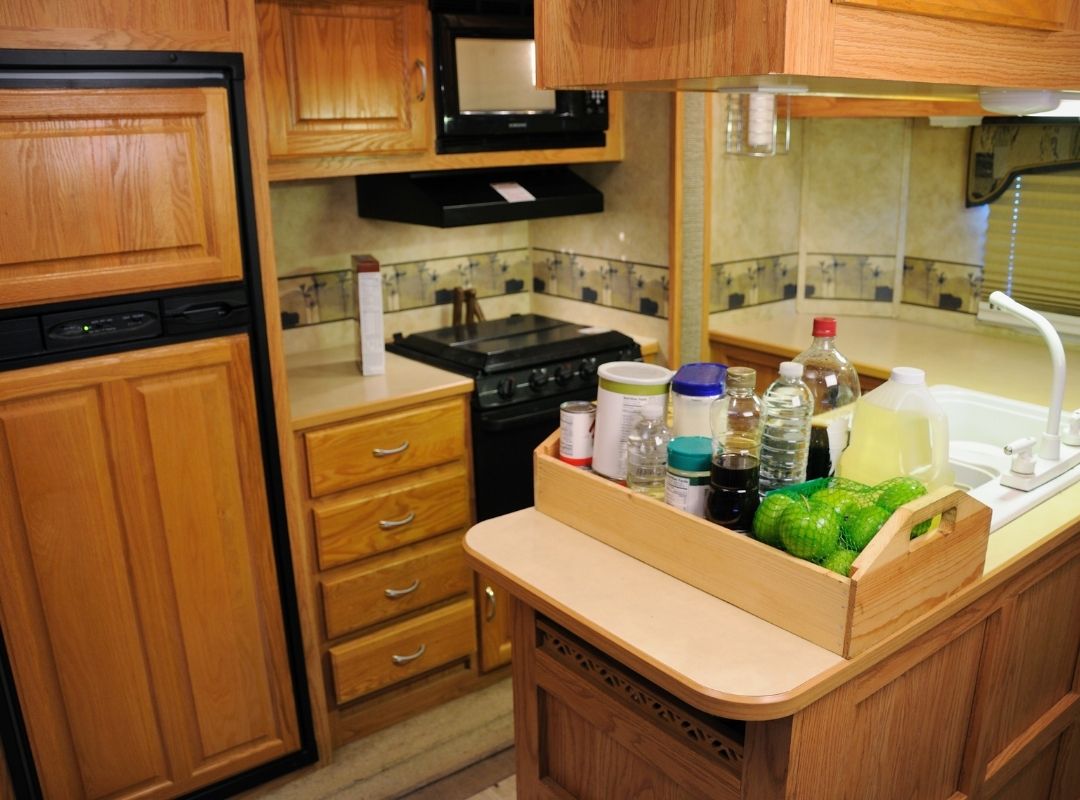 Storing Your Fook in an RV Kitchen
Once you have all your food planned for your trip and have purchased all of the groceries you need, you are going to need to store all of your ingredients. 
We know that RVs have small refrigerators and tend to lack a lot of pantry storage space, so you will have to get a little creative with your food storage. This is especially true if you are doing a long trip where you bought all of your groceries ahead of time. 
We recommend that you store dry goods such as pasta, rice, beans, and cereal in your pantries and cabinets. If you need more room for drinks and other cold items, a good cooler is always a good option. This will free up some valuable fridge space.
It may be tempting to store leftovers in large pots and Tupperware, but in an RV there just isn't that much room. Make sure you clear out the room in your fridge and store your leftovers in the smallest container it will fit in. 
Simplify Your Meals on the Road
Simple is key when you are in an RV. But simple meals don't have to be boring meals!
Instead of breaking out your entire arsenal of cooking tools to make a gourmet five-course meal, stick to simple and tasty meals that don't strain the limits of your RV kitchen.
Use Your Slow Cooker
Many RVers swear by meals made in their slow-cookers. It really doesn't get much easier than piling ingredients in the cooker, setting the heat to low, and then letting time do the work.
If you need some ideas for some great camper-friendly slow cooker recipes, you can check out some of our favorites here.
One-Pot Meals
When you are camping, you will want to do a few dishes as possible. So when planning your meals, try to plan as many one-pot or one-pan meals as possible. These will save you loads of time doing dishes and always end up being family favorite recipes.
Many recipes such as soups and stews are already designed as one-pot meals, but with a little creativity, you can adapt a wide variety of meals into one-pot wonders.
The easiest meals to adapt to one-pot meals are pasta dishes. Instead of cooking the pasta separately from the sauce and veggies, why not throw everything—including the uncooked pasta—into a single pot and let it cook together.
Take Your Cooking Outside
If you really want our best RV kitchen cooking tips, then listen up because we have our favorite one coming for you right now:
Take your cooking outdoors!
Yup, that's it. Our big favorite RV cooking tip is to cook outside as much as possible. Use the fire, the grill, whatever you have on hand, and make your meal outside!
This will give you more space for cooking and it will ensure your indoor kitchen stays nice and clean.  There are so many amazing campfire and grilling recipes that you can try. Our Pinterest is full of campfire recipes for inspiration!
Again, it doesn't have to be complicated! Hot dogs, burgers, corn, potatoes – you really can cook anything over a fire. Use your culinary creativity, and you will be enjoying a delicious meal in no time.
Cooking in your small RV kitchen may seem intimidating, but with these simple RV kitchen cooking tips, you will feel a lot more comfortable whipping up a delicious meal in your camper.
Just remember to keep it simple, plan ahead, maximize storage, and cook outside anytime you can. With these simple tips, you will be the culinary master of the campground in no time.
Have more tips for cooking in your camper? Let us know in the comments below!