If you've dabbled in RVing, there's a chance the thought of full-time RVing has crossed your mind. You enjoy vacationing in your RV – wouldn't it be fun to do it ALL the time?! Many people take the leap to sell everything and live smaller with more adventure in an RV. But how much does full-time RV living really cost?
The short answer is it's different for everyone. No two neighbors living in sticks and bricks homes spend the exact same amount every month, and the same applies to RVers! Different full-timers have different priorities. Some started the full-time life to save money and live minimally, while others aren't so concerned about the costs and just wanted a life full of more travel. There's also a wide range of RV types and therefore monthly RV payments. Some tow smaller travel trailers while others live large in luxury Class A motorhomes. Even differences in preferences such as organic groceries or a golf hobby can affect your monthly budget. RVing with kids can also bump your cost of living up thanks to higher grocery bills and more entry fees at parks and museums.
The point is that living in an RV full time can cost different for each different family. To help you get an idea of what to expect, we've broken common full-time RV living costs down into categories and selected a range of prices for that category. Most people will fall somewhere in the middle. Depending on your priorities, however, you may find yourself at the cheap extreme in one category, while at the expensive extreme in the next.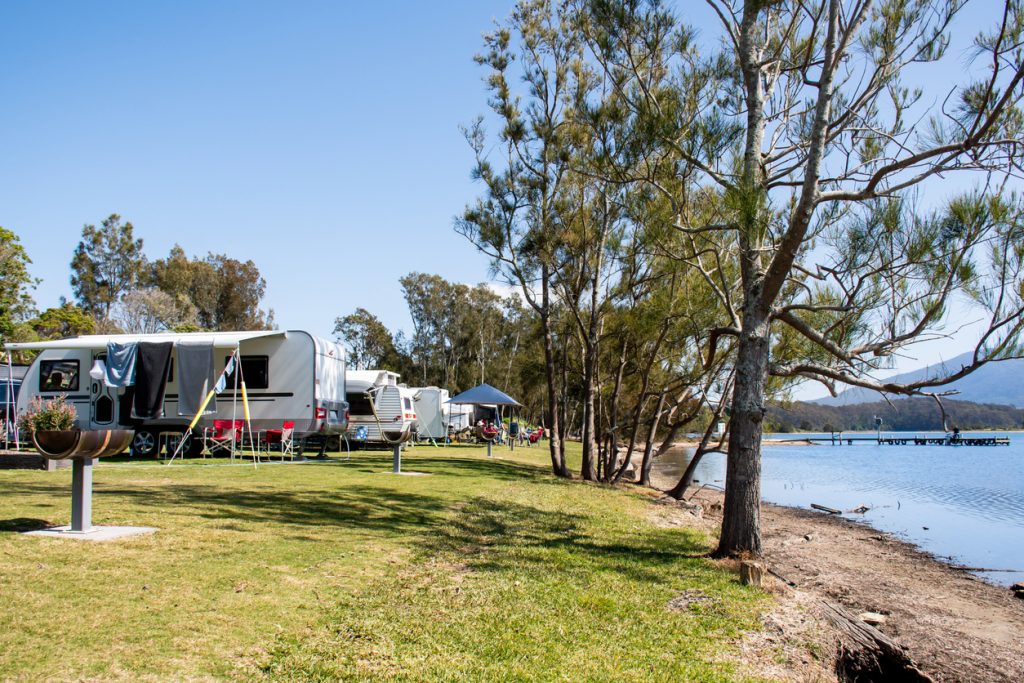 RV payment: $250-5000/mo
The most obvious RV living cost you need to account for is your RV payment. This section is probably going to have the largest range between budget-friendly and luxurious. If you don't already own the RV you plan to live in full-time, the first thing you want to do is decide whether you want a motorized RV such as a Class C or larger Class A coach, or if you want to tow your rig. If you're towing, what vehicle will you be using? Determining your tow vehicle, the type of hitch you'll be using and how much it can handle can help you narrow down the towable RVs you want to look for.
Typically, travel trailers tend to be more affordable options that are easier to tow, while high end fifth wheels can be as posh as some coach motorhomes. Keep in mind though, if you don't own your tow vehicle, you'll need to factor both payments on your car and on your RV into your budget.
Accommodations: $50-4000/mo
While you won't have to pay rent or a house payment living full-time in an RV, finding a place to park it and stay for the night isn't exactly free. There are of course ways to camp for free, such as parking at Walmarts, on public lands or in a friend's yard. However, even choosing to camp for "free" still has some costs associated with it. You'll still need to visit a dump station every now and then, refill your water tanks and occasionally get an electric hookup to recharge.
Most RVers opt for a mix of accommodations like those and more comfortable stays like state parks and private campgrounds that have electric and sewage hookups. Most paid campgrounds average between $20-50 a night, but some high end campgrounds such as Disney's Fort Wilderness can cost upwards of $100 a night. You'd have to stay in a luxury RV resort the entire month to hit the higher end of this RV living cost. Most will land somewhere under $1000 a month for lodging. The more you plan and book ahead for where to stay, the cheaper your accommodations tend to be.
Insurance: $150-500/mo
The best way to save on this cost is to shop around. RV insurance quotes can be vastly different from one provider to the next, so if you want to get the best price, you're going to have to make some calls. Depending on your line of work, you may have to pay for health insurance in this category as well. Keep in mind if you are towing your RV, you're also going to be paying car insurance on the tow vehicle.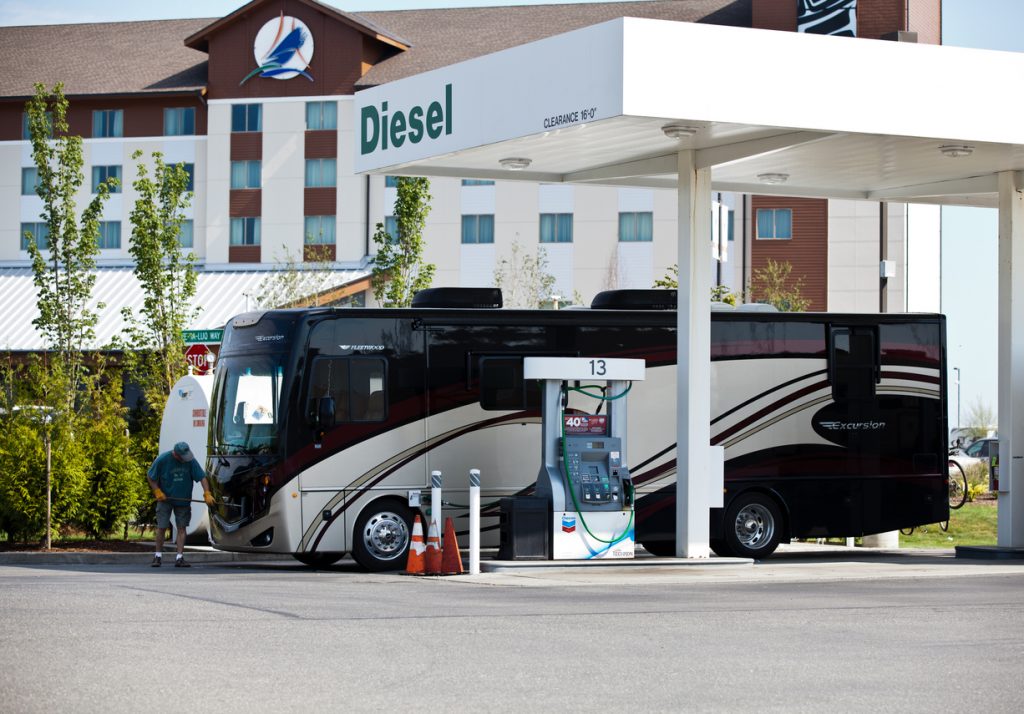 Fuel: $150-500/mo
This RV living cost will always vary from month to month since you'll spend more time on the road during some periods than others. If you want to save in this category, stay put in the same campground for the whole month. You'll still end up spending money on gas to take your tow vehicle out and about exploring, or taking ride shares and public transportation to attractions. If you're driving a motorized RV, the rig's gas mileage will be a huge factor here.
Food: $150-700/mo
Your food budget will obviously depend on how many people live in your RV and how much you cook vs. eat out. There are some places you'll travel to where the local food scene is part of the attraction, and you'll want to take part. But for the majority of the time, learning to cook in your RV is key. Full-time RV living isn't a vacation; you still have to form a daily routine that works for your family, and often cooking meals is part of that. Meal planning will make your food budget much more efficient. Check out our guide to RV meal planning or get inspired with some of our favorite RV recipe roundups.
Connectivity: $100-300/mo
If you're living the full time RV life, chances are you're working from the road in some capacity. In order to do this efficiently, you'll need to have internet connectivity in your RV. There are many different ways to get high speed internet and stay connected in your RV, from a mobile hot spot to installing a cellular booster. Determining how much internet capacity you'll need will help keep you from overpaying in this area.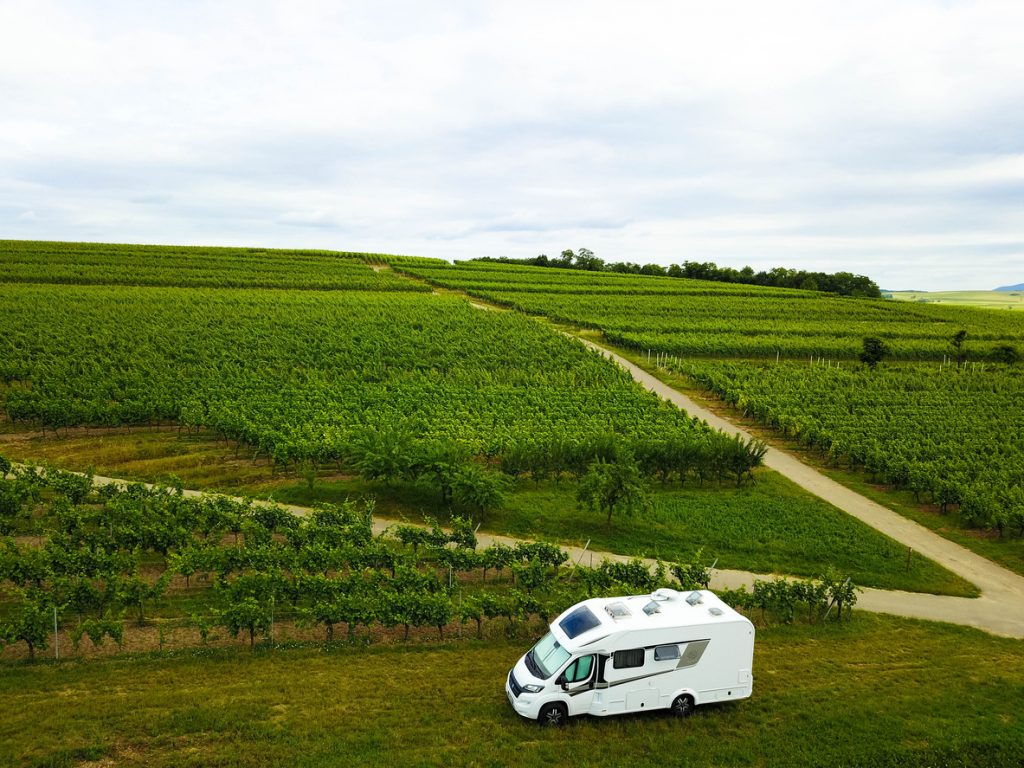 Memberships: $0-50/mo
Not everyone will have this line in their budget, but many RVers do. There are services like Harvest Hosts and Boondockers Welcome that provide places to camp based off of a yearly membership. You may need to pay for mail forwarding or roadside assistance like AAA as well. It's also popular in the RV community to attend RV shows and meetups to meet likeminded campers and form community. All of these things cost money, so you'll want to consider it when budgeting.
Adventures: $0-300/mo
What is RV life if not for adventure? You want to make sure you are leaving room in your budget of RV living costs for activities such as national and state park entry fees, museum tickets and guided excursions. You'll also want to factor in things like purchasing outdoors gear for weather preparedness and hiking.
Miscellaneous: $75-500/mo
This RV living cost encompasses everything we haven't included up to this point: propane, oil changes, laundromats and more. You need propane to cook with and if your rig doesn't have a washer and dryer, you'll have to make stops to wash your clothes, whether at an RV park or elsewhere. RV maintenance can also fall into this category. Because of the unpredictability of this category, it will vary from month to month.
Monthly Full Time RV Living Cost Grand Total: $1000-10000
As you can see, full time RV living costs range greatly depending on the lifestyle you want to live on the road. You may save money leaving your sticks and bricks home, but it could end up being more expensive as well. If you buy a posh coach motorhome, stay at RV resorts and travel frequently using lots of fuel, your budget will be on the high end of this range. The smartest thing to do is to choose a budget ahead of time and make your expenses fit into that budget.
Get started finding the best RV for your full time RV life by searching new RVs and used RVs on RVUSA today!