We all love to camp and be outside around nature, but one of the most difficult components of planning a well-thought-out camping trip is creating a meal plan for as long as you'll be out. For most dry campers or boondockers, there really aren't too many options when it comes to cooking. Luckily, it's 2021 – there's always a solution!
We love grilled kabob for so many reasons. First, they're easy to make ahead, so when it's time to cook them, they've already assembled and you can toss them on the grill. Second, they're healthy! Kabobs are usually made of protein, vegetables, and sometimes fruit. Does it get any better? Here are a few of our favorite grilled kabob recipes.
Grilled Kabob Recipes to Make Over Your Campfire
This recipe for Pineapple Chicken Kabobs is a great one to start with if you aren't used to making them. With just a few basic ingredients, you've got dinner ready in no time. Either fresh or canned pineapple can be used, but be sure to prep it at home first if you choose fresh.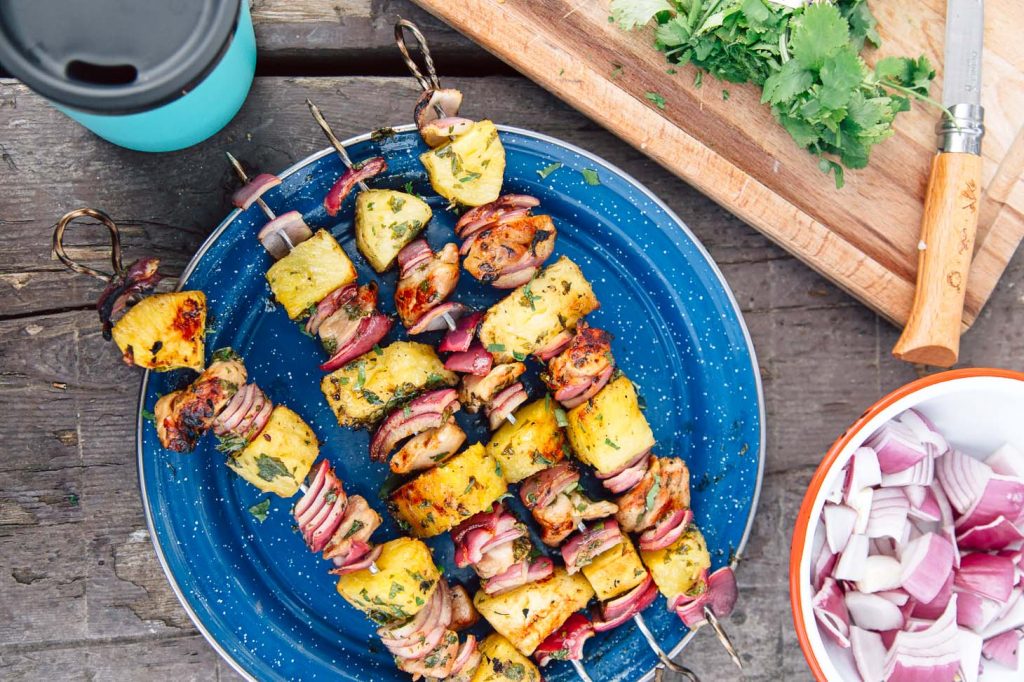 For a twist, try making these Honey Mustard Grilled Chicken Kabobs! They're healthy, filling, and cooking them requires the most basic kitchen utensils. Simply prep veggies beforehand, and marinate the chicken the night before and the work is done!
Opa! These Greek-inspired kabobs require a little more work due to the number of ingredients, but we know they're worth it! Greek Antipasto Kabobs will satisfy even the pickiest of eaters.
For a vegetarian option that's also Greek-inspired, Greek Salad Skewers are a great appetizer to snack on while your dinner is cooking.
Covered in honey sriracha butter, these Honey Sriracha Shrimp Kabobs are so easy! You're just four ingredients away from tasting the only shrimp kabob recipe you'll ever need.
A perfect sweet and salty combination, Apricot and Orange Pork Skewers are a pair that most of us wouldn't imagine go well together, but we love them. Simply marinate your pork beforehand, assemble the skewers, and grill!
To finish the night, why not make dessert skewers? Best Banana Split Kabobs are the way to go as they're easy enough for children to assemble, and they'll love that they helped make them.
Do you have any go-to camping recipes? Let us know in the comments!