It's hard to beat a family meal around the campfire or in the RV. Where else can you gather the whole family away from the distractions of life and just spend quality time? While we cherish those moments, making dinner on the road can be a bit of a challenge. Meal prep and dirty dishes take up a lot of space that RVs don't have, so planning ahead is one way to have all the benefits of a camping meal without the mess. You can prep these recipes at home before you leave, store them in the fridge, and then toss them on the campfire or in your RV oven for a quick and easy meal on the go. Bon appetit!
Foil packs are one of the best ways to prep camping meals ahead of time. It's an easy dinner you can toss on the campfire or in the oven that's still fresh and packed with nutrients. There are hundreds of variations of this delicious camping meal out there, and we'll highlight a few of our favorites here. To begin, try out these sausage and veggie grill packets. These foil dinners pack protein, greens, and flavor into one easy-to-prep and easier-to-cook serving.
Everyone loves a good Philly cheesesteak! This take on the traditional sandwich is no sandwich at all, but still gives you that Philly taste you know and love. Chop up the veggies and portion out the meat ahead of time, and when it's time to cook, top it with delicious melty provolone cheese.
The idea behind a good shrimp boil is bringing people you love together. Even though this foil packet recipe goes about it a bit differently, the end outcome is the same! The family will love gathering around these grilled shrimp foil packets for a flavorful southern summer evening.
These steak fajitas will benefit from time spent marinading before it's time to cook! Pack up your steak ahead of time in the marinade and when you're ready, toss it in the RV oven. Serve it up alongside sour cream, shredded cheese, and tortillas and it's the perfect meal on the road.
Camping breakfast deserves some love too – although this cheesy potato recipe makes a great side dish for dinner as well! Boil and chop your potatoes and cook your bacon ahead of time, so when it's time to eat all you have to do is toss these on some heat, and the cheesy, meaty goodness is all yours to enjoy!
Keeping on the breakfast theme, overnight oats are perfect for camping. Make several jars before you leave, or prep these the night before when you're already on the road to wake up to an effortless breakfast. You could also consider combining all the ingredients for oats except the milk before you leave on your trip and just adding the milk the night before you need them. Whichever route you choose, you're guaranteed to love these tasty and easy breakfasts.
Pasta salads taste even better after they've chilled and marinated for a bit, so they're perfect to make ahead and take camping. This recipe puts a southwestern spin on the popular dish and has a creamy taste that's still healthy.
Pizza is always a crowd-pleaser – but with this recipe, you can have all of the taste without the unhealthy carbs and low-quality delivery food. Cook up your chicken and prepare your casserole before hitting the road, and when you need a quick and easy fix for dinner, pop this in the oven. No more searching for the local pizza delivery number!
Make-Ahead Camping Recipes for Easy Meal Planning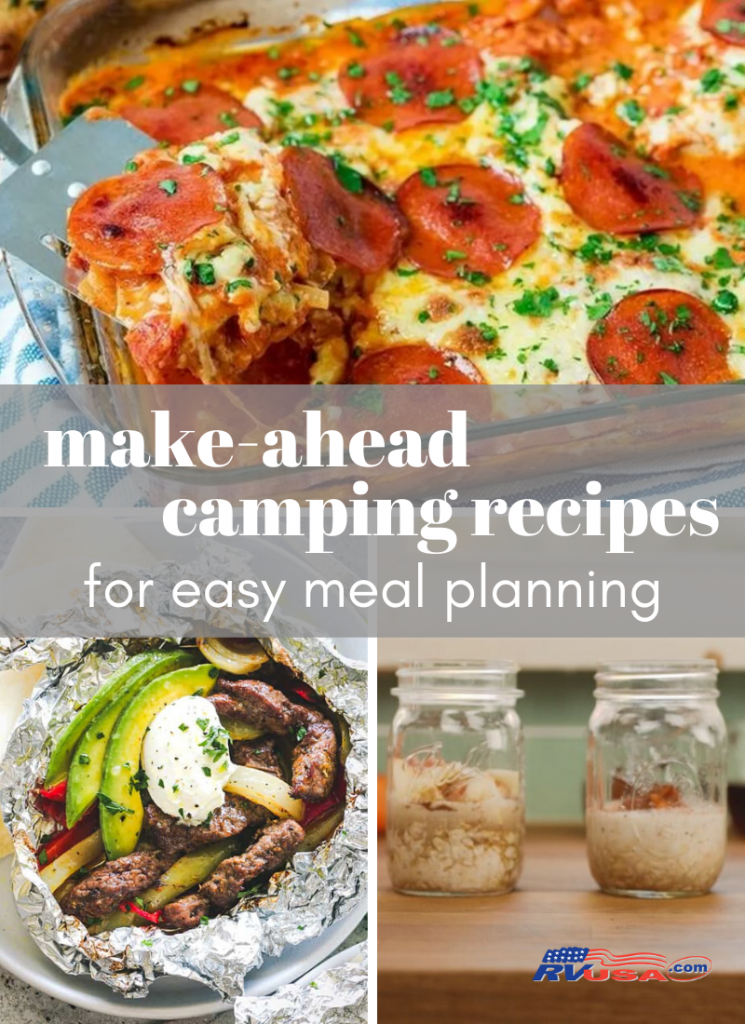 Whether foil packs, casseroles, or pasta salads fit your camping style, there are plenty of options when it comes to making food ahead of time for your next RV trip. A little planning saves a LOT of trouble when you're on the road!
Check out our blog for more recipes and RVing inspiration.