If you're looking for a family-owned, friendly RV dealer, our featured RV dealer, Dick Gore's RV World, is where you should head! This dealer has been in business for over 26 years and has maintained a reputation of quality service for years. The business is focused on integrity and making your RV dreams come true.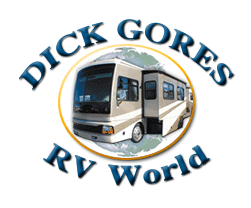 The current owner's father, Dick Gore, founded this dealership in 1985 with only a 10th grade education. When he returned home from serving in Korea, he had a passion for sales. To pursue his dream of becoming a salesman, he began selling appliances. Shortly after, he founded a wig store and soon sold it to go into the RV business. Although the lot started off offering consignments only, it has now grown into three locations spanning across Florida and Georgia. Dick believes in his business and when asked about what he does, he explains that he is in the "dream-making business."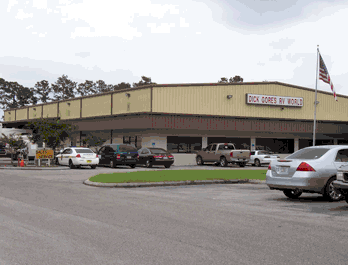 With over 70 brands and lines in stock, this dealer offers just about any RV you can think of including Class A Motorhomes, Class B Motorhomes, Class C Motorhomes, Destination Trailers, Travel Trailers, Fifth Wheels, Toy Haulers, and Tent Campers. The lot carries both new and used units at all three of their locations. If you're looking for a deal, they guarantee competitive prices, run specials often, and even offer same-day financing.
One thing that sets Dick Gore's RV World apart is their extraordinary commitment to long-term service. They believe that at some point in its lifetime, an RV will require repairs because none of them are made perfect and and when that happens, the RV should receive the best service possible. That's why they only hire certified technicians to staff their service department. Their repair shop can handle any an all work that your RV needs done including service, maintenance, warranties, installations, chassis work, body work, and paint work. Dick Gore's service is so versatile and quality that the major insurance companies contact their shop for repairs. To make scheduling an appointment easier, they have implemented an Online Service Request Form.
Another thing that makes this dealer unique is their parts shop. You can search their parts inventory catalog online and select any part you need. These parts can be shipped to your house, the campground you are staying at or the closest Dick Gore's RV World. So even if you aren't in Jacksonville, St. Augustine, or Richmond Hill, you can still take advantage of the amazing parts deals!
While this dealer may have a vast inventory and great services to offer, the thing that makes Dick Gore's RV World different in the buyer's view is their outstanding customer service. The dealer focuses on follow up care and quality servicing after the purchase. The owner states that the main thing he looks for in potential employees is their attitude. He expects his customers to be served with friendly and happy attitudes. The exceptional service has led to many long-term, returning customers and positive testimonials.
Dick Gore's RV World is the perfect place to go if you're looking for a dealer with personable staff and quality long-term service. Their only goal is to make your RV dreams come true! Check out any of their three locations in Jacksonville, FL, St. Augustine, FL, or Richmond Hill, GA today!
All photos courtesy of http://www.dickgoresrvworld.com/