Located in Maryland, Leo's Vacation Center has been a family owned RV dealer since 1972 and has been Maryland's number one RV dealer for the past eight years. Their inventory includes new and used RVs and they are located between Baltimore, Maryland and Washington D.C. With 438 available units right now, it's easy to say they have the biggest showroom in Maryland! Whether your main concern is best price, lowest price or wholesale pricing, Leo has you covered. Just be sure to contact a member in their sales department for the details you need. If Leo's still doesn't have your attention, they were also voted one of the top 50 RV dealers in the U.S. Leo's Vacation Center is the place for all you RV needs!
At Leo's, you'll find all your favorite brands like Winnebago, Thor Motorized, Roadtrek, Forest River RV, Riverside RV, Keystone RV, Heartland and so many more in their 12,000 square foot showroom. Even if you don't see the RV you're looking for in stock, it's not a problem at Leo's! They'd love to special order your favorite choice for you.
Leo's goes above and beyond for their customers when their RV needs any kind of maintenance or service. Their Service Department offers a full range of service on all RVs, travel trailers, campers and more. This even includes Maryland State RV Inspections. They also maintain most brand name appliances in RVs.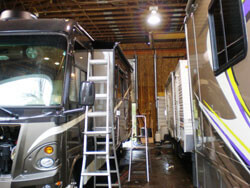 The Service Department doesn't stop there! Leo's service technicians offer full body work and they work directly with your insurance company. They do simple, routine work like brake jobs all the way to more detail or major repairs like reconstructive work or electric repairs. The facility in which they work is 20,000 square feet, so they have enough space to get your RV in and out as quickly as possible so you and your family can get back on the road!
Let's say you're on the road already and you run into a maintenance issue or repair problem. Leo's makes it easy to reach out for help by calling a toll free number for assistance while traveling. They also offer an extended program for a small additional charge that offers service anywhere in the U.S. for several years. The program includes towing services, concierge service benefits, service calls and it even covers food spoilage up to $100! Their Tire and Wheel Coverage is an optional program that covers costs from those unseen potholes, manholes, nails and random debris in the road. Check out their website for more details!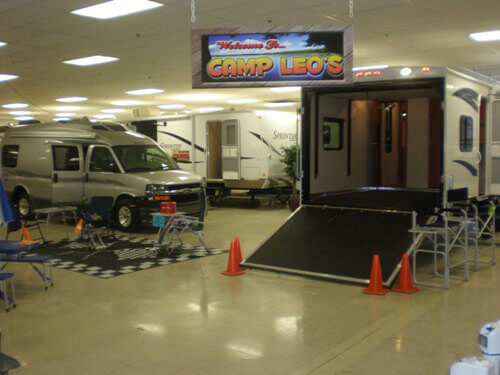 The staff's goal at Leo's Vacation Center is to provide their customers with the knowledge, experience and support they need when it comes to researching and purchasing an RV. They understand it isn't a decision to be taken lightly, so they want to be with you every step of the way. They're also RV owners themselves, and they treat your RV like it is their own. And since Leo's is family owned, you'll see the owners working everyday, unlike a big corporation. RV Business Magazine says this is why they keep choosing Leo's as one of the top 50 dealers in the U.S. The customer service is unlike any other dealer and their business practices are spot on!
They have 438 units available right now! Surely you'll find the RV you love at Leo's Vacation Center! Visit their website or stop by and let a member of their staff assist you in finding that RV today!