There are lots of misconceptions about RVing out there, and with the price tags on some luxury RVs, we can understand why people may view RVing as an expensive hobby. But the truth is: RVing is as expensive or as affordable as you want it to be. You can buy a million-dollar rig and live like a rock star on tour, or you can buy a family vehicle and make it work for your budget. We've compiled a few reasons why RVing may be cheaper than you think.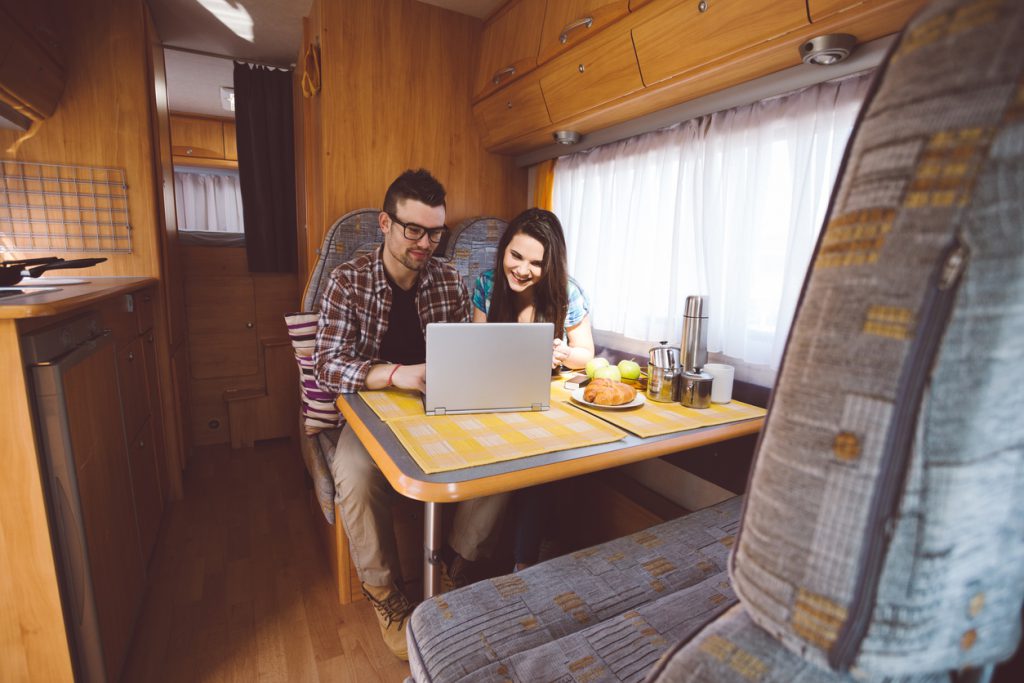 No utility bills
Yes, you'll still have an RV payment, RV insurance rather than homeowners insurance, and fuel costs, but one thing you won't pay for in an RV is utility bills. If you're camping somewhere with hookups, you won't be paying for the electricity, the sewage, or the water (there are some exceptions for long-term stays). It's all included in the price you pay per night. You likely won't have a cable subscription to keep up with, although you may opt to invest in a mobile hotspot for internet service. Gone are the days of sifting through gas, electric, water, trash, or cable bills to pay on time every month. Those things aren't a concern for RVers.
Slower pace means less spending
New RVers tend to spend more money than those who have been at it for a while because they feel like they have to be everywhere and do everything now that they have the freedom too! But just because you have the ability to dart from place to place doesn't mean you have to. In fact, you can save a good amount by simply moving at a slower pace. If you stay in one RV park for a longer period of time, most campgrounds will give you a discounted rate like a monthly fee rather than a nightly fee. You also save on gas money when you are driving less in a month.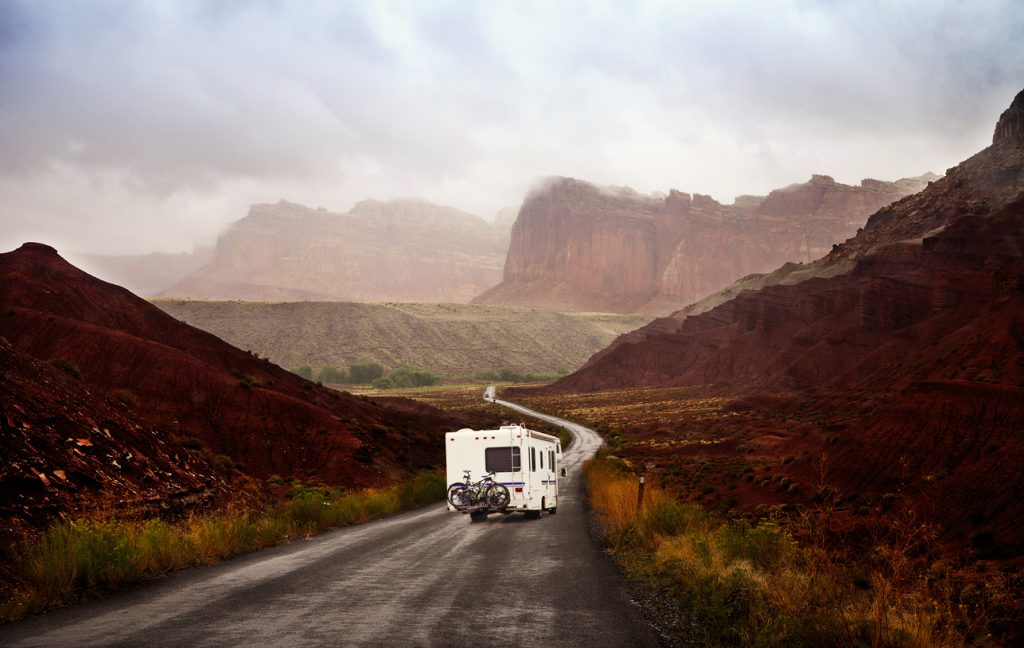 You can choose more affordable stays
While it may be alluring to stay at an RV "resort" with all kinds of amenities, activities, and luxurious sites to park, there are ways to have just as enjoyable of an experience without the $70-100 a night price tag. You can always camp for free on Bureau of Land Management land, also known as "boondocking." You can also look into a service like Harvest Hosts, where you gain access to free camping at hundreds of wineries, breweries, farms, and attractions across the US in exchange for a yearly subscription fee and an agreement to purchase a product from the host. Even with those stipulations, you can often save money by camping this way if you are spending enough time on the road. There are also more affordable RV park options that still provide amenities like hookups at a lower cost. Chances are, any one of these options adds up to less than a rent or mortgage payment, and it's definitely less than staying overnight in a hotel for a weekend away.
Minimalist lifestyle
Do you really need a closet full of designer bags and business suits if you are living in an RV? Chances are, you won't run into many occasions to use those things living the RV lifestyle. You'll likely find yourself doing a lot less retail therapy in your free time and a lot more getting out and exploring nature. You have to be so intentional about what is taking up space in your RV that you'll likely do a lot of purging just to move in! You can even use sites like Poshmark or eBay to resell clothes and housewares you don't have room for any more and stock up some extra cash. When you do go shopping, you'll find yourself carefully examining whether or not your purchase is worth the precious space in your rig, and hopefully spending a little less.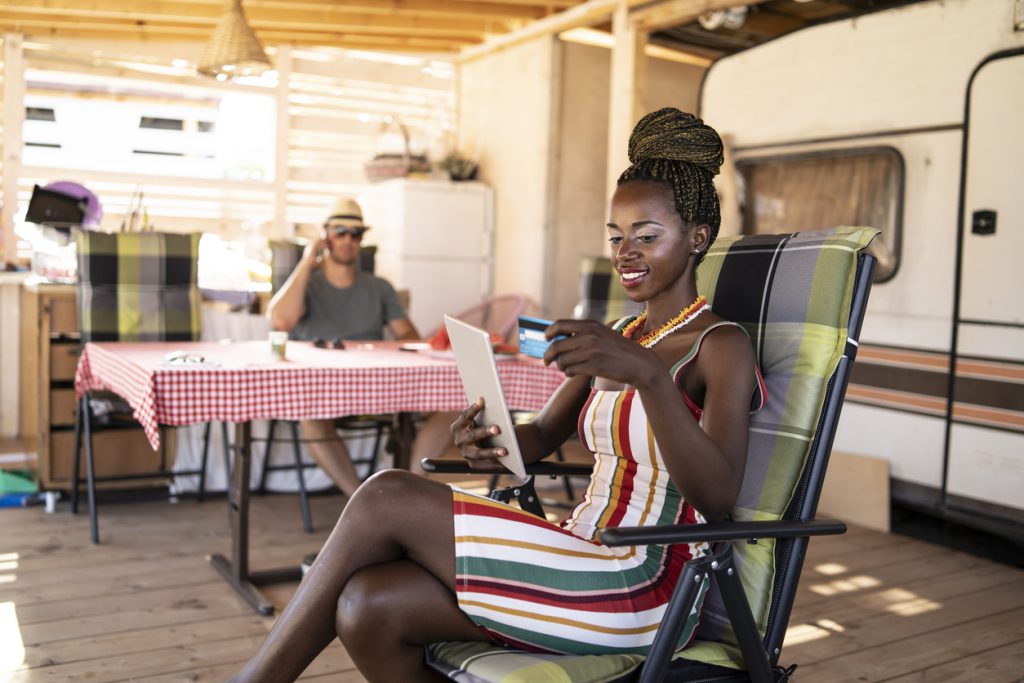 Flexibility to make extra cash
Most people who aren't yet retired and live on the road work on the road as well. Working from home often allows you to dictate your own schedule and free up some time should you ever need to make a little extra cash. Say you have a month with more expenses than normal. You aren't tied to your commute and your 9-to-5 schedule and can plan to schedule your day to work on things like a side gig selling homemade crafts on Etsy or blogging about your travels. You can also rent out your RV while you aren't using it. Check out our article on how to make money with your RV for ideas on simple ways to bring in some extra cash flow.
You don't have to overspend when you buy
We get it. The flashy RVs with the high tech control panels, LED lighting, and plush interiors are really cool. But there's a good chance you don't actually need all the bells and whistles that high-end RVs come with. Sit down and make a list of what's absolutely essential to you on the road. Is it an awning and outdoor kitchen so you can enjoy nights outside? Can you live with a kitchen that has a stovetop but not an oven? Narrow down your search on RVUSA.com. You may also look into buying used to avoid taking a depreciation hit on your vehicle. Our search features make it easy to weed out vehicles that don't fit your needs and find a price that fits within your budget.
Why the RV Lifestyle May Be More Affordable Than You Think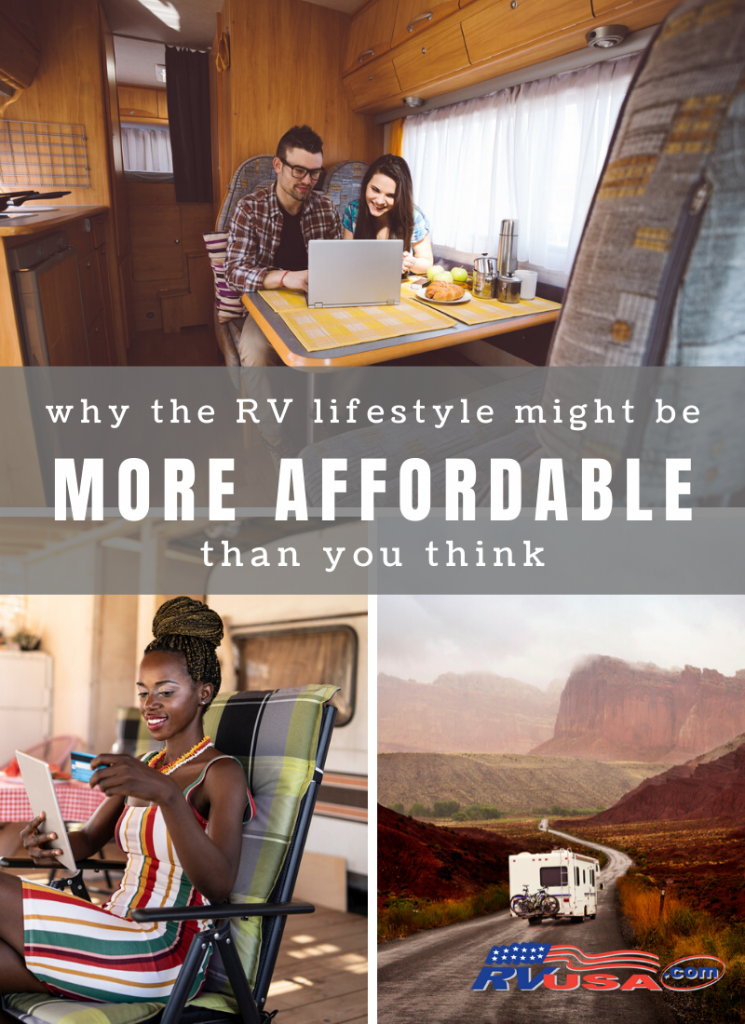 If all of this sounds like something you can get on board with, then begin your search for a new or used RV today on RVUSA.com. We can help connect you to the perfect RV that fits your needs and budget. Or, you can start off by renting an RV to test out if the RV life is right for you. Either way, we've got all the resources you need to start your RVing journey off right! Check out our blog for more RVing tips and tricks. Happy camping!