Getting away from the busyness of everyday life is one of the biggest perks of RVing, but staying connected to friends, family, and sometimes work is important too. When you're traveling, you don't always have the convenience of strong WiFi networks and urban cell connectivity, so you have to plan ahead to make sure you have the tools in place to keep in touch. There are a number of ways you can connect to the internet from your RV, including satellite internet, cell signal boosters, and mobile hotspots. Mobile hotspots are the most simple and easy-to-use of the three, so we've rounded up a few of the best mobile hotspots to make sure you don't miss a beat when you hit the road.


The most hassle-free way to connect to the internet during your travels is to purchase a mobile hotspot with a cell phone carrier. Many RVers rely on Verizon for their connectivity because of its vast LTE coverage nationwide. Verizon's Inseego Jetpack MiFi 8800L is a fantastic option for RV travelers as it connects you to the nation's fastest, most reliable network and gives you all the information you need about your internet usage on its color touch screen. It displays how many GBs of your plan you've used so far, how many people are connected, and how many days are left in your plan cycle. You can connect up to 15 devices and can run for up to 24 hours without a charge.
Price: $200 + $80 per month unlimited plan
While Sprint's wireless network isn't always as widespread as some other carriers, their mobile hotspot plans provide a lot of data usage for not a lot of money. This device is very similar to the Verizon device including its 24-hour battery life and color touch screen display, but if you're more comfortable with Sprint, this could be the right choice for you. If you don't plan on traveling to remote areas and don't need as much coverage, you could save some money with this option.
Price: $240 + $60 per month for 100 GB
If your internet usage on the road is more sporadic and you're looking for something with a more pay-as-you-go setup, Skyroam could be the right choice. The bright orange Solis X supports up to 10 connected devices and allows you to purchase monthly, daily or pay-as-you-go data plans, so you aren't paying for internet you aren't using. The company doesn't disclose which specific carriers they use for their network, but it does advertise global connectivity, so if you travel both at home and abroad, you can take it on your continental RV trips or bring it on overseas flights as well. The main sell with this device is the ability to pay as you go if you don't want to commit to a monthly plan.
Price: $180 + $100 per month unlimited plan, $9 per day global daypass, or $6 per GB
The RV IT Guy's main focus is tech support service on-the-go, but mobile data plans are another service they offer. If you're not too tech-savvy and want to have dedicated IT pros in the US available to you to help troubleshoot issues with your mobile hotspot, this could be the best choice for you. You pay an upfront fee to "rent" the device for as long as you have it and then pay for a monthly data plan that utilizes T-Mobile and AT&T networks across the US and allows you to roam in Canada and Mexico with no fees. When you're in need of some tech expertise, simply flip the beacon switch on the device for assistance and give the RV IT Guy a call.
Price: $195 + $99 per month
Best Mobile Hotspots for RVing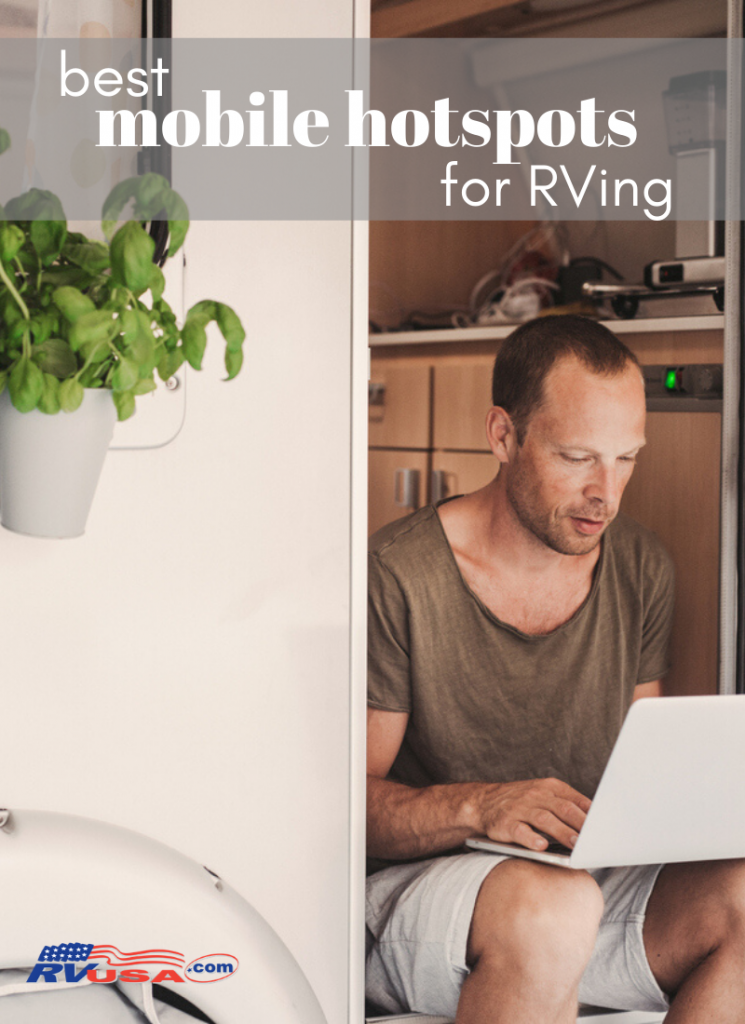 These are just a few ways for you to make sure you have all the connectivity you need to send photos of your adventures to family back home, update your social media friends on your latest travels, and keep up with work emails on the go. There are 5G mobile hotspots out there right now, but they are much more expensive than their 4G counterparts and 5G coverage isn't quite wide enough to justify the cost yet.
If you're doing heavy-duty streaming or full-time working from home, you may also want to invest in the addition of a cell phone signal booster in your RV as well to increase the effectiveness of these hotspots. If you're looking for a lower maintenance option and you have plenty of data on your cell phone plan, you can also use your cell phone as a mobile hotspot. Once you figure out what your needs are, you can better determine which one of these options is best for you.