It's that time of year again. Temperatures will start cooling off soon, and Saturdays will no longer be spent doing summer chores or hauling the kids to the beach. It's time for football season. It's a celebratory time of year for many people, and whether you love sports or not, we thing experiencing an RV football tailgate is a MUST for any RVer.
Why we love an RV football tailgate
Nothing quite compares to the sights, the smells, buzz in the area, the camaraderie you'll find at a football tailgate. Whether you're a fan of college football or the pros, gathering with fellow fans to drink, eat and watch TV before the game is unmatched. But hosting your own tailgate can feel overwhelming! Luckily, we've created this guide so you can experience all the fun of RV tailgating without the stress.
The Basics
First and foremost, you need to figure out where and how to tailgate. Where do fans gather? What game day traditions do they have? Start here.
Plan Ahead
If there's one thing that's true across the board for big schools, small schools and professional team tailgates, it's that RV lots fill up QUICK. If you are hoping to plan an RV football tailgate, we recommend planning ahead at least 6 months early, sometimes even more. You may find your school has a waiting list to get into the RV lot on campus! The further in advance you can get on top of securing RV parking for the weekend of the game, the better.
Check the team website for official RV lots
How do you find the best RV lot? Check the official team information first. This means heading to the university's athletic department website, or visiting the fan experience portion of a pro team's website. If the team has an official RV lot on campus or in close proximity to the stadium, it will be listed there, as well as any pertinent information on how to secure a spot. The official RV lots are usually the ones that throw the best parties.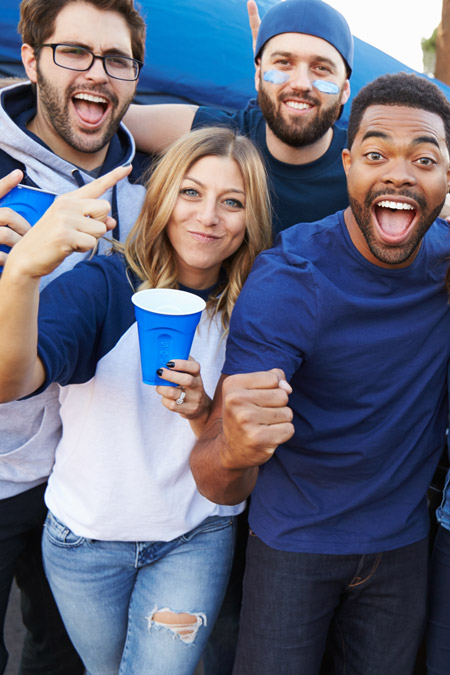 Browse fan forums for more suggestions
If you're still coming up short with that route, try checking out the suggestions on fan forums. Die-hard fans know where all the best places to tailgate are at, so turning to them for tips is wise. They're usually thrilled to help share their team's ultimate tailgating experience with newcomers!
Get your tickets
If you plan on heading into the stadium after you wrap up your tailgate, make sure you secure your tickets in advance. Don't depend on buying a ticket off of a scalper outside the stadium on your way in! If you buy enough in advance, you can pay face value for a ticket rather than a markup once it's sold later by a third party.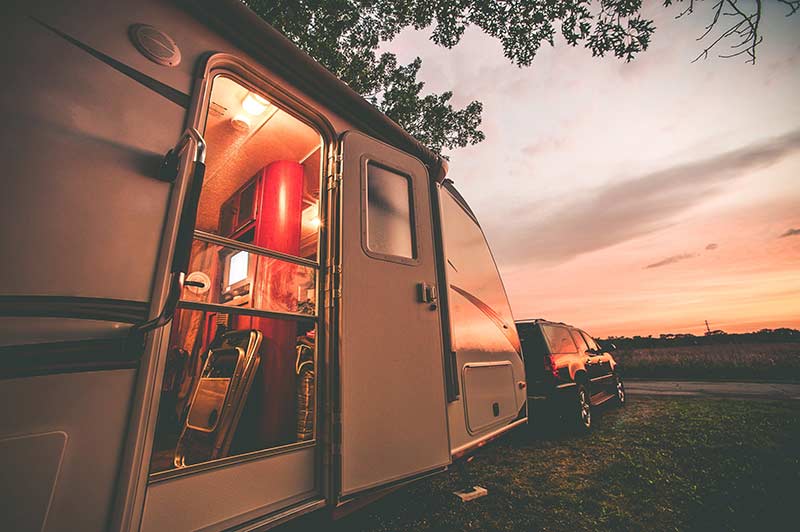 Need the perfect RV for the big game?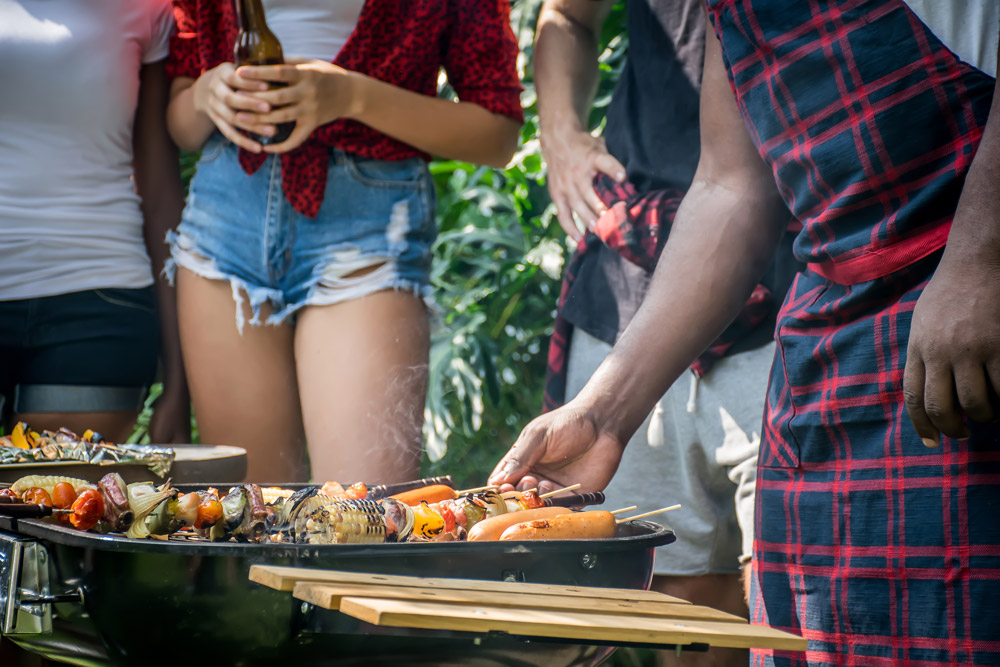 The Food
The food might be the most important part of a tailgate! Some RV football tailgate hot spots are famous for their food, like the abundance of Cajun goodness tailgating at LSU's Death Valley. It's the food that often helps you make friends with nearby tailgaters, so you want your tailgate to have the very best.
Decide how long you'll be tailgating
The first step to good RV football tailgate food is preparing. Are you camping out the night before the game? You'll want to bring dinner and breakfast. Are you arriving mid-morning? Cut straight to grilling up some brats. Planning on eating at the buffet in the alumni club level seats after you head into the stadium? Plan for plenty of appetizers and drinks before the game. Posting up in your RV to watch the game on your own TV? You'll need some main entrees for game night.
Use our recipes to kickstart your menu
Don't worry, you don't have to plan your menu on your own. We're here to help! We put together a full guide to RV tailgating recipes so you can have the best tailgating food out there. You might even find some additional inspiration at the recipes tab on our blog!
The Gear
The right RV football tailgating gear can really take a tailgate to the next level. These suggestions will make your tailgating setup the envy of the RV lot.
The TV setup
If you have an RV with an outdoor entertainment center, then you're already set up for a successful RV football tailgate. It will require much less effort than setting up your own big screen, and your RV will be the place to hang! You'll likely want a generator and a satellite dish to make sure you get the important channels like ESPN or NFL RedZone in an RV lot with no hookups.
The rest
TV or not, you need a few things to keep everyone entertained and show your team spirit! We love these RV football tailgating finds on Amazon.
This LED corn hole set is perfect for tailgating that prime-time 8pm Saturday night game in the late fall. It can take the party all the way into the nighttime! Corn hole is a favorite tailgating activity for anyone and these regulation sized boards will keep everyone extra competitive.
If your RV doesn't have an outside kitchen, you need this
Blackstone Tailgater Stainless Steel Grill
. Yes, even if you have a stovetop inside your RV! The joy of tailgating is hanging out outside with everyone, so use the kitchen for meal prep, but keep the burgers and dogs sizzling on this tailgating grill outside to attract a crowd (and keep the temperature down inside your RV).
https://amzn.to/3dVflBE
The RV lot needs to know which team you stand for! That makes this tailgating flag pole a must for your RV football tailgate setup. Find your team's flag online and hook it up to this rig to let fellow fans know you're friendly company.
Now you're ready for the best RV football tailgate ever
Armed with these tips, you're ready to host the ultimate RV football tailgate! Invite all of your friends, pack your favorite jersey, hang your team flag and go enjoy yourselves. Make some new friends while you're at it – and we hope your team wins.
This post contains affiliate links. RVUSA.com will receive a small commission at no cost to you if you make a purchase using these links. We appreciate your support!
Ready to find an RV for your adventures?