Welcome back, RVers! As Thanksgiving gets closer and closer, there's less and less time to decide on your feast line up. If you plan to go to non traditional route and camp for the holiday, you might have to a bit more planning than those who will be cooking in a basic kitchen. But if you're cooking your Thanksgiving feast over a campfire, we're sure that a bit of planning ahead isn't going to be a problem for you! Below are some of our favorite fireside Thanksgiving dishes that will warm you up inside and out. 
Let's start with sides. There are so many side dishes that are considered crucial to creating the ultimate feast. But since you're cooking over a fire, you have to be careful in your side dish choices. 
Is it even Thanksgiving dinner without creamy, gooey Mac and cheese? We didn't think so either! This takes a bit of prep time, so be sure to give yourself enough time, or you can make it ahead and then add the cheese on top and let the campfire melt and reheat it! 
This recipe takes the best and most popular Thanksgiving flavors and combines them into one delicious stuffing. It's pretty straightforward; just scoop out the seeds from the squash, chop your veggies and stuff the squash until it's tender. 
I don't know about you guys, but a good slice of crispy, hot cornbread is a staple for a classic Southern Thanksgiving feast. The trick to having a perfect campfire cornbread is the heat. It can't be too hot or too cool, and if you have a cast iron skillet, you'll definitely need It for this recipe. They're the best at retaining heat. 
Another classic Thanksgiving side dish, sweet potatoes are just the ticket for cutting through all the salty foods on your plate. Normally most people add in some marshmallows and raisins to their sweet potatoes, but this recipe uses chipotles in adobo, which adds a bit of a smoky flavor. Perfect for a campfire side dish. 
What's Thanksgiving without a dessert? This Dutch Oven Apple Cobbler is sure to be the star of the evening! 
This turkey recipe gives you two options for cooking the turkey, so you can choose which one works best given your camping setup. If you decide to go the Dutch Oven route, put a wire rack at the bottom so the bottom of the turkey isn't touching any part of the Dutch Oven.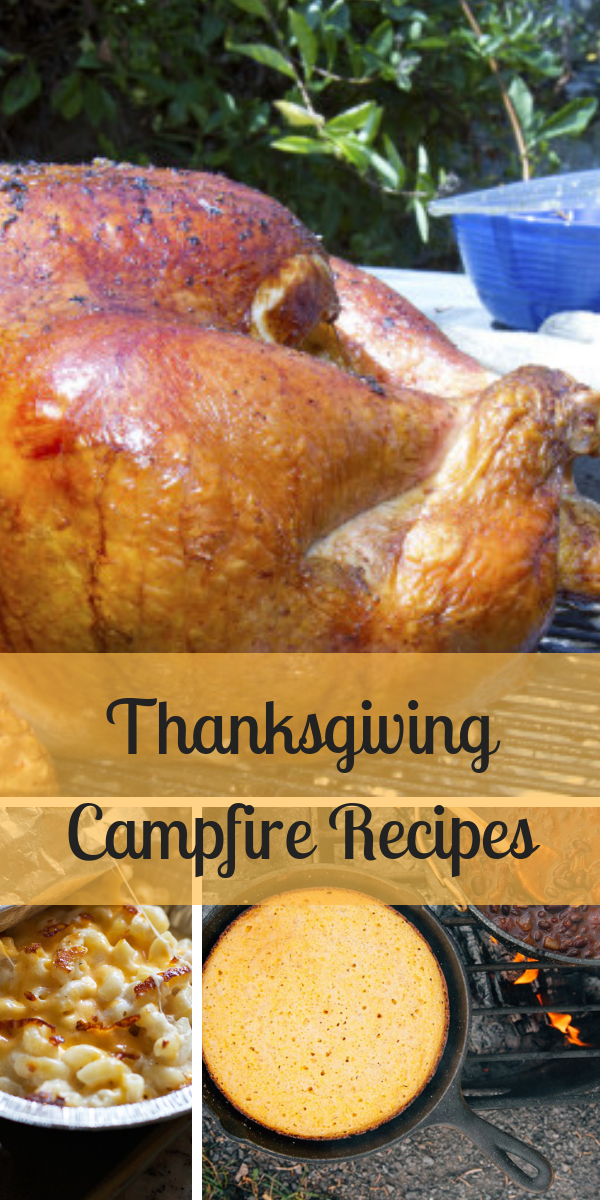 Don't forget to stay up to date with all of our exciting RV and camping content on Facebook, Twitter and Instagram!