It's hard to beat conversation with loved ones around the campfire at the end of a long day of exploring. What's the one thing that can make it better? Dessert! We're not talking the kind of treats that take you away from the conversation and back into the camper for baking. We mean simple campfire desserts that can be made right over the campfire.
The Most Delicious Campfire Desserts Out There
Don't settle for basic roasted mallows when these delicious desserts exist! We made a list of delectable treats that are a step above s'mores and will make you the talk of the campground. You won't miss a minute and the whole family can participate! Read on for our favorite campfire dessert recipes.
Blackberry Campfire Cobbler
 This blackberry campfire cobbler recipe is awesome for so many reasons! First, it only needs three ingredients uses minimal dishes. Second, you can eat what is left over the next morning! Campfire desserts for breakfast is a concept we can totally support.
Campfire Strawberries
Campfire strawberries are a twist on roasting marshmallows that the kids will love. All you do is dip the strawberries (or really any other fruit) in the marshmallow flush then roast them over the campfire until it reaches your desired toastiness! And it's fruit, so who says these campfire desserts aren't healthy?
S'more Banana Boats
For a super simple, low-key dessert the kids will love, reach for these s'mores banana boats! Plus, you'll be able to sneak them some fruit disguised as a gooey, delicious dessert.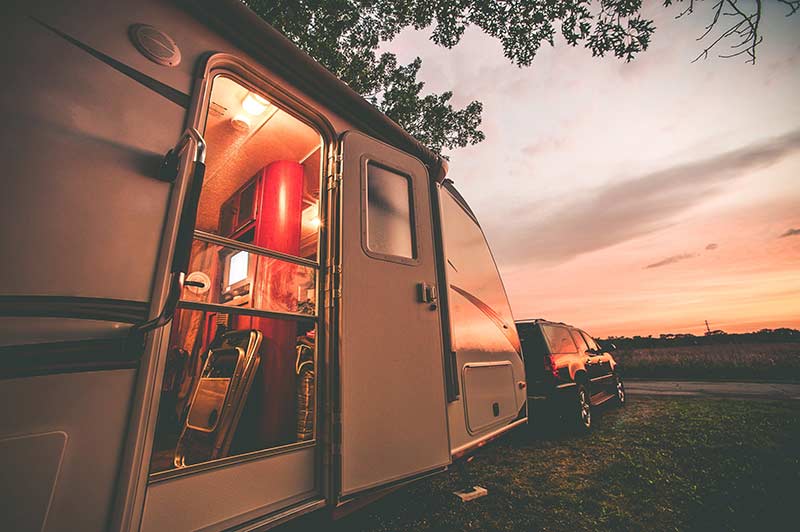 Need the perfect RV for a getaway?
Campfire Cones
Campfire cones are a good idea if you're camping with picky eaters because these are DIY. Just fill up your cone with your favorite fruit and sweets, wrap them in aluminum foil then pop em on top of your campfire for a few minutes. Done!
Campfire Donuts
Guys, who doesn't love a good donut? And a campfire donut that's easy to make? I don't think I have it in me to ever turn one down. The recipe calls for cinnamon sugar, but you could probably dip them in chocolate or any kind of icing if you wanted. Don't forget the sprinkles!
Campfire Apples
These campfire apples do require a bit of prep beforehand, but it just makes it easier on you once you're out camping. You core some apples, add the dried fruit mixture to the middle, wrap those babies up and toss them onto the fire. You know they're done when you squeeze them with a set of tongs and they're tender. So simple!
Shop Our Camping Essentials
Campfire Brownies
If you want to keep it classic, you can't go wrong with this easy Campfire Brownies recipe. You'll just need the regular ingredients you'd use for a brownie mix from a box, top with your favorite candy and set it over the fire in a Dutch Oven. Yum.
Campfire S'mores Nachos
A modern twist on the classic s'mores, these Campfire S'mores Nachos are all you'll ever need for a dessert again. They can be made over a fire or on the grill at home. The choice is yours.
Campfire Peaches
Give these campfire peaches a try and you might find that they're your new favorite camping dessert! Peaches may not be the first dessert food to come to mind, but you will understand why these made the list when you try them. Bonus: an extra serving of fruit!
Time To Make Your Own Campfire Desserts
Now that you have the recipes, get out there and try them out! Making these desserts together as a family is equal parts fun and delicous. For more camping recipes, check out the RV recipes section of our blog. Happy travels!
Ready to find an RV for your adventures?