How to decorate your RV for Christmas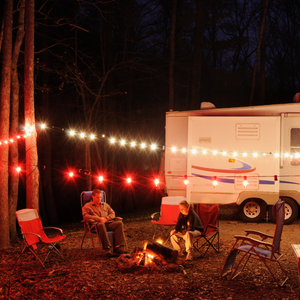 It's beginning to look a lot like Christmas and we couldn't be more excited! We love this time of the year. There is nothing better than decorating for Christmas and making your space feel like your own personal winter wonderland. Decorating for Christmas is a little different when you are in an RV than when you are in a sticks and bricks home, but with a few RV Christmas decorations, you will be in the spirit and ready to welcome the campground carolers to your front door.
If you are a full-time RVer or just spending Christmas in your camper, you may feel like you can't go "all-out" like you would in a traditional home. You may not have a large yard, big porch, or a ton of interior room for a massive tree, but there are SO many options for RV Christmas decorations that you may have never thought of.
These decorations will have your camper feeling like your own personal winter wonderland in no time. With these, you'll be the talk of the campground. Even better, all of these decorations are available from Amazon and can be shipped quickly right to your camper door.
No room in the RV for a full-sized Christmas tree? No problem! This mini-Christmas tree is the perfect solution to your problem. This adorable decoration is pre-lit and the perfect size for an RV table. While it may not be as grand a full-sized tree that you would put up in a "traditional" home, it still evokes those cozy Christmas feels.
If you're dead set on a bigger tree, check out our guide on how to still have a Christmas tree while RVing. By itself, this may not be "enough" for your Christmas RV decor, but in conjunction with the rest of these items on this list, you will find yourself having an adorably decorated camper this winter.
Christmas Window Stickers
Is it even Christmas if you don't put some adorable little stickers on your windows? These little window clings are just too cute and they add an extra level of Holiday cheer to your camper.
If you have kids in your camper, they will especially love helping you decorate with these little guys! No need to worry about them messing up your windows either. These stickers are easy to place, move, and remove and won't leave a sticky messy film on your glass surfaces.
It wouldn't be an RV Christmas decorations list without mentioning these adorable
seasonal pillow covers
! This set of four fits perfectly on your small square couch pillows and will bring some real cheer to the interior of your RV this Christmas.
The best part? They are easy to store and simple to change out every holiday or season! Simply purchase a set of plain 18″ throw pillows and trade out the pillow covers every time the holidays change.
No matter if you are decorating your tree in your RV or just want to show off your love for camping on your tree in your home, you are going to want a few RV Christmas ornaments.
This RV ornament , inspired by one of our favorite Christmas movies featuring an RV, may be one of the cutest we have ever seen. We also love these customizable RV Christmas ornaments!
Not only will you get to show your love for camping, but your friends will love it! These also make amazing gifts for the RVer in your life if you are looking for something unique and special to gift them this Christmas.
Want to spread a little Christmas cheer in your RV kitchen this winter? Then you need to grab these adorable and functional, Christmas hand towels.
These towels are perfect for your RV kitchen. They will bring in a little festive Christmas feels to your kitchen and have you in the spirit to cook your delicious Christmas dinner for all of your campground friends.
Step up your outdoor illumination with these Camco Retro Camper party lights! There are fun RV Christmas decorations for your front stoop, but they are also perfect for decorating your camper all year long. We also love this set of battery-operated RV string lights that can be controlled with a remote control.
Honestly, these lights aren't "traditionally Christmas" – but nothing in RV living is normal, and that's the way we like it! So have a little fun with your Christmas decor and pick up these lights, then when the holidays are over, you can keep the party going the rest of the year too.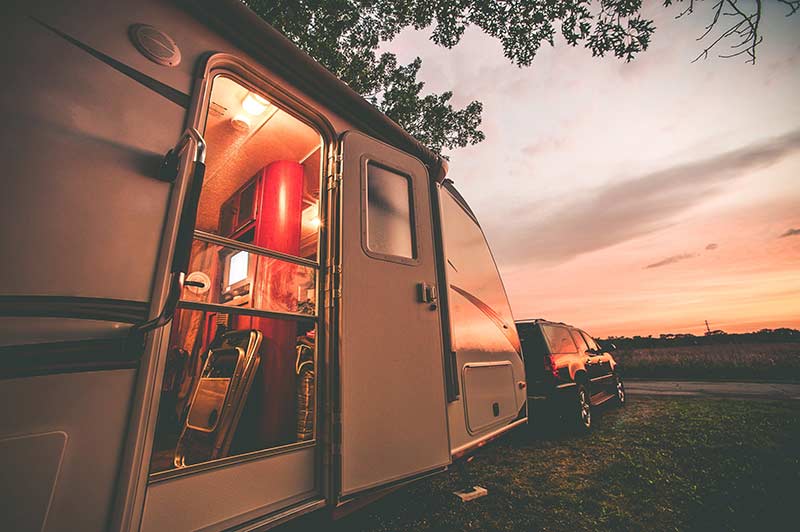 RV Christmas Decoration Inspiration
With these RV Christmas decorations, you'll be the envy of the campground. You will be living in your own personal winter wonderland no matter where you're parked for the holiday!
Of course, there are more ways to get in the Christmas spirit besides decorating your RV for Christmas. We rounded up the top 20 Christmas destinations as well as some easy recipes for winter camping that will help you feel the spirit of the season all month long!
No matter how you spend your holiday season, there are plenty of fun things to see and do across the US this winter. Head to our blog for more RV travel tips and destinations! Be sure to check out our full RVUSA Amazon Essentials page as well for more recommendations on RV essentials for everything from the kitchen to the campfire.
This post contains affiliate links. RVUSA.com will receive a small commission at no cost to you if you make a purchase using these links. We appreciate your support!
Ready to find an RV for your adventures?