Are you looking for the perfect destination to travel over the holiday season? We have compiled the ultimate list of Christmas getaways that is sure to have to have a place every one will enjoy! From small towns to big cities, this list includes any experience you and your fellow travelers are searching to encounter this winter!
Leavenworth, Washington
Filled with tradition and tons of fun, this Bavarian style town brings the holidays to life starting in November. They kick off the Christmas cheer with Christkindlmarkt, which is a family friendly Christmas market for everyone to enjoy! By the end of November, the town transitions into full Christmas decor and the Christmas lighting festival takes place. Throughout the season, visitors can enjoy events such as concerts and ice festivals with plenty of activities for the kiddos too! Arrive just before sunset to watch the lights turn on and become as dazzling as the stars! We think this small mountainside town is an ideal getaway for families looking for a friendly and activity fulled environment.
McAdenville, North Carolina
Each year, the town of McAdenville, North Carolina transforms into our very own Christmas treat and becomes Christmas Town, USA. The town lights their tree the night before November begins and welcome in December with a festive greeting. later in the month on the 13th, visitors can experience the Yule Log parade and enjoy free hot chocolate and kettle corn wile they watch. Our favorite part about this destination is the history behind the lights. Talk to locals and discover the reason their town is so passionate about lighting up the holidays.
Orlando, Florida
If you are traveling with kids or just love theme parks in general, Walt Disney World in Orlando is the perfect place to visit on your Christmas break. With a much more tropical atmosphere, you can escape the cold and pack lighter. Disney's theme parks spare no expense when decorating for the holidays, so we guarantee a festive trip filled with adventure when you visit.
Ogunquit, Maine
This small coastal town becomes a welcome escape for visitors during the holidays! The town has dubbed their annual festival, "Christmas by the Sea." Enjoy free visits with Santa, parades from the beach to the shore, bonfires and hayrides! Other events include caroling, a season's tasting, tree lightings and so much more. From gingerbread festivals to extravagant parades, you won't want to miss a thing! The festivities begin on December 7th and continue through the entire month.
Hanover, New Hampshire
Enjoy the Christmas cheer in this fun Northern town. Visitors can start the season off by participating in the town's traditional snowflake hunt. Each store downtown will have a hidden snowflake! Send the family out to finally the clues to reveal the town's secret message. Participate in crafting custom ornaments or pick up some cookies on the cookie stroll down the main street. The season is scattered with various events weekly making your trip fun filled no matter what time of the holiday you choose to visit!
Chicago, Illinois
Get away to the big city this Christmas and enjoy the extravagant celebrations! We love that there are so many options for visitors when it comes to finding activities. Like Leavenworth, Chicago recreates the traditional open air seasonal market native to Germany. Here you can find food, presents and drinks in one place! If you're looking for a stroll to appreciate the Christmas lights, take a trip down to the Lincoln Park Zoo and enjoy the displays throughout the park. If you're lucky, you may even get to see ice sculpting in action alongside local hot chocolate stands. However, if the crowd isn't your ideal getaway, we suggest viewing the tree lights at the Morton Arboretum. Skate on the ice at Millennium Park, enjoy the Caroling show at Cloud Gate and so much more in this city!
Andalusia, Alabama
Our favorite winter wonderland escape that is family friendly is the city of Andalusia, Alabama. During the winter months, downtown transforms into Candyland creating a white Christmas down south. This area includes activities like train rides, tubing, shows, skating and play areas. No matter what age your kids are, chances are they will find an activity to engage in here while parents can enjoy the decorations and lights. Be sure to stick around for one of their snow shows to get the full experience.
Branson, Missouri
Known as America's Christmas Tree City, Branson, Missouri refuses to let the season pass without celebration. While the down id decorated with lights and holds events and shows hosted around the decorations, our favorite activity here combines history and pop culture! Board onto the Branson Scenic Railway for a short trip through the Ozark Mountains. What makes this trip special is that it is based completely off of the Polar Express train from the movie. Each ticket includes hot chocolate, cookies and stories read by Santa himself!
Corning, New York
This town'd Sparkle event changes the standard for spreading Christmas cheer during the season. Join locals and fellow visitors to flood the streets of downtown where viewers can take in the decorations of all the shops. With visits from reindeer and rides on a wagon, there's no question as to why this event is celebrating its 44th anniversary this year.
Santa Claus, Indiana
With no surprise following the name, this town's Christmas celebration is focused on connecting kids with the man in red this holiday season! Everything in this town is focused on bringing the magic of Christmas a reality. Hosting events such as writing letters to Santa, chatting with an elf and dinner and pictures with Santa, kids who visit here are bound to leave believing! And finally, parents can close out the season right by enjoying some chestnuts roasting on an open fire!
Ogden, Utah
Nestled in the valleys of surrounding mountains, this town is lined by the perfect snow frocked Christmas tree line. Downtown, visitors will find what is known as Christmas Village. This spectacle includes a line of cottages designed to look like Santa's Village in the North Pole. Admission is free, so enjoy the lights and sights as long as you please. Here, you are bound to feel like you are staying in a real life winter wonderland!
Frankenmuth, Michigan
We love that in Frankenmuth, Michigan, the Christmas spirit never dies. This small town keeps their decorations up year round and raises the bar each Christmas celebration. Throughout the month, visitors can enjoy local performers, meals, marketplaces and carriage rides. As home to the "World's Largest Christmas Store," we are sure all of your seasonal shopping dreams will be fulfilled here! Don't forget to pick up an extra ornament for your loved ones!
New York City, New York
What better city to ring in the Christmas cheer than The Big Apple? Known for its extravagant and lavish decorations that scatter throughout the city, visitors will never run out of sights to see! Our top two musts for this season in the city are seeing the tree and ice skating in Rockefeller Center. Both make for the perfect backdrop of a seasonal photo as well.
Solvang, California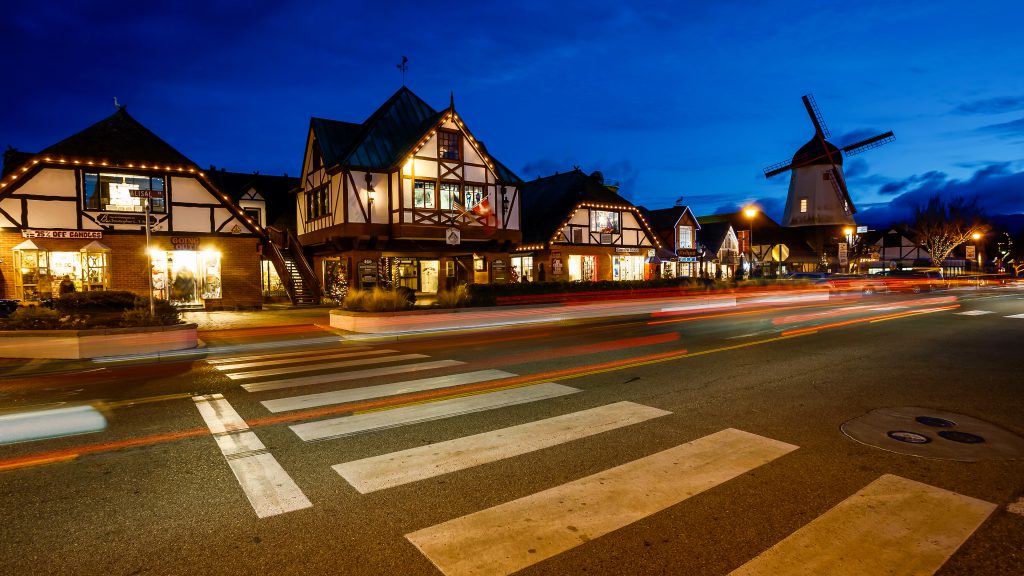 Solvang is a traditional Danish style town north of Santa Barbara in California. During Christmas, the lights here are picture worthy. Our favorite Christmas scene here is the windmill that is covered in Christmas lights. Take a stroll down Copenhagen Drive, visit the tradition restaurants and bars along the way and experience the seasonal cuisine that is offered.
Zoar, Ohio
If you're looking for a hometown experience away from home this Christmas, we have found just the place you need to visit! Zoar offers a unique experience in their city center that offers visitors a low cost opportunity to experience the season. Embark on a horse drawn wagon ride or participate in the tree lighting ceremony held by the locals. Take in the decorations that scatter into the Historic Zoar Gardens and end the night with a candlelit service to remember the real reason for the season!
Bernville, Pennsylvania
If your family enjoys looking at the spectacular Christmas lights each year, venture away from home this season and visit Bernville, Pennsylvania. Here, visitors are met from what seems like the middle of nowhere, with bright Christmas lights spanning as far as you can see. This spectacle is known as Koziar's Christmas Village and it has continued to grow bigger and better each year. Families from near and far have made this a stop on their season's travels.
North Pole, Alaska
If you are up for an adventure, we suggest heading up to the North Pole. North Pole, Alaska, that is! Enjoy an entire town themed after Santa's home just a short drive outside of Fairbanks. Here, visitors will find the Santa Claus House filled with presents and Christmas memoirs year round with a bit of extra cheer when the season permits!
Vail, Colorado
If you are looking for a more adventurous way to spend your Christmas, we suggest taking a trip to Vail Colorado. Here, you will be able to engage in all the winter sports your heart desires during the day and watch the snow covered city come to life when the lights turn on. Even if sports aren't your forte, you can still enjoy the scene by cozying up next to the fire with a cup of hot cocoa. Visit the week after Christmas to see their spectacular New Year's Eve fireworks show.
Woodstock, Vermont
This small town is the definition of a perfect getaway from the city! The history here is evident in their celebrations and decorations. We suggest staying at the inn in town with a horse drawn carriage ride the next day for the full experience. Most people say the weather in the city is just the right setting for a fresh White Christmas. Shop local here and enjoy a welcome slowed pace from your day to day life!
Elkhart Lake, Wisconsin
This destination is perfect for all of the craftsmen out there! This town boasts in its ability to create traditional items with such ease. During the Christmas season, these craft processes are showcased and sometimes even taught. Buy a handmade glass blown ornament or give a carved wooden toy as a gift to your child! Either way, these gifts and experiences are sure to leave you with a better feel for the heart of this town.
Whether you are planning to rest and enjoy the sights and atmosphere or looking for somewhere to stay busy with activities and family outings, we hope you found your winter wonderland included in this list!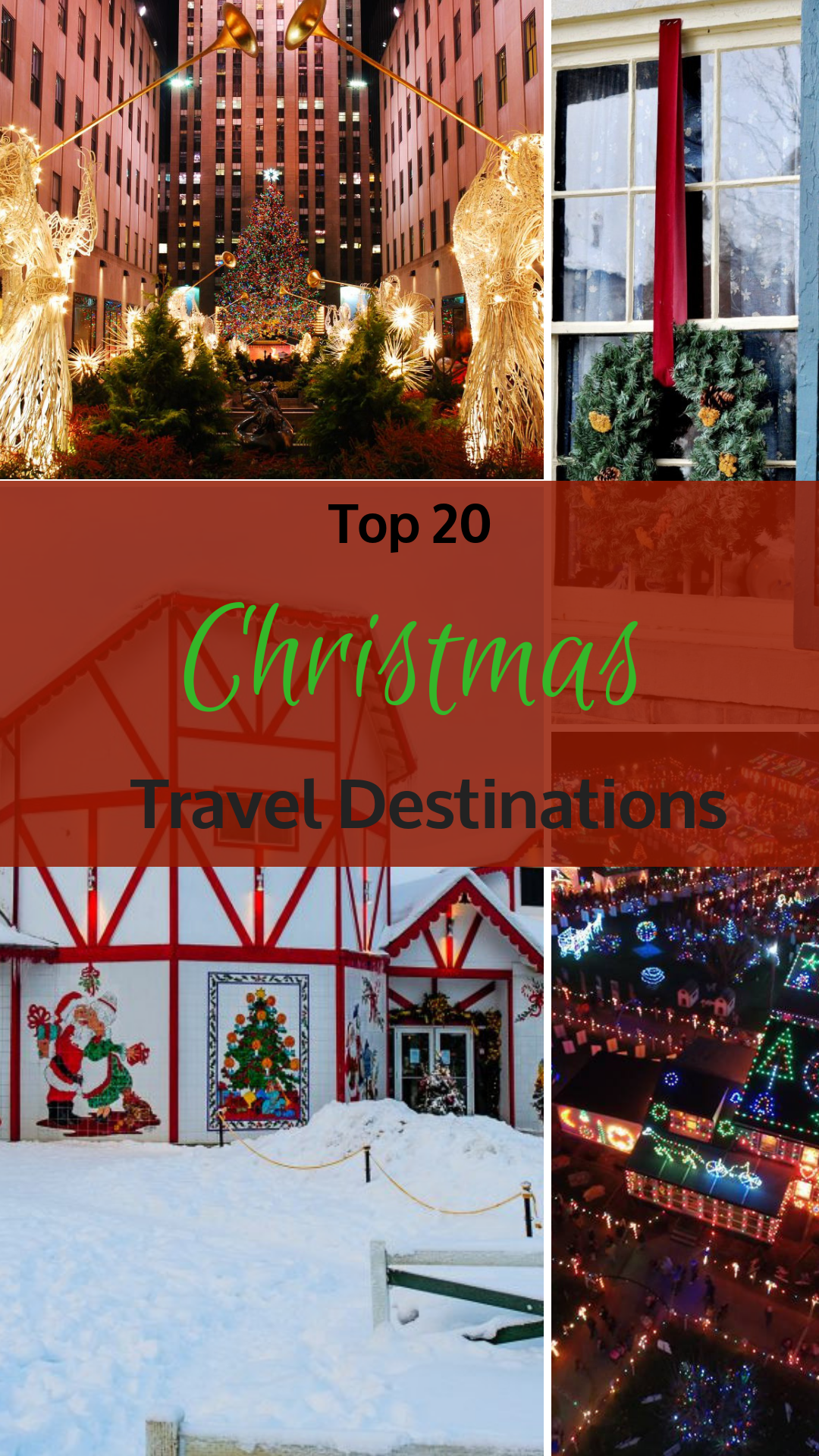 Don't forget to stay up to date with all of our exciting RV and camping content on Facebook, Twitter and Instagram!
Let us know in the comments sections if you have visited any of these cities leave us suggestions for next year's list!