There's nothing like a tasty Christmas treat to get you feeling festive. When you're on the road for the holidays though, you might feel like you're missing out on indulging in the extravagant Christmas meals or pot lucks that you'd enjoy if you were at home. The good news is, while Christmas in the RV may look a little different than being home for the holidays, you don't have to miss out on the good food. We've compiled a list of easy Christmas Recipes for the RV that you can make with the kids or when having friends from the campground over for a mini holiday party in the rig. There's no oven needed for these recipes. A stove-top, a crock pot and an instant pot will get the job done. Enjoy!
This recipe doubles as a substitute for burning holiday candles in the RV. One pot of this hot spiced apple cider cooking on the stovetop will have your whole rig filled with the sweet aroma of Christmas cheer. Curl up with a book and a cup of this cozy drink and you have yourself the perfect night in.
These stovetop candied pecans are another aromatic holiday treat. The cinnamon toasting along with the nuts is delightful both to smell and to taste. Keep these on hand as an easy snack throughout the holiday travel season. You can even whip these up over the campfire if you'd like!
Trust us, these are much more appetizing than their name implies! But we do love a good Christmas themed treat. These no-bake cookies are drenched in melted chocolate and caramel and get their crunch from Rice Krispies. These are perfect if you're looking for a little treat to bring to your neighbors in the campground to spread the holiday spirit.
You can't go wrong with dressing up your treats for the Christmas theme this time of year. This recipe isn't much different than your traditional cheese ball, you'll just add reindeer ears of pretzels, olives for eyes and a Rudolph-red tomato nose. This recipe does call for refrigeration and a mixer, so keep that in mind if you add this one to the Christmas menu in your RV.
Puppy chow (also known as muddy buddies) is a classic holiday treat, and it's easy to make in your RV too! All you need is a stovetop or campfire to melt the chocolate and a big bowl to mix it all together.
There's no better use for all the candy canes of the Christmas season than whipping up some peppermint bark. This recipe makes it easy to combine all your ingredients in the slow cooker and then set the bark without using a refrigerator.
Nothing says holiday get together like cocktail meatballs, and it doesn't get much easier than this 3-ingredient slow cooker recipe. This is a quick and easy side dish or appetizer to add to any holiday menu, and it's always a crowd pleaser. You don't need guests to enjoy this tasty dish!
Waking up on Christmas morning to an easy and delicious breakfast is always a treat, and you can make this indulgent meal the night before. If you're keeping the tradition of opening presents on Christmas morning alive on your holiday road trip, it's a great dish to have ready so everyone can eat and be merry while celebrating.
It doesn't get much easier than putting together this snowman veggie tray. Create it using some fresh veggies you purchase locally on the road, or by rearranging the snack sizes pieces that came in a store bought tray. You'll just need 3 bowls, a long tray, and some olives for eyes and buttons to top it off.
At Thanksgiving, we shared recipes for all your favorite sides and an instant pot turkey, so at Christmas we're giving you this instant pot ham recipe. This recipe calls for a spiral sliced pre-cooked ham and takes only 30 minutes to make. You can make this recipe paleo or keto by using ghee and monk fruit sweetener or coconut sugar instead of butter and brown sugar. It's up to you how healthy you want to be on the holidays!
Christmas Recipes for the RV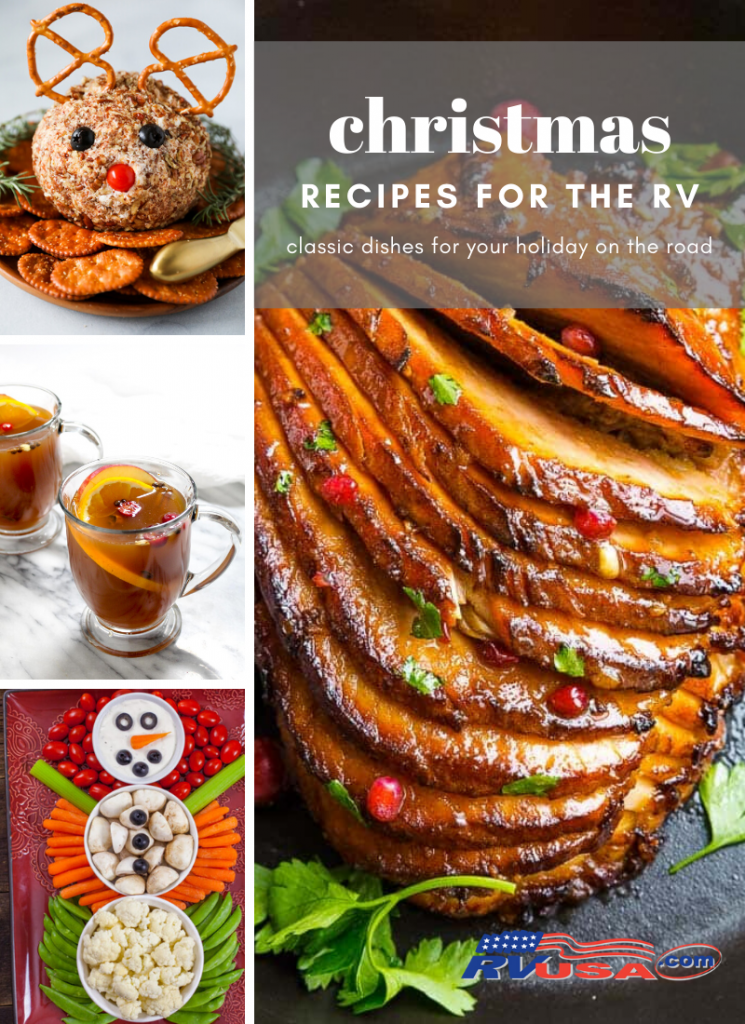 Christmas cookies and a ham in the oven may be the ideal holiday meal to some, but with these recipes, you'll still be on your way to a delicious Christmas season – and since you're on the road, we know you'll quite literally be on your way to an amazing destination. There's nothing like the freedom to be able to do the holidays on your own terms, and eat well while you're at it.
You may get some extra ideas for Christmas dinners in our article about how to cook Thanksgiving dinner in your RV. And if you're still looking for inspiration on where to spend the Christmas season, check out our article on RV destinations for the holidays.