Overlanding Gifts for the Off-Grid Camping Enthusiast
Overlanding has taken off in the US camping scene in recent years, and it's likely someone you know takes part in this unique style of adventure travel. If you're trying to come up with gift ideas for a loved one who spends their weekends off-roading to campsites in remote locations, we're here to help! Earlier this year, RVUSA expanded into the overlanding world by offering a new category for overland campers, and now we're tackling a Christmas list for overland enthusiasts. We scoured the Internet for the best overlanding gifts out there so all you have to do is click – and wrap.
This is a luxury gift every overlander will love. Everyone knows the name Garmin in the GPS world, and this
overlander navigator
is designed specifically for heading off-road. It's pre-loaded with points of interest for overlanders and public campgrounds so your loved ones won't need any cell service to find the best dispersed campsites. Good news: at the time of writing this blog post, Amazon has these available for $100 off. Score!
Speaking of no cell service, a
satellite communicator
is a must for overlanders who love camping off the beaten path. Exploring the unexplored is a signature trait of this style of camping, and often there's no cell signal to be found. Your overlander can essentially send texts via satellite with this device as well as access downloadable maps and send SOS signals if necessary. This is one of those overlanding gifts that is practical for them but also gives you peace of mind that your loved ones are never out of touch.
Part of the fun of overlanding is testing your rig's limits and maybe getting into some slightly precarious situations. Every overlander should have a set of
recovery boards
on board their vehicle. These are used to help get rigs out of sticky situations in rocky or muddy terrain. When you give these as overlanding gifts, your overlander will be able to have some fun off-road with the safety net of knowing they have a way out if they need it.
Have we mentioned overlanding means going off-grid? If it sounds like we're being repetitive, it's because being self-sufficient is a core part of overlanding. Solar power is essential to longer stays with this type of lifestyle, so you can't go wrong giving the gift of solar. Jackery is a respected brand whose
portable power stations
are perfect for overland travel. The battery and solar panel are usually sold separately but this bundle ensures you have both!
Many overlanding setups do not include shower or bathroom facilities. You can find some vans or trailers when you search overland camper RVs on RVUSA that have them built in, but if they're camping with a rooftop tent or with a smaller trailer, they're on their own for showers. This
Nemo Camp Shower
is the perfect solution.
Dometic is the pinnacle of off-grid refrigerator solutions. They're powered by either AC/DC or solar, so they are perfect for campers who are headed out into the wilderness. There's an accompanying Bluetooth enabled app that will allow them to adjust the fridge temp and monitor the device from their phone.
This Dometic fridge
has two different compartments that can be set to different temperatures so they can have a fridge AND a freezer. Plus, it's a smaller model that won't take up too much space in their compact overlanding rig.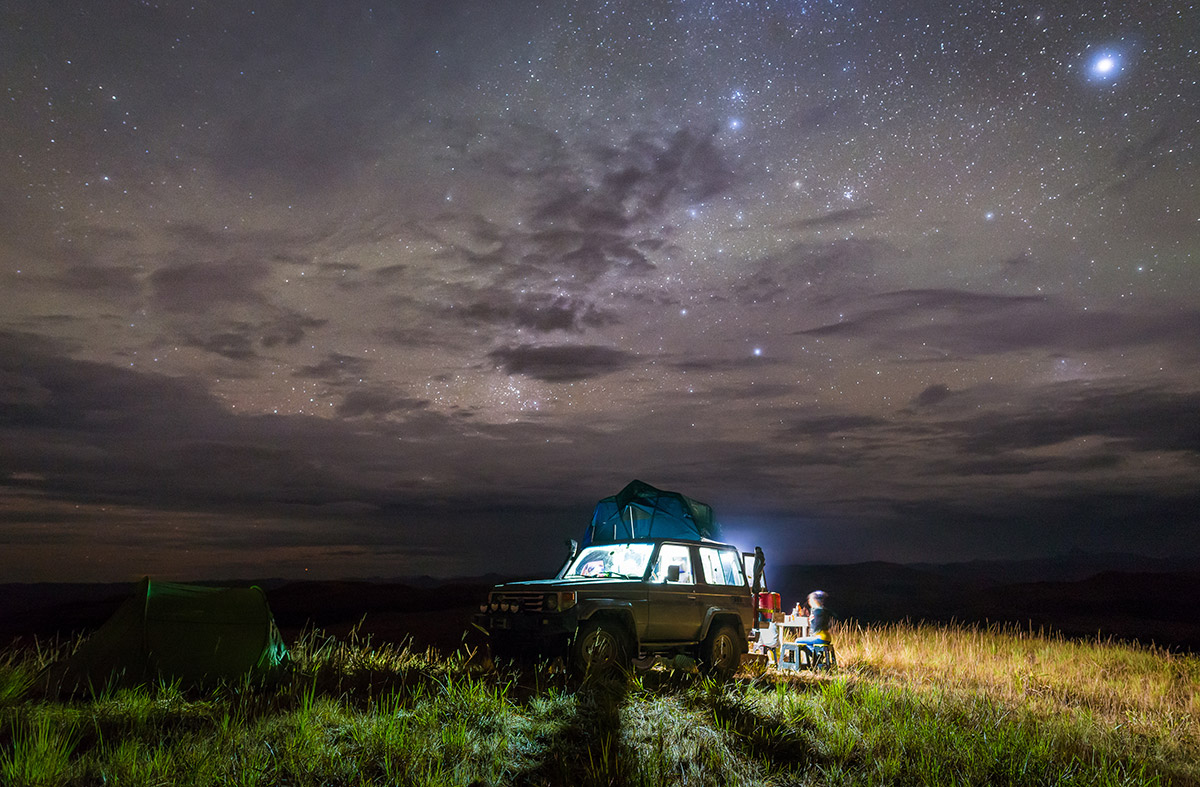 Need a rig for your holiday travels?
A perfect night of overland camping involves gathering around a campfire and sharing quality time in nature. When your loved ones are staying in dispersed campsites, there aren't formal fire rings available to them like there would be at an RV park. A
collapsible fire pit
provides a way for them to have safe, contained fires in nature (where allowed) and then pack it up without taking up a ton of space in their rig.
Camping stoves make great overlanding gifts because it levels up their camp cooking game. It opens up lots more meal possibilities when they don't have to rely on a campfire to cook! Some overlanders will prefer gas stoves, while others want induction stoves. You may need to ask your favorite overlander what their electrical setup is and if it can handle powering an induction cooktop. If not, this
gas stove from Eureka
is a great quality cooking tool. They'll just need to power it with propane. If they prefer to power their cooking electrically, we love this simple
Duxtop portable induction burner
.
What's better than waking up to a hot cup of coffee with a beautiful view? These are the moments overlanders life for, which is why off-grid coffee tools make perfect overlanding gifts. First, they'll need a
kettle
to heat up water. If espresso is their cup of tea (coffee), there's no better way to make coffee without power than with an
Aeropress
. The
Aeropress Go
packs up compactly so it takes up very little space when they travel. If they want to take it a step further and make lattes, add this
milk frother
in their stocking. If pour over is more their speed, renowned camping brand Stanley makes a great
pour over set
. Of course, no coffee setup is complete without a hand grinder. The
JavaPresse
is a great middle of the road option, but if they need the best of the best,
Normcore's hand grinder
is top of the line.
Stanley Camp Cooking Gear
Like we mentioned, Stanley is the OG when it comes to camp cooking. There's a reason their slogan says "Since 1913"! They have plenty of camp cooking options, but we love their compact
adventure camp cook set
– which at the time of writing, is on sale for nearly half off! Their
coffee mugs
are also great for overlanders to have on hand for those sunrise views. If your overlander needs a full camp kitchen setup, their
base camp cook set
is a great choice.
Overlanding Gifts Your Off-Grid Camper Will Love
It can be difficult to understand what exactly overlanding is if you're not familiar with it, but we can guarantee your favorite overlander will love all of these options! If you're the overlander in this scenario, send this list to your loved ones to help them shop for you.
If you're intrigued by overlanding and want to know more, you can view new and used overland camper RVs for sale on RVUSA!
This post contains affiliate links. RVUSA.com will receive a small commission at no cost to you if you make a purchase using these links. We appreciate your support!
Ready to find an RV for your adventures?