Welcome back, RVers! So you want to sell your rig, huh? What might seem like a daunting and stressful task can be made easy with just a bit of help. Luckily, you have RVUSA.com to make the selling your RV a breeze. And with a little bit of time and effort, you'll be able to get the best price possible for your motorhome. Keep reading for our list of tips and tricks for selling your RV.
Decide What Kind of Platform You Want to Use For Selling Your RV
There are a few different options when it comes to this, but basically, you need to decide if you want to sell it on or offline. 
If you choose to sell your RV without using the internet, you'll most likely want to park it in front of your house or a business with a big "For Sale" sign in the window. If you choose this way, you'll need to find some real estate that make sense. So, parking it at a campground instead of an upscale shopping mall probably makes more sense. 
Let's say you want to join us in the 21st century and use the internet. You could use sites like Craigslist to sell it, but people on that website are usually searching for the lowest prices they can get. With RVUSA's Sell My Unit feature, you'll get tons of views on your ad and you'll have your RV sold in no time! 
Create an Awesome Ad
The next step in the process is to write a great ad that makes people want to check out all your RV's features. It's going up against thousands of other RVs and you'll want to make yours sound as appealing and cozy as you can. 
Include as much information as want you about your RV, but make sure it's relevant and it's information that buyers are interested it. Things like milage, recent repairs and the last time it was in the shop for routine maintenance are things to mention in your ad. 
And don't forget about photos! That's really what buyers want to see, so make sure they're great photos but also make sure they're honest. 
Find the Perfect Selling Price
You can find the right price by looking at what similar RVs have sold for online. But the main thing to keep in mind is to keep is reasonable. If you post it for a price that's too high, no one will buy it and you'll start to feel like something is wrong and you might get discouraged. 
A lot of people except to sell their RV for the price that they bought it at, but that's most likely not going to happen. It's lost value over time, you've put miles on it, etc. So there's no doubt you'll end up having to sell it for less than what you paid for it. 
You can either post it for a slightly lower price than you'd like and you'll probably sell it very quickly. Or, you can post it for a bit higher than what you'd like to sell it for and you might end up selling it for the price you wanted. 
Clean, Clean, Clean
Having a flawlessly clean RV is the key to good photos and a quick and painless sale. All your personal items should be taken out. No one wants an RV full of someone's belongings…
The next step is to conduct a deep clean of the whole rig. The carpets should be shampooed, all countertops wiped down, shower and toilet should be deep cleaned, etc. Everything should be spotless. Spending this extra time on your RV could mean selling it for more. 
Be Completely Upfront and Honest
It may seem elementary to mention this, but it's so important to be honest when writing your ad. You are looking into selling you RV, so be sure to mention all the neat features it has!  Just don't "accidentally" forget to say all the bad things, too. 
People are more likely to be interested in your RV if you tell them what they want and need to know instead of keeping things from them, no matter how big or small the problem is. 
Don't forget to stay up to date with all of our exciting RV and camping content on Facebook, Twitter and Instagram!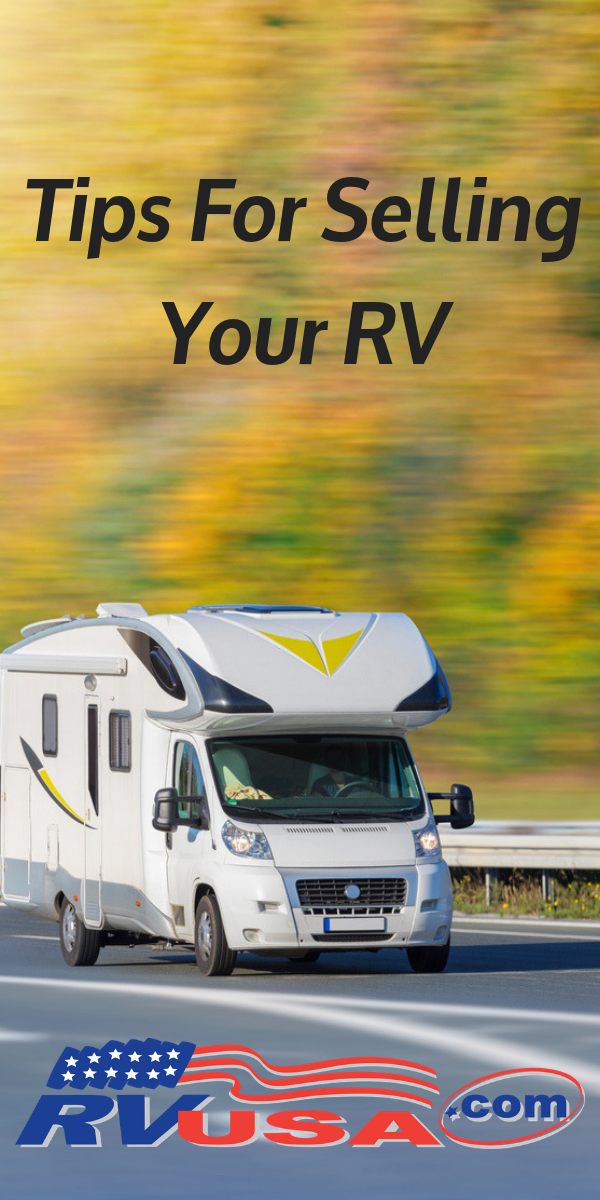 Last but not least, don't forget that RVUSA.com is ready and willing to help you sell your RV with their easy Sell My Unit process. You'll get to upload 30 photos, use their awesome video uploading tool, a listing on their homepage, your ad shown on the applicable 60 Manufacturer-Specific websites and their Satisfaction Guarantee.
Maybe you're skeptical. We understand. That's why RVUSA has an impressive list of testimonials from previous users saying how easy it was for them to sell their RV. Check em out!