Off-grid RVing, or as many call it, boondocking, can be a great way to travel in your RV for a number of reasons. First, it can be a great money saver. Not having to fork out nightly RV park fees can save hundreds of dollars a week or more. Next, it can offer solitude not found in most campgrounds. Finally, it's a great way to put the adventure back into your trip. Locating and setting up at an off-grid site can be a very rewarding experience and allows those who pursue it to experience a side of RV life which most travelers do not.
Successful off-grid RVing will depend on sticking to the basics. Those basics fall into 4 areas: finding a location, water, keeping things powered and dealing with waste.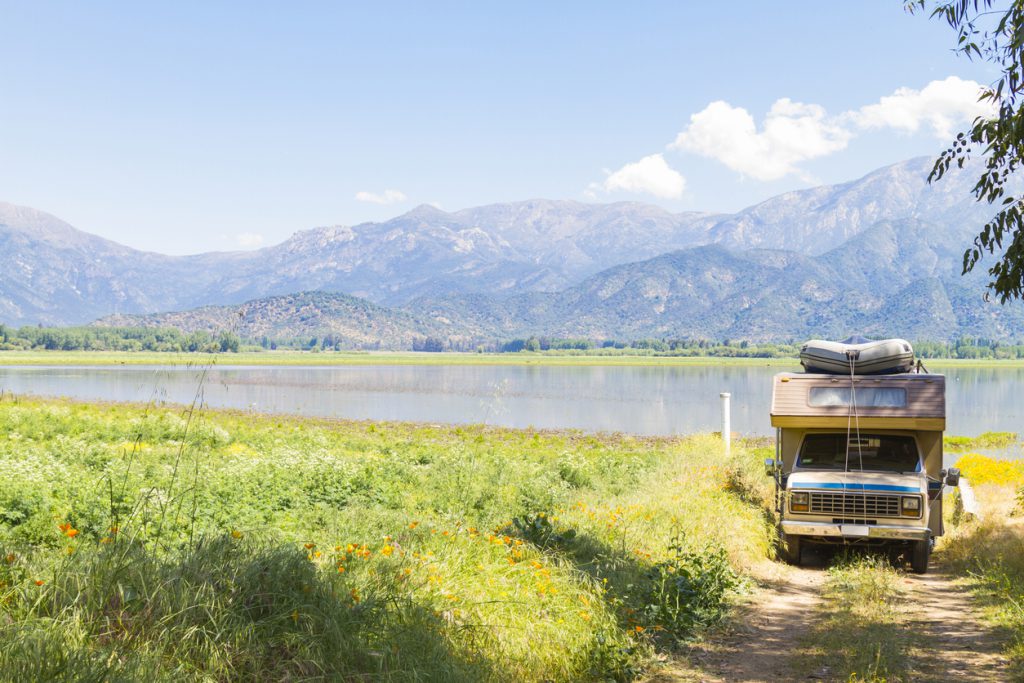 Finding a Location
Finding an off-grid location can be a challenge. Some great resources for these sites include the Allstays Camp and RV app as well as the Campendium app, and corresponding website campendium.com. FreeCampSites.net is also a great resource for free off grid sites. These tools will cover sites ranging from Walmart locations that allow overnight stays to established campsites on federal lands operated by the US Forest Service, The Bureau of Land Management (BLM), or other agencies.
If you plan to stay in a specific area near a National Forest, National Recreation Area or a BLM property then check with the ranger station responsible for that area for off grid camping locations. Boondockerswelcome.com and harvesthosts.com are subscription services that provide listings of available off-grid sites on private and corporate land. Craigslist.com can also be used to find campsites on private land. Most are not free, but there are many which are offered as exchange for services like light farming or maintenance work.
Once you have arrived at your location you will need to keep your camp operating as if it were on grid. Typically, that means having fresh water, an energy source, and dealing with waste. Standard leave no trace camping etiquette should always be followed. This means that all grey and black water that is generated during your stay as well any trash needs to be packed out and disposed of properly.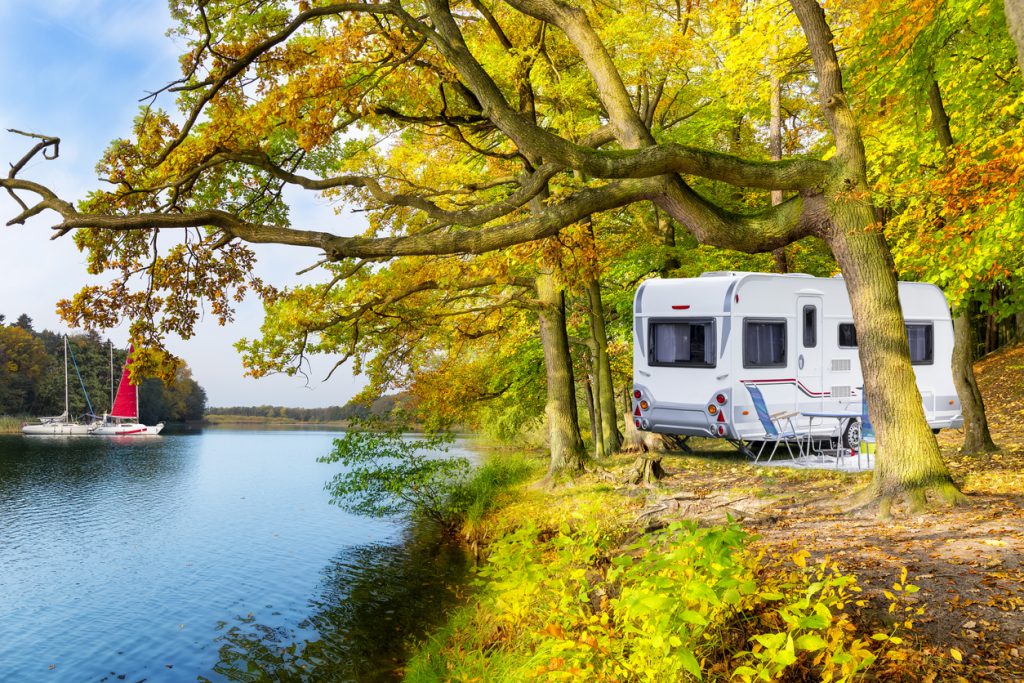 Water
Most off-grid sites will not have a drinking water source to hook to your RV, so it is best to fill your fresh water tank and empty your black/grey tanks prior to arriving at your site. Tanks can be emptied at many rest areas, gas stations and private or state/national park campgrounds. The Campendium app or the All Stays Camp and RV app can be used to find local dump stations and water sources.
A water filter like a Berkey Filter can add to your water capacity be allowing water from local sources to be filtered into drinkable water. These can help extend your stay beyond what your storage tanks can supply.
Water conservation is also critically important. To conserve water, wash dishes in a small tub of water and rinse in another clean tub. Use dry shampoo and minimize indoor showers. Outdoor hanging showers can be purchased or built from scratch which can use water from a local source or collected rainwater for bathing activities. If you want to use your indoor shower, replace the shower head with an Oxygenics low flow unit.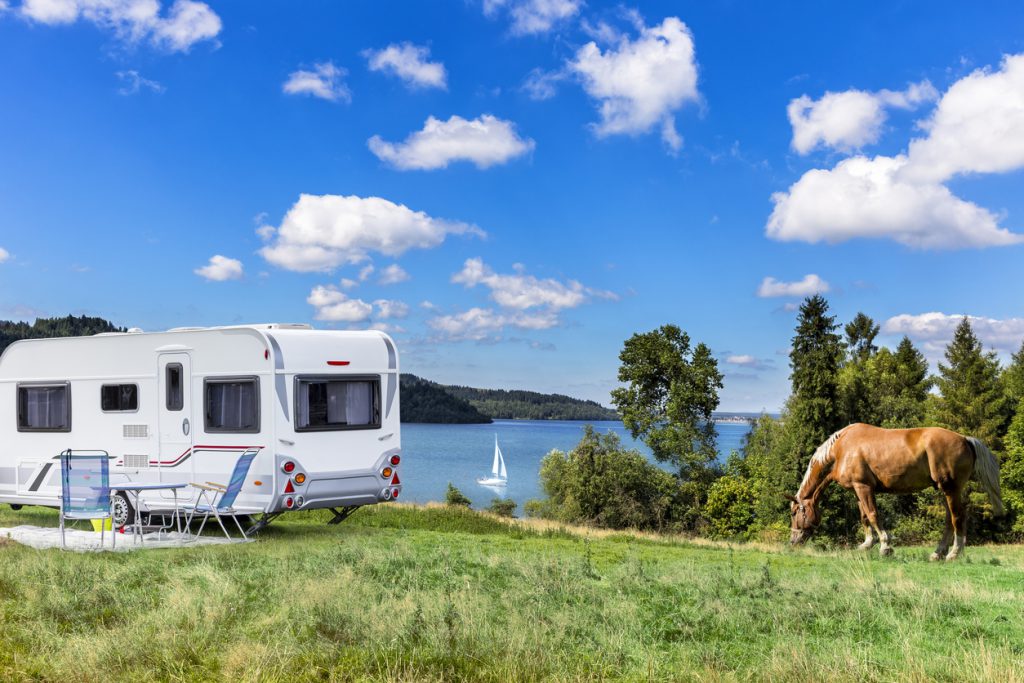 Keeping Things Powered
To cover your energy needs, start by filling up your propane tanks before heading out to camp. Depending on the RV and your needs, propane can be used for cooking, heating, water heating, and running the refrigerator. If you run out of propane, Propane.com is a great place to find the closest propane source.
For electricity, there are basically three options. For very short trips you can rely on your RV batteries. Make sure they are in good working order and do a couple trial runs where you have shore power as a backup to see how long they will last. To get longer battery life, consider upgrading to larger capacity batteries. 200-amp hours of battery capacity is generally considered the off-grid minimum.
For longer stays, a generator and/or a solar system will be necessary. For most RVs, a 3500 watt or smaller inverter generator is the best choice. If you do not require AC, smaller units may meet your needs, saving gas while being easier to store and move around. To minimize the need for AC, consider installing high CFM 12V roof vent fans. The most common brand is MaxxAir, but other options are available. These can move air in either direction and when used together in multiple roof vents can create an extremely efficient RV ventilation system.
Solar systems can be complicated and expensive to install. If you know your needs, a permanently installed system can be a great addition for any RV trip. If you are less sure, consider starting off with a pre-configured solar suitcase. These units contain everything you need to charge your batteries in one convenient package.
A solar system will only charge your DC system and only power your DC compatible components. If you want to run AC appliances from your DC/solar system, then install a pure sine wave inverter that will provide the running watts necessary to power whatever load you wish to run.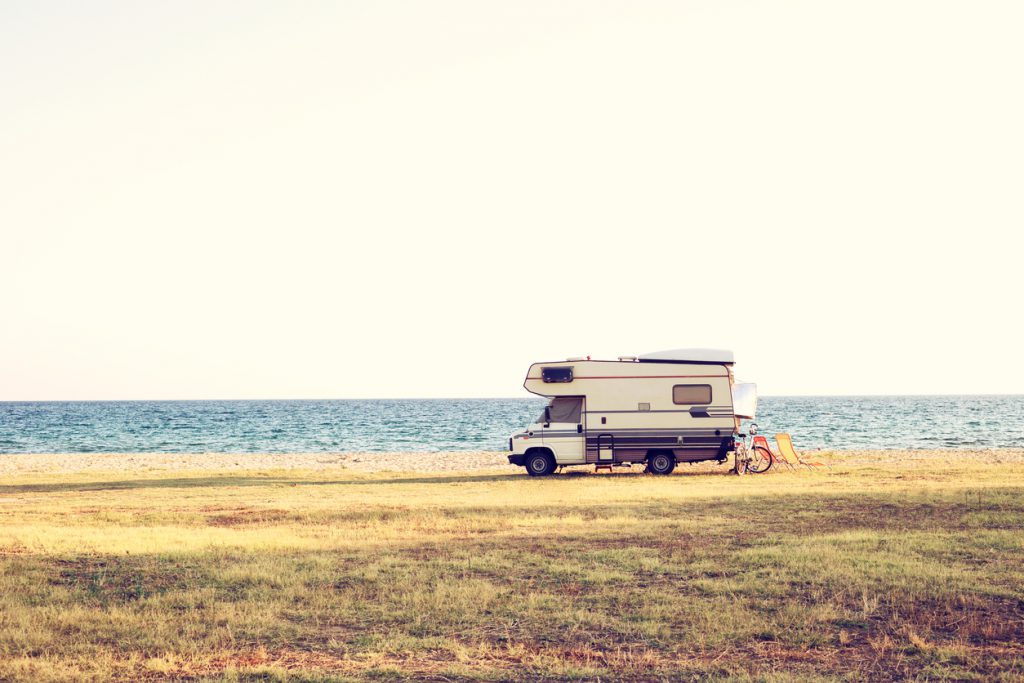 Dealing With Waste
The last part of off grid camping is dealing with waste. When sticking with a standard water-based RV septic system, it may be beneficial to carry a portable RV waste holding tank. These allow the safe transport waste to a dump station without having to move the RV. When choosing one, look for large capacity and large wheels which will roll over the rougher terrain commonly found at off grid sites.
If off grid camping will be a primary camping method, a composting toilet may be beneficial. Compositing toilets replace the standard water fed system within the RV, providing a sanitary toilet solution which uses no water at all.
These tips will help you off grid campsites and provide the basics to survive once you are there. After spending time at these locations, you will learn what works best for you, allowing you to expand on this knowledge and get the most from these remote camping experiences.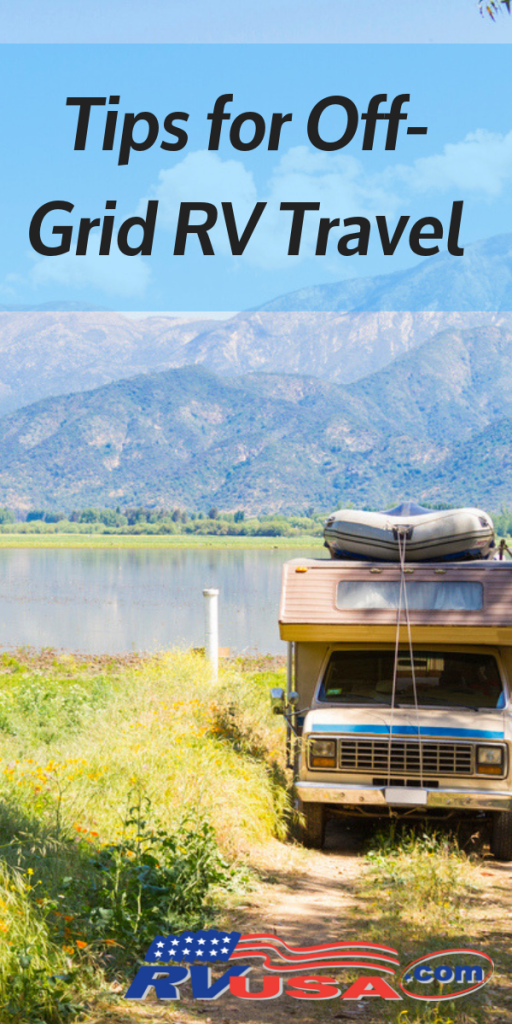 Don't forget to stay up to date with all of our exciting RV and camping content on Facebook, Twitter and Instagram!