So you've got your RV, and you're ready to hit the road, but now that you're behind the wheel it feels like you're driving a bus…. and you've never driven a bus. The whole family is in the back, making this one of the most high-stakes drives you've ever taken. At RVUSA, we've been there ourselves, and we've watched new RV owners like you have this same feeling time and time again.
That's why our expert team wanted to dedicate some time to create a list of tips and tricks for first-time RV drivers. Below, we're going to share a list of ten things we wish we'd known before getting behind the wheel, so you can feel comfortable starting your new RV lifestyle.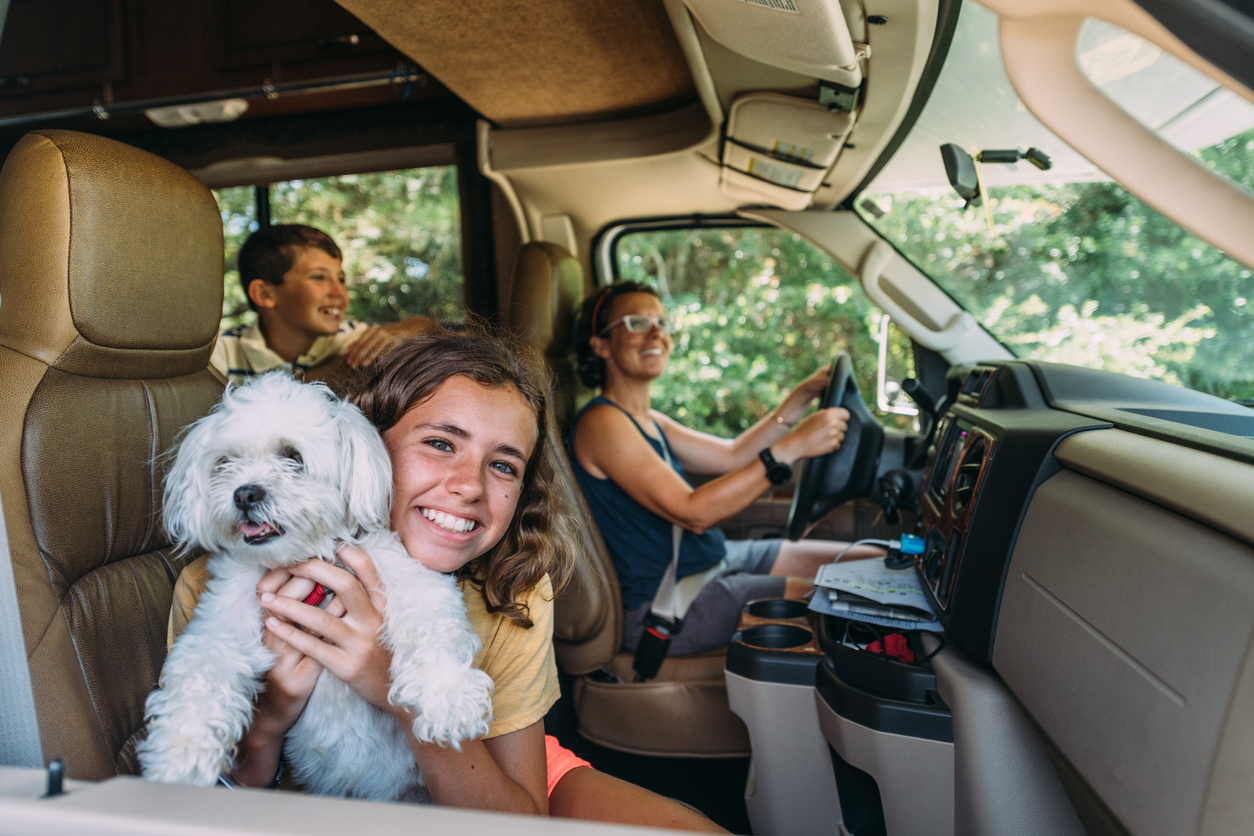 Take a Test Drive
In the event you haven't already purchased your RV, take it for a test drive before you drive off the lot. Sure, you may not be 100% comfortable driving a motorhome right away, but you'll at least know if the seat is comfortable and the sales team can give you insider tips about driving that particular make and model.
This is especially true if you are buying a used motorhome — you always want to test drive to ensure you don't feel anything that is "off." And if you, personally, don't know what something would feel like if it's broken, consider bringing along a friend, family member, or expert who may be able to help you spot issues with the RV.
Either way, you can trust the team at RVUSA to help you find the right RV for your lifestyle, and we're happy to show off our stock of new and used motorhomes.
Practice Makes Perfect
Now that you've selected the best RV for your lifestyle, it's time to practice. We don't mean getting on a busy interstate in your home town or driving down a busy street during rush hour. Instead, you should find a large abandoned parking lot or a less-frequently traveled road. Try to focus on some of the more difficult tasks such as turning or parallel parking.
Obviously, turning is one of the biggest challenges you'll face when driving a motorhome  — your vehicle is much longer than a standard car or truck, so you'll need to swing wide. Additionally, you may find that you have a hard time understanding your size and monitoring your surroundings. If you notice you're having trouble, you may want to jump down to our next tip. Just know that all of these common issues are easier to figure out when you aren't in a high-stress situation that involves other drivers, and that's why practice makes perfect.
Adjust Your Mirrors
Before you drive anywhere, you should take the necessary time to adjust your mirrors. While it's not as easy to see what is behind you or even around you, the size of your vehicle makes it imperative that you find a way to do so. Ensuring you have visibility can save the lives of others and yourself.
Even if you take all the time in the world, you'll still find that you will have natural blind spots in most RVs. It's helpful to know where those blindspots are so you can take additional cautions when merging or backing up in a way that may be impacted by objects in those blind spots. If you still don't feel comfortable, you should consider investing in back-up cameras or object sensors — we'll discuss this further in tip ten.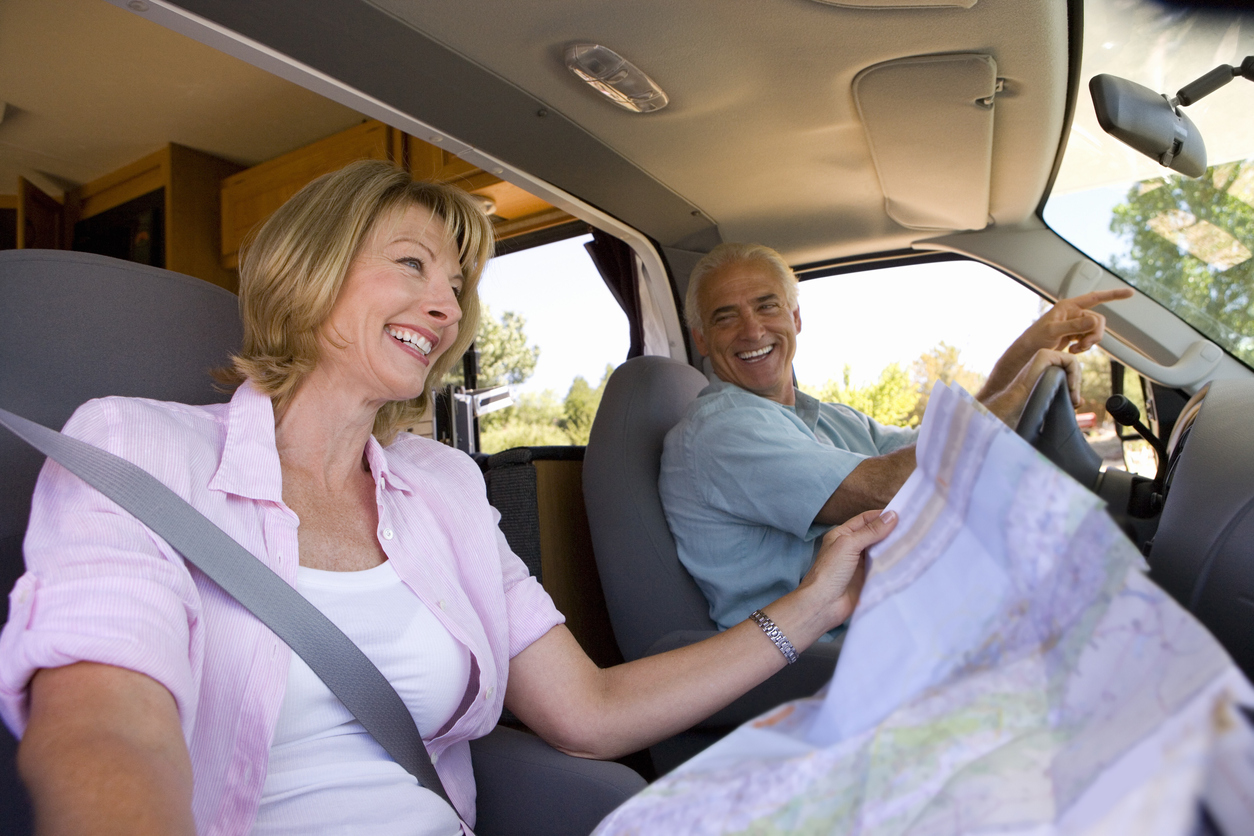 Wait Your Turn
Yes, it's important to practice patience when driving a motorhome because of your size — it's best not to get in a hurry. However, that's not what we're talking about here. We want to look specifically at your turning radius so you feel confident making turns.
While yes, swinging wide is a solid rule to follow, it's not a fool-proof solution, and you can still end up swiping a car when turning at a red light. Aside from taking a wide turn, there are a few things you can do to be more comfortable when taking turns.
First, you should make sure you take the turn as slow as possible. Don't speed up just because someone is tailgating you. Taking the turn slow can save both of your lives. Next, you want to know your turn radius. This will help you calculate how far you actually need to swing. Finally, if there is a double turn lane, you may find that you are more comfortable staying to the far-right lane to give yourself more clearance. Of course, if you are still feeling uncomfortable, you may consider adding cameras and sensors to your rig. See step ten for more information.
Know Your Size
Piggybacking off of the last tip, it's also helpful to know the exact width and length of your motorhome. Your RV is going to be much larger than any vehicle you are used to driving, and understanding your vehicle's exact dimensions can help prevent accidents and uncomfortable situations.
Let's say, for instance, you wanted to stop at a fast-food restaurant or you're going through a tunnel. There is typically a sign that tells you the height of any relevant overhang, but you may not have paid attention to them in the past. Now more than ever, you need to know your exact height.
Additionally, the width of your motor home may become a concern as some roads are significantly more narrow and may not be suited for larger vehicles. Even on the highway, if your RV is 8-feet wide, you're already at the legal edge of the highway. This leaves limited room for any mistakes, making it even more important to pay attention while driving.
Watch the Weather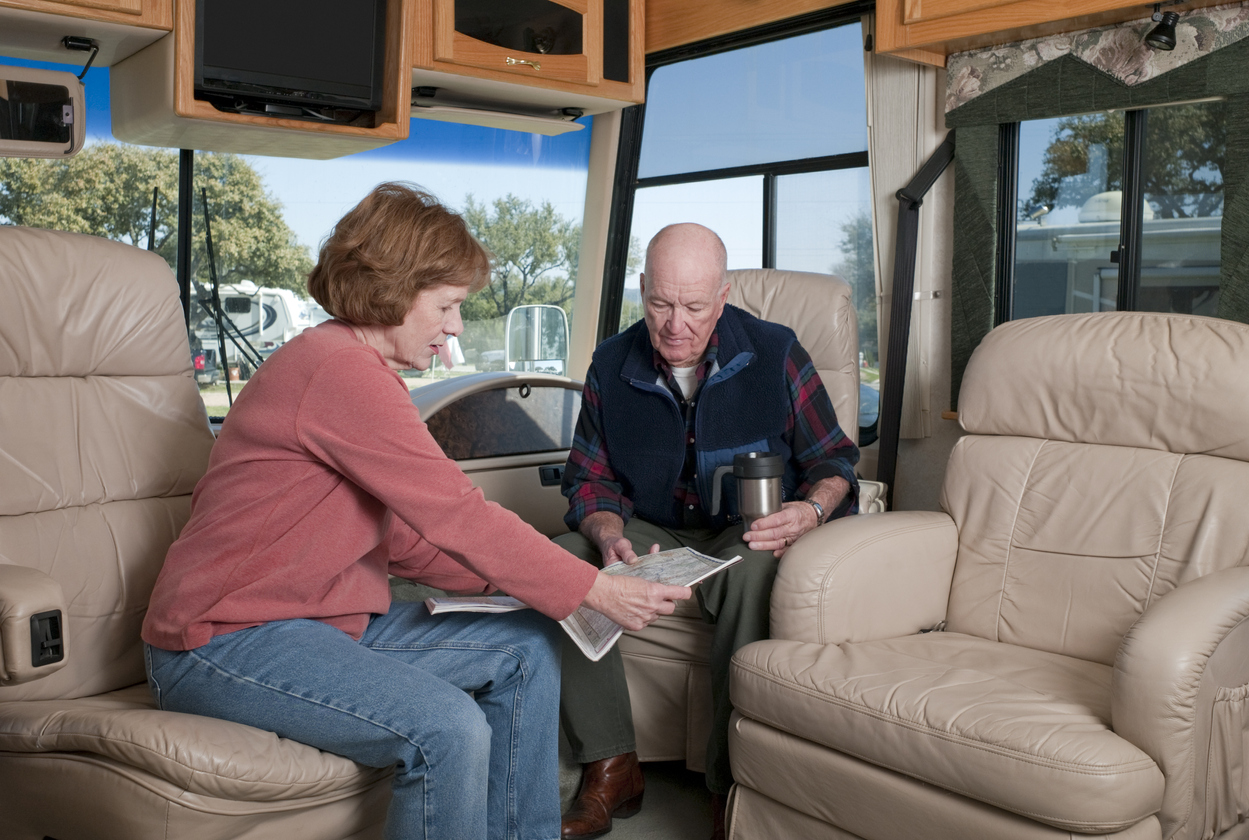 Another precautionary tip we advise is checking the weather before you hit the road. Of course, sometimes you may have to drive through bad weather. But, if you know the weather ahead of time, there may be a route you can take that will help you avoid the storm.
Every outside element you encounter when you're already on-edge about driving may make it more difficult. If you do run into bad weather, take a deep breath and make sure to follow the next tip on our list.
Take it Slow
We can not emphasize this tip enough — if you're new to motorhomes and large RVs, the best thing you can do is TAKE IT SLOW. Because your ability to stop, turn quickly and react to dangerous situations is much slower in a motorhome, the best thing you can do is slow down.
Driving slower will give you the additional time that is necessary so you can react to obstacles on the road. If you are worried about other drivers around you getting frustrated at your speed, remember that you are driving slowly to help protect your family as well as the other drivers. We recommend staying in the far right lane unless you are passing, and follow the posted speed signs if you feel comfortable.
Brake Early
As explained above, it will take your RV more time to slow down than an average car because you have more weight. Most experts recommend that you give yourself at least an extra six seconds between you and the vehicle in front of you.
Secure the Goods
There is nothing worse than getting on the road and hearing a squeaky door that isn't latched shut or having items start falling off of your shelves. That's why it's important to ensure your items are safely sealed and secured to prevent any movement or damage while driving.
This applies to your human cargo, too — make sure your family or travel companions understand the danger of moving through the RV while you're in motion. Instruct all passengers to stay safely seated when your motorhome is moving, and ask passengers to buckle up when possible.
Add Cameras
Last but not least, if you find that you're still having trouble understanding your turn radius, seeing your blind spots, or backing up, you aren't alone. That's why we sell custom back-up cameras and blindspot sensors. We can even help you install them on your RV. It's important that you feel comfortable and confident when driving, and the team at RVUSA is here to help.
From all of us here at RVUSA, we hope this list of tips and tricks was a helpful guide to get you and yours safe on the road. If you are still feeling anxious about driving, know that you have a whole team of supporters cheering you on. If we can do it, so can you!
If you are still searching for the perfect motorhome for your family, or if you are interested in upgrading your RV for a mobile home with updated safety features, please contact us today. We're here to help with all of your RV needs, and we'll never pressure you into a sale.