Before you head out for a family vacation or prepare for a visit from grandchildren, make your RV as safe as possible with some common sense preparations and simple tips.
Something to keep in mind: while the compact design of your RV makes everything convenient for you, the easy-access can prove dangerous for your little RVers.
Getting Ready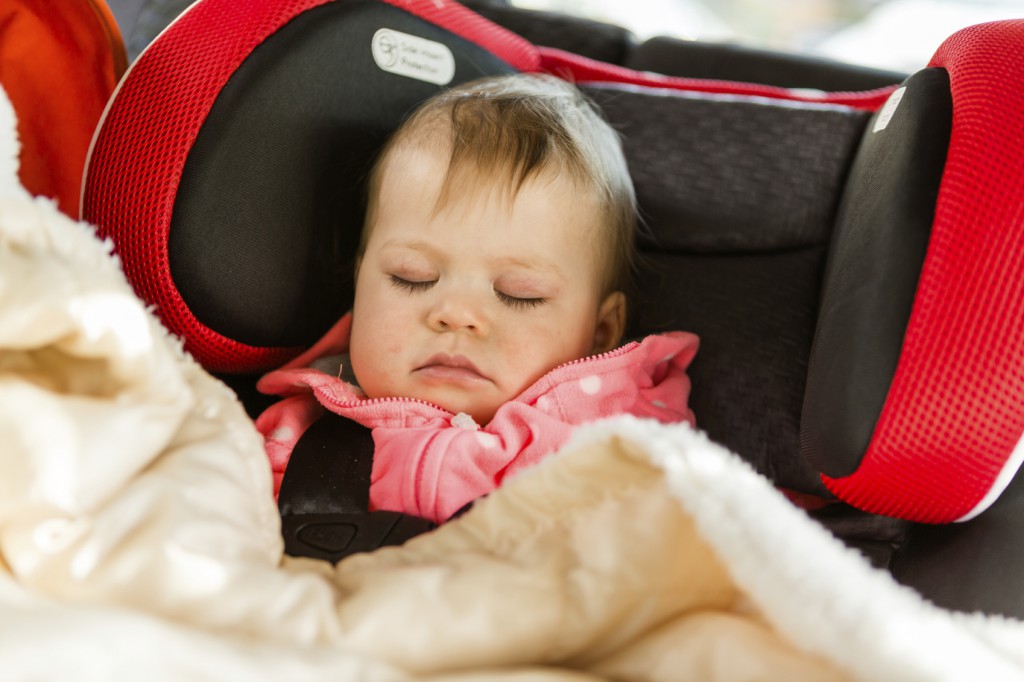 Involve young RVers in safety. Before heading out, "tour" your RV together, according to grandparents.com. Point out the RV's exits and windows and develop an emergency escape plan together.
Inside, have children join you in looking for unsecured items – they may help you spot some small appliances, decorator items and toys that could turn into projectiles on the road.
Make preparations a group project; help children narrow down their packing lists to a favorite toy or two and wardrobe essentials because clutter equals chaos for a family in close confines.
Before pulling out, tour the exterior of your RV with children, making sure all hook ups are retracted and disconnected. Point out where to look for cables and hoses once camp is made to prevent accidents at the site, according to grandparents.com
On the Road
Dig into your glove box for the owner's manual to determine the safest place to buckle in baby seats and boosters. Remember, in many states car seat and booster seat laws are the same for children riding in RVs as they are for cars. Make sure your RV has an adequate number of seats and seat belts before heading out.
If your RV doesn't have an adequate number of seatbelts – or the seatbelts are not safely anchored either directly onto the steel frame of the vehicle or on a steel bar anchored to the RV chassis — visit the service department of your RV dealership where the experts can install seatbelts that meet Federal seatbelt safety standards.
Once you hit the road, remind children to stay seated, no matter how enticing it is to romp around the living room or dig for snacks on the road. A sudden stop or sharp turn can lead to serious injury for unsecured children.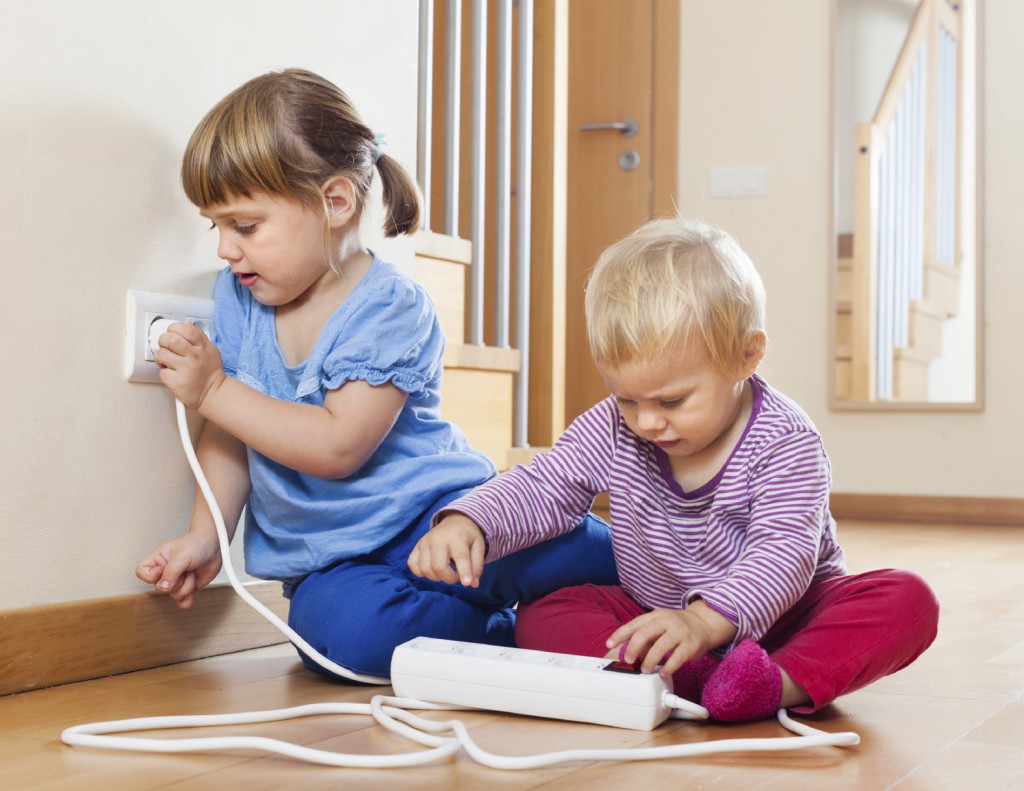 Never depart a pit stop without a head count. Don't assume young passengers are "in the back" or washing hands in the RV bathroom.
The Federal Transportation and Safety Administration recommends that children travel securely in a passenger vehicle towing a non-motorized RV.
Inside the RV
With RVs ranging from pop-up campers to deluxe motor homes, the mechanics of child proofing will vary widely, but some hazards are common to all RVs – and your home.
When traveling with the littlest RVers, take advantage of some of the inexpensive child proofing products designed for home use, including inexpensive outlet plugs, easy to install drawer catches, corner guards for tables and countertops, pinch guards for rapidly closing doors and rubberized knob covers for the oven. Products scaled for travel may also be useful for RVers, according to precarseatsafety.com. Click here to download a helpful checklist to keep your little ones safe.
Pack kitchen and bathroom cleaning and toilet sanitizing chemicals into a box that can be stowed out of reach or in a secure outdoor storage hatch.
Unique in many motorhomes are the often hard-to-secure and easy-to -pen screen doors, which are an invitation to escape or an opportunity for an unplanned tumble out of the trailer. The simplest solution is a basic hook and eye latch installed at an adult-only height. If jambs are too narrow to accommodate a latch, consider a slider lock installed on the screen door itself.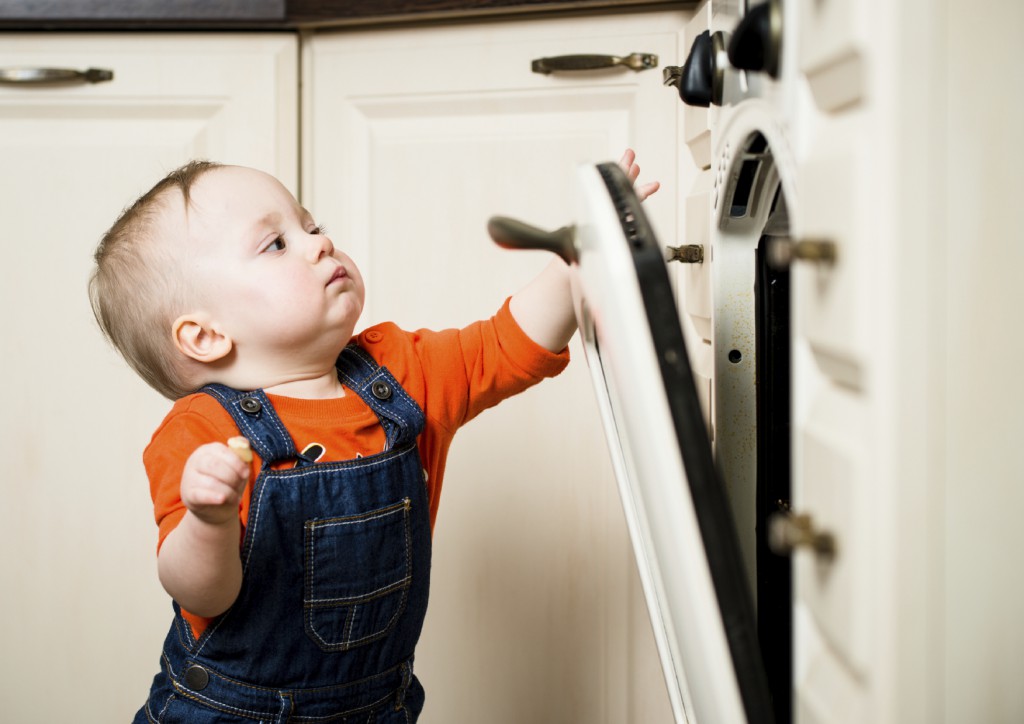 If the RVs construction prohibits installation of a latch or lock, a battery powered motion detector installed above the door with Command-style strips is an option. Set the alarm to chime whenever the door opens or sound an alarm unless an adult punches a code into the keypad.
For RVs with suitable infrastructure, pressure mounted baby gates are an effective barrier to curious toddlers. When not in use, the gates are easy to stow out of the way and require no permanent installation.
Little bodies bedded down in tight confines bring a new set of risks. RVs now offer many configurations for multi-generational travel, including fold out sofas and bunk beds, so getting everyone safely settled can be an adventure.
Keep little RVers tucked in safely with lightweight bed rails with net sides that can slide under the mattress at night then stow away during the day. Foldable travel cribs that take up little floor space are an effective option for RVing with baby. For older campers who may go astray while looking for the bathroom, plug in child-safe nightlights to avoid falls and stumbles.
Outside the RV
Once the RV is level and set up, guide young campers on an "official" tour of the site, revisiting the hoses and electric hook-ups you introduced before the journey. Designate the side of the camper with the electric and water hook ups as a "no play" zone.
The ladder that provides you easy access to the roof of the RV may be an open invitation to adventure for young campers. Consider strapping a lightweight plank – cut to just the width of the ladder – over the steps.
Safe Travels
Pack loads of fun, but go light on luggage, secure your home away from home like you would your brick and mortar home, and take common sense safety measures at the campsite to get the most out of your family RV adventures. We promise your next vacation will be a lot more fun if everyone is safe and avoids injury.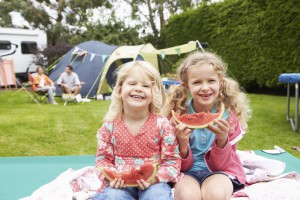 For more safety tips and tricks, and the latest news in RV lifestyle, continue reading our blog.
If you're looking for a new RV, a local dealer, or the next RV show near you, visit www.RVUSA.com for all things RV!