RV Holiday Decor Inspiration from Instagram
In need of an extra dose of Christmas spirit? These Instagram accounts can help! Fitting all the holiday decor pieces together inside a small RV can be a challenge – you want it to look festive without being cluttered! Sometimes turning to the experts for a few ideas can be the extra boost you need. We scoured Instagram for the best and most put-together RV Christmas set ups, and we found some incredible RV holiday decor inspiration! From minimalistic and modern to colorful and boho and even traditional, we rounded up the best Christmas RV decor social media had to offer for some truly Insta-worthy set ups. But we didn't just stop there: we searched the Internet to find pieces that ship quick and can give your RV the same merry and bright mood. Read on to learn how the experts deck the halls of an RV!
The stark white of @madeleine.c.blair's RV renovation provides the perfect backdrop for her minimalistic tree. If your RV holiday decor inspiration is a trendy, modern look like this one, keep colors neutral and let the evergreens of the tree do the talking.
Get this look:
Who says you can't have a hearth with stockings in an RV? @lahrs.with.latitude's  fireplace setup feels cozier than ever with this beautifully decorated tree and evergreen garland. Taking RV holiday decor inspiration from the Lahr family, work with what you already have in place, like a bookshelf or your couch to dress it up for the holidays. The candles on the TV are a great touch as well!
Get this look:
@humbills.homeontherange made this cozy farmhouse RV even more inviting with a few special holiday touches. Swap out the pillow covers for some buffalo plaid, hang garland high, and add some tiny ornaments and a tabletop tree. You'll be in the holiday spirit in no time!
Get this look:
With the right RV, you can have a full size Christmas tree! Take some RV holiday decor inspiration from
@_our_cozy_abode_
who made this tall tree work in their boho, mid-century modern space. We love the small details like the fifth wheel ornament on the tree and the textured garland. Velvet pillows can also take a space up a notch and give a festive feel.
Get this look: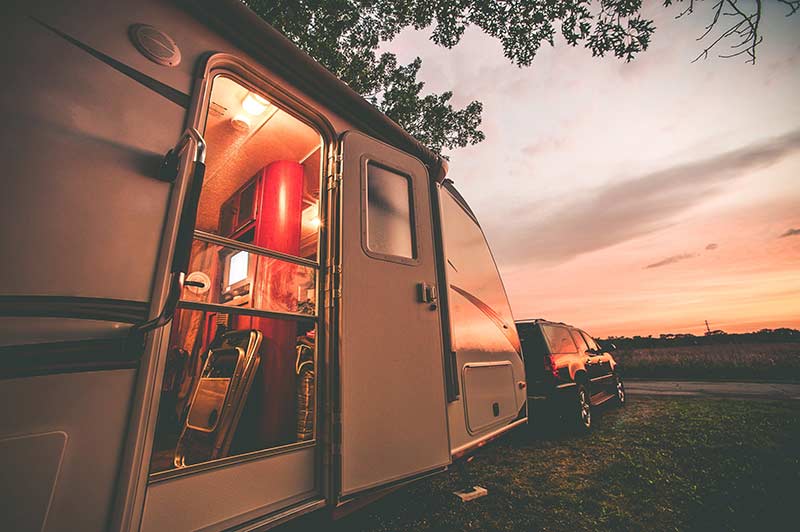 Need a rig for your holiday travels?
Christmas doesn't have to be just red and green! We love that
@hjkmatson
wasn't afraid to incorporate color into her RV holiday decor. Inspiration from this setup involves using a playful color palette with a few classics such as greenery and twinkle lights.
Get this look:
Skinny, undecorated trees are in right now!
@parrishpassage
gives us some trend-forward RV holiday decor inspiration with her flocked tree that lets the branches do the talking. These types of trees are perfect in a small space like an RV because they allow you to fit your tree wherever there is room and you don't have to worry about ornaments falling and breaking during drive time.
Get this look:
We get it: space in an RV is limited. But you don't have to go all out to add a simple festive touch! @rusticgrainswoodcompany showed us the way with a single draping of pom pom garland across their kitchen. Notice the collection of candy canes on top of the shelf!
Get this look:
RV Holiday decor inspiration and ideas
It doesn't have to be expensive or extravagant to bring some holiday spirit into your rig. Many families enjoy planning Christmas RV trips but miss the festive feel of gathering around a tree. With these decor ideas, you don't have to sacrifice on the cozy vibes to spend Christmas in your rig. In fact, we've written plenty of guides on how to spend Christmas in your RV!
Next up: pick your holiday RV park and finalize your Christmas shopping. With our help, you can focus on what really matters while spending the holidays with your loved ones in your RV, and less on the seasonal stress.
This post contains affiliate links. RVUSA.com will receive a small commission at no cost to you if you make a purchase using these links. We appreciate your support!
Ready to find an RV for your adventures?