Quick Shipping Last Minute RV Gifts They'll Love
Time is ticking and we are getting down to the wire for gift giving this year. Especially with the shipping delays the retail world has dealt with this holiday season, getting quick and convenient gifts for your RV gifts for friends and family who love camping may prove difficult. You can't go wrong with Amazon for last-minute RVing gifts – and instead of making you search for it, we went ahead and rounded them up for you. Just pick out an item on this list and you'll be done with Christmas shopping in a flash!
RVers love to curl up with a good book. The only problem? There isn't much room in an RV for storing books! That's why a
Kindle Paperwhite
is one of the best last minute RV gifts. It allows them to kick back with an entire library of good books in nature without worrying about storage. Plus, the paperwhite is extra easy on the eyes so they don't have to strain to read a typical tablet screen. Don't forget about the
Kindle Unlimited Membership
to go with it!
This
portable mini picnic table
is one of the best RV gifts for campers who also love wine and cheese. Having a spot to enjoy a romantic night with their favorite things outdoors will immediately level up their camping experiences. It has a slot for a wine bottle as well as 4 wine glass holders. You may even consider including a
charcuterie box
of meats and cheeses as well to complete the perfect picnic setup.
Speaking of picnics – no picnic in nature is complete without the
picnic blanket
to go along with it. This checked plaid picnic blanket has convenient leather straps, buckles and a handle built in. These allow for the blanket to be rolled up into a compact size and easily carried to the best picnic spot. It's great for travelers who love having picnics at the end of hikes or who want to be able to neatly store their picnic blanket when it's not in use.
If your favorite RVer has a great sense of humor, they'll love receiving some humorous RVing gear as a gift. "I'm sorry for what I said while we were trying to park the camper" is a great line, and you can find it on
mugs
,
t-shirts
,
pillows
and more. Does your favorite RVer drive a Winnebago? How about this
"I get around" Winnebago tee?
Every RVer loves National Lampoon's Christmas Vacation – this
Cousin Eddie's RV Maintenance shirt
is the perfect reference to the movie.
National parks board game
Some days on RV trips just aren't conducive to outdoor exploring. Why not help them bring the outside in with this national parks board game? The
Trekking the National Parks board game
makes our list of RV gifts since RVing and national parks go hand in hand. The couple who designed this game did so after traveling to every national park themselves! It's educational for families teaching their kids about parklands and also provides a great rainy day activity inside the RV.
If you need a small RV gift they will still love, this
state sticker map
is the perfect choice. While it's great for RVing families to mark off their travels, it's a fun way for RVers of any age to document their trips! If there's one thing RVers love, it's trying to see everything and go everywhere – so this will give them a way to keep track of their progress.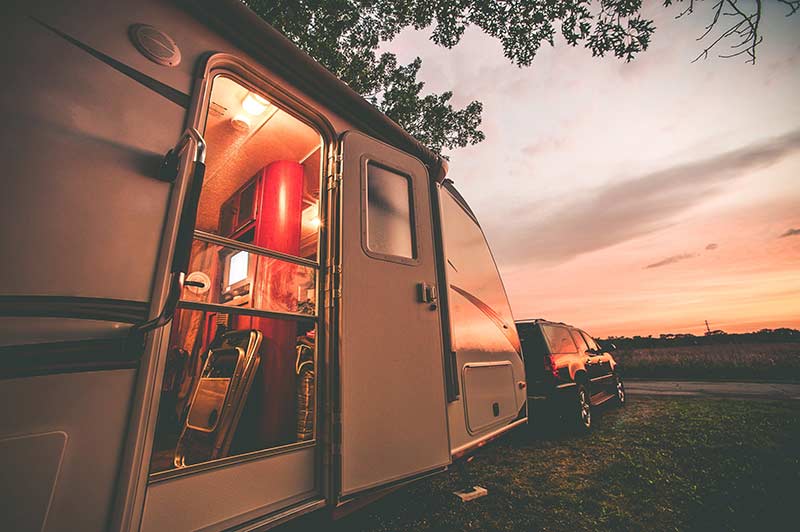 Need a rig for your holiday travels?
The best way to add a little extra ambiance outside their campsite setup is a set of market lights. Many campers drape these outside their RV patios, from their awning and around the area they're set up to make things feel more cozy and at home. This
set of string lights
is perfect for them because it is solar powered and won't tax their RV battery. Their lights will charge up during the day and then at night, they will automatically switch on when the sun sets. It's a great addition to any RV campsite!
If you act quick, you can still get a custom RV door mat in time for Christmas! It's a hit when it comes to RV gifts because it lets your favorite campers personalize their campsite. It makes a home on wheels feel more like home! This
"Welcome to our campsite" mat
features Adirondack chairs and s'mores. We also love the
"This is how we roll" mat
as well. Simply customize with their last name and you've got a gift you know they'll love!
Easy RV Gifts That Ship Quick
We understand that the holiday season can get busy and it can be difficult to keep up with all the people on your list. Buying gifts they're guaranteed to love that ship quick with Amazon Prime is the best way to finish up everyone on your list!
If you're looking for a little more inspiration, check out our original gift guide for RV owners, our overland gift guide and our van life gift guide. Our full RV essentials storefront may provide you with some more practical options as well.
Happy gifting!
This post contains affiliate links. RVUSA.com will receive a small commission at no cost to you if you make a purchase using these links. We appreciate your support!
Ready to find an RV for your adventures?