Welcome back, RVers. We all know camping can be one of the most frugal, down to earth adventures you might ever experience, but sometimes it can be a hassle to make sure you pack everything you need for your trip. Lucky for you, though, we have a ton of RV hacks and tricks up our sleeves that will make your camping trips a breeze from here on out. Let us know what you think!
*This post contains affiliate links. Meaning we will potentially receive a small commission at no extra cost to you *
Slide koozies onto your glass bottles or glasses while traveling so they don't break. Even if they do knock together, they won't break. 
You gotta protect your liquor bottles, too! Use those mesh sleeves they give you at the liquor store to prevent your bottles breaking. 
To save some space in your RV, use a collapsible laundry basket for a garbage can. Just put in a garbage bag then take it out when you're ready to move. It can be collapsed and stored when you're traveling.
It's always a good idea to keep some handy items in your motorhome. Duct tape can be used for just about anything, but think along the lines of securing clothes pins that can be used to hang up trash bags, laundry, etc. 
While we're on the topic of handy items, try to keep some clothesline at the ready, too. It can be used to hang up wet towels and bathing suits, it'll help out with laundry and you can use it to close cabinets while you're on the move. 
You can also use bungee straps to keep those cabinets closed when traveling. 
Dry erase boards are so amazing! Magnetic ones can be hung up on your fridge for all the important info. You know, emergency information like your coordinates on a map, a checklist, the WiFi, maybe a grocery list. Did I mention WiFi?

Speaking of WiFi, most campgrounds offer it, but the signal isn't always the best. Buy a WiFi booster to help with the reception. 
You know those little name tag holders people clip on their shirts? They can come in handy at the campsite! Use them to hang up just about anything. Maybe lights from your RV awning? 
Need a bit of extra storage space? Buy a hanging shoe rack and use it for basically anything other than shoes. Cleaning supplies, herbs and spices or bathroom products like shampoo and conditioner.

Or, cut up the shoe rack and glue it back together in a way that makes it flat. This way you can slide it up under your bed. 
To save even more space, transfer anything that you bought in round containers to square ones. They don't take up as much counter space. 
Did you know propane attracts wasps? To avoid those nasty things, slap in a flea collar in areas with propane to keep them gone. 
And who knew mice really don't like the smell of the Irish Spring bar soap? Put these bars in places you think mice may be able to enter your RV. 
You can also keep flies away by spraying down your counters with a 50/50 mix of Pine-Sol and water. 
For a quick and cheap insulator, take bubble wrap and and cover up your windows at night during colder months. You'd be surprised with how much bubble wraps insulates! 
Vent cushions are always great ways to keep that heat inside your RV.
"Can I have some extra ketchup packets, please?" Stock up on the little fast food condiments every time you go. They're free and they use less space than the bottles. Who needs that much for a weekend trip, anyway?
Use Velcro to attach your remote controls to a place where you won't lose them. For that matter, you can use Velcro for just about anything else you don't want to lose. 
At night, take a full gallon of water and wrap a head lamp around it to feel the area with ambient light. It makes it feel super cozy!
You can use a wide mouth food container for a small garbage can in the bathroom. Place it beside the toilet or attach it to the inside of cabinet door (using that Velcro you've packed) to free up space and to keep it out of sight. 

Install a few broom clips close to the door and use them for flashlights. That way they're within reach if you need one in a hurry. 
Remember those name tag clips? Use them to hang up your squeezable shower products from the curtain rod. No worries about having to secure them before you start to travel. 
PVC pipe can be used for tons of storage in the bathroom. Use them to store toothbrushes, toothpaste, flat irons and hair dryers. You can also make a shoe rack that stores your shoes upright. Storing them this way helps saves space and is the best way to dry them if they're wet. 
Install a curtain rod in your kitchen between cabinets to hang up all your cooking utensils.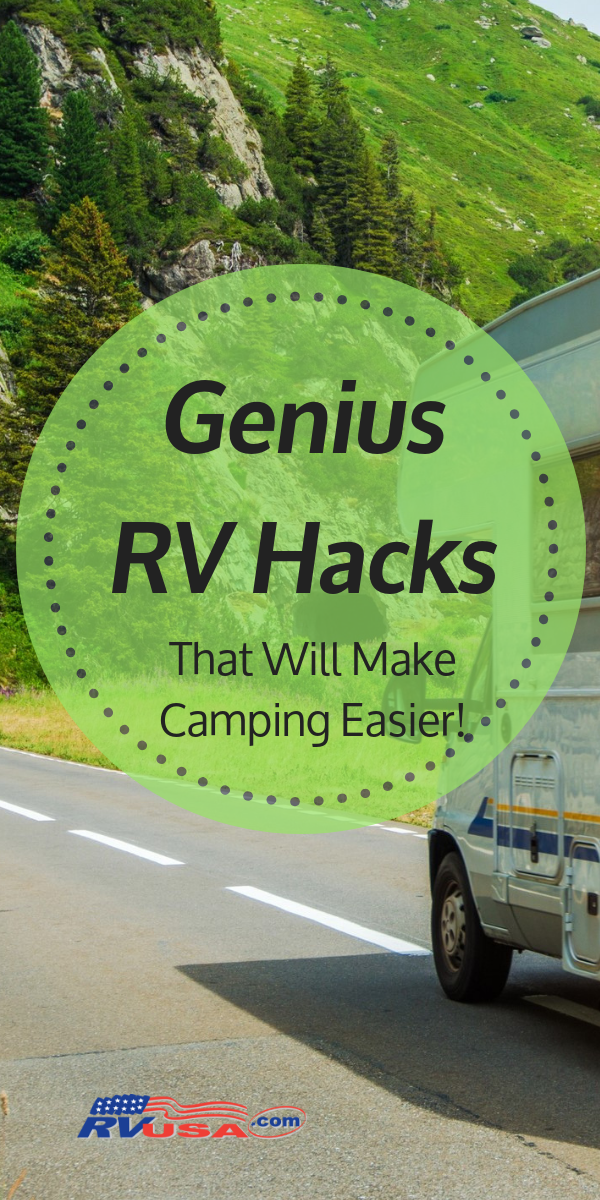 Don't forget to stay up to date with all of our exciting RV and camping content on Facebook, Twitter and Instagram!