As the weather cools and the leaves begin to turn, the campfire becomes the campsite's favorite hang-out! Now is the perfect time to try out new recipes and treats that can be prepared over the fire – on skewers, with tin-foil, or even in your handy Dutch oven. Enjoy the tastes of fall, like apples, s'mores and cinnamon while sharing a toasty fire with your friends and family. These fall campfire snacks will hit the spot!
Extra easy fall campfire snacks
Below we've collected the top 8 recipes we'll be trying this season. These first few recipes all feature simple ingredient lists and can be whipped up pretty quickly. The only tools you'll need are skewers or tin foil along with your handy campfire.
Campfire cinnamon roll-ups
These campfire cinnamon roll-ups from Almost Supermom are a fun, kid-friendly take on cinnamon rolls! Instead of baking in a pan, you roll the dough around wooden skewers and rotate them over the campfire. Drizzle with icing and enjoy! Sure, you could make s'mores for your fall campfire snacks, but why not embrace the cinnamon notes of fall and roast these on skewers instead?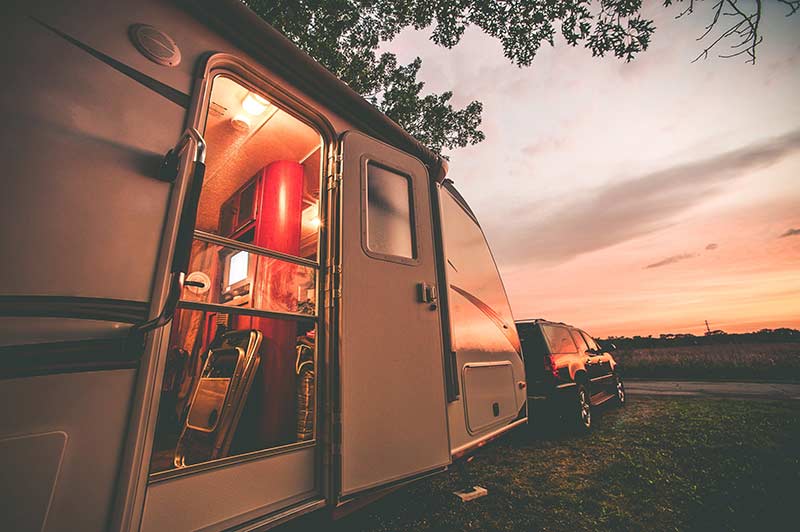 Need the perfect RV for a getaway?
Campfire orange cinnamon rolls
Here's another interesting take on cinnamon rolls you may not have tried before! If baking your cinnamon rolls inside an orange peel hasn't crossed your mind before, it's time it did. These campfire orange cinnamon rolls from 50 Campfires may be different than what you're used to, but the citrus adds the perfect zing! Adding citrus to your favorite recipes in the fall can turn into some delicious masterpieces like this.
Campfire Baked Apples
Apples are a fall staple. When you bake them just right, they take on a gooey, caramelized texture that melts in your mouth. That's certainly the case with these campfire baked apples from Family Spice. They're stuffed with seasoned fruits and nuts and cooked on your campfire. You can either bake them in the coals in foil, or inside your dutch oven. Foil is easiest, but whatever works for you will taste great!
S'mores Campfire Cones
If you're looking for a cheap way to have some extra fun around the campfire, whip up these s'mores campfire cones by Frugal Coupon Living. All you need are waffle cones, marshmallows and chocolate chips! Fall campfire snacks don't get much easier than that.
Campfire S'mores Banana Boats
S'mores-related snacks are aplenty on this list, and these s'mores banana boats from Six Sisters' Stuff deserve every bit of their spotlight! They're easy, sweet – and include a serving of fruit! That makes them healthy, right?
More advanced fall campfire snacks
Here's where we ramp the fall campfire snacks up a bit. It's not that these are difficult, they just require a little bit more effort! You may need something like a dutch oven or cast iron skillet to complete these recipes, or just a few more ingredients than the last recipes we've listed. But trust us, the extra effort is well worth it for the tasty reward! 
Campfire French toast
Did you know you can make French toast over a campfire? You certainly can if you follow this recipe from This Lil Piglet! If you love a slow fall morning around the campfire and recipes that will be the envy of the campground, then this one is for you. The good news is, you don't have to dip and fry each individual piece of toast. You'll bake the whole loaf over the campfire at once! It takes about 40 minutes took cook and does require some babysitting, so make sure you have time if you're going to attempt this one.
S'mores Dip
Speaking of s'mores, here's another take on these classic fall campfire snacks that you can get creative with. This s'mores dip from Fabulosity requires lining your dutch oven with parchment paper and filling it with the simple ingredients of s'mores. The recipe gives stovetop and Dutch oven options. Obviously if you're attempting fall campfire snacks, you'll want to choose the Dutch oven! It also gives tips for this method of cooking. Once you've made this tasty treat, you can dip anything in it, from fresh fruit to Rice Krispies and even cookies.
Ready to find an RV for your adventures?