A few extra days off of work make Thanksgiving weekend the perfect time to hit the road in the RV for a bit. Who needs Black Friday shopping? You may have a harder time parting with other Thanksgiving customs while you're out and about for the holiday though, like a hearty traditional dinner. The good news is, with our help, you won't have to miss it! We've collected some of the best classic Thanksgiving recipes here that you can easily make in your RV. While they may take a little bit of extra work – trust us, the meal that comes from it will be just as good as any dinner the family could've whipped up back home. It sure beats canned goods and takeout!
Macaroni and cheese is a staple Thanksgiving side dish. If you're looking for something much more rich and savory than your typical boxed mac n cheese, try this version that can be made in a crockpot. If you want, this recipe even has instructions so you can prepare the ingredients ahead of time in your at-home kitchen and refrigerate them once you get on the road until you're ready to throw it in the crockpot to cook.
If you've got a pressure cooker on hand in the RV, you have to try this quick and easy homemade cranberry sauce. If you're traveling without an Instant Pot on hand, you can make a stovetop version as well. You can always buy the canned kind, but it doesn't hold a candle to freshly cooked berries. And as an added bonus, this recipe is amazingly aromatic, so adding this to the menu will automatically give your RV the delicious smell of Thanksgiving.
Sometimes RV ovens can be small and difficult to operate (if you have one) so this recipe provides a way around that. It's like a pumpkin pie without a crust, cooked in a slow cooker! Add ice cream or whipped cream to make it feel even more homey.
Often when you're cooking in an RV, you aren't cooking for a crowd. That's what makes these two (hefty) serving instant pot mashed potatoes so perfect. It's a Thanksgiving must, without all the unnecessary leftovers you may not have room for.
By this point, we've got your pressure cooker and your slow cooker busy. This is one recipe you can whip up on the stovetop. You can even make the crispy shallots topping ahead of time. Formulated with the use of a cast iron pan in mind, you could take this one outside to the campfire if you're short on room. Wherever you make it, you're sure to love this creamy and crunchy take on Thanksgiving veggies.
It isn't Thanksgiving without a side of stuffing, and this is another recipe you can make on the stovetop. If you don't have an oven in your RV, you can toast the bread ahead of time before you hit the road, or just leave it out to get crispy on its own. Utilizing the stovetop for this recipe will free up your kitchen gadgets for other recipes.
And finally, the main attraction of a Thanksgiving meal: the turkey. Why settle for a premade turkey that's been sitting under a heater on a supermarket shelf all day when you can make this flavorful dish in your Instant Pot in just 45 minutes? All of the home cooking with none of the unnecessary and dangerous deep fryer equipment.
Recipes for Thanksgiving in the RV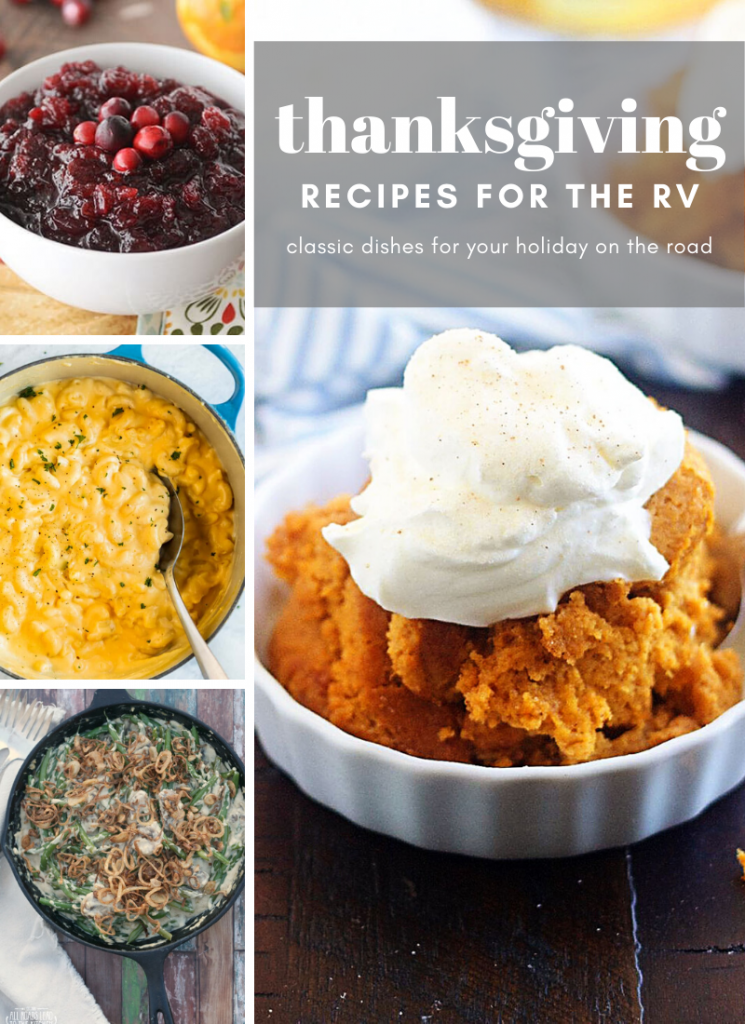 If you have a crock pot, an Instant Pot, or a stovetop, you're well on your way to a mouth-watering Thanksgiving meal in your RV. You can double your Thanksgiving cooking efficiency if you have multiple pressure cookers, or you team up with friends at the campground to knock it all out. Don't let travel stop you from enjoying all the perks of this favorite fall holiday! You'll be thankful you didn't.