Thanksgiving is synonymous with traditional dinners and Black Friday shopping. And while the holiday is meant to be a time of togetherness and bonding, it can be stressful. Let's face it, planning, coordinating, shopping – it can be a lot. Still, we think Thanksgiving in the RV is one of the best ways to spend the holiday!
For many, the holiday means an extended weekend. And while many will want to sprint to the stores, this is an ideal time to extend your family time together and travel. A few extra days off work makes Thanksgiving weekend the perfect time to hit the road for an RV trip! So, who needs Black Friday shopping? (You can just shop online with our guide to Black Friday Deals for RVers!)
Recipes That Make Thanksgiving in the RV Tasty
In fact, why wait for the weekend? We think that spending Thanksgiving in the RV is a great way to make the holiday memorable. And while you might be happy to skip out on the lines of Black Friday shoppers, you may have a harder time parting with other Thanksgiving customs. Certainly, it would not feel as festive without a hearty traditional dinner.
The good news is, with our help, you won't have to miss it! We've collected some of the best classic Thanksgiving recipes here that you can easily make in your RV. While they may take a little bit of extra work – trust us, the meal that comes from it will be just as good as any dinner the family could've whipped up back home. Without a doubt, it sure beats canned goods and takeout! So, keep reading for RV recipes that will make for a fantastic Thanksgiving in the RV this year.
Paula Deen's Macaroni & Cheese
First, macaroni and cheese is a staple Thanksgiving side dish. If you're looking for something much richer than your typical boxed mac n cheese, try Paula Deen's Macaroni and Cheese. We love that this recipe can be made in a crockpot. Besides saving time, preparing this recipe in your at-home kitchen can be more convenient. Just refrigerate them once you get on the road until you're ready to throw it in the crockpot to cook. Because this can be prepared ahead of time, this is the perfect dish to make for Thanksgiving in the RV.
Slow Cooker Pumpkin Pie Pudding
Whereas we always aim to for simple and easy recipes, we know that sometimes RV ovens can be small and difficult to operate. But pie is a Thanksgiving tradition that simply cannot be overlooked. That being said, this Slow Cooker Pumpkin Pie Pudding recipe provides a way around that. It's like a pumpkin pie without a crust, cooked in a slow cooker! Add ice cream or whipped cream to make it feel even more homey. Thanksgiving in the RV with this recipe will surely make for a new family favorite tradition.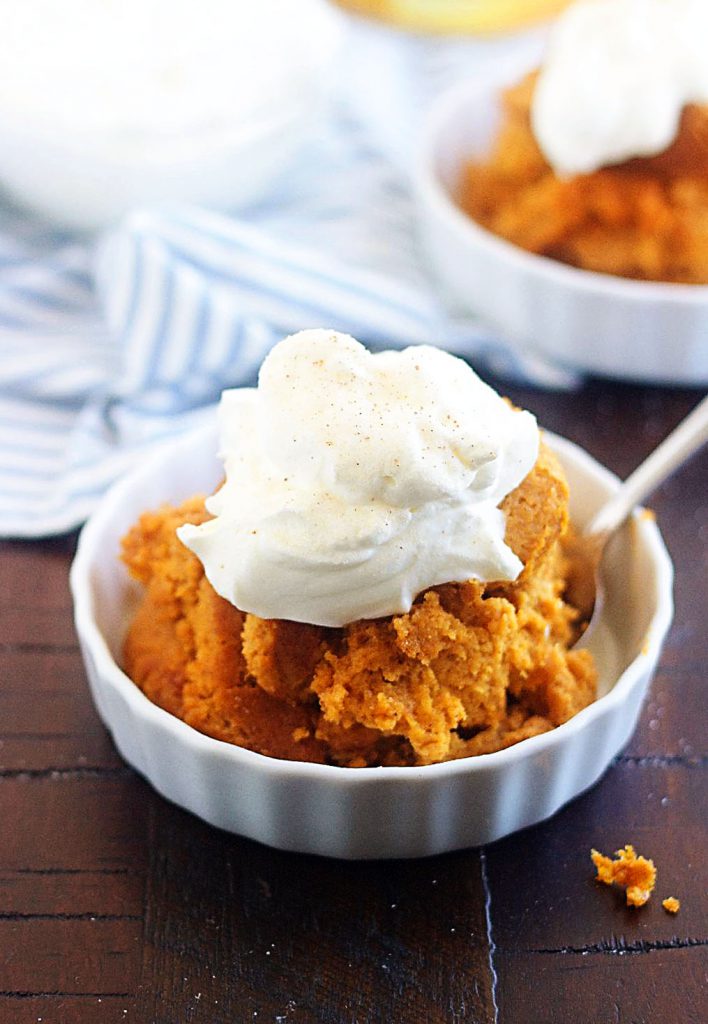 Credit: www.life-in-the-lofthouse.com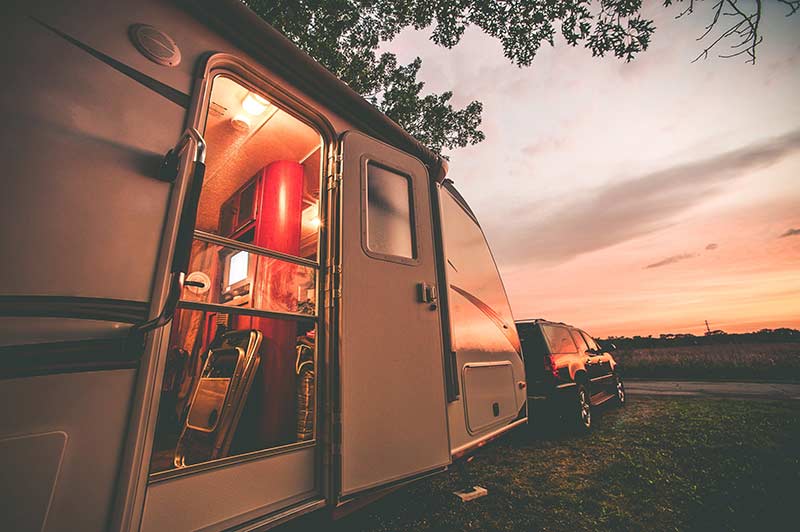 Need the perfect RV for a getaway?
Pressure Cooker Cranberry Sauce
Next, if you've got a pressure cooker on hand in the RV, you have to try this quick and easy homemade cranberry sauce. In fact, we'd rate this Pressure Cooker Cranberry Sauce a 10/10. If you're traveling without an Instant Pot on hand, you can make a stovetop version as well. While you can always buy the canned kind, it doesn't hold a candle to freshly cooked berries. And as an added bonus, this recipe is amazingly aromatic, so adding this to the menu will automatically give your RV the delicious smell of Thanksgiving.
Stovetop Stuffing
It should be noted that it isn't Thanksgiving without a side of stuffing. So, this Stovetop Stuffing is another recipe you can make on the stovetop. If you don't have an oven in your RV, you can toast the bread ahead of time before you hit the road, or just leave it out to get crispy on its own. Utilizing the stovetop for this recipe will free up your kitchen gadgets for other recipes. Again, maximizing your tools and preparing ahead of time will make your Thanksgiving in the RV more convenient and enjoyable.
Instant Pot Mashed Potatoes for Two
Undoubtedly Thanksgiving is a time for families, but often when you're cooking in an RV, you aren't cooking for a crowd. That's what makes these Instant Pot Mashed Potatoes for Two so perfect. It's a Thanksgiving must, without all the unnecessary leftovers you may not have room for. Again, we're all about convenience and saving on refrigerator storage space is vital. Furthermore, carbs are life this time of year, so this is a great recipe for Thanksgiving on the road.
Instant Pot Turkey Breast
And finally, the main attraction of a Thanksgiving meal: the turkey. This Instant Pot Turkey Breast recipe belongs in your repertoire! Why settle for a premade turkey that's been sitting under a heater on a supermarket shelf all day when you can make this flavorful dish in your Instant Pot in just 45 minutes? All of the home cooking with none of the unnecessary and dangerous deep fryer equipment. This recipe will make the perfect main dish for your Thanksgiving meal.
What Thanksgiving Recipes Are You Going to Try This Year?
If you have a crock pot, an Instant Pot, or a stovetop, you're well on your way to a mouth-watering Thanksgiving meal in your RV. You can double your Thanksgiving cooking efficiency if you have multiple pressure cookers, or you team up with friends at the campground to knock it all out. Don't let travel stop you from enjoying all the perks of this favorite fall holiday! You'll be thankful you didn't.
And, if you're new to the RV lifestyle, this Newcomer's RV Guide will explain the differences between the many types of RVs and towable trailers so you can find the one that's right for you!
Ready to find an RV for your adventures?