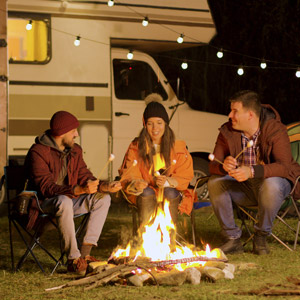 It's that time of year again, we're breaking out our sweaters and gearing up for the cold weather. Holiday music is playing, and store ads are advertising their specials. And if you're in the market for 2022 Black Friday RV camping deals, this time of year marks the start of the season for holiday shopping. In fact, Black Friday is the biggest retail sales day in the US. In 2022, in-store shopping has made a comeback, but many prefer to buy from the comfort of home.
Indeed, nowadays you can shop and find almost anything online and have it delivered to your home. Certainly, this is convenient, but it can still be time consuming when you're looking for the best deals. So, we've combed through Amazon's Black Friday deals to find the sales on items we think you'll enjoy the most. Here, we'll cover 2022 Black Friday RV camping deals that take you from the campfire to the RV kitchen. Plus, they're early bird deals so you can skip the stress and get a head start on tackling your holiday shopping! Keep reading to save with these specials.
The Best Black Friday RV Camping Deals for the Campfire
If you are looking for the perfect gift to bring your family closer for the holiday season, look no further! Whether purchased as a set or individually, these gifts will make any campfire infinitely more fun.
First, no campfire experience is complete without roasted marshmallows. However, it can be tedious to spend the night searching for a roasting vessel. So, save the trouble and buy these roasting sticks! They are made of stainless steel so they will not rust and are easy to clean. Additionally, they have wooden handles for comfort and are collapsible, so they save space. The best part is that these are a steal for Black Friday RV camping deals – they're available for 55% off.
A close second favorite activity to s'mores around a campfire is story telling. Roll these fireside story dice and come up with a story together that matches the photos on the dice! Families can have many laughs with these game pieces to help encourage creative thinking and storytelling fun! There are no rules, just endless possibilities with this game. It's one of the best Black Friday RV camping deals or gifts for family of RVers or camping enthusiasts.
We can't forget about comfort. These reclining stadium seats can be used on benches around the campfire, on the ground, or anywhere you'd like! Plus, you can save $40 per chair during these Black Friday RV camping deals. These seats offer back support and are sure to make your campfire adventure comfier, whether you're cooking up campfire snacks or telling stories.. Additionally, built with a lightweight steel frame construction, they fold flat for easy storage and transportation. They have adjustable backpack straps, a water-resistant reinforced bottom and six backrest positions. They're cushioned with high-density foam and the armrests to provide the utmost comfort.
If you're staying at a campground without a designated campfire site, you can get these portable campfire pits as one of your Black Friday RV camping deals. These WOEHOL portable campfires are 4 inches wide and 2.8 inches high. They are light weight, so you can take them anywhere. They're great for outdoor activities such as camping, picnics, hiking, RV trips, and more. They are eco-friendly and burn for 3-5 hours. For Black Friday they are 23% off, so you can bring the warmth anywhere you go!
Black Friday RV Camping Deals for the Kitchen
While it is fun to look at gifts for all the outdoor activities RV life can accommodate, much of our time is spent in the RV and camp. Specifically, much of our time with family is marked by meals. So check out these Black Friday RV camping deals for the kitchen.
You can save 20% off of this electric food dehydrator with these Black Friday RV camping deals. Dehydrators are great for homemade jerky and dehydrating nutritious fruits and vegetables. If you RV with a pet, you can even make healthy treats for your them! Dehydrating dries healthy fruits and vegetables with no additives or preservatives so they maintain their natural vitamins and minerals. This dehydrator comes with 4 trays but has the option to purchase more. The drying trays nest when not in use and the cord wraps around cover for compact storage. This is a perfect addition for an RV kitchen.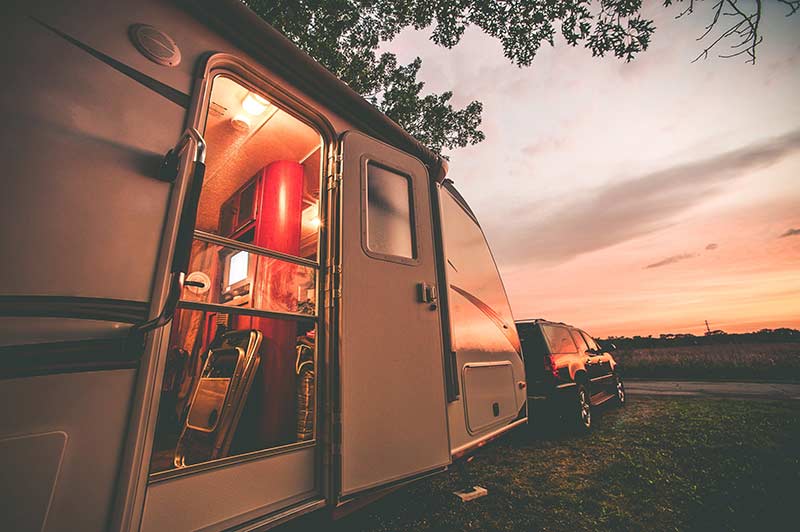 Need the perfect RV for a getaway?
Cast iron is essential for any RV or camping kitchen. The NutriChef 2 Pieces Skillet Kitchen Pans feature a non-stick cooking surface that ensures quick, effortless food release. Additionally, they eliminate the need for butter, oil, or cooking spray and come pre-seasoned w/ 100% natural vegetable oil to prevent the cookware from rusting. The integrated side drip lips make it easy to discard excess oil & fat. Because they are heavy duty cast iron, these pans effectively distribute & retain heat for an even cooking. And best of all, this nonstick grill pan kitchen set is compatible with all heating methods. They work on gas, induction, ceramic & electric stove tops. Cast iron is stain-resistant & easy to clean. So, enjoy easy traditional cooking style with the whole family when you buy this pan set. And if you buy it for Black Friday, you will save nearly $20 on the set!
Hurry For These Early Black Friday RV Camping Deals
Whether you're searching for family friendly gifts to enjoy around the campfire or trying to stock your RV kitchen for less, these 2022 Black Friday RV camping deals will save you tons! There's no need to wait until the day after Thanksgiving when you can get started with saving now. Be sure to check out our other RV essentials or Amazon's full list of on-sale RV parts and accessories while you're at it. Happy shopping!
This post contains affiliate links. RVUSA.com will receive a small commission at no cost to you if you make a purchase using these links. We appreciate your support!
Ready to find an RV for your adventures?