A Truck Camper is the go anywhere, park anywhere, tow anything compact cousins in the RV family.  With models ranging from rugged pop up tents to small-scale luxury living quarters with three slides, truck campers have a lot to offer in a small package. Perfect for those who want to downsize, simplify or make a first RV purchase, truck campers offer many benefits.
In general,these fit into the bed of a pick-up truck. The most recognizable feature is the "cab over" sleeping area. As well as a small, but functional living area. In today's market look for options that appeal to every adventurer from the rough-and ready do-it-yourselfer to the comfort-seeking weekend warrior.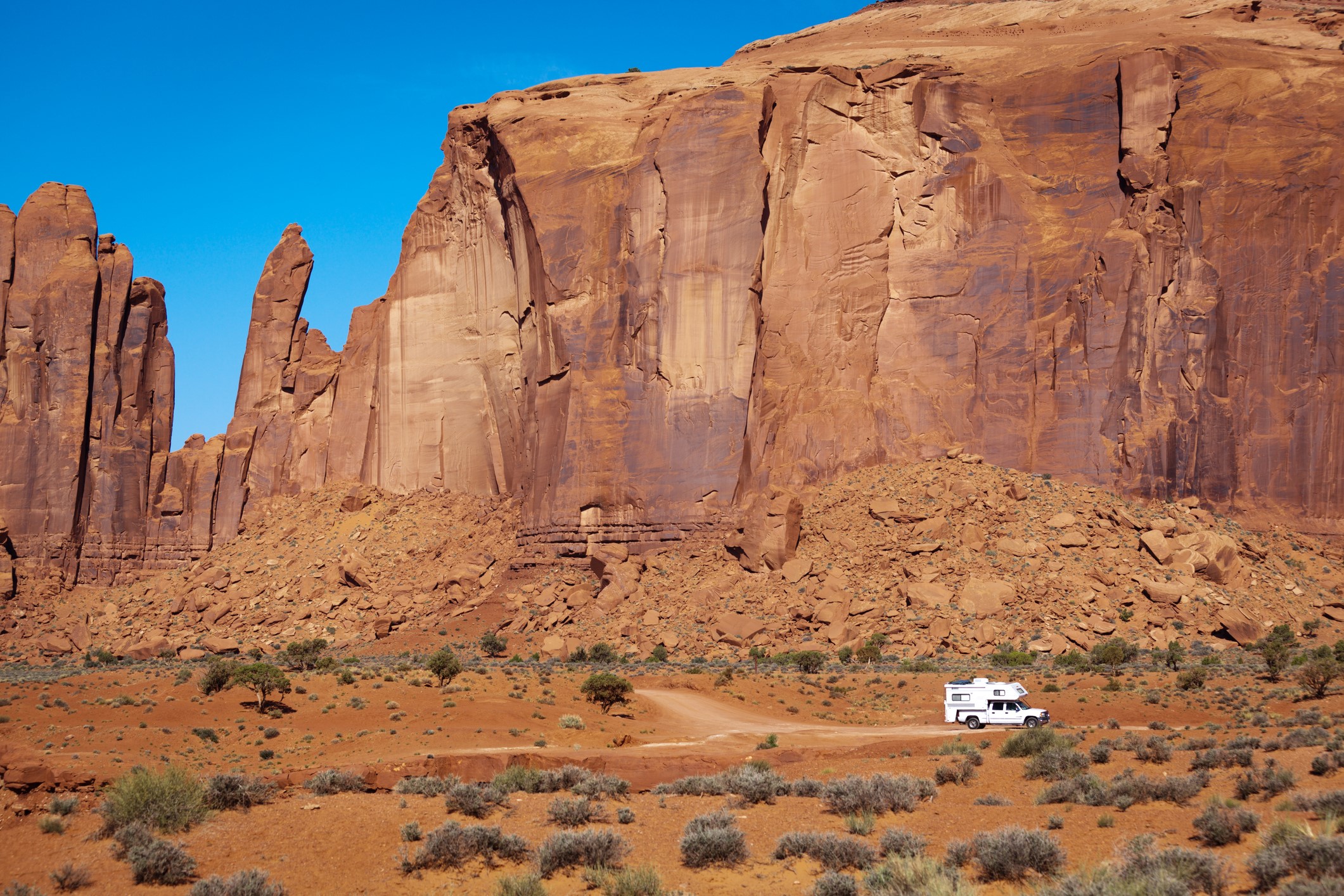 Truck + Camper: A Winning Combination
Together, a truck and truck camper are a go-anywhere travel duet.  Apart, a truck retains its original functionality to tote, tow, and transport. There's a camper available for nearly any half-ton and above truck. So if you're already towing and want to downsize or want to add a truck to the family fleet… There's a truck camper to fit your truck.  On, or off the truck, they retain livability and convenience.
Roads Less Traveled
For those willing to leave the beaten path for adventure, truck campers are the ideal choice for RVing.  Take your truck camper anywhere your truck can travel.  Most truck camper owners will opt for a four-wheel drive truck, so off road destinations are always on the table.
Truck Camper Drivability
RV without the stress of towing a trailer or managing a behemoth RV.  Most truck campers are designed with a focus on aerodynamics, making traveling with your truck camper little different than a drive around town in your unloaded truck. For even greater drivability, choose a telescoping truck camper or pop-up tent truck camper. RVers who are uncomfortable parking, backing into tight camp sites, or sharing the highway with speeding tractor trailers can drive a truck camper with confidence.
Gas Mileage
Choose a telescoping or expandable pop-up camper and expect lower gas mileage than towing a travel trailer, fifth wheel or a heavy Class A.  Higher profile camper trucks may not offer massive gas savings. Many do offer a variety of light-weight, low profile truck campers that transform with the agility of a Swiss Army Knife.
Towing with Truck Camper
Many owners appreciate the ability to travel with their home away from home and also tow adventure toys behind.  With enough truck muscle and the right hitch configuration, tow your boat or adventure toys on the road with you without compromising your convenience and living space.
Unload Your Truck Camper
For extended stays drop your camper and liberate your truck to explore, shop and tow, while having your camper available for sleeping and relaxing. Campers with electric jacks and stabilization systems make unloading easier than traditional crank jacks… But most truck camper fans don't unload unless they're staying put for a few days.
Easy to Store
When the camping season is over, low profile campers are easy to store. Fitting easily on a standard driveway. Even fitting under the restrictions for some Home Owners Association rules. If you're forced to stow your camper… It will tuck into the smallest, least expensive slot available.
Go Big
Once limited to simple shells and small, basic sleeping quarters, today's Truck Campers come in a huge variety of styles and sizes to fit small families, young and young-at-heart explorers. Today's truck campers come available with up to three slides, creating enough sleeping space to sleep 6.  Look for peninsula kitchens, expanded storage options, dry baths and theater seating in some models.
Big Adventures
One of the fastest growing segments in the industry is the pop top and expandable campers. These place emphasis is on go-anywhere adventure.  Simply and durably outfitted, these campers feature a low profile on the road but expand upward offering bunks above storage and cooking space.  Affordable, light and well-built the they are attracting a new generation of RVers into the market.
Ultimate Truck Campers
Lovers of the camper lifestyle are turning to a relatively new entry in the field: Flatbed Campers.  A new hybrid, that brings the all-in-one pass through Class A style to the truck camper world, flatbed campers offer the ultimate RVing.  Manufacturers remove the bed of factory trucks, creating a flatbed platform for these rugged truck campers.  Flatbed campers are ideal for those looking to explore some of the great byways of the world… Uncharted territory — on extended journeys.
Continuous innovation, flexibility and convenience make truck campers a great choice for anyone downsizing, right-sizing, or entering just entering the RV world.  Begin your search for the perfect truck camper at RV USA.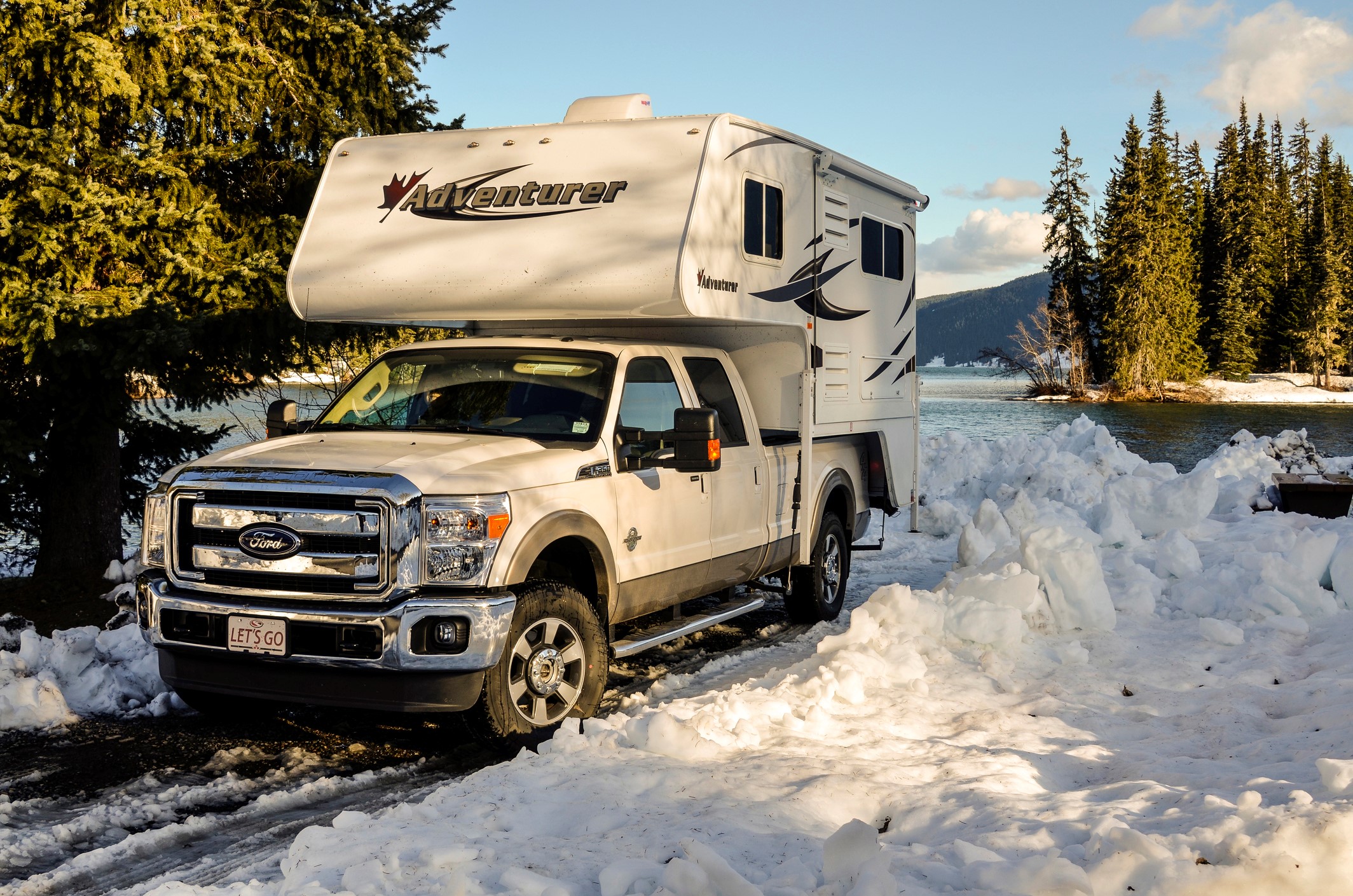 Don't forget to stay up to date with all of our exciting RV and camping content on Facebook, Twitter and Instagram!