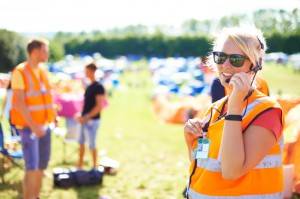 Work Camping is a lifestyle that helps make more travel possible for many Americans. Work Campers take outside jobs or volunteer at campgrounds, RV resorts, or nearby businesses, or they run businesses from their RVs.
Many people with a love for travel are attracted to work camping, and under the right circumstances it is a wonderful way to see more of the country. However, it's not unusual to encounter some difficulties along the way. If you've been considering Work Camping, here are some things you need to know.
Consider your personality carefully when applying for jobs. It's important to look for the best fit so you will enjoy Work Camping and also because you will need great references, particularly if you plan to work a series of seasonal jobs. If you have always hated customer service or if mowing the lawn is the extent of your landscaping knowledge, there are other Work Camping roles that will appeal to you. Knowing yourself will make you a happier Work Camper, and your employers will appreciate you more too.
Many, though not all, Work Campers have a supplementary source of income. Most Work Camping jobs pay $12 per hour or less, and some are part-time. There can also be a lag between the end of one job and the beginning of the next. Work Camping is a great way to make extra money while still having time to travel, but additional planning and a tight budget may be required if it will be your only paycheck. If you will need to work more hours in more demanding roles to increase your income, you will have less time and energy for sightseeing. This doesn't mean that you shouldn't become a Work Camper; it simply means that being realistic about financial matters is an important part of enjoying the lifestyle.
Revise your resume. Unless your experience is in the hospitality industry, you may need to revise your resume for Work Camping. Read job descriptions carefully and tweak your resume (without lying, of course!) to present yourself as a good candidate for the role. Revising your resume will also help you prepare for the tough questions potential employers are likely to ask about why you're making the transition to Work Camping and how you will handle the change. For example, if you've been managing a big-box store and you are applying for a job in maintenance, the hiring manager might want to know if you'll be comfortable going from being in charge to taking orders.
Practice interviewing. Though some Work Camping jobs are long-term or even permanent, Work Camping hiring managers often have different expectations from hiring managers in other industries. You'll need to speak about your skills and experience in a way that matches their goals and helps you stand out when compared to other applicants. Practice by asking a friend to role-play as the hiring manager for your Work Camping opportunity so you can anticipate the hiring manager's concerns and decide what questions you should ask about the job. If you are married and you and your spouse are applying as a team, practice interviewing as a team.
Make sure your compensation is clearly stated. Work Camping opportunities are often full of surprises, and that's not always a good thing. Miscommunications about hourly rates, hours to be worked, and accommodations are, unfortunately, not uncommon. For example, if an RV site is part of the compensation, how much are you actually "paying" for it, and is the electricity included? If you will be working 24 hours per week, will you be working three eight-hour days or six four-hour days? Some flexibility is necessary for being happy as a Work Camper, but if you aren't going to like the answers to these questions, it's better to find out before you drive hundreds or thousands of miles to get there.
Work Camping is a viable way to support yourself while seeing more of the country than is possible on two-week vacations and holiday weekends. If you prepare as much as possible while staying open to new opportunities, you are likely to have a wonderful experience as a Work Camper!