It's that time of year when schools are wrapping up their spring breaks and kids are starting to get the itch for summer vacation. As people begin to map out their plans for time off of school, educational summer RV trips for families are a wildly popular choice for the warmer months. School may be out, but that doesn't mean it's time to stop learning. Sometimes the best classroom is not a room, but an RV, camper, or travel trailer rambling down a U.S. highway. Read on for some of our favorite US road trip ideas.
Choosing Our List of Summer RV Trips for Families
Compiling this list was no easy task. There are many amazing, underrated road trip destinations all across the US that every family should add to their bucket list! For this list though, we didn't just pick some interesting destinations. We chose road trip routes that will take you through some of the most beautiful and historical parts of the country. We also focused on choosing spots that had fun for RVers of all ages, especially families with school-aged children. There's an educational element to each one of these destinations so your kiddos will keep learning even after school's out! Turn education into an experience with these road trips through American history, geology and science.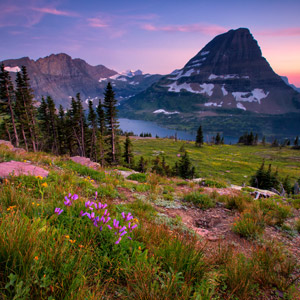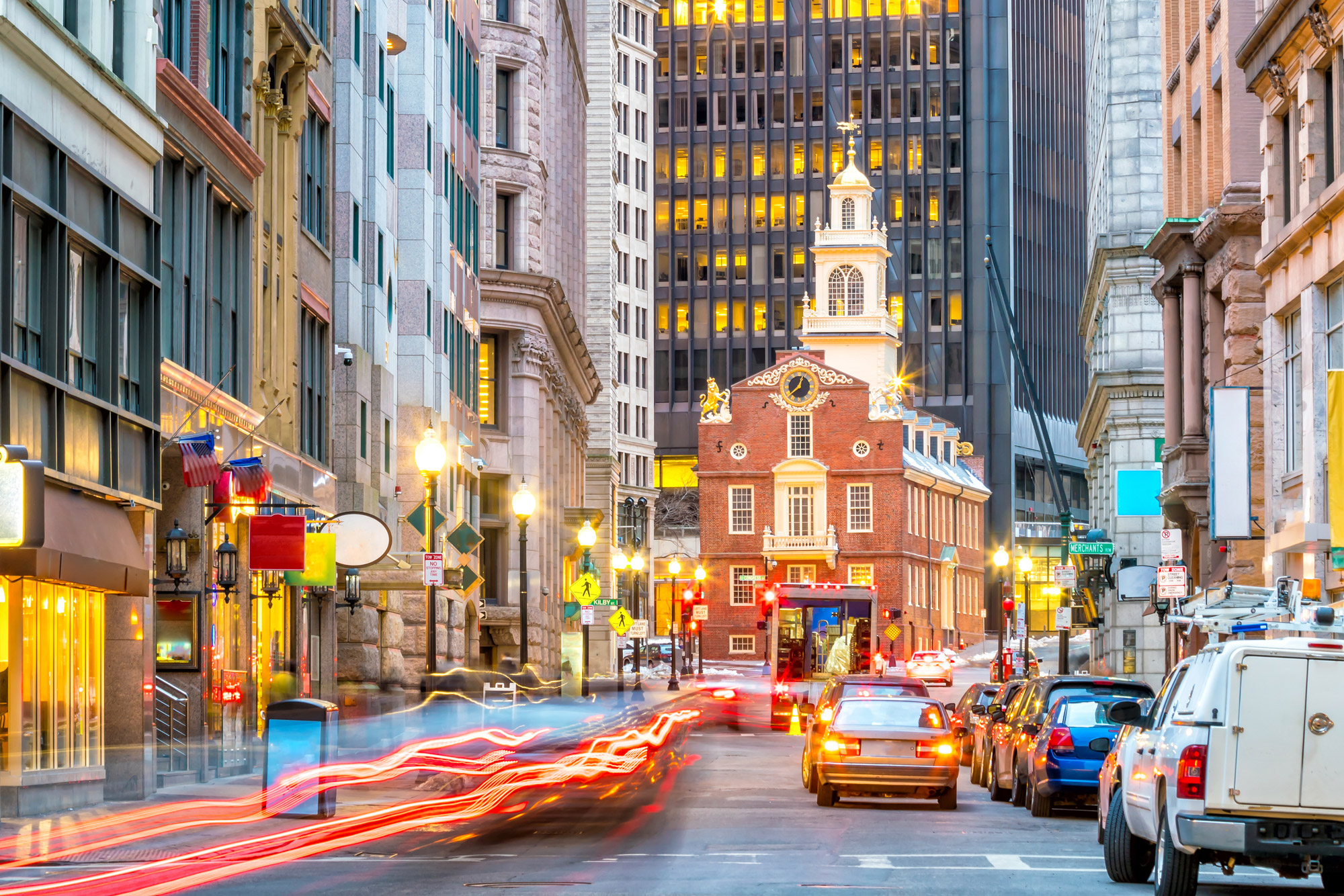 Colonial America and the Revolutionary War

Highlights: Guided tours, Founding Fathers, American history, summer in New England
Stops: Boston, Philadelphia, Valley Forge, Jamestown
Days: 7-10
Boston
Get the educational road trip party started where a "tea party" gave birth to a nation. The main highlight on your road trip here is the 2.5 mile Freedom Trail. This walking trail of the city is part of Boston National Historic Park and is maintained by the National Park Service. Fanueil Hall Visitor Center is a great starting point for families. Guided tours and brochures for self-guided tours following the red brick line are available. This makes our list of summer RV trips for families since it will take you past 16 historic sites such as Boston Common, The Old South Meeting, the site of the Boston Massacre, Paul Revere's House, The Old North Church and the USS Constitution, the oldest ship in the U.S. Navy.
For families with younger children, tackle the trail in stages or consider a hop-on-hop off tour.  After a dose of history, head to the Boston's Children's Museum for a day of hands-on learning.  The museum is one of the oldest children's museums in the country and has plenty of activities for the littlest learners.
Philadelphia
Continue the trip through America's history with a five-hour drive from Boston to Philadelphia.  Spend a few days in the cradle of liberty where history jumps out of textbooks, with visits to Independence Hall where the Declaration of Independence was signed. Tour the Constitution Center, see the Liberty Bell, and visit the site of Ben Franklin's home and offices as well as what may have been the home of Betsy Ross.
As you make your way around, look for green circles with the words "Once Upon a Nation" written inside. Nearby there will be a bench and a storyteller, dressed in the same colored shirt. When you hear the bell, you know it's story time. Stop, take a break and be carried back in time. If touring through the history of Independence gets daunting for the family's smallest historians, take a break at Franklin Square. There's a carousel and an 18-hole miniature golf course featuring tiny versions of local Philadelphia landmarks.
Valley Forge
Make the short drive from Philadelphia to Valley Forge, Pennsylvania, where a half-day self-guided driving tour will take the family through General George Washington's winter encampment, including his officers' quarters and bunkhouses for enlisted men. There are plenty of ranger-led programs available here, including an opportunity for kids to join the Continental Army! In this program, kids will receive "enlistment papers" and experience a day in the life as a continental soldier. They'll learn how to march like Washington's soldiers and even take part in a wooden dummy musket drill. You can't get much more hands-on with history than this!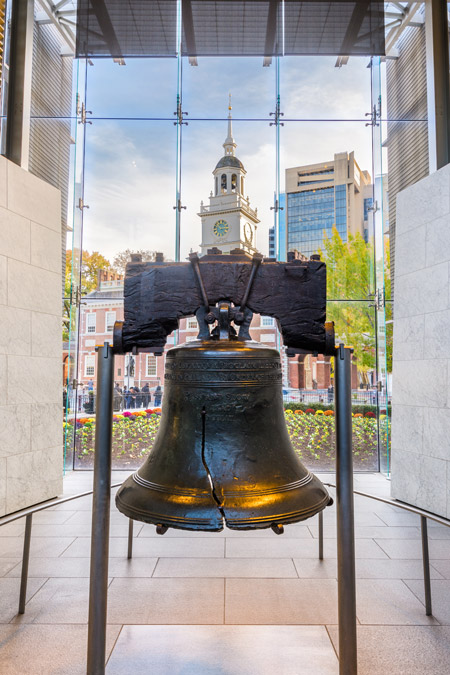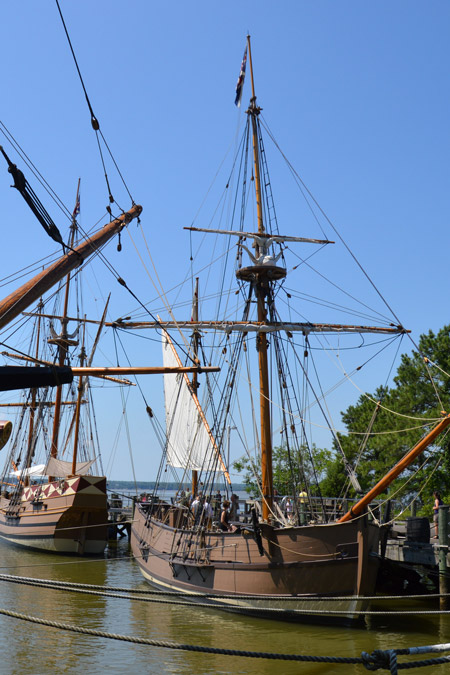 Colonial Virginia
Either make a detour into Civil War history at nearby Gettysburg, or head back into colonial time in Williamsburg and adjacent Jamestown, Virginia.  Colonial Williamsburg is a historic district and living-history museum, where actors in period costume depict daily colonial life in the streets, stores and workshops. Explore different aspects of colonial life with specialized tours and activities that range from an excavating the cellar of Archibald Blair's 18th century store, to authentic tea parties, to interactive programs on the life of slaves in early America. There are live demonstrations, restaurants serving meals made with authentic recipes and re-enactments in the historic district.
Nearby Jamestown is divided into two parts: the archaeological dig of the first settlement and fort, and Jamestown Settlement. The latter includes recreations of the colonists' fort, a Powhatan village, replicas of the three ships used by the Jamestown colonists and a museum.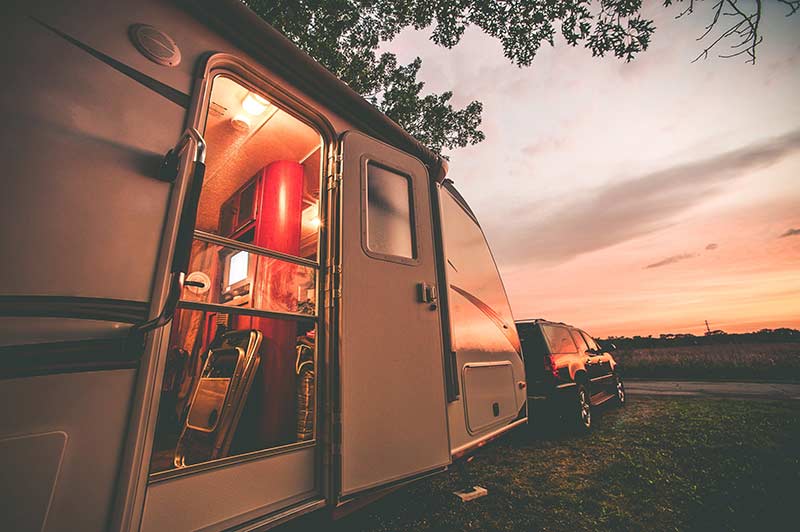 Need the perfect RV for your family?

Washington D.C. and Mount Vernon

Highlights: the nation's capital, museums galore and George Washington's home
Stops: Washington D.C., Mount Vernon
Days: 5-7
Washington, D.C.
This historical roadtrip is great for those who want to keep their summer travels along the Atlantic seaboard.
The best way to kick off this particular route on our list of summer RV trips for families is by finding a great campground outside of the city. While it's possible to drive in D.C., the city is walkable and has an extensive public transportation system. Choose a nearby campground that offers transportation to a local subway line into the city and prepare to be immersed in America's best classroom. Visit the National Archives to see the Bill of Rights, Constitution and Declaration of Independence.
Then, tour the Capitol to learn about its history and today's governance. Even if you don't get invited to the White House, tour the visitor's center to learn the history of "The People's House." There are many educational monuments here as well, from Washington to the Vietnam Veterans Memorial. Make sure you take a pause at the Tidal Basin for reflection.
Set aside a couple of days to tour the 17 museums, galleries and a zoo that together make up the Smithsonian Institution. The Institutions educate and inspire with exhibits that explore human history, the world around and below us, space travel, and much more. There are more than 140 million objects, specimens and pieces of art to explore, so a return visit is likely in order.
Mount Vernon
Next, plan a day to visit Mount Vernon, the home and burial place of George Washington. Mount Vernon includes a museum, landscaped grounds, outbuildings, living history events and the mansion where Washington lived and died. There's even a working farm with animals to delight younger family members. Here, you'll be able to learn about the life and legacy of one of America's most influential men.

The Oregon Trail

Highlights: Wide open spaces, natural landmarks, frontier history, covered wagon routes
Stops: Missouri, Kansas, Nebraska, Wyoming, Idaho, and Oregon
Days: 14-17
Independence, Missouri to Oregon City, Oregon
Retrace the trail that brought more than 400,000 migrants from Missouri to Oregon across the Rockies between the 1840s and 1860s. Pioneers in their "prairie schooners" laden with hundreds of pounds of flour, bacon, sugar, and coffee faced five months of rugged travel fraught with perils of disease and calamity to claim a share of Oregon Territory. 
While today's modern highways make the journey much shorter and far less perilous, the Oregon National Historic Trail is still packed with rugged scenery and historic sites spanning Missouri, Kansas, Nebraska, Wyoming, Idaho, and Oregon. The journey begins, as it did in the 1800s, in Independence, Missouri, where pioneers loaded their covered wagons with supplies. Visit the town's National Frontier Trails Museum as a primer on the history and the routes they followed. The journey ends in Oregon City, Oregon, where pioneers would settle, or decide to continue their journey north or south.
The Oregon National Historic Trails system is not a traditional trail running contiguously from end to end, but instead consists of trail traces, structures, graves, landmarks, and markers left on the landscape. There are even nine places along the trail where the ruts carved by thousands of wagon wheels can still be seen.
The National Park Service, which administers the Oregon NHT, offers planning tips, advice and guidance for following the route as closely as possible. There are Oregon Trail themed camping venues along the way, and some are close so to history travelers can reach out and touch it. Spend the night at Guernsey State Park in Wyoming and see Register Cliff, the landmark where travelers carved their names before heading on to the last perilous stage of the journey, or relive the bustling days on the trail at the Oregon Trail Wagon Train Restaurant and Campsite in Bayard, Nebraska, with a covered-wagon tour of the area and 24-hour treks of Chimney Rock. Millenial parents will know to avoid catching dysentary along the way!
Shop Our RVing Essentials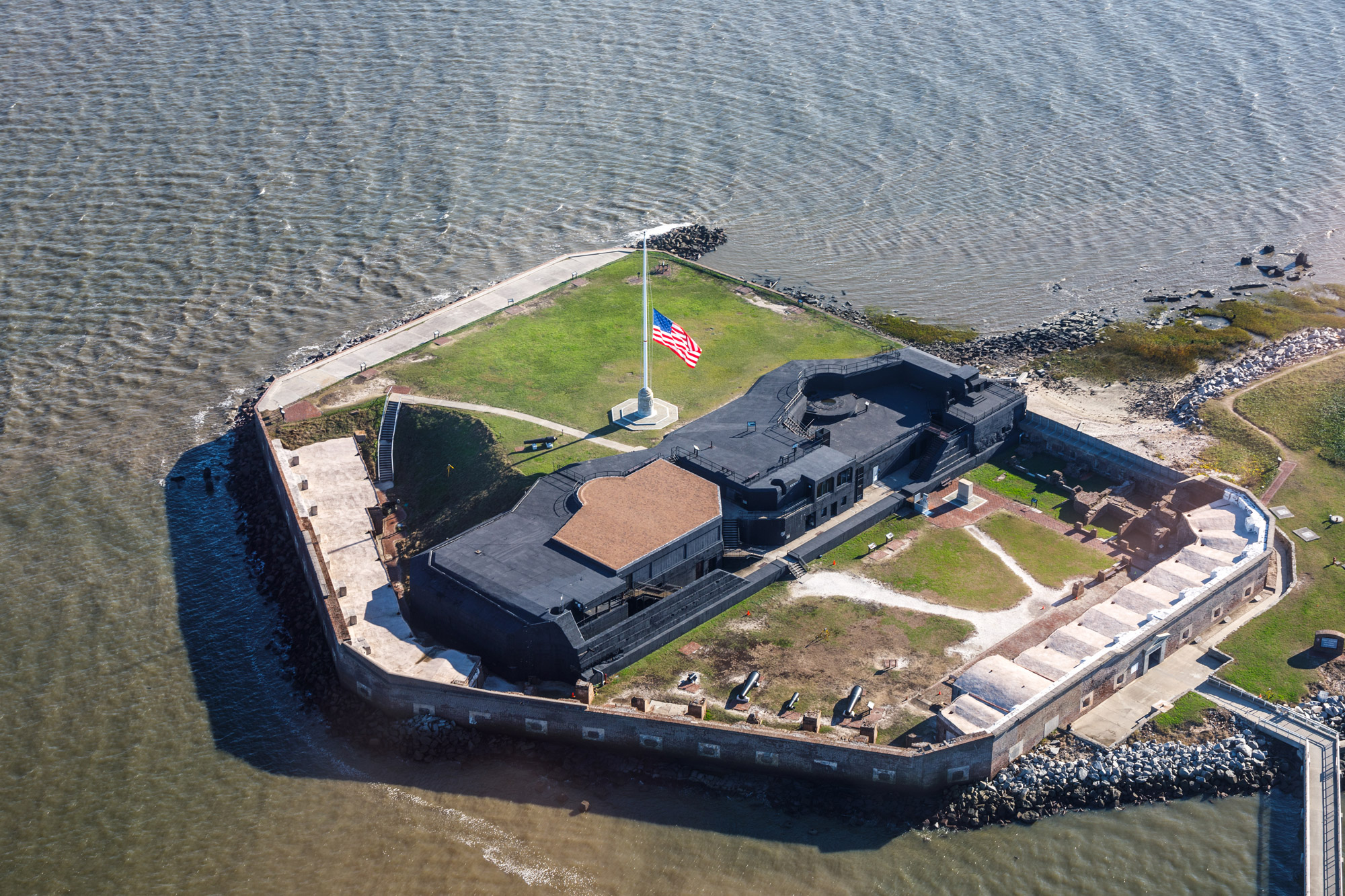 Coastal South

Highlights: Civil War history, southern hospitality, comfort food
Stops: Charleston, Savannah, Tybee Island
Days: 5-7
Charleston
The coastal South features kid-pleasing beaches, a distinctive culture, and history from pirates, to girl scouts, to the civil war. Charleston and Savannah are perfect bookends for shorter summer RV trips for families through the low country, which features rivers, estuaries, and tidal basins, each with their unique ecosystem. As you cruise the coast, you may even be able to nab a campsite at one of our favorite east coast oceanfront RV parks.
Start exploring low country in Charleston. Make your first visit Fort Sumter, where the first shot of the Civil War was fired. The ferry boat ride to the fort in Charleston Harbor also provides a great view of the historic city. Travel back in time to the Revolutionary War with a visit to Fort Moultrie, where patriots fought off the British in 1776 and staved off occupation of Charleston by the British.  Give your feet a rest and explore the architecture and points of interest in downtown Charleston on a horse-drawn carriage ride. Then, when the family is done exploring history, head to the South Carolina Aquarium at the Harbor, where there are rotating family-friendly education programs.
Edisto Island
Head south toward Savannah, Georgia, but take it slow and explore the history and wildlife of this region. A small detour to Edisto Island is an opportunity to learn about the unique culture of the Gullah, direct descendants of the Low Country's first black inhabitants. Today it's possible to watch Gullah women weave intricate, coiled sweetgrass baskets, a tradition dating back hundreds of years. Further south is the historic town of Beaufort, the second oldest, and once wealthiest city, in South Carolina. Then explore the Pinckney Island National Wildlife Refuge by kayak, where tides of 6 to 8 feet allow budding marine biologists to explore 4,000 acres of salt marshes and tidal creeks.

Savannah
End your educational journey through the Low Country in Savannah, Georgia, where pralines, pirates and historic preservation make for a memorable and educational journey. Unlike many southern cities, most of Savannah survived the Civil War. There are as many theories as tour guides in Savannah as to why General William Tecumseh Sherman didn't burn Savannah to the ground, but in the end the city was offered to President Lincoln as a Christmas gift. Today, historic preservation remains the city's top priority.
The 2.5-square-mile historic district includes 2,300 buildings, most of them restored, and ghoulishly, most of them are built atop underground cemeteries. Explore the historic district, including the home of Julliette Gordon Low, founder of the Girl Scouts, then head to the waterfront to learn about the pirates who scoured the waters off the coast and enjoy a famous Savannah praline.
Tybee Island
Make a stop in Tybee Island for the day to explore five miles of shoreline and visit the Marine Science Center, which has hands-on exhibits and displays. Learn about sea turtles, crabs, and wading birds, or take a guided tour through the marsh or beaches to learn first-hand about the creatures that call it home.

Montana and Wyoming National Parks

Highlights: Majestic mountains, icy glaciers, geothermal activity, natural beauty
Stops: Glacier National Park, Yellowstone National Park, Grand Teton National Park
Days: 7-14
Glacier National Park
Experience the earth's fire and ice first hand by traveling from Glacier National Park in Montana to Yellowstone and Grand Teton National Parks in Wyoming on your summer RV trips for families .
First up, learn about glacier geology at Glacier National Park in Montana. This park has ecosystems ranging from prairie to tundra that can be explored by hiking the park's more than 700 miles of trails. The whole family can learn about glacier geology and even see glaciers – before they are expected to disappear in 2030 – while driving along the 50-mile historic, engineering marvel Going-to-the-Sun Road. Spend time learning about the incredible bio-diversity of the park, which has hardly changed since Europeans discovered the area, and enjoy the stunning landscape. Observe a rare hydrological apex at Glacier's Triple Divide Peak. From the peak's summit, water flows to the Atlantic Ocean, the Pacific Ocean, and Hudson Bay, earning the peak the title Crown of the Continent. The only other hydrological apexes in the world are found in Jasper National Park and in Siberia.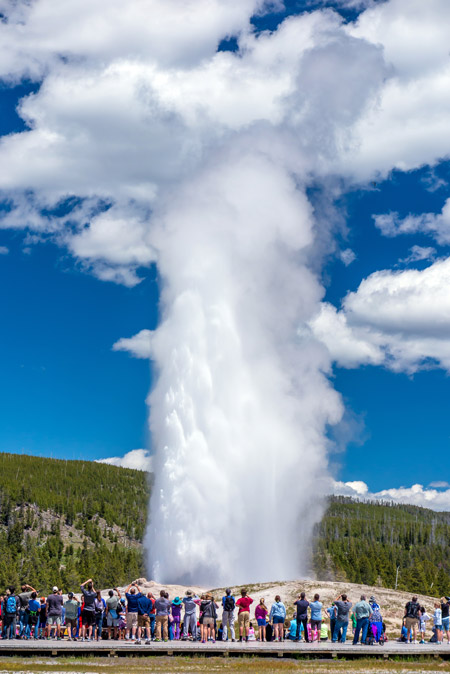 Yellowstone National Park
Head south through historic Missoula on your way to Yellowstone National Park, the granddaddy of the nation's park system. Yellowstone is home to soaring landscapes, more wild animals than almost anywhere else in the U.S. and the famous geothermal geysers and hot springs.
Visitors to Yellowstone are likely to see wild animals roaming freely in their natural habitats, including grizzly bears, gray wolves, the world's largest wild bison herd, bald and golden eagles, trumpeter swans and moose.
Perhaps upstaging the animals are Yellowstone's famous geothermal features. The park contains about half the world's geysers, including the famous Old Faithful Geyser.
Old Faithful is the most visited site in the park – and it should be. Old Faithful erupts every 35 to 120 minutes for 1.5 to 5 minutes, spewing 200-degree water and steam upward an average of 130 feet into the air. It's not the biggest of the geysers at Yellowstone, but it is predictable. The park lodge, raised walkways and seating all around make it easy to take in this spectacular sight.
Continue to the Grand Prismatic Spring at the midway Geyser Basin, just a few miles from Old Faithful. This is the largest hot spring in the United States, and the most photographed geothermal feature in the park. It's vivid bands of orange, yellow, and green surrounding the deep blue waters are best photographed from above along the Fairy Falls trail. The pool is about as deep as a 10-story building and the spring is bigger than a football field.  The vivid colors come from the heat-loving bacteria living in the spring.
The Park Service and Yellowstone Forever Institute offer programs that can turn a vacation in Yellowstone into a unique learning experience.
Grand Teton National Park
If you've already made it all the way to Yellowstone, you may as well go a bit further into Wyoming to hit Grand Teton National Park. In the summer, there's a road that connects the southern part of Yellowstone with the norther part of Grand Teton, meaning you drive straight from one park into the next! While not quite as developed as Yellowstone, there's plenty to see in Grand Teton. Hike around Jenny Lake and make a stop at the Jenny Lake Ranger Station. If you're lucky, you may meet one of the Jenny Lake Rangers, the most elite search and rescue team in the nation.
Mapping Out Summer RV Trips For Families
With so many great options out there, it can be difficult to choose which trip is right for your family. First, consider the region you'll be kicking off your trip from, whether you're renting an RV or you're on the hunt to find your family's next vacation rig while browsing new and used RVs on RVUSA. Then, consider how long you want your trip to be. If you're still debating, decide whether you want your trip to focus on history, geology, or simply experiencing the Great Outdoors. America's classroom is always open and just a road trip away. These summer RV trips for families are the perfect excuse to hit the road for interactive, immersive, and exciting educational opportunities. Pack up the essentials for RVing with kids and start your next family adventure!
Ready to find an RV for your adventures?