Imagine lounging in your lawn chair underneath your RV awning with a cool ocean breeze blowing and water gently lapping the shore nearby. Does it get any better than that? If an RV escape to the beach is what you need, there are plenty of oceanfront RV parks out there that can make that dreamy scene a reality.
Choosing the best oceanfront RV parks
This list would be way too long if we picked our favorite beach front campgrounds on both coasts. For this guide, we'll take you through the best east coast oceanside RV parks. There's plenty of fun to be found on east coast beaches, from the sun and palms in South Florida, to the historic waterfronts of the Carolinas and the quaint, picturesque beach towns of the northeast. No matter which kind of beach stay is your speed, we've got a campground for you.
Beverly Beach Camptown Resort – Florida
Many of the coastal campgrounds in the Sunshine State are close to the water, but not actually on the beach. Beverly Beach Camptown Resort in Flagler Beach is actually an oceanfront RV park though, with plenty of ocean view sites to choose from. If the gorgeous grounds and easy beach access isn't enough, the location should be. It's situated halfway between the historic city of St. Augustine and the vacation destination of Daytona Beach. There's a convenience store on site that offers fresh coffee, snacks, souvenirs, fishing gear and beach supplies in case you forget anything. It's also a pet friendly campground so you can bring your four-legged friends with you to enjoy the ocean breeze.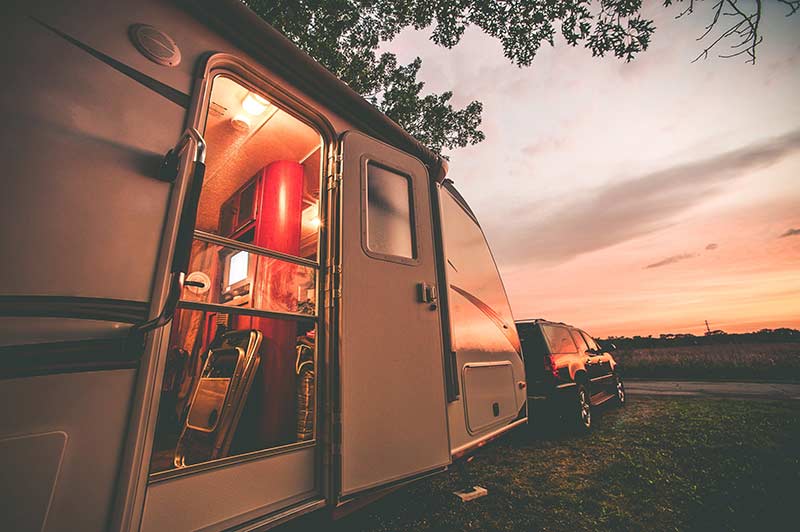 Need the perfect RV for a getaway?
Jekyll Island Campground – Georgia
While Jekyll Island Campground doesn't technically have waterfront views, you'll still feel like you're in an oasis with the draping canopy of trees overhead. Don't worry, there are beaches too: it's on an island and the ocean is just a few short steps away. Driftwood Beach is a visitor favorite. These shorelines are uninterrupted by commercialized resorts and tourist stops, but the campground still provides full hookups. It's a true getaway and you'll find plenty to do nearby including golf, biking, a sea turtle center and historical attractions.
Hunting Island State Park – South Carolina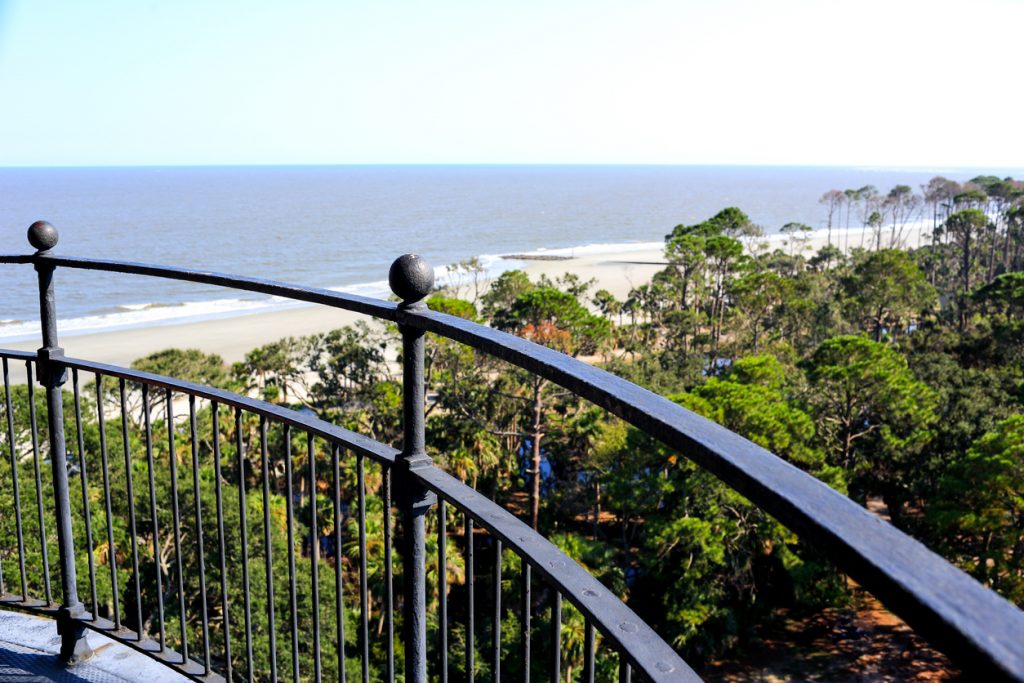 In South Carolina, you'll find a similar setup on Hunting Island State Park. You'll love the southern foliage and the short walk to the shore. It's one of our favorite oceanfront RV parks because Hunting Island gives you the climate and Lowcountry nature many enjoy about Hilton Head, with far less commercialization. The lighthouse on the island is a must-visit stop. You can also explore the state park's nature center or use the boat ramp. There's a park store and a playground on site as well. Other popular activities include combing the beaches for shells, taking the ferry to St. Phillips Island or watching the sunset from the marsh boardwalk.
Ocean Lakes Family Campground – South Carolina
Further north along the Palmetto State shoreline, you'll find Ocean Lakes Family Campground. This oceanfront RV park in Myrtle Beach boasts 310 acres of prime oceanside real estate with over 850 campsites. Split your time soaking up the sun between the sandy beaches and the on-site Sandy Harbor Family Fun Center. The kids will love playing mini golf, sliding down the slides and playing in the splash zone.
If you need a break from the heat, check out the Nature Center Discovery Lab or grab a bite at Sandy's Meet n Eat. You can also rent bikes, play shuffleboard and get in on a game of basketball, volleyball, horseshoes or bocce ball. The activities are endless! The campground is known for some of its annual events such as the Polar Bear Plunge, Bluegrass Weekend and Halloweekend. If you're looking for a place where you can enjoy the beach along with a multitude of amenities, this is your spot.
Camp Hatteras – North Carolina

This spot made our list of the top RV parks in North Carolina, so it's clear why this was our beach front campground choice in the Tar Heel State. The Outer Banks is one of the most popular beach destinations on the east coast, and for good reason. The chain of barrier islands off the coast is rich with nature and history, from the first colony to the first flight.
There are plenty of sites at Camp Hatteras with an ocean view, but the park also covers 50 acres of the island so you can stay oceanside or sound-side. On site, you'll find a pool, mini golf, tennis courts, shuffleboard and a basketball court. You can also stay entertained with water sports rentals or a station to clean your fish after a fruitful day of fishing. Nearby, you can visit Cape Hatteras Lighthouse or drive north to Jockey's Ridge State Park.
Assateague State Park Campsite – Maryland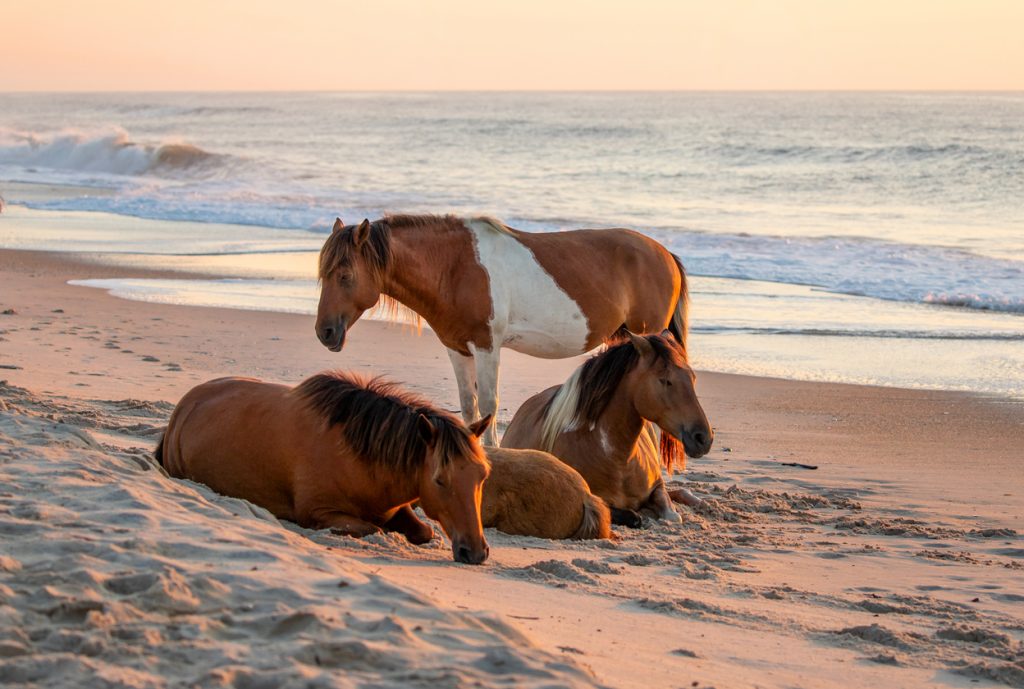 If sandy beaches and wild horses sounds up your alley, you have to visit Assateague State Park in Maryland. The oceanfront RV park here is situated amidst the sandy dunes of the state park with close proximity to the beach and the horses that call the area home. Seriously – they may even make a stop at your picnic table! Each campsite is equipped with a picnic table and fire ring, and select campsites have electric hookups. Camping is really the only way to stay overnight on the island, so it's a beach stay that's free from the clutter of destination towns so you can be one with nature.
Libby's Oceanside Camp – Maine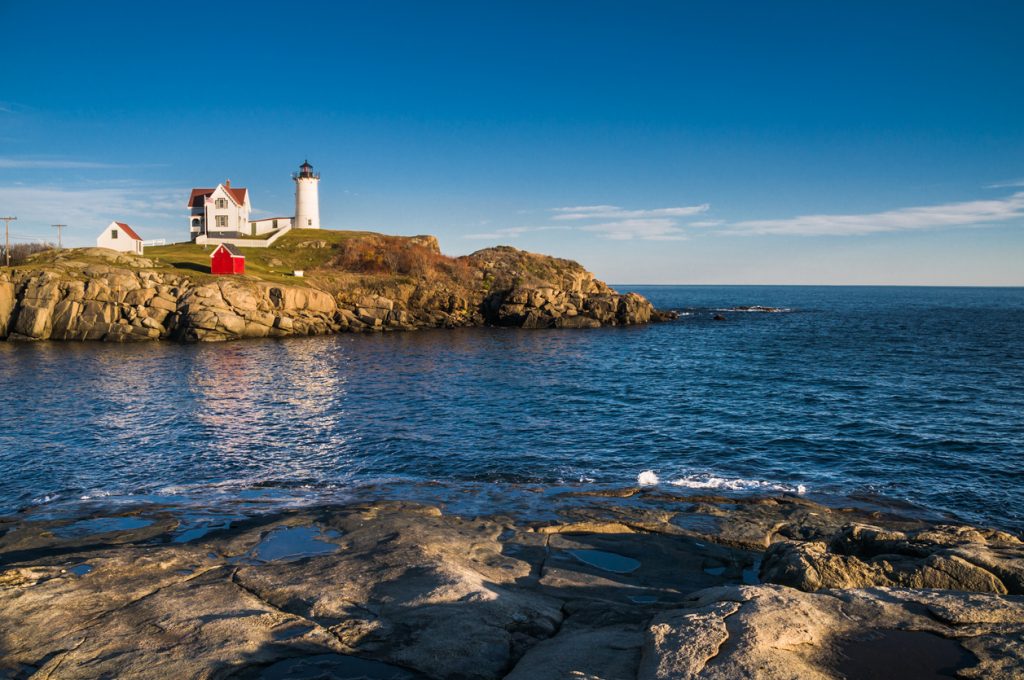 Sometimes, a quaint New England beach town getaway is exactly what you need. Libby's Oceanside Camp in Maine is the perfect place to enjoy the quintessential northeast lifestyle. Explore the 1.5 mile Long Sands Beach and visit Nubble Light. Sit outside and take in the salty air as the waves hit the rocky shoreline. This isn't the type of RV park you visit for organized events and so many amenities you don't know what to do with it all. This is an escape for relaxing by the ocean.
Visit one of the best east coast oceanfront RV parks
From Florida to Maine, we've got you covered with the best beach front campgrounds on the eastern seaboard. Whether you want to feel like you're tucked away in the middle of nature or you want to be in the middle of the action with every amenity and activity you can imagine, there's a place for you. It's important to remember with oceanfront RV parks though that they fill up extremely fast. You typically need to book them well in advance in order to reserve a spot. So what are you waiting for?! Pick your favorite and book a spot today!
For more RVing tips and tricks, check out the RVUSA blog.
Ready to find an RV for your adventures?