Choosing the right RV to purchase can be a tough task. There are so many different RV manufacturers out there, and sifting through which one fits your needs best often takes a lot of background work. We're here to help simplify the process for you. Using reviews from RV enthusiasts as well as the best selling RV makes on RVUSA.com, we've compiled a list of the Top 10 RV manufacturers. Read on to find out who made the cut.
Airstream
This classic RV company was founded in 1929, and it still hasn't gone out of style. Airstream enthusiasts love the signature riveted aluminum exterior for both its retro look and durability. There's a reason why there are still decades-old Airstreams on the road! The iconic silver body with plentiful windows has a bit of a cult following – RVers with Airstreams LOVE their vehicles, and there's even a club devoted strictly to Airstream owners called the Wally Byam Caravan Club International. Some RVers choose to gut vintage Airstreams and create a custom home all their own, and others go with the updated yet timeless look of brand new models. Either way, you can't go wrong. You'll find as an Airstream owner you belong to a uniquely devoted community of RVers.
Winnebago
Winnebago is another classic name in the RV business – so much so that the word Winnebago is often synonymous with a motorhome. Founded in the 1950s, they helped popularize affordable RVing across America and remain a mainstay in the RV world to this day. Their "Winnie" variations are their classic models, but they make RVs of just about every size and are prevalent at RV dealers across the country. They're also one of the most popular RVs on RVUSA.com.
Jayco
With over 50 years of experience in the RV world, Jayco is a fan favorite for a reason. Jayco's first travel trailers were built in 2 chicken houses and a barn back in the late 1960s, and have risen to popularity because of their affordability and reliability. One thing buyers love about this subsidiary of Thor Industries the fact that they provide a 2-year warranty, when most RV companies only offer one year. Considering most RVers only use their RV an average of 4 weeks out of the year, having a warranty that lasts 2 years gives you comfort that you're covered for a lot more vacation time than you would be with other RV makes. You'll find plenty of family-friendly floorplans with Jayco as well as innovative technology that allows for better fuel efficiency and a smaller carbon footprint.
Grand Design
Grand Design is one of the newer RV manufacturers on the market, but they've quickly risen to the top. Two brothers and a friend who were executives with Keystone RV split off in 2012 to create a more personal approach to RV manufacturing. Since then, they've made a point to offer quality customer care both before and after the sale. Each Grand Design RV goes through a rigorous quality test before it is shipped out and their three-year limited structure warranty gives you the peace you'll continue to receive great service after you take your Grand Design off the lot.
Forest River
Forest River is the most listed RV make among new vehicles on RVUSA.com, so we know this brand is popular among our dealers and their customers. Founded in the 1990s, they've gone on to produce and acquire many RV makes you are familiar with, including Palomino, Flagstaff, Dynamax and Coachmen (which you can read more about below). Their brands cover just about every type of RV possible, but they focus mostly on towable rigs like travel trailers and fifth wheels. You can undoubtedly find a Forest River RV that fits your needs and budget.
Coachmen
Even though this is technically a Forest River brand, Coachmen is so popular on RVUSA.com we had to give them their own mention. Forest River acquired them in 2008, but they've been in business for over 50 years creating an abundance of consumer-friendly options that provide value but won't break the bank.
Northwood
The midwest has long been a stronghold of RV manufacturing, but Northwood RV has proven the Pacific northwest can excel in the RV world as well. Located outside of La Grande, Oregon in view of the beautiful Blue Mountains, Northwood brings expertise in all-weather camping to its vehicles. They feature top-notch insulation to keep your RV temperature controlled no matter the season, as well as suspended holding tanks that have warm air circulating around them to keep them from freezing in winter. If you plan to camp in different seasons and climates, a high-quality Northwood RV may be the way to go.
Tiffin
When it comes to luxury Class A vehicles, it doesn't get much more upscale than Tiffin Motorhomes. This family-run business based in Red Bay, Alabama pulls out all the stops in their high-end coaches and Class C RVs, yet still provides the personal attention of a family business. If you're on the market for a towable RV instead, they also have a line of fifth wheels under their Vanleigh division. Tiffin RVs can cost upwards of what many pay for a sticks and bricks home, so you know the quality, craftsmanship and design is going to be top-of-the-line.
Monaco
Another dominant force in luxury motorhomes is Monaco. They keep things simple with just two model variations, but there are plenty of customizable options within those two categories. Monaco coaches have a palatial feel to them, with intricate woodwork and tile alongside Whirlpool appliances. If you want something even more tailored to your specific needs, you can inquire about having an RV custom-built for you. You'd be hard-pressed to find a more extravagant motorhome.
Newmar
Stepping inside a luxury Newmar coach feels more like stepping inside an upscale home than it does an RV. Not only is the interior design lavish, but their RVs are equipped with all the bells and whistles you could wish for in the technology department, such as Sleep Number beds and heated tile floors. While many RVs are built in Amish and Mennonite country in Indiana, what's unique about Newmar is that it was founded by two Mennonite businessmen in the 1960s and remains a faith-centered business. Its guiding principles of reliability and integrity mean you get a high-quality RV – so high quality in fact, that some models can even cost upwards of a million dollars.
Top 10 RV Manufacturers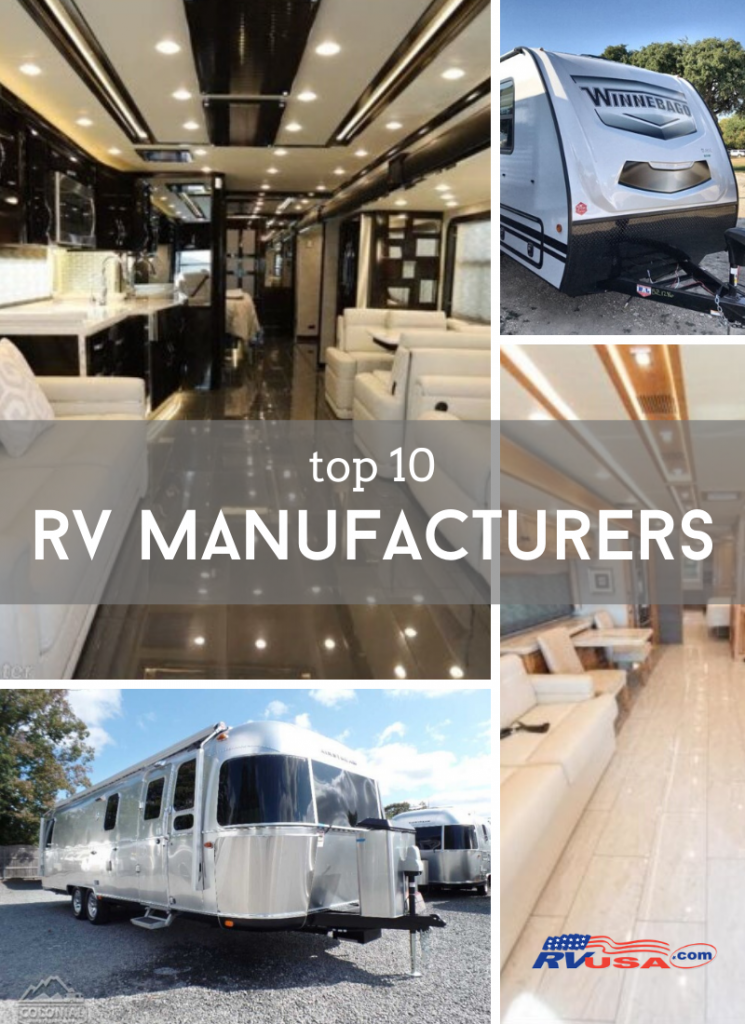 Just because an RV brand you're considering didn't make this list, doesn't mean it's the wrong choice. You may be looking specifically for a Class B or a teardrop camper, whose manufacturers tend to specialize in that area and wasn't included in our over-arching Top 10. There are hundreds of RV makes out there, and each one specializes in their own way of designing and manufacturing RVs. Your choice is all about finding which RV manufacturer makes a rig that best suits your needs.
Get started with exploring your options by performing a search for a new or used RV on RVUSA.com today!