Whether you're a full-time RVer, a part-time traveler, or simply indulging in weekend camping getaways, one common challenge unites us all: the perpetual struggle with camper storage and organization. The limited space available in campers can often leave us scratching our heads, pondering how to maximize every nook and cranny. But fear not, for there's a world of ingenious solutions and camper storage ideas! We're here to help you transform even the most compact spaces into organizational masterpieces. In this blog, we'll dive deep into the art of RV organization. We'll share practical tips and creative hacks that will revolutionize the way you make the most of your mobile home on wheels. Say goodbye to clutter and chaos, and embark on a journey towards a well-organized and stress-free RVing experience.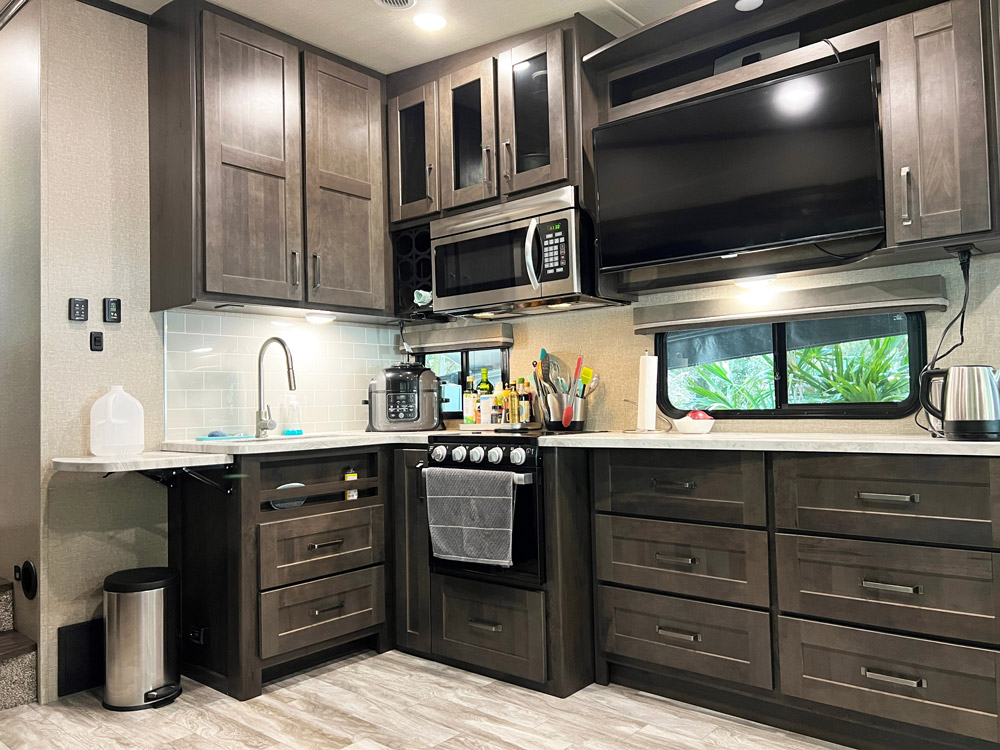 Camper Storage Ideas For The Kitchen
Over The Sink Storage
In a camper, you don't always have a lot of storage space, especially in the kitchen. One of our favorite camper storage ideas is to utilize storage bins in your cabinets, especially the ones above the sink. Not only does this make for more space, but it makes the items more accessible as well.
Magazine Holder For Dishes
Did you know you can use a magazine holder to help organize all of your plates?! Genius, right?! Magazine holders are relatively inexpensive and will help you keep all of your plates in one place while living the dream in your home away from home.
Hanging Utensils
So many utensils, not enough room! This seems to be a common hassle, especially for full timers in the RV community. One of the best camper storage ideas we have seen is to use a rod and S hooks to create hanging storage. It clears up valuable drawer space for other items and leaves your cooking utensils in a convenient place for cooking!
Make Use Of Your Cabinet Doors
The inside of cabinet doors are sorely under-utilized when it comes to storage, but in a small space, you need to use every square inch you have. You can attach hooks to the inside of your cabinet doors to store a plethora of random items. It's perfect for measuring cups in the kitchen, or even for shoes in the bedroom closets.
More Camper Storage Ideas
Shower Storage
Even your shower curtain can turn into extra storage when you are in a small space. These shower curtain caddies are one of the best camper storage ideas. They hold a ton and can bear a surprisingly large amount of weight. RV bathrooms can be tight on storage, and these help a lot!
Cube Storage
Cube storage is amazing for small spaces! It allows you to fit the most in the smallest amount of space. They also allow you to utilize vertical space that may have otherwise been wasted space. When you are in an RV, you don't want any space to go unused! If you are full-timing with kids, or even just weekending, you that kids often have massive amounts of things they "need." Add some fabric bins and cube storage to your camper, and you have a perfect storage solution for the little ones.
Custom Storage Stairs
If you are a crafty individual, I would highly recommend recreating these RV storage stairs. In reality, stairs do tend to waste space, but if you build storage compartments into them, you are reclaiming that space and making use of it. These are perfect for when you want to hide clutter, or store things you just don't want to be visible all of the time.
Hidden Storage Under Seating
In addition to using your hidden space and vertical space, you want to use the spaces underneath your seating. You never really think how much space is "wasted" and how much you could store somewhere until you have been in an RV for any amount of time. Grab one of these perfect roll away storage bins and DIY a perfect under booth storage without doing any damage to the integrity of the seat itself.
Pop Up Storage
If you have ever owed a pop up camper, you know how difficult it can be to find good storage room. They are smaller, and fold down so completely that you need something that will fold down right along with it. That is why this pop up camper storage hack is just genius! Use the folding closet storage to store your belongings. You can hang it from the ceiling, and it will fold right down when break down your pop up.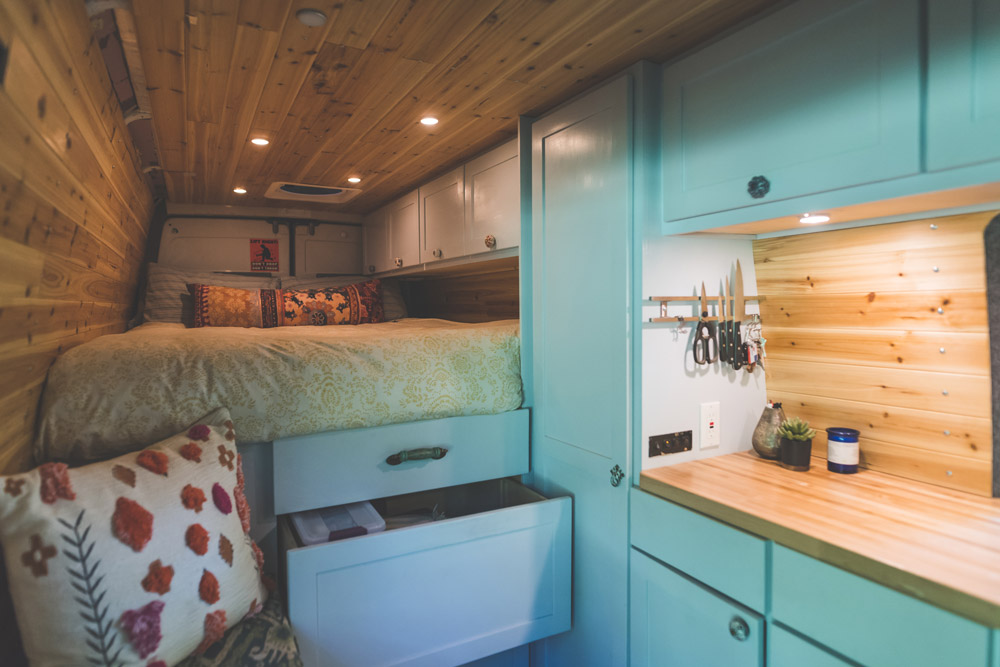 RV Storage Ideas
In the world of RVing, living the dream often means embracing the art of creativity. This is especially true when it comes to camper storage ideas and organization. The RV lifestyle demands versatility and resourcefulness, and it's the inventive solutions that truly make this journey worthwhile. From under-bed storage to clever compartmentalization, there are always storage hacks to turn every inch of space into a functional masterpiece.
At RVUSA, we understand the importance of finding the perfect RV that complements your storage needs and organizational preferences. Whether you're seeking an RV with built-in shelving, spacious closets, or innovative nooks and crannies, you can browse all RVs on RVUSA to find one that will make your RV living experience a breeze. So, as you embark on your next adventure, remember that with a little ingenuity and the right RV, you can unlock the full potential of your mobile home. It can be a harmonious and clutter-free environment that enhances your journey every step of the way. Happy travels and may your RV always be organized just the way you like it!
This post contains affiliate links. RVUSA.com will receive a small commission at no cost to you if you make a purchase using these links. We appreciate your support!
Ready to find an RV for your adventures?