Whether it's a yearning for the older, simpler days of highway travel, the allure of the mysterious desert, or just a simple love affair with classic Airstream trailers, answer the siren call of Kate's Lazy Desert.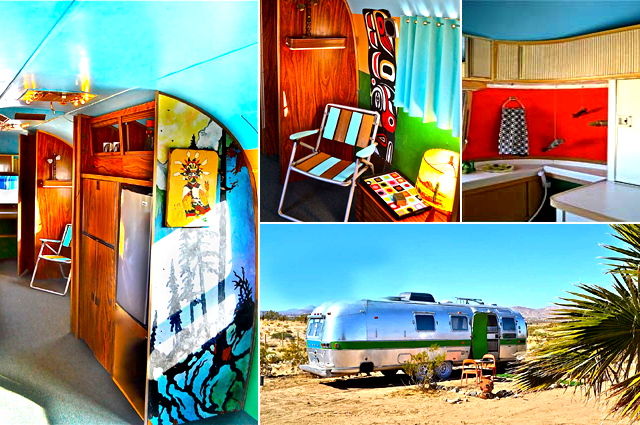 There, at Kate's, in the beautiful high desert near Joshua Tree National Park in California, sits a gleaming circle of gloriously – and even hilariously – restored vintage Airstream Trailers. The circle of trailers forms a one-of-a-kind inn where "glampers" lucky enough to book for a few nights, can sink back in time while soaking up desert stars and sunrises.
The whole thing is the product of the imaginative mind of Kate Pierson, lead singer of the B52s, the iconoclastic rock band that rose to fame in the 1980s, and her partner Monica Coleman. The pair are also the creative force behind Kate's Lazy Meadow in the Catskill Mountains, a renown kitschy and cozy collection of stylish cabins.
Kate's Lazy Desert is a vintage oasis in Landers, Calif. Instead of cabins, find lodgings in six lovingly restored Wally Byam Airstreams sitting atop a sand dune in the high desert, a mere six miles from Joshua Tree National Park. Each Airstream has its own outdoor picnic grill, covered sitting area, and of course, its own personality.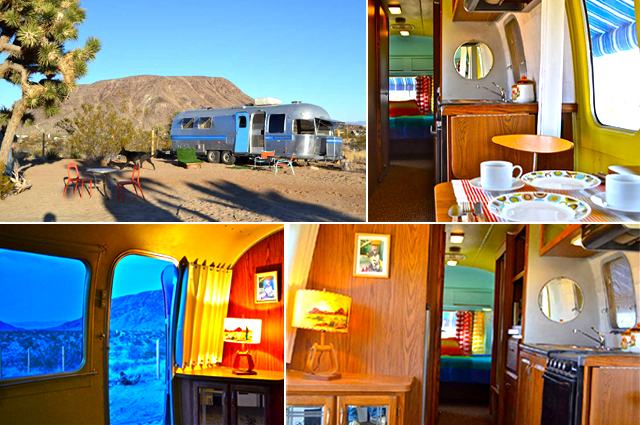 These Airstreams have been lovingly restored and decked out by hand-selected artists, focusing on retaining the iconic look, but adding a special flair. With a dash of history and a dose of kitsch, glampers will find lodgings as unique as the setting.
When you arrive at your desert destination you'll identify your Airstream by the color of the stripe around its middle, pull into your color-coordinated parking space – each Airstream accommodates only two adults and only one car per unit. This glamp-ground is self-service – find your unit then find your own way to savor the peace of the desert.
After you've found your way, settle in around the small campground, or jump into the cool, above ground "plunge pool."  If you need to stay connected, Wi-Fi is also available.
"Tinkerbell," the Airstream that started it all back at Kate's Lazy Meadows in the Catskills, is the park's blue stripe trailer.  At 32 feet, Tinkerbell is one of the larger Airstreams, and is a tribute to mid-century splendor, loaded with memorabilia and comfort. Like all the vintage Airstreams, Tinkerbell, has a full bed and kitchenette with coffee maker. The Airstreams are also upgraded with an air conditioner to battle the blazing heat of day and a heater to ward off the freezing winter night-time temperatures.
While the Airstreams are intended for couples only, two of the units are pet friendly. The yellow striped "Hairstream," which is decked out as Kate's "fantasy tour trailer," and the orange-striped Planet Air, which, which is loosely based on the B-52's song 'Planet Claire,' according to Kate Pierson's history of the Lazy Desert, both accept pets. As a special treat, the windows of Planet Air are covered in pink gel, giving the trailer a perpetual pink glow.  Meanwhile, the artists in charge of "Hairstream" decorated with vintage B-52 album covers and tour memorabilia.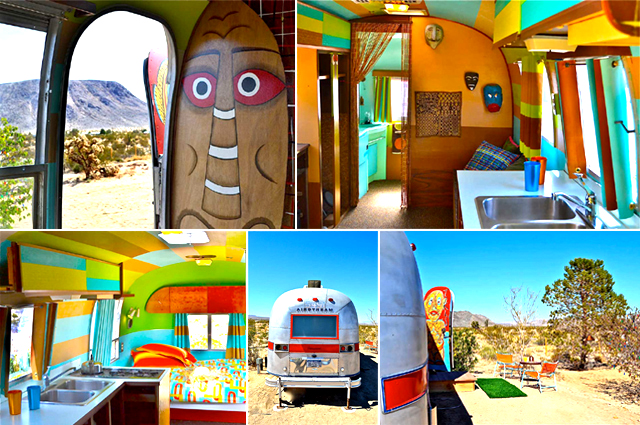 Other trailers at the park pack their own personalities. If experiencing life inside a lava lamp is on the bucket list, consider the 19-foot aqua-striped "Hot Lava" with its explosion of lava blobs from top to bottom, or head for the 26-foot red-striped "Tiki" to mix up a Mai-Tai or two in the vintage Tiki Bar décor-themed trailer.
Experience a bit of the frozen tundra on the desert floor in "North to Alaska." The 28-foot Airstream was owned by a former president of the Wally Byam Caravan Club, who had used this beloved trailer to travel the country – including Alaska. This lovingly restored trailer is an homage to a life well-lived on the road and retains its vintage travel stickers on the window, and is decorated with original Pacific Native American art.
For vintage Airstream fans, B-52 fans, or just for those looking for some "Lazy" days in the desert, consider this out of this world, off the beaten path retreat in the desert.
As always, come back every day on RVUSA for the RV Find of the Week on Monday, Travel Destination Tuesday, Featured RV Dealer on Wednesday, Throwback Thursday, and RV Tips and Tricks on Friday. Leave us a message below if you have any thoughts, memories or comments. We'd love to hear from you! If you'd like to receive our daily blog posts directly in your inbox, click here to join our free email list.
All photos courtesy of Kate's Lazy Desert.