Skoolies are all the rage right now in the camping community. RVUSA recently added skoolies for sale to make it easy for you to find these unique types of tiny homes on wheels, and the listings are getting cooler and cooler every day. What sets skoolies apart from other RVs is that no two skoolies are alike. Every one of our skoolie classifieds is a DIY renovation project, with every inch customized by the builder, from the ceiling panels to the bathroom tiles and everything in between.
Shopping Skoolie Classifieds
Since these rigs are built from scratch, renovating one yourself requires a lot of expertise and time invested. The great part about buying an already renovated skoolie is that you get all the customization without doing all the work! These skoolies for sale are at the top of their class, featuring things like rooftop fire pits, modern décor and more. Read on to see the coolest skoolies on RVUSA!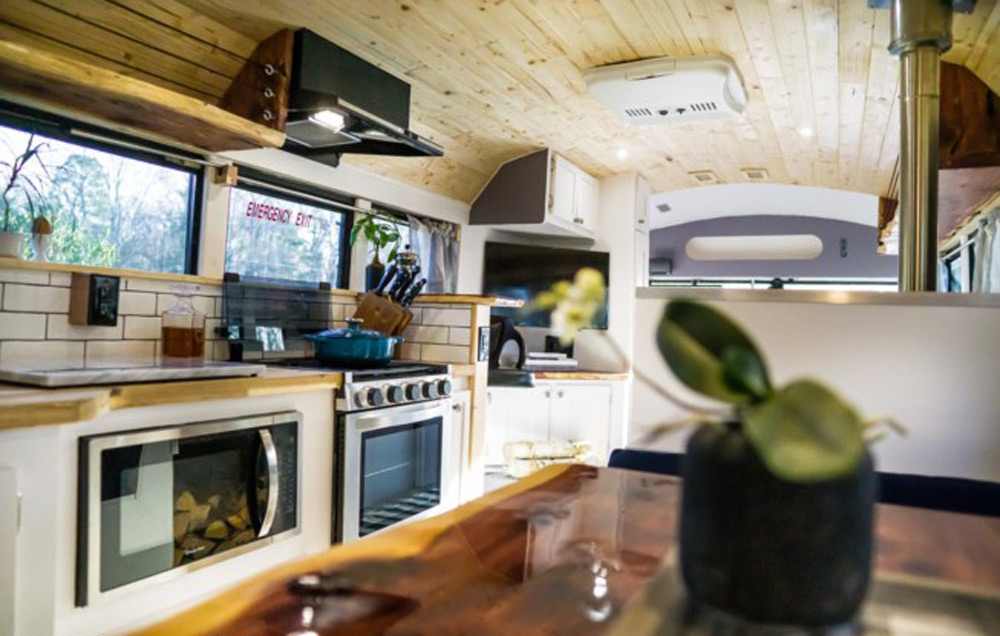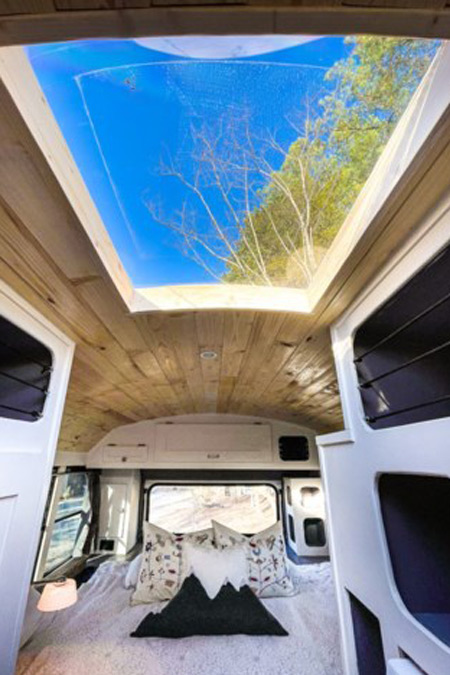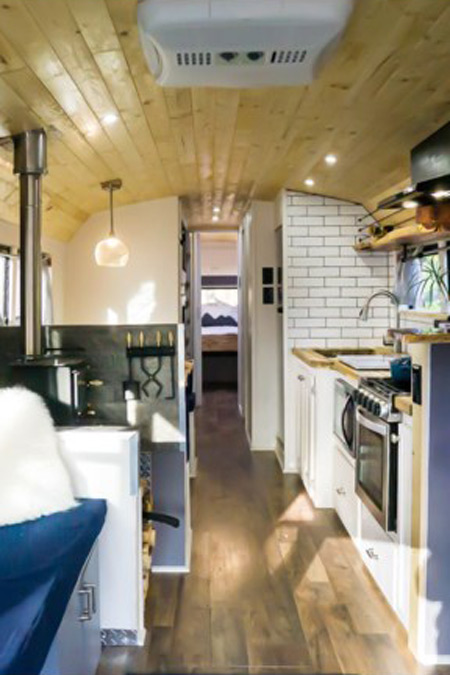 All White Modern Skoolie
This gorgeously appointed 1996 International skoolie is nicknamed the "5th Avenue Bus" because its interior rivals the comforts of a New York apartment. It's for sale by owner, and they're offering free delivery to anywhere in the US. The stark white exterior gives it a modern feel from the moment you spot it, and once you get inside, the simple luxuries become even more evident. At 40 feet long, 285 square feet of custom interior and a capacity for 8 beds, it's one of the roomiest skoolie classifieds you can find. It's built for a family with kids, featuring bunk beds with climbing rocks to get to the top bunk and chalk paint walls in the bunk room.
While it may be kid-friendly, adults will love the functionality and upscale design just as much. It features custom cabinetry throughout in a natural wood, white and navy color scheme. Subtle touches like subway tile, butcher block countertops and a cubic mini grizzly wood stove with log storage beneath make it feel more like a home than a motor home. The queen sized master bedroom also has a massive skylight to add natural light or romantic stargazing nights. It's also fully off-grid capable, with a 120 panel and a 12 volt panel. If you want to show your family the world in style, you can't beat this bus.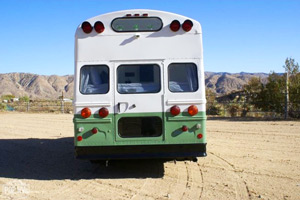 Want to see the rest of our skoolie classifieds?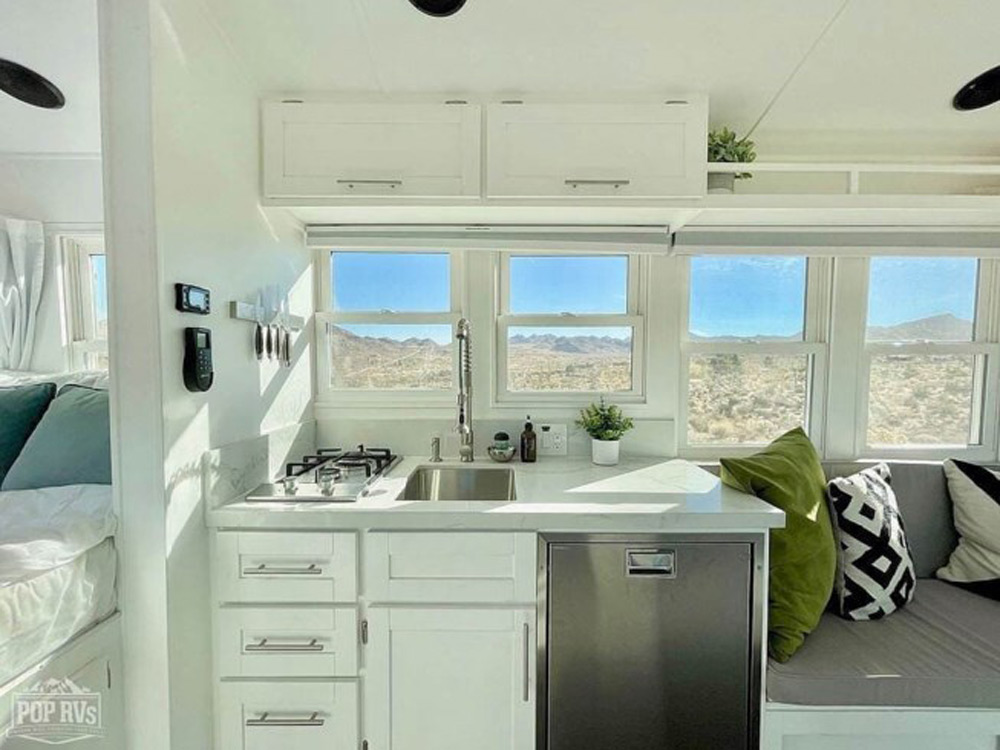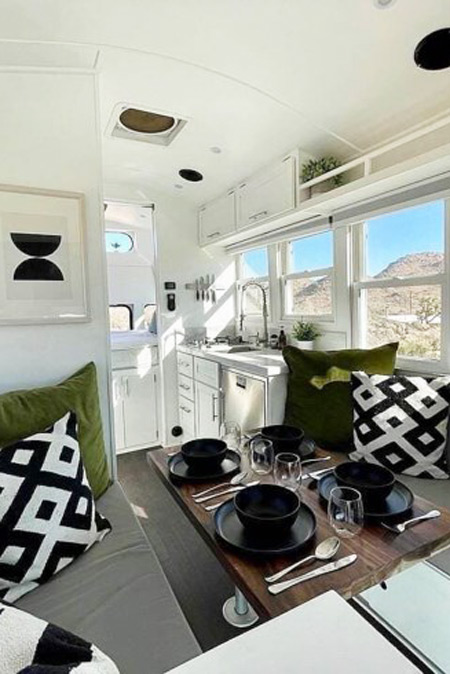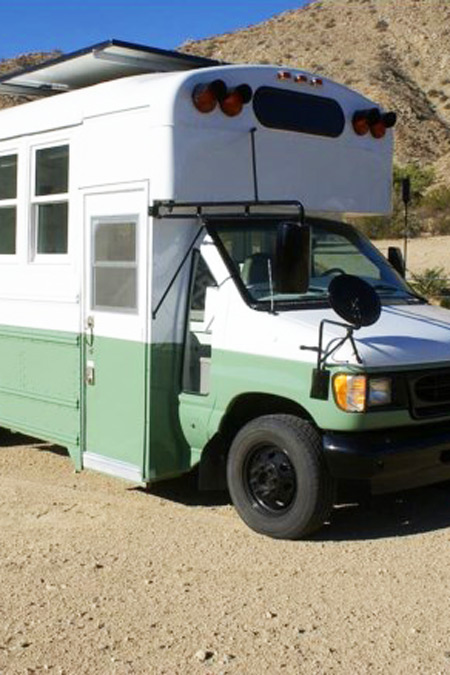 Bright Minimalistic Off Grid Mini Bus
If sleek sophistication and modern touches are your thing, check out this 2002 Ford Econoline skoolie. This rig is so nice, it was even used as an Airbnb outside of Joshua Trip National Park. It has a clean and minimal all-white interior with small pops of neutral color in the bedding and accents. The bright décor makes this 22' bus feel even more spacious. Every piece of it is thoughtfully designed, from the live edge wooden table to the marble-look stone quartz countertops. As for comfort, the couch is made of memory foam cushions and the bedroom features a custom size mattress with blackout curtains in the windows. Even the bathroom is larger than most, measuring in at 5 feet in length and 6.5 feet in head clearance. The stainless steel shower head also detaches to be handheld or used as an outdoor shower outside the window.
On top of the beauty and functionality of this rig, it's also completely off-grid equipped. There are two heavy-duty solar panels on the roof that produce 680 watts combined. The externally vented composting toilet eliminates the need for a wastewater holding tank. If you're looking through skoolie classifieds for an adventure vehicle that feels trendy and modern inside, this bus is for you. And you may even be able to make a side income renting it out on Airbnb like the previous owners!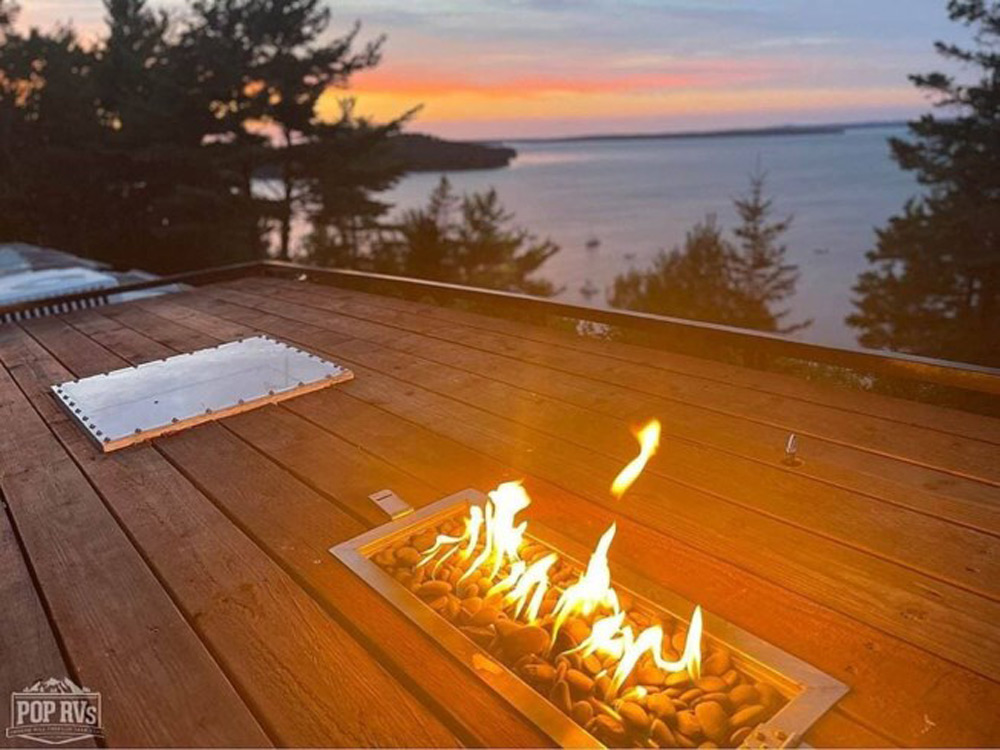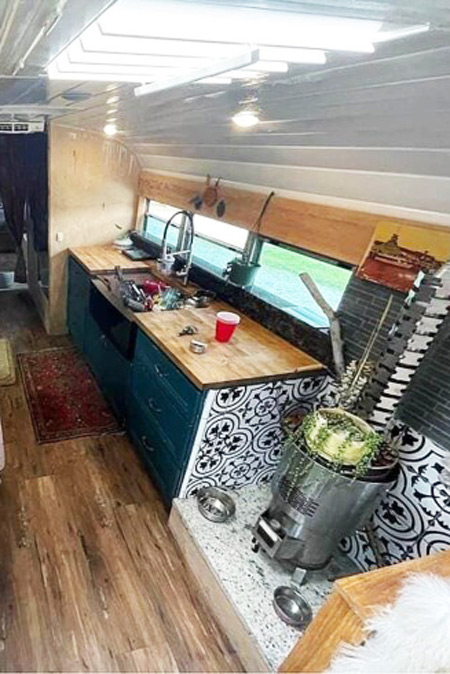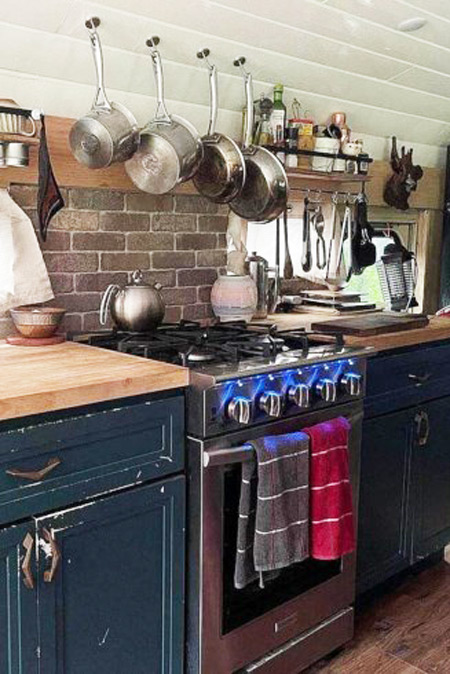 Boho Rooftop Firepit Skoolie
If you like boho décor and spending time outdoors, you can't miss this 1999 Bluebird All American. There are plenty of fun features in this custom bus, but the rooftop firepit has to be one of the most unique. The roof is paneled with wood and has a stone, gas powered firepit inlayed into the roof. It's also equipped with bike racks and awnings to maximize your time in nature. Just because it's appointed for outdoors enjoyment doesn't mean the interior is lacking at all. Inside you'll find cozy boho touches like distressed-look wood floors and decorative tile. There are also pan hooks and open shelving for a distinct cabin feel as well. The bathroom is particularly luxurious with beautiful marble-colored tile, gold fixtures and a farmhouse-style tub.
If that's not cool enough – the entire bus has street glow lights on the underbelly! Picture yourself on this rooftop, sipping a cold drink by the fire, watching the sunset, then cruising to your next destination in style with street glow. We think it sounds perfect skoolie classified!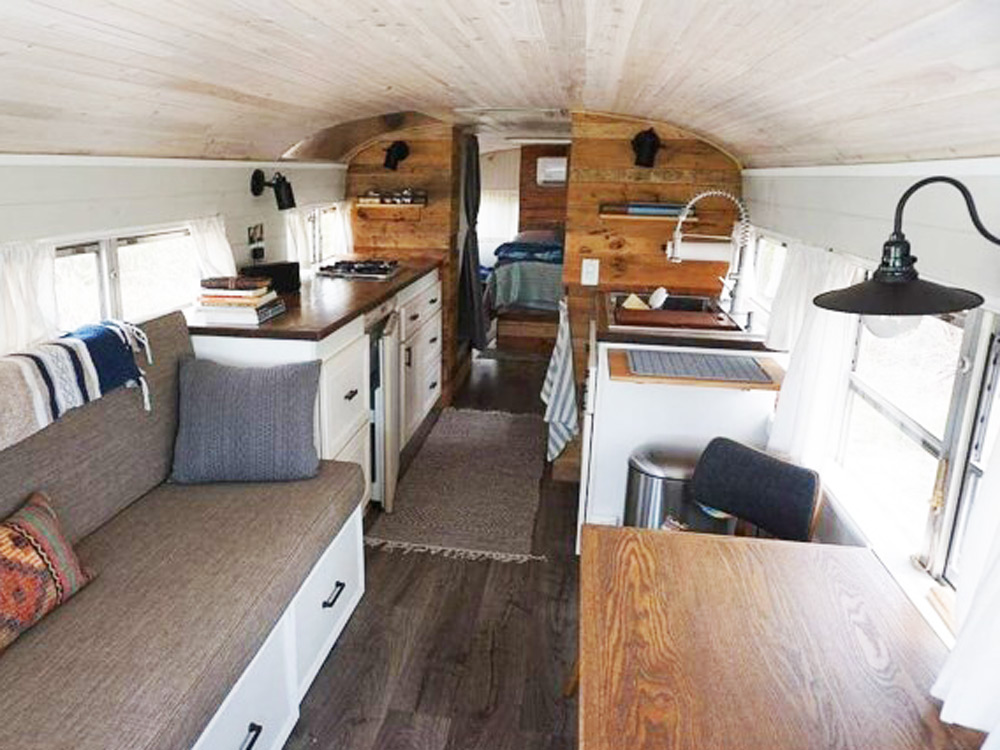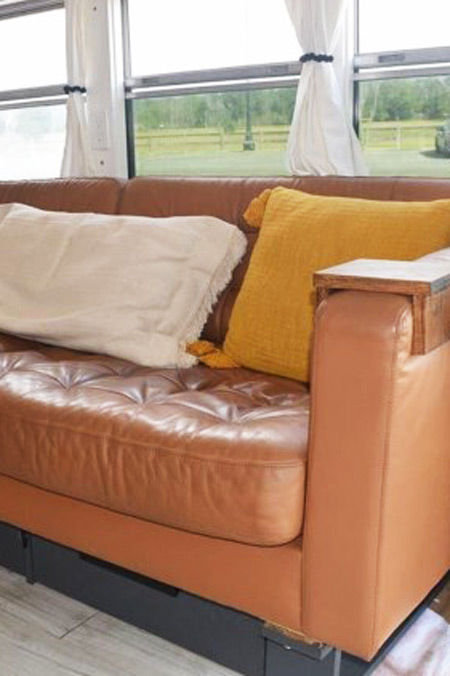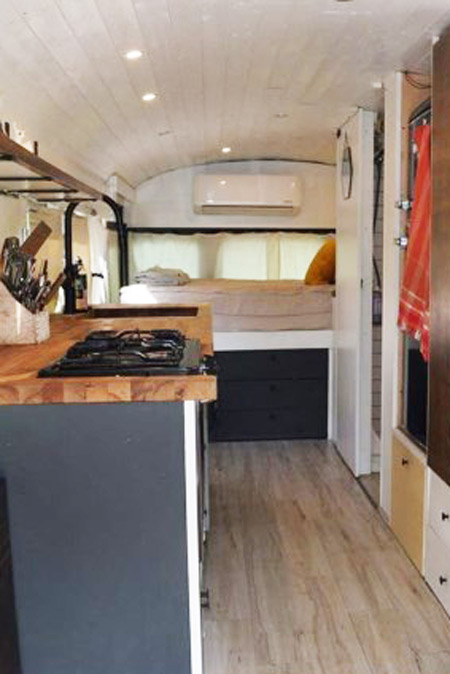 Cozy Wooden Accented Skoolie
Skoolie renovations can get pricey depending on the intricacies of the build-out. If you're looking through skoolie classifieds for one that's Instagrammable inside but still available at a reasonable price point, check out this 2003 Bluebird. The white exterior with teal striping is striking, while the interior feels like a cozy cabin. It features dark wood floors with walnut-colored countertops and wooden paneling on the walls. The cabinetry and roof are white, giving it a light, modern feel. We especially love the countertop extension that can be used as food prep space or a desk for those who work remotely. The bathroom shines in this rig as well with its unique light green tiling.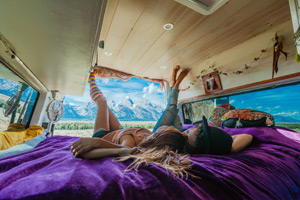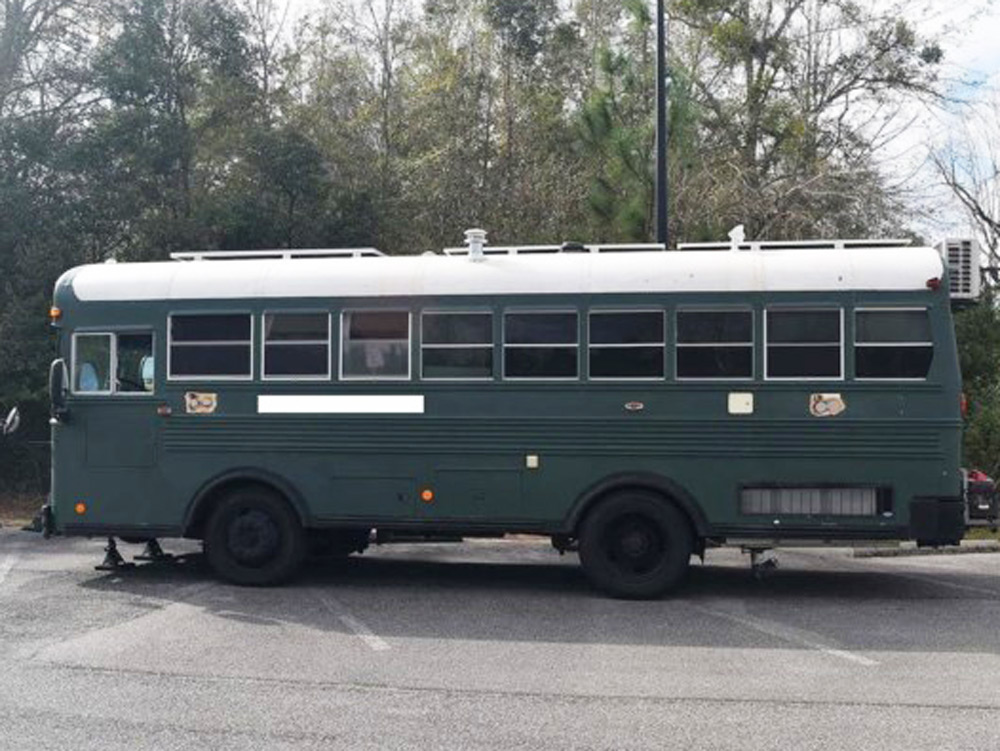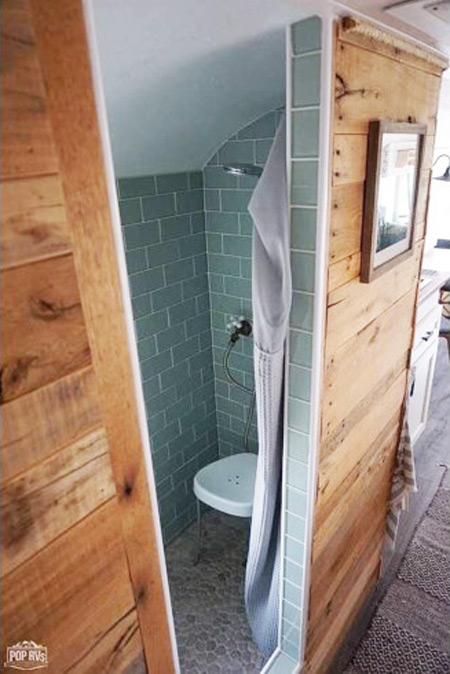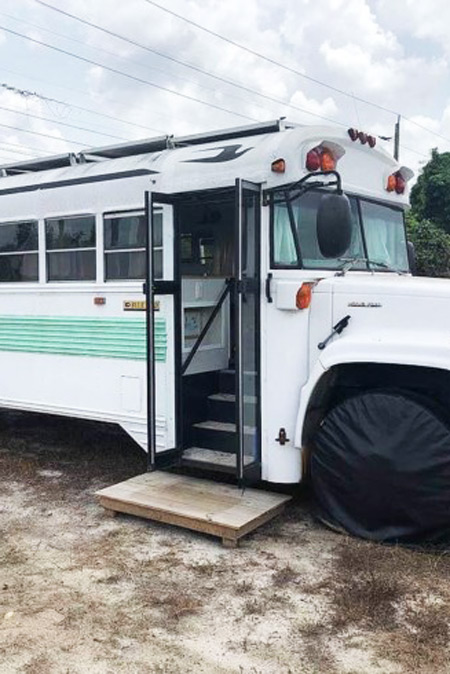 Forest Green 27' Skoolie
While this pick from our skoolie classifieds is shorter than most, it still packs a punch in 27 feet. The open design of this 2004 Bluebird makes moving around inside easy, but it still manages to include a full kitchen, queen bed and a leather sofa. The cognac leather sofa shines in this rig, instantly giving you that "I'm home" feeling when you walk in. The builders were smart with packing storage everywhere it could fit, even beneath the sofa and the kitchen counter. Another one of our favorite features is the vintage-style fridge, which complements the butcher block countertops and farmhouse sink perfectly. The different colored kitchen drawers add plenty of character. This rig would be perfect for a traveling couple who wants to live on the road.
Finding the perfect match from our skoolie classifieds
Whether you're searching for an affordable, entry-level skoolie or a luxurious traveling tiny home, you can find whatever you're looking for in our skoolie classifieds. If you want a custom home on wheels but you're not ready to navigate a larger vehicle like a school bus, check out our selection of conversion vans for sale. If off-grid is totally your vibe, an overland camper may be the perfect fit for you. We can even help you sort through traditional RVs to shop from some of the hottest RVs for 2022. We love matching campers with their perfect camping rigs, and we can't wait to help you find yours!
Ready to find an RV for your adventures?