If one of your new year's resolutions is finally invest in the RV of your dreams, we get it. RVing is an exhilarating, freeing and adventurous way to travel, and it's no wonder it's so popular! One of the most overwhelming parts of entering the RV world though (or choosing to upgrade your current rig) is the abundance of options on the market. With hundreds of RV manufacturers out there, how are you supposed to choose?! That's why we rounded up this list of the hottest RVs for 2022.
Picking the hottest RVs for 2022
Choosing the best 2022 RVs is not a task to be taken lightly. That's why we compiled industry-best picks along with our own expert favorites. The RVs on this list have all received awards or nominations from industry leaders like RV Business and RV Pro.
There are many different styles of RVing, from dry camping to glamping, so we made sure to include an option for everyone. Overland campers, fifth wheels, travel trailers, camper vans and motor coaches – this list has it all. Even if you've just found yourself here to window shop, we're here to show you some of the coolest RVs on the market this year. Read on to find out more about the RV industry's best RVs for 2022!
This travel trailer tops the list of the hottest RVs for 2022 because RV Business selected it as their 2022 RV of the Year. The Keystone Arcadia does a fantastic job of making sure your home on wheels has all the comforts of a residential home. No tiny RV beds here: this RV boasts a full-size California king with a Serta mattress. It's also a great rig for those who work on the road thanks to the versatile kitchen island extension, which can be used as a desk or extra dining or prep space. The taller, wider bedroom closet allows for plenty of storage, while the Roman shades feel more like a home than an RV.
The innovation behind the rig is a big reason why it stands out as well. The proprietary design for their chassis and hyperdeck allows them to have the only travel trailer on the market with 360 degrees of insulation in the crawlspace. This RV is perfect for small families who want to travel in style and comfort.
While the East to West Ahara didn't win RVB's big award, this fifth wheel was still a finalist for the RV of the Year, and it's easy to see why. This RV is decidedly more modern inside compared to many RVs on the market today with its stark white interior complemented by deep gray accents. USB plugs are thoughtfully sprinkled throughout the rig to make charging devices easier than ever.
RVs are notorious for having very little counter space to work with in the kitchen, but that isn't the case in the Ahara. The kitchen slideout features an 8.5 foot long countertop in addition to a kitchen island. This extra-long counter is made possible by the way the 50" LED TV lowers into the countertop above the fireplace so it doesn't take up space when it's not in use. The sleek, standard, 16-cubic foot refrigerator with a minimalistic but roomy feel can be optioned out for a 4-door gas/electric integrated fridge that matches the cabinetry. We think this is one of the hottest RVs for 2022 if you are a full-timing family.
Another RVB RV of the Year finalist is the Heartland Cyclone. This rig owns the toy hauler category of the hottest RVs for 2022. One of our favorite features is the industry's largest fresh water tanks that hold a whopping 150 gallons so you can go longer without filling up. This RV also provides copious amounts of counter space you won't find in other RV kitchens, as well as a huge 24" oven for big family meals. Their innovative outdoor kitchen also features an industry first residential grill with 3 burners and a griddle option.
On top of all the cool features, Heartland has done a fantastic job of connecting with Heartland owners who serve as ambassadors for the brand so you can see their RVs in real-life action, not just in a dealership lot. This is one of the best RVs for 2022 for adventurous families who like to camp more remotely and bring their outdoor toys along for the ride.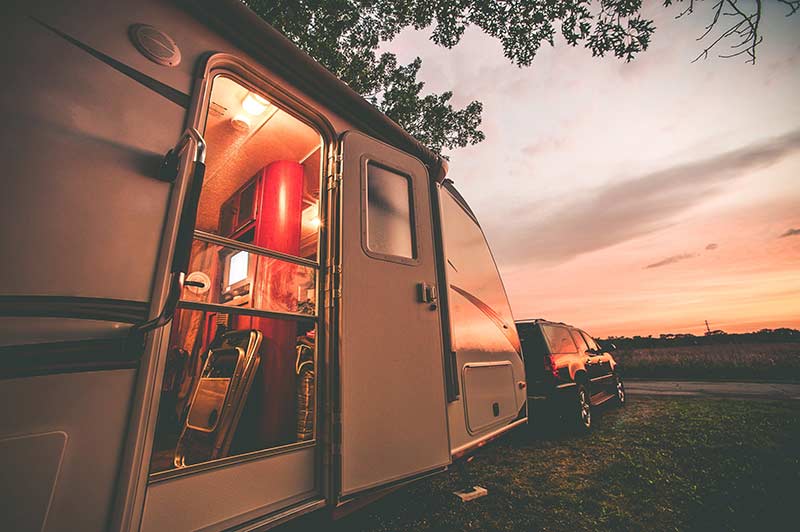 Ready to find the perfect RV in 2022?
Ember RV Overland Micro Series ROK
In case you haven't heard, overlanding is the newest craze in camping. If you aren't familiar, it's a style of camping where the journey is the focus and off-road and off-grid travel are key components. RVUSA became the only RV classifieds site to add overland campers as a category earlier this year, and RVB was also on top of the trend when they selected the Ember RV Overland Micro Series as one of their RV of the Year finalists.
While overland RVs don't tend to be as luxurious as say, a fifth wheel, they make up for it in practical, functional features. First of all, the overall design of the rig makes it easy to tow down rough terrain so you can get to the coolest and most remote campsites out there. The ROK (rear outdoor kitchen) floor plan features an outside kitchen, HDTV, cooler and storage so you can kick back and enjoy your campsite. If you want the adventure of overlanding with the comforts of a travel trailer, this is the RV for you.
Winnebago EKKO with Pop-Top
Speaking of overlanding, the innovative Winnebago EKKO can give you the off-grid and off-road adventures you desire with the familiarity and reputation of the Winnebago name. We spotted this unique Class C hybrid RV at Overland Expo in Flagstaff Arizona earlier this year, proving it belongs in the overlanding space. This brand-new RV is one of the hottest RVs for 2022 because it combines the capabilities of a Class B van with the space and features of a Class C. What makes it perfect for overlanding is that It's equipped with AWD and off-grid capabilities including long-lasting lithium-ion batteries and up to 3 solar panels. The model that made RVB's RV of the Year finalist list is the one with the optional pop-top, a favorite among overlanders, and added capacity for sleeping room.
Another one of the most popular modes of travel in 2022 will continue to be van life. But these days, van life isn't just for the DIYers who gut Mercedes Sprinters and build them out into conversion vans. More and more esteemed names in the RV world are innovating their own takes on van life. Luxury motorhome manufacturer Tiffin is one of the latest to jump into the van life space with their first-ever take on a Class B, the Cahaba. This RV is one of the best 2022 RVs thanks to having the versatility of a camper van with the luxurious amenities Tiffin is known for. It's one of RV Business' Must-See RVs this year because it's van life without roughing it.
Grand Design continues to be one of the best when it comes to higher-end towable travel without the exorbitant price tag. The Reflection fifth wheel is one of their most popular models, and the 341RDS floor plan was named one of RVB's Top Debuts for 2022. This floor plan features a rear living area with tons of seating, including 2 tri-fold sofas and a set of theater seating that faces the entertainment center and fireplace on the rear. One of the other unique features we love is the free standing adjustable dinette in the kitchen with a storage ottoman bench that allows for the ultimate kitchen versatility. The bedroom dresser is another feature you don't see every day in an RV. These features land this beauty of a fifth wheel on our list of the hottest RVs for 2022.
Looking for your favorite RV make?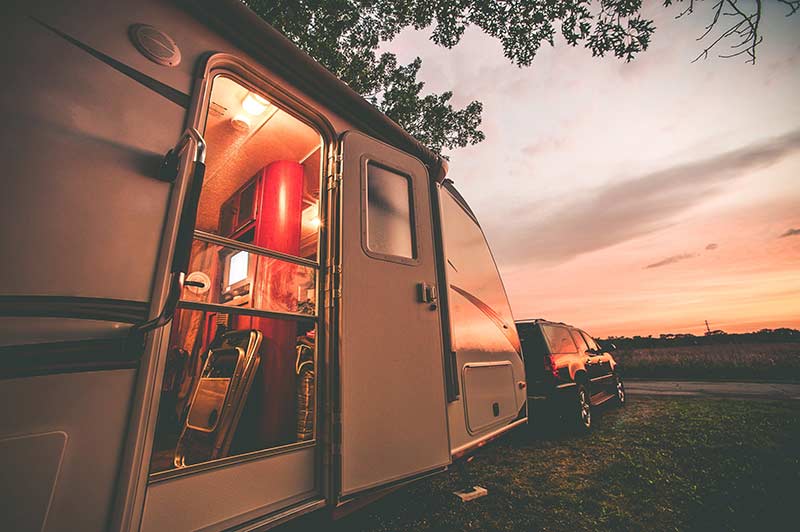 This Redwood RV fifth wheel is the original RV in CrossRoad's luxury division, and the 4150RD floor plan made RV Business' list of Must-See RVs for 2022. Its rear living setup is similar to that of the aforementioned Grand Design Reflection model with double tri-fold sofas and theater seating facing the rear entertainment center. The kitchen features a kitchen island as well as a  buffet for entertaining guests and making dinnertime easy for big families. Steps up into the king size bedroom makes it feel exclusive from the rest of the rig. A dual vanity bathroom is nestled inside the bedroom at the front of the rig. We'd consider this one of the hottest RVs for 2022 for couples who want upscale travel with plenty of room for hosting family and friends.
Our list wouldn't be complete without a few fantastic Class A options, and you can't go wrong with the Newmar New Aire. While not quite as lavishly appointed as Newmar's top-of-the-line King Aire that starts upwards of a million dollars, this more reasonably-priced compact motor coach packs all the luxury you need. The 3543 floor plan was on RVB's Top Debut list this year thanks to updates to the styling, dashboard and  other features. Choosing a compact Class A can give you all the convenience of having your entire rolling home all within one unit, but with better maneuverability. Plus, you get all the posh comforts of home Newmar is known for. If you want accessible high-end travel, we think the Newmar New Aire is one of the best RVs for 2022.
The Fleetwood Frontier is a brand new model from one of the longest-standing coach manufacturers out there. It happened to win RV Pro's Best New Model award for 2022 thanks to the way it combines all of the best features of Fleetwood RVs' existing lineup into a new model. This means you get a massive 100-gallon fuel tank, full-size appliances and home-like amenities including a fireplace, fiberglass shower and king size bed. We happen to love the trendy, modern farmhouse style inside as well. If you're looking for an RV that feels like a residence, this is one of the best 2022 RVs.
The Best 2022 RVs
RVing may have become mainstream in 2020, but its popularity isn't dwindling anytime soon. Whether you're shopping to upgrade your current RV, exploring the RV world for the first time or just fantasizing about a future purchase for now, this list of the hottest RVs for 2022 has a rig to fit your needs. RVing isn't one size fits all, so that's why we included everything from off-grid overlanding trailers to opulent motor coaches. No matter what your travel style is, your search for the perfect RV starts here on RVUSA. Check out the models listed here or start a search for an RV with the specs you want using our advanced search feature. You can also browse by type, make, city or state. At RVUSA, we make it easy to match you with the perfect rig for your camping needs.
Happy RV searching!