Class A Motorhomes are the pinnacle of the RV world, combining luxury with functionality for the ultimate RV experience. Class A Motorhomes tend to be reserved for the more serious, full-time RVers since the price and learning curve can be quite steep. The main advantage of Class A Motorhomes is the ample storage space, overall home feeling and travel versatility, giving any RVer the ability to travel 1000's of miles with the whole family or tailgate at a local football game, the possibilities are endless with a Class A motorhome! The amazing thing about the RV world is if you can think it, someone has or has the ability to build it. For example, if you are more of an outdoor, adventure type and like the garage space of the Toy Hauler, the Thor Outlaw has a garage space in the back of the RV that can be used for hauling ATVs and motorcycles.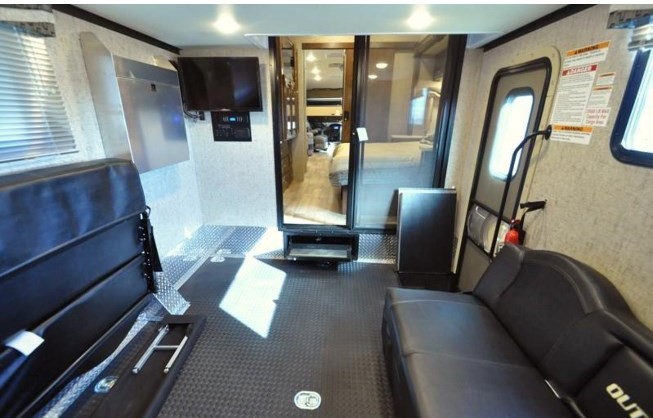 The Thor Outlaw Class A Motorhome has 4 floorplans: the 37LS, 37RB, 38RE and the 38RF. The 37LS and 37RB are the two floorplans that have the garage in the rear of the RV and feature a loft over the garage with a queen bed (37LS) or Full Bed (37RB). The difference between the 37LS and 37RB is that the 37RB has 2 beds, queen in the bedroom and full bed in the loft, whereas the 37 LS removes the bedroom to add more space in the living area. The 38RE and the 38RF remove the garage to make more room for the bedroom and adds a second bathroom.
The Thor Outlaw Class A Motorhome features a Ford F-53 Chassis, a patio deck, full basement storage, an overhead bunk, and a 8,000-lb. trailer hitch. Depending on the model, the Outlaw can sleep anywhere between 4 – 8 people and has enough storage space to support them all. Whether you need to haul your favorite ATV and motorcycle or need to take the family on long vacations, the Thor Outlaw Class A Motorhome has you covered! Check out all the Thor Outlaw Class A RVs on sale now!