While Oregon may not be the first that comes to mind when envisioning the perfect end of summer getaway, its hidden treasures make it well worth the visit! Enjoy everything from forest to family fun at roadside attractions when you take a trip out west. Here is our list of the best places to see.
Nature Lovers
Oregon is known for its nature filled activities, so for those travelers that can't get enough of the outdoors, this list is for you. We have found secluded destinations and little known ventures that are worth a try. You can channel your adventurous side or simply enjoy nature at any of these locations.
Bagby Hot Springs in Mt. Hood National Forest
If you are looking for the perfect place to escape your surroundings, Bagby Hot Springs is the place to visit. Located a 45 minute walk off the Bagby Trail, this rural attraction hold the most relaxing release from stress. Take a hot bath in on of the wooden tubs that filters water from the nearby spring. Open 24 hours a day, this area is open for your enjoyment whenever you arrive. While there is no camping near the springs, Mt. Hood National Parks offers a variety of camping locations, each with their own unique twist.
The Sloth Center in Rainier
If you are looking for a place to learn about one of the most interesting mammals in the US, look no further. The Sloth Center by Zoological Wildlife Conservation Center is an institution focused solely on caring for and educating about the sloth population. Here, you can donate to this nonprofit organization at one of their interactive fundraising events! But be sure to plan ahead because these sloths can only be seen on scheduled programs!
Tree Climbing Planet in Oregon City
If you are an outdoorsman looking to learn or perfect the art of tree climbing for your future forest endeavors, we have found the right place for you. The Tree Climbing Planet offers top quality tree climbing classes and courses formulated by work-renowned tree climber, Tim Kovar. Whether you are just starting out or you are a professional looking to gain more experience, there is a class here catered to you.
Sea Lion Caves in Florence
Experiencing wildlife in its natural habitat is nothing short of breathtaking. At the Sea Lion Caves on the northern coast of Oregon, you can find hundreds of sea lions hanging out in their favorite spot! The best thing about this location? It is a privately owned cave and the sea lions come and go as they please, just as they would in the wild. While there is no guarantee you will be able to see the sea lions, the owners suggest going during the winter months as the cave is a more comfortable home away from the cold.
Painted Hills in Mitchell
Beyond the colorful sight here, visitors can take in the history of the area and delve into nature of the past and present. Known for the archaeological finds that have been uncovered here, John Day Fossil Beds National Monument has held a significant part in shaping our knowledge about prehistoric America. Here visitors can search for their own fossils, explore the layered rocks or visit one of the many museums in the surrounding area to learn more about the significance this location holds.
Picturesque Places
If you are looking for some destinations that catch the eye and are fun to snap some shots of, we have searched for the perfect scenes for you! Make your west coast vacation picture perfect by adding some of these stops onto your trip.
Thor's Well in Cape Perpetua
One of the most noteworthy areas to photograph in Oregon is Thor's Well. This mysterious opening in the sea is known for If you are a seasoned photographer, climb down onto the rocks at low tide and capture the way of the water over hours as the tide rolls in and the well fills up. Be careful though, there are plenty of hidden rocks beneath the water and unnoticed dangers of the incoming waves. If you are on the beginner side, shoot from the nearby lookout to get shots that are just as gorgeous. Either way, your pictures here are sure to be one of the most photographic scenes.
Multnomah Falls in Portland
Multnomah Falls located right outside of portland is one of America's largest waterfalls stretching form 620 feet in the air. The greenery and thrive surrounding the area is reminiscent of a perfect movie scene. We suggest snapping shots from the ground below to capture the full forest effect and from the overlook to bring the waterfall to life.
International Rose Test Garden in Portland
With over 10,000 rose bushes that carry over 650 different varieties, this rose garden is sure to keep you and your camera occupied. Snap shots of the nature or us it as a backdrop for beautiful event photos. Either way, these gardens have an array of colors that will leave you in awe of nature.
Twin Rocks in Rockaway Beach
If bright colors aren't your forte, then try checking out twin rocks on Rockaway Beach. From the coast you can see two large rock formations that make this beach unlike any other that you can find in the US. The ocean mist and fog make this scene a perfect setting for a moody photoshoot. Be sure to watch the waves break at the rocks and do your best to capture every bit of this beautiful scene into a forever memory.
Haystack Rock in Cannon Beach
Cannon Beach is scattered with rocks along its coastline. However, our favorite noteworthy structure is Haystack Rock. Contrasting the Twin Rocks, this formation is untainted by ocean mist at certain points allowing you to get a clear and colorful snapshot of the scene. We suggest visiting at low tide to get up close to the rock formation and while you're there, enjoy the unique sunrise this beach holds.
Historical Havens
Everyone loves a good story. Oregon is full of rich history that is filled with a variety of tales that range from shipwrecks to wagon rides. Here are some places you can take a trip back in time and experience what life was like when Oregon began to grow.
The Wreck of the Peter Iredale in Hammond
Finding shipwrecks along the coast is always fun, especially when you don't have to search too hard. In Hammond, you can find the wreck of the Peter Iredale sitting right on the public beach. In1906, this ship was heading into Portland and missed lighthouse signals. The ship wrecked, but all 25 crew members were saved. Today, the remains serve as a historical reminder as well as fun place to explore.
Tillamook Air Museum in Tillamook
Located inside an old World War II hangar, this museum takes you through the importance the Pacific Northwest had in protecting our country during the war. Used as a base for airships that would patrol the coast after the attack on Pearl Harbor, Tillamook played a vital role in our country's defense. For a period of time after the war, it was home to the world'd largest airships. This is a fun, interactive museum that is great for both kids and adults! The entire family is sure to find something they love here!
Fire Museum in City Hall in Salem
If you are looking for a place to entertain the little ones, look no further than the Fire Museum in City Hall of Salem. With a large collection of gear, equipment and fire trucks, the kids will be entertained from start to finish. This museum has built up their collection to include pieces from fire stations all across the country to explain the diversity and history of the profession.
Oregon Caves National Monument and Preserve in Cave Junction
If you are more outdoorsy and adventurous, but still love a twist of history included, we suggest taking a tour down into the caves of Oregon. While it is difficult to get in and out of the caves, inside you have the opportunity to experience life from the caveman's perspective. These caves hold fossils that contribute to history as well. We can guarantee the journey in this marble underground system will be like none other.
The National Historic Oregon Trail Interpretive Center in Baker City
Ever wonder what it was like to travel the Oregon Trail? This center takes you in depth to the experience western travelers had when making their way to the Gold Rush. Located on the remnants of the Flagstaff Goldmine, this historical haven has accurate and life size replicas of the wagons that homesteaders used for traveling and the cabins that built for houses. Along the trail, you can still see the ruts that are left over from the pioneers' wagons. With over four miles of trails, this historic center is sure to give you an experience that no one else can offer.
Quick Roadside Stops
If you're just passing through Oregon, we have found some roadside stops you should consider. Everyone needs a break at some point, right? Chill out at these unique and fun locations we discovered.
The Hat Museum in Portland
In Portland, you can find one of the most bizarre destinations. The National Hat Museum features a variety of hats on display from every different era, style, and price. They are known for their extensive collection of every type of hat you could think of. Check out their collection online before stopping in and grab all of your unused hats to bring along to donate! They will gladly accept new additions to their collection.
Paul Bunyan Statue in Portland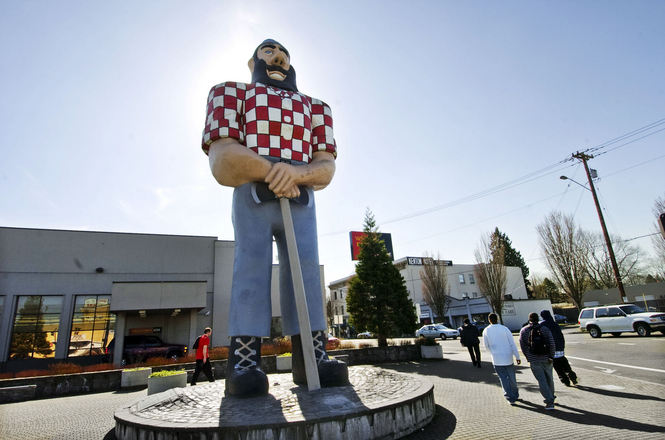 Standing at 31 feet tall, this Paul Bunyan Statue sure is a sight to see. This structure was built in 1959 to celebrate Oregon's centennial statehood anniversary. Since then, Paul has traveled through the city standing on different intersections until he found his home at the corner of North Denver and North Interstate. We suggest hopping out of the RV for a quick picture with this unusual attraction.
Pete French Round Barn in Diamond
This barn stands in the middle of the Oregon expanse and is a historical reminder of the cattle operation that began to boom in the 1880's and 1890's. This is the only circular barn of the original three left standing and it was used as a corral to hold, breed and train horses for the ranch. Each year, the French Ranch would produce over 300 new horses and cattle which made this ranch the main raiser for the entire Blitzen Valley. When you visit, you will find more history and be able to experience the wilderness that Oregon developed from.
World's Largest Airplane in McMinnville
Manufactured during World War II, this plane was originally built for the purpose of transatlantic transport. However, because of the metal shortage, the plane was made entirely out of thin pieces of plywood. While the planes infamous flight lasted only a minute, it went down in history as the largest plane in the world with a wingspan of 320 feet. It has just recently been put on display at Evergreen Air and Space Museum after being kept in a hanger and privately owned for 30 years. We suggest taking a walk through the plane to get a feel of what it was like to experience a ride firsthand.
Prehistoric Gardens in Port Orford
This section of the forest contains 23 original sculptures of dinos done by Ernie Nelson. nelson first got the the idea, but wanted to perfect it. After extensive research, he hand sculpted every dinosaur in this park to be true to size and color. Today, this park stands as an experience for those looking for fun or to learn more about each dinosaur.
No matter where you decide to travel in Oregon, we are sure you will have a trip full of memories. Let us know in the comments below if you've visited these places or if you have any more suggestions we can add to our list!