Anyone that has heard of the state of Nevada (unless you are a resident) typically hears about one aspect of it, the "main strip" in 'Sin City'. The Las Vegas strip is a force to be reckoned with for its ability to attract visitors from all around the world. Whether it is the bright lights, gambling, elaborate showmanship or any of the many other reasons people go, Las Vegas easily earns the title, "the belle of the ball" in the state of Nevada. While the "main" Vegas strip may be the extravagant centerpiece of Nevada dinner table, there is much more to see and do in this arid state. If you find yourself looking for "non-traditional" Nevada entertainment, that is less of a danger to your wallet, we have put together a list of possible alternatives to ensure a unique vacation experience. Some of these attractions are in Las Vegas, but far from the commercialized path that most follow when they visit.
Neon Boneyard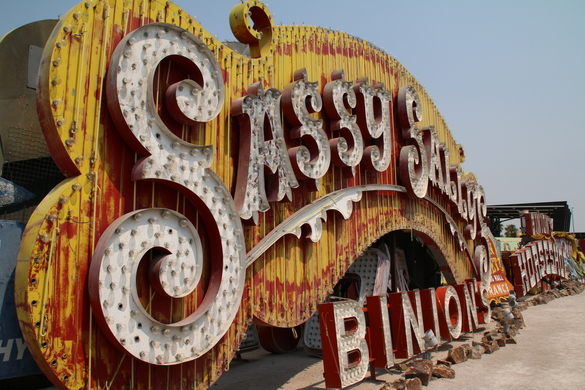 Still within the Las Vegas city limits, the 'Neon Boneyard' is where former Vegas glory goes when relevance fades. As the final resting place of more than 150 decommissioned neon signs, a visit to this neon graveyard gives you a chance to see the progression of design over time along with the physical embodiment of numerous dreams that have come to an end. It is not on the "best" side of town, so setting up transportation to and from is recommended over walking. A tour scheduled shortly before sunset allows you to see the signs in great detail close-up before some are turned on at night.
Fly Ranch Geyser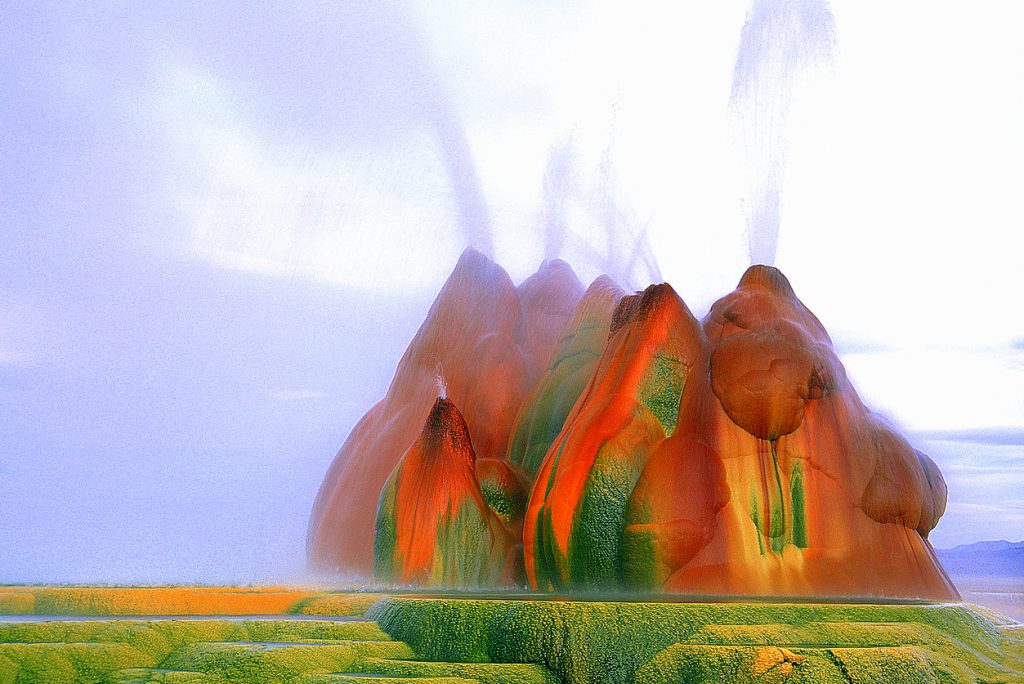 Originally intended to turn the desert landscape of Gerlach, Nevada into farmable land, the well now known as the original 'Fly Geyser' did not work as intended. When drilling efforts hit the water they were looking for, the geothermal activity that kept the water at a constant 200 degrees F not only rendered it useless for irrigation, it started the build up of calcium carbonate creating the odd shaped geyser spout we see today. Years after the original drilling, another team dug out a separate hole a few hundred feet away in search of hotter water. Like the 1st and 2nd bowls of porridge sampled by Goldilocks, the water at Fly Ranch was both too hot and too cold to be useful. Now, Fly Ranch and the geysers are privately owned by Burning Man Project. While they do not yet, in the near future, the owners of the land intend to allow "nature walks" from visitors so they can experience the land in the "appropriate context", as stated on the project's website.
Clown Motel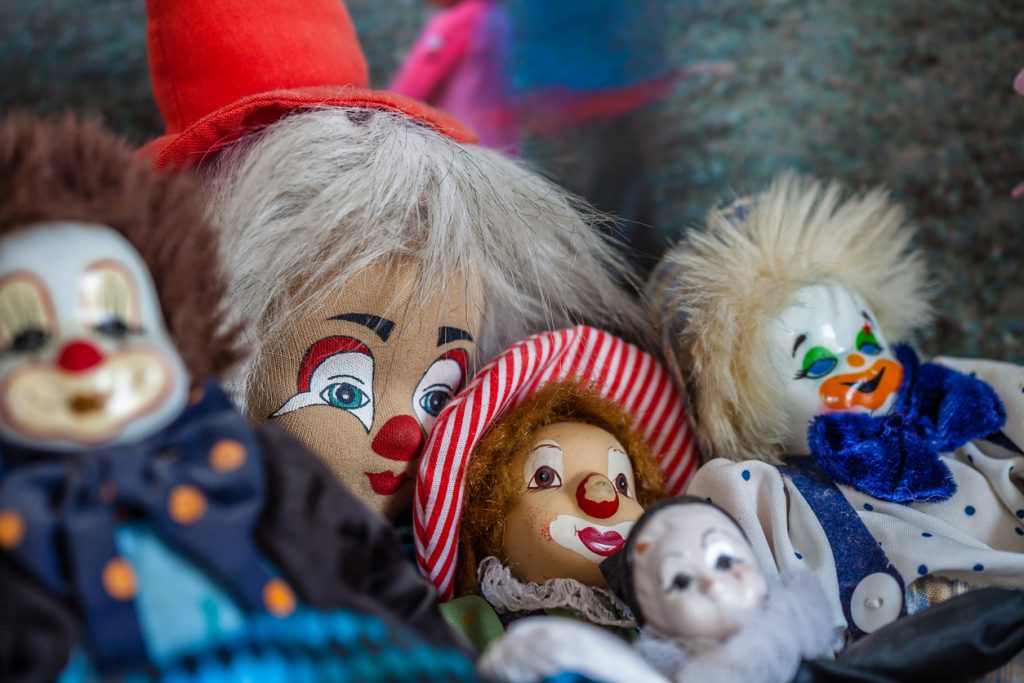 Whatever your feelings about clowns, the "artform" has managed to stay around for a large chunk of American history. The effect that clowns have on people, good or bad, does not seem to be going anywhere anytime soon, so why not have a "clown motel"? Home to hundreds of clown-themed memorabilia pieces ranging from paintings and figurines to stuffed animals and even life-sized clown dolls, the Clown Motel of Tonopah, Nevada is a coulrophobic person's nightmare. To add even more scare to the pot, just next door to the motel, lies an abandoned cemetery that is the focus of multiple "haunting tales".
Lonnie Hammargren's House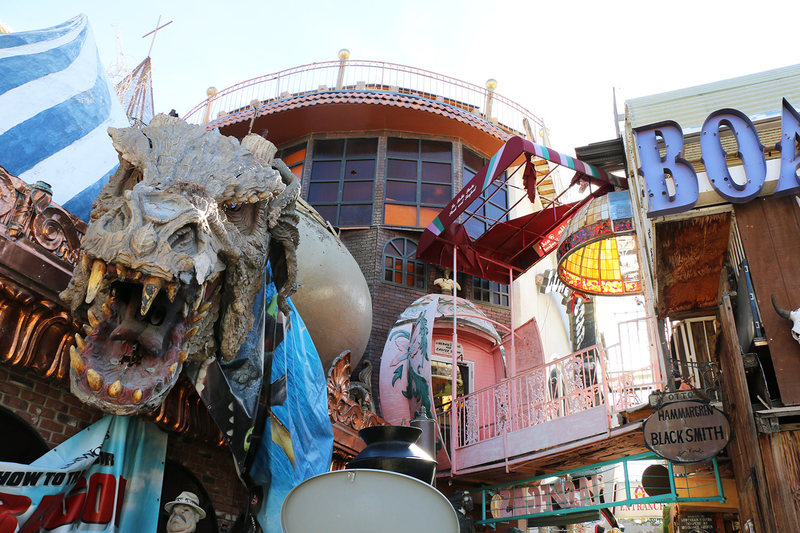 A "memorabilia enthusiast" to say the very least, Lonnie Hammargren is a former lieutenant governor, neurosurgeon and current local legend in Las Vegas. Every year on Nevada Day (the anniversary of the day Nevada became a state) Lonnie allows visitors to explore his museum-esq home. Throughout the years, Lonnie Hammargren has managed to collect and maintain countless unique pieces for display from all over. Though most of his collection has been acquired via donations, Hammargren has spent in excess of $10 million dollars of his own money adding to and upkeeping his collection. If you have the opportunity to make it to the Hammargren household on Nevada day, you can expect to see things like displays from failed casinos, celebrity memorabilia from people like Elvis and Nixon, life-sized animal statues and even an animatronic tiger to name a few.
Republic of Molossia
Located near Dayton, Nevada, the Republic of Molossia is a small country that is fully outside of the jurisdiction of the United States. Lead by President Kevin Baugh, the citizens of the Republic of Molossia (Baugh's family members) have and use their country's unique currency and does not pay US taxes. By contacting President Baugh you can arrange a personal tour of the Republic of Molossia in his nation's military uniform and receive an official passport stamp should you bring your passport on your trip.