It seems like Christmas starts earlier and earlier each year. Whether you like to deck the halls after Halloween or if you refuse to set up a tree until the post-Thanksgiving traditions commence, celebrating the Christmas holiday tends to spread cheer throughout the homes and hearts of RVers near and far.
When you're hosting Christmas at an RV campsite, there isn't always room for the traditional, bulky Christmas decorations. After all, where would you store them year-round, and how would you secure your decor while you're on the road? While it may not seem practical to celebrate Christmas as you know it, there is a multitude of creative ways that you can spread cheer during the "most wonderful time of the year."
A Merry RV Christmas

Find the Perfect Campground
If you can't travel to spend the holidays with loved ones this year, consider visiting a faraway land that is temperate throughout the year. For some, that means Florida, or maybe even California. What these balmy destinations lack in frigid temps, they make up for in the Christmas spirit. Don't believe us? Stop by Christmas, Florida — where the Christmas tree stays decorated all-year-round.
If you're looking to have more of a white Christmas, there is sure to be a snowy campground nearby. Consider visiting some of your favorite northern campgrounds, and be sure to check the schedule — they may even have park-sponsored holiday festivities.
Deck the Halls & Trim the Tree
But no matter where you end up, you don't need to leave the comfort of your RV to really feel the Christmas Spirit.
Utilize your surroundings — especially if you're surrounded by nature. Whether you are roasting chestnuts on an open fire, chopping down your own Christmas tree, or making your own wreath and garland using materials you gathered from the woods, bringing natural elements into your decor will lend your Christmas festivities a more authentic feel while also cutting down on waste, and giving your RV that festive pine smell.
You might also consider crafting DIY holiday decor like paper snowflakes and popcorn garland. Simply check your cupboards for old, unused items. With a little creativity, you can create a winter wonderland.
Of course, purchasing decorations for your RV is also a great way to celebrate. Perhaps you'd prefer a small table-top tree and a few string lights. You may even have a nativity scene that you have to put on display. Either way, the true key here is making sure your decor is secure.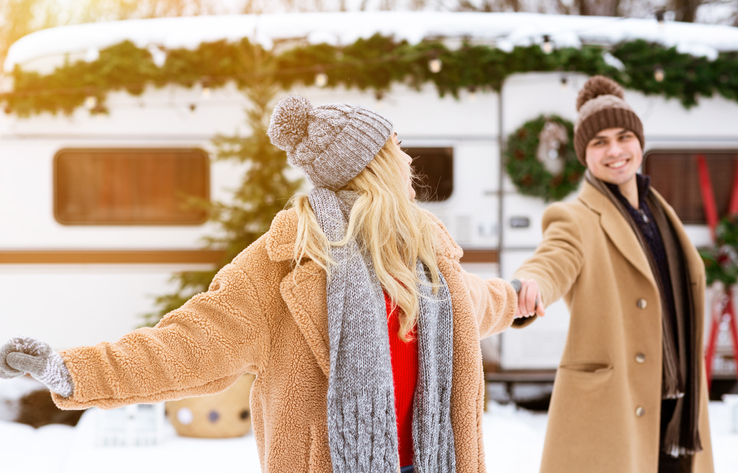 Share Movies and Songs
Art has a special way of touching our emotions and eliciting happy memories. Perhaps it's a song that brings the Christmas spirit to life. If that's the case, pull out your favorite Christmas CD or plug in your favorite playlist. Don't forget to sing along. If you're more for live music, pull together a group of carolers and let them spread joy through song.
And of course, you can't miss your must-see Christmas flicks. Whether you opt for the Hallmark movies or if Elf is a must, Christmas films are the perfect way to kickstart your Christmas celebration.
Don't Forget the Gifts
You don't need to buy a host of gifts, because let's be honest, where would they fit? But sharing gifts is a thoughtful way to show someone how much you care for them on Christmas Day. Whether you opt for small, thoughtful gifts that can act as a stocking stuffer, or you purchase one larger gift that can benefit your RV lifestyle, sharing gifts with someone you love makes for a merry morning.
If you feel that you and yours have enough gifts to share, consider volunteering, or donating gifts to those in need. There are so many ways to spread cheer, especially during this time of year.
Cook Your Favorites and Don't Skip the Sweets
When hosting an event in your RV, cooking can be a struggle. You probably don't have the fridge space to preserve cold ingredients, and even once you cook the food, where will you store the leftovers? Cooking in an RV can be a challenge all-year around, but that's especially true when you start thinking about cooking a Christmas feast.
At RVUSA, we recommend sticking with your Christmas favorites. Perhaps for you, it's the ham, and for your partner, it's the potatoes. Or, maybe you're just here for the eggnog and sweet treats. The main thing is, sticking with smaller portions can help you ensure that you still get to indulge in your holiday favorites without spending countless hours preparing food that will ultimately get thrown out.
At the end of the day, if you don't feel like cooking, look for a restaurant or take-out option where you can still experience your favorite holiday flavors without overflowing your kitchen.

RV Christmas: Make Your Own Traditions
All of the suggestions above are just that — suggestions. In this unprecedented time, you're in control of your holidays. You can literally travel anywhere you care to drive yourself to, and you have the power to make your own holiday traditions. Figure out what traditions are special and which traditions mean the most to you — then, make it happen. You might even end up finding your new favorite Christmas tradition.
Make RV Service a Christmas Tradition
Before you hit the road, especially before a long trip or if you're heading into sub-zero temps, it's a smart move to service your RV. In fact, we think you should add it to your list of Christmas traditions.
If perhaps, you still haven't found the perfect RV for your Christmas get-away, it's not too late. We offer a large inventory of new and pre-owned RVs and trailers to help get you to your next destination. We also offer rental RVs across the United States to help you host the perfect campground Christmas.