With the summer months coming up, this means no school, well-deserved vacations, steamy, sunny weather, and music festivals. The list is endless. Though school isn't in session, it never hurts to continue absorbing history every chance you get. And if you stay at Jekyll Island in Georgia, you'll enjoy a fun-filled, exciting and educational getaway.
A Little Bit of History…
The island's earliest inhabitants were Native Americans that traveled there to fish and hunt. French explorers arrived in 1562 and estimated that tens of thousands of Native Americans were living on the coast of Georgia. It was English explorers that permanently claimed the territory in 1733 by General James Oglethorpe. Oglethorpe named the island after Sir Joseph Jekyll, a close companion from England. It was during the late 1800s that the island made a name for itself, becoming a hunting club for families with last names like Vanderbilt, Baker and Rockefeller. At this time it was private, but it's now part of the Jekyll Island Club National Historic Landmark District, which is one of biggest preservation projects in the area. The Governor and the Georgia state legislature made Jekyll Island a state park in 1947. Now, the Jekyll Island Authority maintains the island for Georgia and its visitors.
They are so many things to do on the island that you may just have to visit more than once to mark everything off the list! Extensive archives, museums, tours, historic rental and sites and even a turtle center are naming only a few.
Where To Stay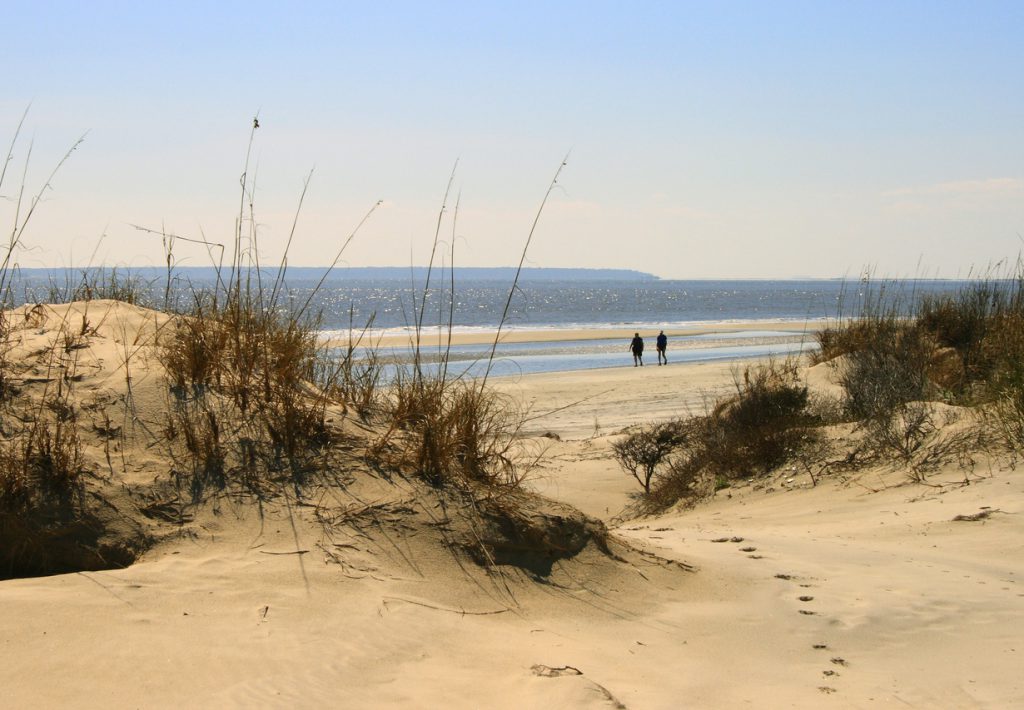 Let's first talk about where tourists to the island like to stay for their visit. They have all the options possible, like hotels, resorts, and, of course, campgrounds. Find a place to park your RV under the Spanish moss and be prepared for the vacation of a lifetime. The 18-acre campgrounds are walking distance to the water, Driftwood Beach, have 158 campsites, electricity, Wi-Fi, a General Store, on-site laundry, a pavilion and a bird sanctuary. You can even snag some beachside camping at the campground. Jekyll Island is pet friendly so bring your furry friends along with you!
The cost to stay is $41 per day for an RV and $26 for a primitive tent. Best to reserve your spot ASAP, though. They fill up fast!
If camping isn't your thing, Jekyll Island has several other options for the indoor-loving visitors. Check out the Jekyll Island Club Resort that offers a Victorian charm with a modern feel in the middle of the Historic District. Here, you'll have immediate access to bars, restaurants, gift shops, historic tours and so much more. The island also has chain hotels available for people not looking to spend a lot of time in the room.
If you plan to stay for an extended amount of time, Jekyll Island also has rental options available.
What To Do
Once you're settled in and have had time to hang out at the beach, take some time to learn about Jekyll Island's rich history. Check out the Jekyll Island Museum to enjoy historic tours, and their seasonal programming offer a more in-depth look at the island's history. The newly renovated museum will draw you in even closer with visuals while the tale of the island is played on audio. The Mosaic will soon feature more artifacts and an outdoor classroom.
The Horton House is a unique building on the island that is made from tabby, a combination of melted down oyster shells mixed with water, sand and mud. William Horton was given the island by the colony of Georgia in 1735, but his first home was destroyed by a Spanish attack. He built his second home with the help of servants in 1743 and it still stands today. The house is one of the oldest tabby houses in Georgia and has a place on the National Register of Historic Places.
Take a trip to the St. Andrew's Picnic Area were the Wanderer Memorial is held. On November 28, 1858, about 409 smuggled men, women and children crossed the ocean from Africa and were brought to shore on Jekyll Island. This is one of the last recorded ships to capture enslaved Africans over to America. The memorial honors the survivors of the trip.
Besides the major tourist destinations, Jekyll Island is home to many other little known landscapes, historic sites and structures. The Avenue of Palms, Brick Outlines, Green Posts and the Bricks from Pulitzer College are among these locations that you might not be expecting to find.
A Turtle Crawl?
It's not what you might be thinking! Every year since 2003, Jekyll Island has hosted the Turtle Crawl, marathon races (for humans) that benefit the Georgia Sea Turtle Center. The island's picture perfect ocean views and maritime forest are places for two triathlons- the International Distance Triathlon and the Sprint Distance Triathlon. For 2018, the races will be back once again. There will also be a 10k race to go along with the 5k so the whole family can participate. It's all about fun here at the Turtle Crawl, so no matter what kind of shape you're in, don't be afraid to join and get running for a good cause!
So get out there and make those memories and let Jekyll Island help you along the way. They have new and exciting adventures planned and ready for visitors and their permanent population and are always coming up with new ideas. Each trip will never be the same! Check out their website and book a well-deserved vacation today!