How to decorate your RV for Fall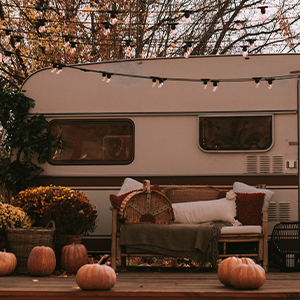 Halloween is now behind us, and November is in full swing. While some people jump straight to blasting the Mariah Carey Christmas music on November 1st, some of us like to let Thanksgiving have its moment too. If you don't skip straight from pumpkin spice to peppermint mocha as soon as the clock strikes midnight on October 31st, this fall RV decorating guide is for you.
Holiday decorating in an RV can be challenging. Space is precious in an RV, especially for those who travel full-time. You don't want to have huge boxes of bulky holiday décor to store after the new year rolls around. At the same time, spending the holidays in your RVs shouldn't prevent you from getting into the holiday spirit! Many RVers opt to spend these special times of year on the road traveling to meet up with family or hanging out at RV parks with holiday events.
One of the easiest ways to store seasonal décor without taking up too much space is to swap out throw pillow covers. Simply purchase a set of plain white
18" throw pillows
and you can easily change the pillow covers to go with the season. We handpicked these orange
buffalo plaid fall pillow covers
with pumpkins, leaves and vintage trucks.
If you prefer something with fall tones that's a little more understated, try these mixed boho pillow covers. The solid rust pillows add the right colors while the black and white designs add some modern flair. We also love these camping themed pillow covers! While they aren't specifically fall themed, everyone loves a fall campfire and the theme gives us all the cozy camping weather vibes.
Sometimes the best way to decorate for fall is adding subtle warm touches. As the weather cools down, you'll want to bring out some blankets anyways, so why not coordinate them with your fall RV decorating? We love this rust-toned
fringe throw blanket
. The waffle pattern in the knit adds some cozy texture and it drapes perfectly over your RV couch or recliner.
If you'd prefer something that's a bit more of a statement piece, try this mustard yellow and burnt orange plaid fringe blanket instead. It's reversible and incorporates several different shades of pumpkin, aspen yellow and grey to create a beautifully woven piece of décor. It will keep you warm on cool fall nights and look great on the couch when you aren't using it as well.
These on-trend
velvet pumpkins
come in jewel tones and will instantly transform your RV for fall festivities. They're small, so they're easy to pack away and store when it's time to hang the mistletoe instead. Put them in a bowl on the counter, or sprinkle them across your picnic table for a quick Thanksgiving tablescape. They also make an adorable garland if you tie a few together using fishing wire or yarn. These are a great way to add a little pumpkin spice to your fall RV decorating without being too over the top.
Don't forget the kitchen in your fall RV decorating! Tea towels are an easy way to make this area feel festive as well. Mud Pie makes adorable French knot tea towels with holiday sayings. We love the
"Happy Thanksgiving" towels
with pumpkins and the
"Welcome Fall" towels
with a colorful fall tree. The embroidery gives them an upscale farmhouse look without overdoing it.
If you want something with a bit more playful vibe, try these quirky Thanksgiving tea towels. They come with sayings like "Eat, drink and cranberry" and "We'll worry about the Christmas tree later. Today is about the poul-tree." The pumpkin pie towel reads "You want a piece of me?" It's a great touch of personality in your RV for the holidays.
These
acorn string lights
are the perfect precursor for Christmas lights! They are battery powered so they won't drain your RV battery. You can also dim them and control them with a remote. Hang them outside from your awning or indoors draped above your living area to bring the holiday warmth inside. You can even transition them to Christmas décor by sprinkling them through evergreen garland above your RV fireplace.
If you're RVing with kids, they'll have a blast putting up these
Thanksgiving window clings
. This pack of 6 double-sided sheets includes playful turkeys, plump pumpkins, festive leaves and sayings like "fall" and "thankful." Your RV park neighbors will know your RV home is full of festive spirit when they spot these in your window at the campground!
Fall-themed banners are a great way to decorate your RV for fall as well.
Pennant bunting garland
is on-trend in the party world, and this fall colored banner is perfect for your Thanksgiving celebrations. The brown, yellow, orange and red pennants are minimalistic yet festive and fold up for easy storage. They're cute as both indoor and outdoor decorations.
If you prefer a farmhouse look, try this Thanksgiving burlap banner. It comes with three pieces that read "thankful" and "happy fall" along with another one with pumpkins, acorns and fall leaves. We recommend draping these over your dining table window and couch for a cozy reminder of the reason for the season.
These
turkey lawn stakes
are perfect for those who are hunkering down in an RV park for the Thanksgiving holiday. Decorate your RV for fall by placing these in the ground outside your RV patio. They are the perfect final touch to complete your awning or RV front door setup.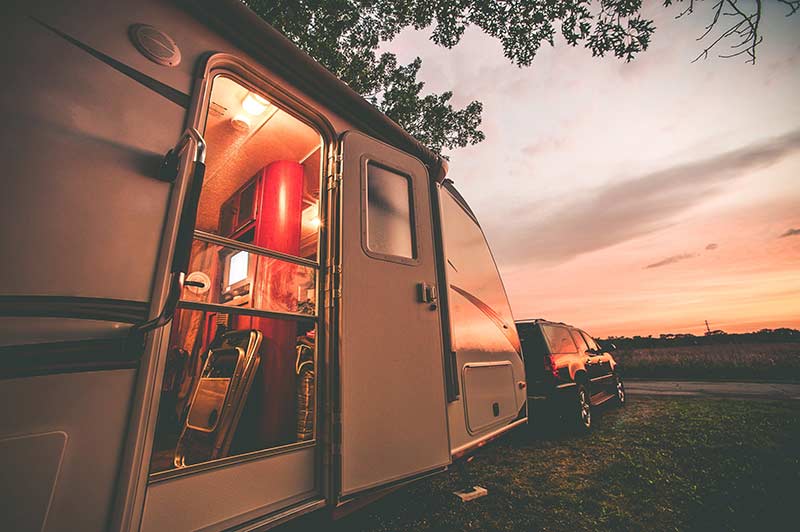 Fall RV Decorating Inspiration
With this collection of ways to decorate your RV for fall, your rig will look festive in no time.  Now that you've got the fall RV decorating down, how about the food? Check out these recipes for Thanksgiving in the RV and recipes for Thanksgiving over the campfire. The pumpkin pie will taste even sweeter with the right fall ambiance in your RV.
When it's time to turn the page from cranberry to candy canes, we've have RV holiday décor for that as well. Check out our RV essentials shop to find everything you need for your RV trips, from décor to kitchen essentials, hiking gear and more!
Shop all the products from this article:
This post contains affiliate links. RVUSA.com will receive a small commission at no cost to you if you make a purchase using these links. We appreciate your support!
Ready to find an RV for your adventures?