Attention all! We are taking camping to a whole new level today. Check out the hybrid travel trailer/boat combo from Sealander. This amazing little trailer doubles as a boat and travel trailer.
The combo trailer from Sealander is a nifty and versatile little thing. The trailer is light enough to be towed by a mid-sized car, features a double bed, a sink, and a moderate amount of storage space. While not ideal for big families or long camping trips, the Sealander is perfect for those 1 to 2 night stays by the lake or river. The roof can be peeled back for star-gazing and the best part, there is no set-up!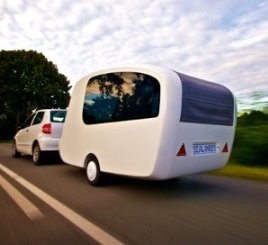 The next day,take it down to the river and spend the day on the water. The bed converts to bench seats, you can install a table in the middle, and an electric motor to get it going. Some customizable features on the Sealander are a toilet, a cooler, a sound system, single flame gas cooker, cooking module, tap water pump, fresh water tank, waste water tank, and so on.
The Sealander meets all the required safety standards for a land and a water vehicle world-wide. In addition, it's designed to be legal on almost all inland waterways in the U.S. with no boating license needed. The Sealander has unlimited possibilities!
RVUSA continues to help you find the RV of your dreams! Share your thoughts or experiences with us in the comment section below.