With the summer travel season ahead and parks starting to open up again, many of us are dreaming about future RVing vacations. You'd be hard-pressed to find an RVer who doesn't love a good visit to a national park, so this trek through multiple national parks in Arizona and southern Utah is the perfect inspiration for the outdoorsy traveler. On this road trip, you'll knock out 3 parks: Bryce Canyon, Zion, and Grand Canyon. We'll show you where to stay and what to see in each one for a truly unforgettable experience.
Where to start
Depending on which direction you're coming from, there are a few different ways you could begin this trip. If you're north of the area, you could travel south on I-15 through Utah and begin at Bryce Canyon National Park. If you're coming from the east or west, you could take I-40 into Flagstaff and travel north from there. However, we recommend beginning your road trip in Phoenix. If you're renting an RV, it's the closest big city to fly into and pick up your rig. You can search rentals in the Phoenix area on RVUSA. Even if you're traveling in your own rig, there's lots to see and do between Phoenix and southern Utah. We'll use Phoenix as a home base for the purposes of this guide, but you can customize the road trip however works best for you.
Phoenix, AZ to Page, AZ
Before you venture into the national parks, there are a wealth of sights to see and trails to hike between Phoenix and northern Arizona. The national parks you'll be visiting are pretty breathtaking, so we recommend hitting a few of these stops on your way so as not to be underwhelmed by them once you've witnessed the majesty of places like Zion and the Grand Canyon. That's not to say these stops aren't worth making – they most definitely are! They're the perfect appetizers to whet your appetite for the incredible views at the national parks.
What to see
Superstition Mountains – start things off outside of Phoenix with a challenging hike in this legendary mountain range. The Flatiron hike will take you 6 miles out and back through rock scrambles and steep climbs to an incredible view of the valley.
Devil's Bridge in Sedona – as you drive north out of Phoenix, you'll hop on I-17. This short detour off the interstate takes you to one of the most photographed hikes in Arizona.
Downtown Flagstaff – there are plenty of cute restaurants and shops in this ski resort town. Most people think of Arizona as all desert, but you'll be wow'd as you climb in elevation and the scenery changes from cacti to alpine trees.
Horseshoe Bend – you've undoubtedly seen a photo of the Colorado River snaking around a sharp bend from high atop the cliffs above. That part of the river winds through Page, Arizona. It's a small, unassuming town, but has a few popular sights to see. You'll have to pay a fee to park at this landmark and take your photos.
Antelope Canyon – this spot in Page is so popularly photographed that it's likely been on a screensaver you've had at some point! Carved by flash floods, this slot canyon has beautifully lined walls that look like art. It's on Navajo land, so you'll have to pay a guide and join a tour to either the upper or lower canyons. The most impressive photos from your road trip will likely be taken here.
Where to stay
Boondock – there's a wealth of BLM land in northern Arizona. As you drive, you'll see plenty of other RVers who had the same idea and want to take in the starry desert skies uninterrupted. You'll be on the front end of your trip, so you should have plenty of room in your tanks for a little time off the grid.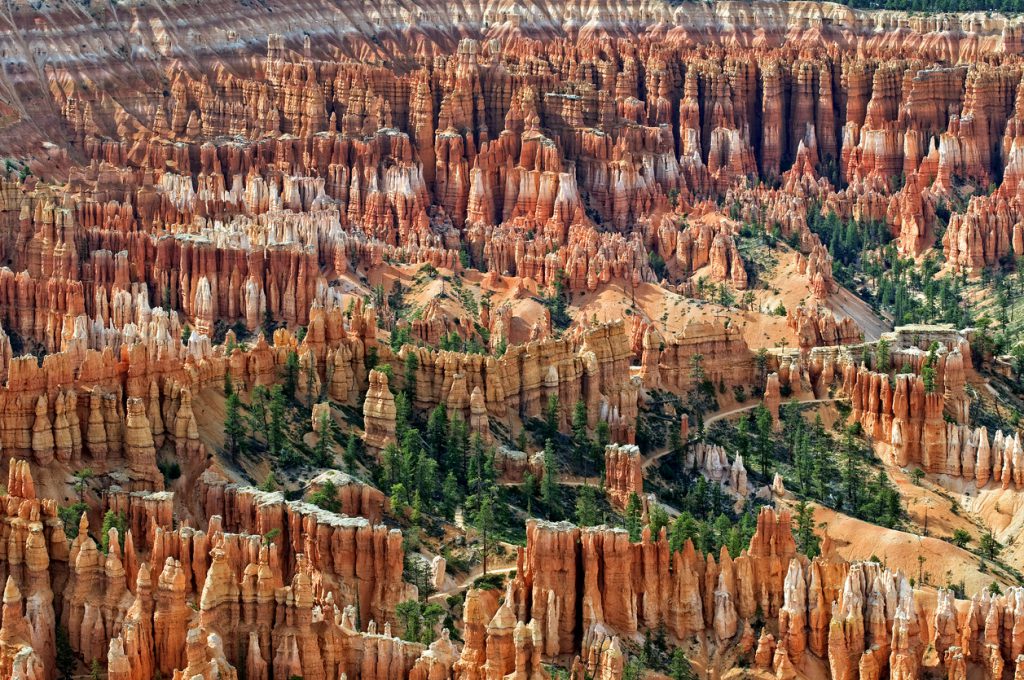 Bryce Canyon National Park
The distinct orange rock spires you'll find here are synonymous with Bryce Canyon. They're called "hoodoos" and there's no place in the world that has more of them in one spot than Bryce. It's truly unlike anything you've ever seen. You should be able to see the park in a day and spend a little more time at your next stop, but it's one you definitely will want to mark off your list. It's especially beautiful in winter and early spring when there's still snow accumulation on the bright orange spires.
What to see
Sunset or Sunrise Point – if you're looking for a quick view rather than a hike, make a stop at either of these overlooks of Bryce's amphitheater.
Thor's Hammer – this is the signature formation in Bryce. It takes a little bit of a hike to find it, but it's worth seeing Bryce's most famous hoodoo.
Wall Street – this is another one of the most famous spots in Bryce. The orange walls narrow to form a tight walkway known as "Wall Street."
Where to stay
Bauers Canyon Ranch RV Park – this spot may seem like it's in the middle of nowhere, but it's perfectly situated between both Bryce and Zion. It has full hookups, pull-through spots, and free wifi.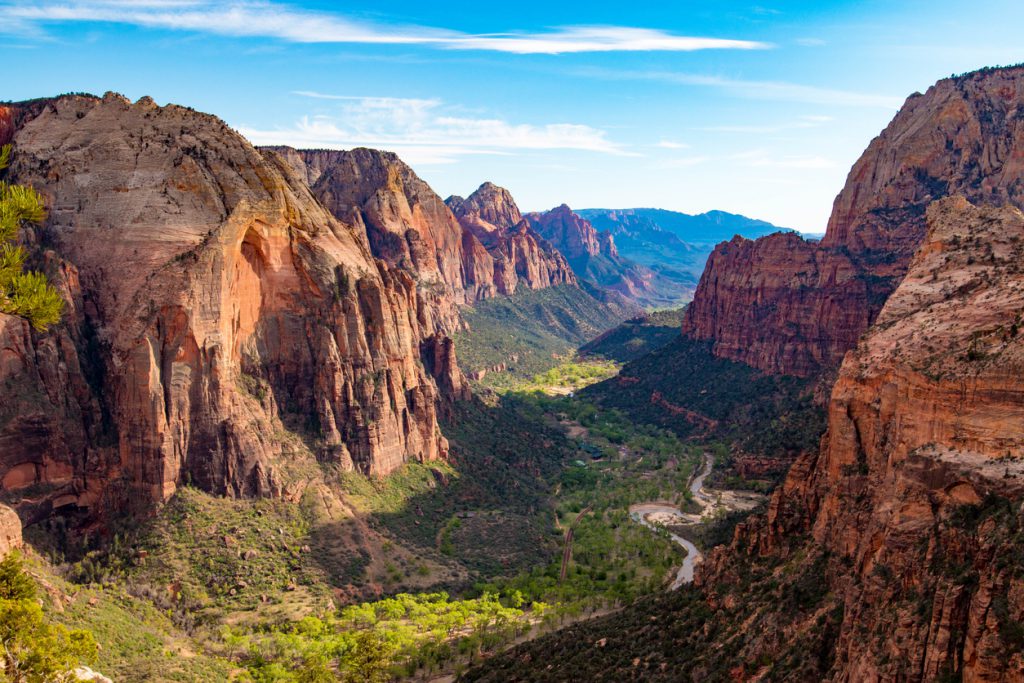 Zion National Park
There's a reason we put all those other stops before Zion National Park. Once you take in the majestic pink and orange formations towering overhead, so many other places pale in comparison. If you're driving in from Bryce, you'll enter the park through the east entrance, which is truly the best way to experience Zion for the first time. This entrance takes you through a long tunnel that you'll need an escort for in an RV, but on the other side is one of the most breathtaking drives you'll ever make. The best part about this park is that your jaw will drop upon just driving in, and then it will drop all over again once you hit the trails. Plan to spend a few days here because there is so much to see and do.
What to see
Angels Landing – if you're physically able to complete this trail, you absolutely must experience it. It's a challenging elevation climb complete with rock scrambles and a heart-pounding portion across the spine of the mountain with stomach-churning drop-offs on each side, but at the top is a truly unforgettable view.
The Narrows – this is one of the most unique hikes you'll ever go on, as it follows the Virgin River through the slot canyons it formed. Meaning: you are literally hiking in the river. If you're going in early spring or late fall, you'll want to rent a bib and water shoes in Springdale so you can navigate the cold waters. Be sure to check the river flow when you visit, because if it gets over a certain point, especially with spring snow melt, they will close the trail.
Canyon Overlook Trail – entering from the east, there's a small trailhead just before the aforementioned tunnel that will take you on a short and easy hike to one of the best views in Zion. This hike is great for beginners and kids who want the sweeping panoramas of Zion without the strain of trails like Angels Landing and the Narrows.
Where to stay
In the park – finding a campsite inside the park requires some planning ahead as it's one of the most-visited parks in the US, but if you can pull it off, it's well worth it. Camping in the shadows of these imposing mountains is a truly unforgettable experience.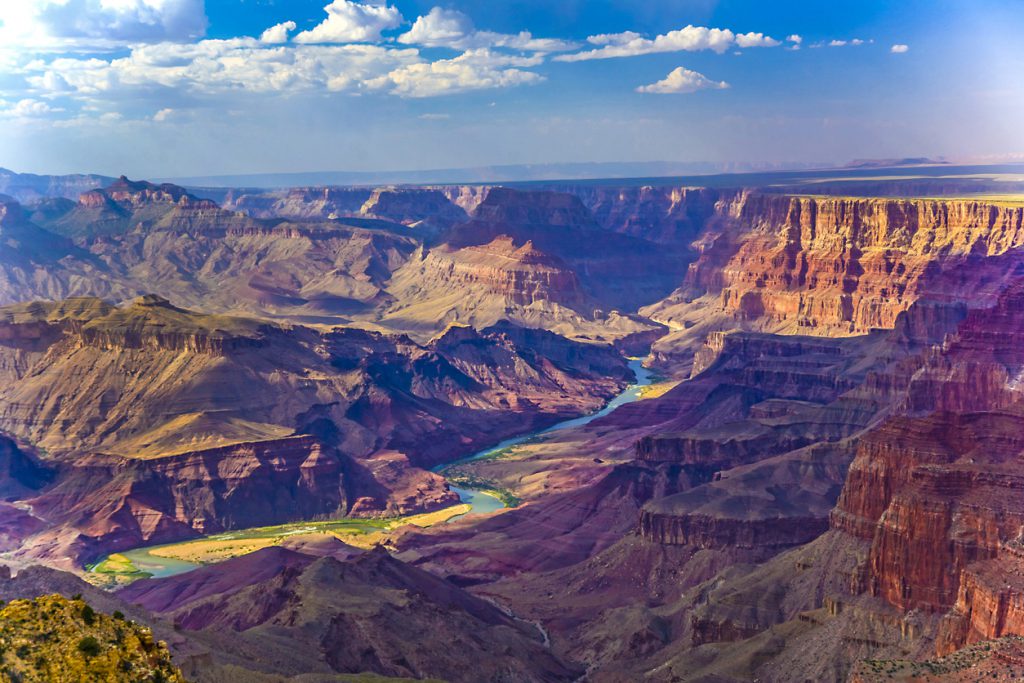 Grand Canyon National Park
On your way back down to Phoenix (or Flagstaff to catch I-40), you'll hang a right in Cameron, AZ to travel west and mark your third national park off the list. By this point, you've probably hiked many miles and are ready for a view that's a bit easier to get to. That's why the Grand Canyon is perfect as the final national park on the list. The South Rim is the one closest to the path you've been taking, and it's the most visited rim for good reason. Take a short walk to the overlooks to soak in the majesty of this natural wonder.
What to see
Bright Angel Trail – if you still haven't had enough hiking, you can hike all the way to the bottom of the canyon on this trail. If you don't want to go all the way, there are markers where you can turn back and make it a shorter hike.
Williams, AZ – on your way south again, pull off the highway into this small town if you want see a quintessential Route 66 stop and find a cute roadside diner.
Where to stay
Trailer Village – this is the only in-park campsite with full hookups, so it's where most people who travel to the Grand Canyon by RV stay. You'll be closer to the action here than you would be finding a spot in the closest town, Tusayan.
Wrapping it up
Once you hit the road again after the Grand Canyon, you can either head back to Phoenix to return your rental, or head back whichever way you came. If you skipped some of the stops along the way on your way north to Bryce, you add a few in on your way back if you still have the energy for it. This triple national park tour is one for the memory books and will leave you with that exhausted yet contented feeling you get after a great road trip. Whenever you're ready to hit the road again, we highly recommend this loop!