Welcome back, RVers. Now that you have an idea of where you might want to go for your perfect Valentine's Day getaway, you might need some tips on how to plan it all out. It's coming up in less than a month, and if you plan to camp out for the holiday, now is the time to start getting it all together. Luckily, you have RVUSA to help you out in executing the ultimate Valentine's Day getaway, with nothing but romance in mind. 
There will be some planning involved, seeing as a romantic getaway includes having comfort in your tent or RV. You can definitely plan out the most perfect weekend, complete with stargazing, long walks and hot chocolate with our tips below!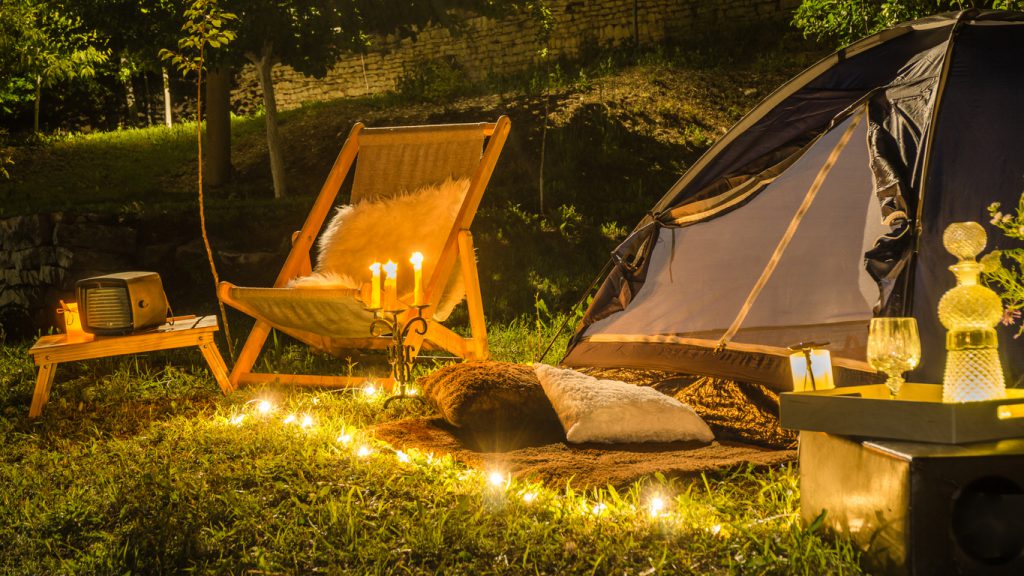 *This post contains affiliate links. Meaning if you make a purchase, this blog may receive a small commission at no extra cost to you* 
Location is the most important thing.
 This weekend is supposed to be, in a sense, superior to your regular camping trips. Those weekends are for hamburgers and hot dogs, beer and campground activities with your friends. For your Valentine's Day weekend, pick a place where your neighbors aren't too close because you'll probably want some privacy. Do your research beforehand and find a spot for your tent or RV that'll give you that seclusion. Check out our favorite locations for a romantic getaway weekend!
Plan the menu ahead of time
. It doesn't have to be incredibly fancy, but it should be significant to your relationship with your partner. Maybe find a way to make their favorite food in a Dutch oven over a campfire, or make it beforehand and simply reheat it. If you both like to cook, bring the ingredients and make dinner together. And don't forget snacks and desserts!
Use this time to bond with your lover
It's so crucial to stay away from electronics this weekend. Turn your phones off, stay away from the television and DVDs and spend quality time with each other. And while you're at it, why not find an activity you've never done before? Rent a small boat and spend the day fishing, find an intermediate or difficult hiking trail to challenge yourself on or maybe even try zip lining. Finding one-on-one activities are the best way to truly spend time with each other. And if you want to keep it classic, end the day with a romantic picnic dinner or take a break with a picnic lunch. 
Okay so maybe you and your S.O. are huge movie buffs. They can be romantic, too! Bring your laptop to play a few movies on if you aren't within reach of WIFI. Cuddle up under lots of fluffy blankets, grab lots of pillows, make some hot chocolate or pour a glass of wine and make some yummy snacks and relax with your partner. Make sure it's a good movie, whether it be one you've already seen or a great romantic comedy or two. And be sure that you stay away from social media once that laptop is open…
Get up early to watch the sun rise
. This one can be really tough on some because your tent or RV can be so cozy, especially when you're snuggled up with someone you love. But, if you can stand it, prepare your coffee the night before so it's one less thing you need to do when you wake up. Then, surprise your S.O. with a fresh cup in the morning and create a comfy spread so you can watch the sunrise together. If you want to take it a step further, row out on a rented boat or a canoe and watch the sun rise over the horizon. 
Be flexible
Unfortunately, plans can change. Weather can sometimes get in the way, maybe something at work came up or a child got sick. Or, maybe everything has gone to plan, but once you start traveling, you end up finding several pit stops along the way. You might even find a place you like better than your initial destination. The point here is to be okay with plans changing, whether you have a say in them or not. It's typically these pit stops and unplanned destinations are the ones that you'll remember most. 
When you're packing up your gear for your camping trip, the easiest way to stay organized and make sure you have everything is to create a list. You can write it on paper, a dry erase board or you can type it, but a list is really crucial here. Here's a list of quite a few ideas, so edit it to whatever fits your needs. 
Several Pillows and blankets

 

Battery powered string lights (to set the mood)

A cooler with your favorite drinks (and champagne)

Cards and maybe some boardgames

 

Ingredients for s'mores

 

A outlet to play a romantic playlist

 

Materials for a campfire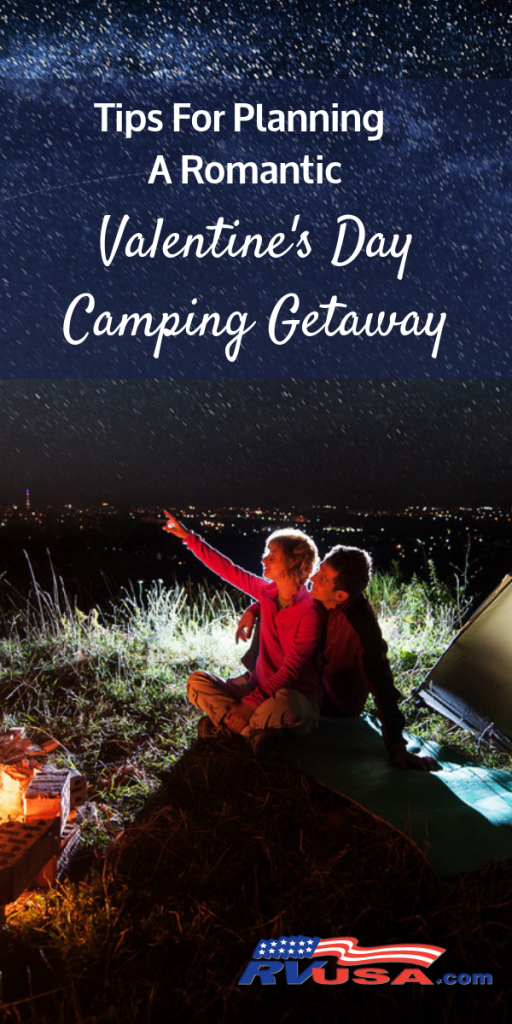 We hope this list of tips helps you out in creating and planning the ultimate Valentine's day getaway. If you have any great ideas of your own, let us know down in the comments. Happy camping!
Don't forget to stay up to date with all of our exciting RV and camping content on Facebook, Twitter and Instagram!