Every week, RVUSA features an RV Dealer in our RV Dealer Spotlight series. This series aims to provide information to searchers about RV Dealers that focus on providing excellent service and create inviting atmospheres for their customers. Each dealer is dedicated to finding you the RV of your Dreams with a wide variety of Fifth Wheels, Travel Trailers, Motorhomes and more!
This week we feature McCants RV located in Woodville, Mississippi! The catch phrase for McCants RV is "If McCants can't do it, no one can!" and they certainly put that slogan into action guaranteeing to beat their competition, stating, "Nobody beats our prices, we sell any like, in stock, and comparably equipped RV for less than the competition…we are not satisfied with being a few hundred less…we plan on saving you thousands." -McCants RV
McCants offers a variety of Fifth Wheels, Travel Trailers, Toy Haulers, Park Models and Tiny Homes from brands like Apex, Chaparral, K-Z, Spree, Work & Play. Their low pressure, knowledgeable sales team will help you find the perfect RV for you and will help guide you through the buying process and find the right RV Financing if need be.
McCants RV has a review rating of 4.9 out of 5 from happy customers who rave about their customer service and great sales team:
"great customer service and easy going atmosphere," – Hollie Brown Lambert
"Very nice people…if you have any issues they work with you to make everything right," – Cristy Johnson
"Hometown, honest people," – Fonda Funderburk
"They will work a deal that no one can touch…good team to walk you through every step…" – Timothy Pourciau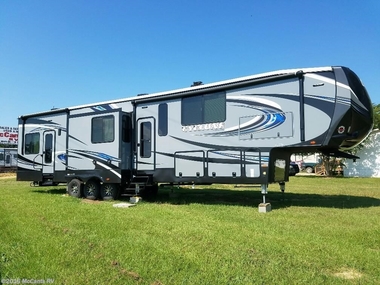 RVUSA is dedicated to connecting you with anything and everything RV!