The reality of how much living van life costs
You've seen the dreamy Instagram photos: a fit, trendy couple sitting on the edge of their camper van bed, overlooking a stunning view out their back door. Van life = goals, right? Based off of these carefully curated photos, it looks like the perfect way to save some money and travel the country. But how much does living van life really cost?
The answer is hard to pin down. Like two neighbors who live next door to each other in different houses with different lifestyles, any two van lifers can lead wildly different lives. One may be living a minimalist life in a used vans they converted themselves, others may be living large in brand new Class B vans they've upgraded to have all the bells and whistles. It also varies based on whether these van campers are treating their time on the road as a vacation or daily life. Some take months or more off of work to travel, but many simply try to live their normal daily lives working and living mobile.
For this reason, the cost of van life is varies greatly from person to person. We've broken common van life costs down into categories and gathered some numbers on the range of monthly costs you may encounter as you set your budget.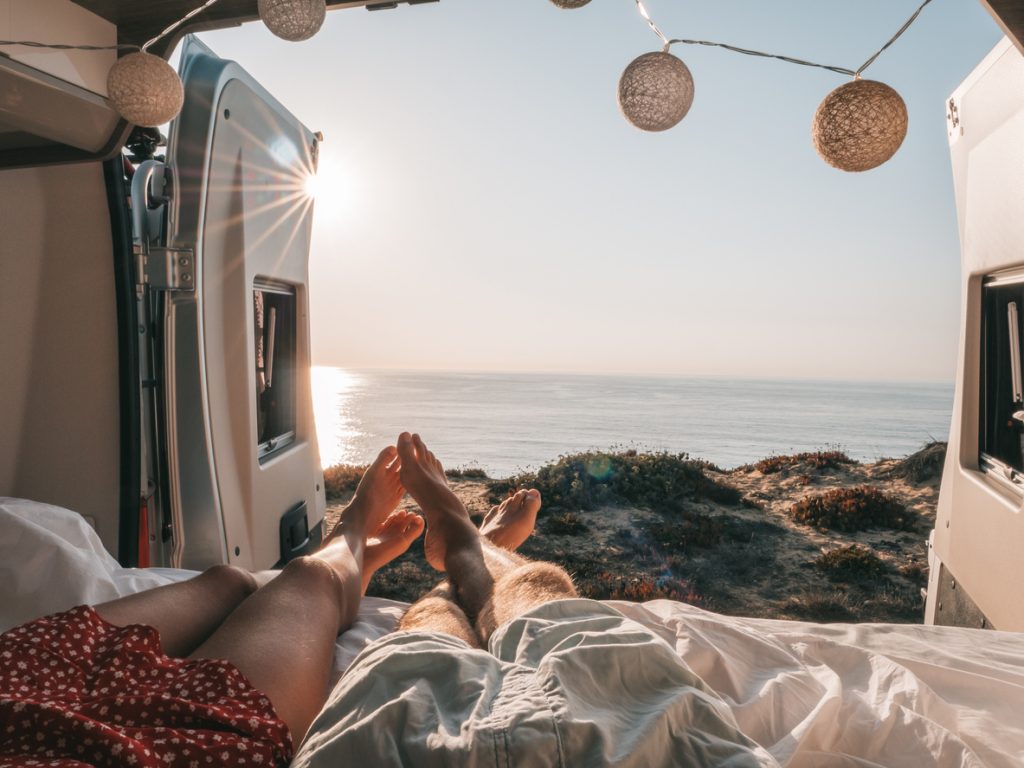 Camper payment: $500-2000/mo
The biggest aspect of van life budgeting is how much your camper will cost. If you're converting a van yourself, you can do this for fairly cheap. In theory, you can purchase a used van and do a bare bones conversion for under $10K. However, you'll want to keep in mind it will take a lot of time and expertise to go this route. You'll also likely have to pay out of pocket for this option rather than finance it.
Another option is to buy a Class B RV that's already outfitted by a manufacturer for living and traveling. These can range from simplistic to posh as well. Some Class B campers cost just as much as larger RVs because of all the features that are included. The Winnebago Revel are Airstream Atlas are great examples of this. They are high end Class B campers that can be upwards of $150K and come with just about every convenience you'll find in a much larger fifth wheel – but in a fraction of the space. These are great for van lifers who want to travel in comfort but without being bogged down by towing or driving a larger RV.
There are plenty more midrange options as well, such as the Thor Motorcoach Tellaro, which is under $100K new. You can also shop used Class B campers to find one that fits your budget. No matter which option you go with, this cost is essentially replacing your car payment in sticks and bricks life.
Accommodations: $0-$900/mo
Let's dive into those monthly expenses. While many praise van life for eliminating the need to pay rent or a house payment, that's not entirely the case. If your monthly payment on your van is like a car payment, your accommodation budget is your rent. You've gotta park your van somewhere! There are two main options for this: boondocking or paid campsites. If you're a budget van lifer, try to stay for free on public land as often as possible. You can use apps like Dyrt and Campendium to find the closest Bureau of Land Management Land, which is always great for boondocking.
Sometimes, you just need a shower and some wifi so a paid campsite makes sense. They also come in handy if your solar isn't charged and you need to connect to a hookup. These sites can be anywhere from $5-$30 a night, so you'll have to choose whether you prefer clamping or being one with nature.
Insurance: $75-300/mo
Van life cost gets a little tricky with this one. Obviously you know insurance is important, but what kind of insurance does your van need? Depending on what your rig is outfitted with, you may be paying RV insurance or car insurance. Some RVers even pay renters insurance to protect what's inside their van. You'll need to do some research on this one to determine what kind of insurance your rig actually needs before you hit the road.
Fuel: $100-300/mo
This one is self explanatory. Your home on wheels obviously needs fuel to get it from one place to the next. Of course, staying in one spot for a longer amount of time instead of driving frequently during the month will save you money on fuel costs. The time of year, gas prices, and fuel mileage of your vehicle will also affect this van life cost.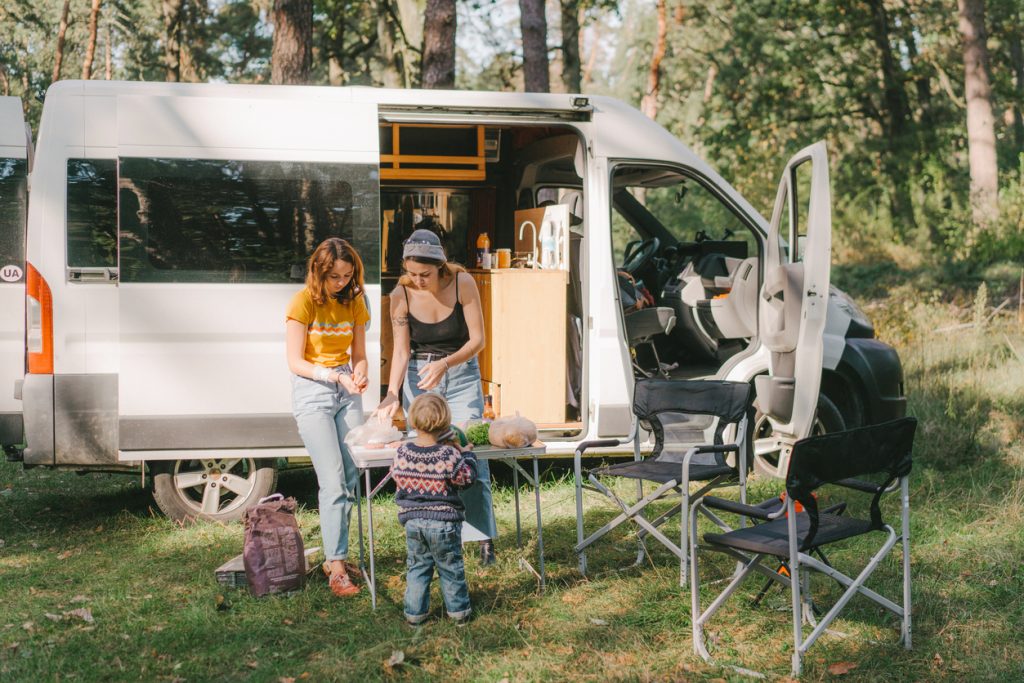 Food: $150-600/mo
Your body needs fuel for all the fun adventures you'll be getting into as well! Just like with sticks and bricks life, this van life cost can differ month to month. Some months you may rely more on groceries, while others you may opt to meet up with friends in cities you're visiting and eat out more. It also depends whether you are traveling alone or with a family, and whether you prefer to eat cheap or splurge on organic groceries or food that accommodates food allergies.
Connectivity: $100-$300/mo
When you're on the road, you want a way to stay connected with loved ones back home. This expense covers your cell phone bill and any other Internet connectivity you'd like to add to your rig. If you're working while you travel, you may want to consider investing in a mobile hot spot, satellite internet or a cellular booster. You can read about your different connectivity options in our blog on how to get high speed internet and stay connected in your RV. When saving money is high priority, you can opt to work at coffee shops or restaurants you're already eating at that offer connectivity.
Adventures: $0-250/mo
Every RVer needs an adventure budget. You didn't pack up and leave everything behind for van life just to never experience life outside your vehicle! Many van lifers invest in annual national parks passes, which cost $80 and pay for themselves by your third national park visit in a year. Other monthly adventure expenses may include things like state park fees, kayak rentals and even guided excursions. You may even need to invest in outdoors gear like rain jackets or hiking boots every now and then. Of course you can keep it free as well and just explore on free local trails.
Miscellaneous: $75-400/mo
This van life cost covers everything we haven't touched on yet and will have the most variance from month to month. You can budget your propane for cooking in this category as well as the oil changes on your rig. You also need to keep in mind that you can't wash laundry in your rig, so you may want to visit a laundromat every now and then. Many van lifers also invest in cheap chain gym memberships to have a place to pop in and shower no matter what part of the country they are in. You'll also want to factor in maintenance costs such as oil changes and seal repairs in addition to setting aside money for any unexpected breakdowns.
Monthly Van Life Cost Grand Total: $1000-$5000/mo
We weren't kidding when we said the prices range greatly depending on your lifestyle and how strictly you want to budget. Will you save money transitioning to the van life? You might. But it could also be more expensive than your sticks and bricks life. If you buy a luxury Class B, stay at paid campsites every night and eat out a lot to experience the flavor of all the places you're traveling, you could end up paying a lot more in van life costs. The best thing to do is to decide your budget ahead of time, and then make van life work according to that budget.
Get started finding the best van for your needs by searching new Class B campers and used Class B campers on RVUSA today!