Being on the road doesn't mean being off your fitness plan, as great trails for hiking abound across the nation. Keep your new year's resolution to get fit with these great hikes.  From beaches to mountains and everything in between, resolve to get fit for the New Year.
Winter Wonderlands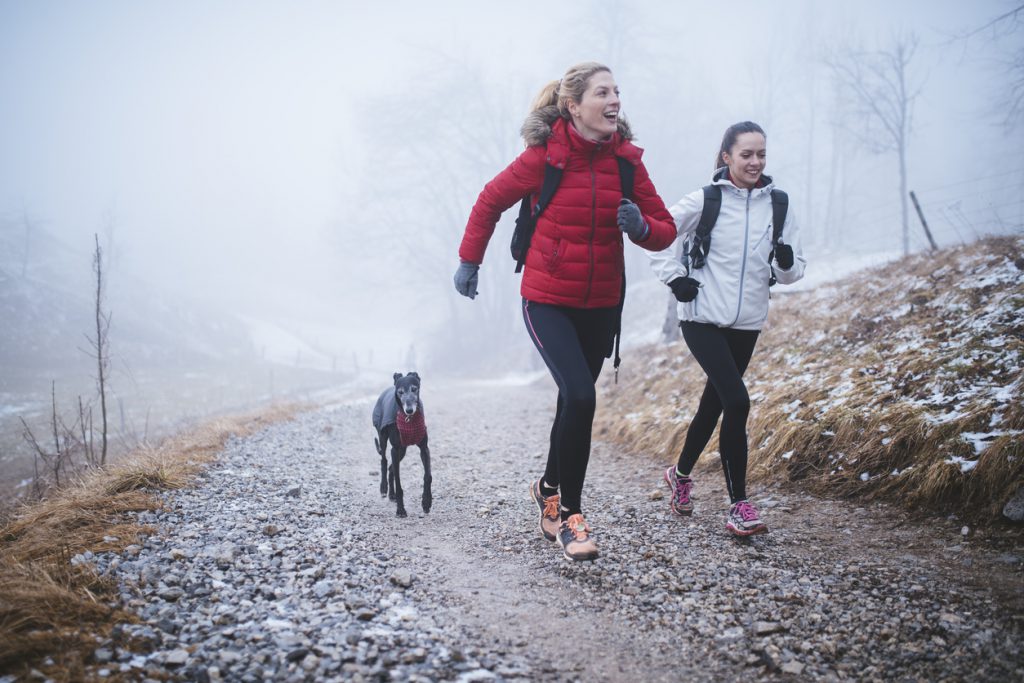 Take advantage of the wonderous snow-blanketed scenery and burn some serious calories with snowshoe hikes in iconic national parks.  According to Snowshoe Magazine, snowshoeing is the fastest growing winter sport in the world.
Rocky Mountain National Park
Travel to the Rocky Mountain National Park for some spectacular vistas and breath-taking winter hikes. Rachel Balduzzi, Education Director for the Rocky Mountain Conservancy, suggest starting with one of the park's hidden gems, Wild Basin to Hidden Falls in the southern part of the park. The 4-mile out-and-back trek is easily accessible and offers great opportunities for wildlife spotting. The hike is one of the classes offered by the Rocky Mountain Conservancy to discover hidden gems in the park. The class is offered most Saturdays throughout the winter.
Grand Tetons National Park
Visit Iconic Grand Tetons National Park for some serious exercise and spell-binding scenery.  From late December through mid-March, park rangers offer guided snowshoe hikes Tuesday, Thursday and Saturday.  Hikes may take place in the shadows of the looming Tetons or in sheltered wooded areas.  Along with park ranger offerings, several outfitters are licensed to guide snowshoeing treks through the park.
Hike the Nation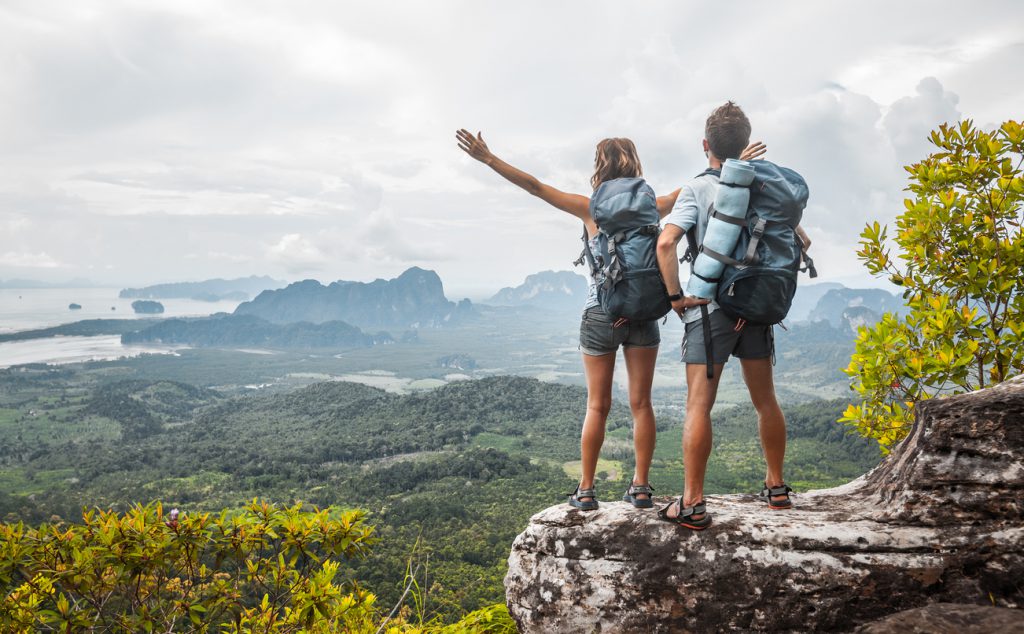 Fantastic trails that offer vital fitness and scenic beauty stretch across America.  Each is accessible from parks and recreation areas with ample choices for RV stays.  Keep your resolutions and get fit with leisurely short hikes suitable for every level, or take on the challenge of a multi-day trek on an iconic American route.
Breakneck Ridge Trail
Situated close to New York City in the Hudson Valley, Breakneck Ridge Trail is regularly voted one of the best hiking trails in the country.  Not for the faint of heart, this steep trail offers a calorie-busting 5.5 miles of rock climbs and rugged uphill to spectacular views of the Hudson Valley.
Pike Peak State Park
For a trek less strenuous, Pike's Peak State Park in Iowa offers a popular hike to Bridal Veil falls that is a comfortable half mile with walking paths and wooden walkways making parts of it fully accessible. Bridal Veil Trail is popular with tourists that want to see the pretty falls. There are several scenic overlook areas as well as an effigy mound in the shape of a bear. Pikes Peak State Park include a mix of other trails ranging from a quarter mile to nearly 12 miles, many feature views of the Mississippi River and Native American burial mounds. The park includes a popular campground and many accessible features, making it a great destination for everyone.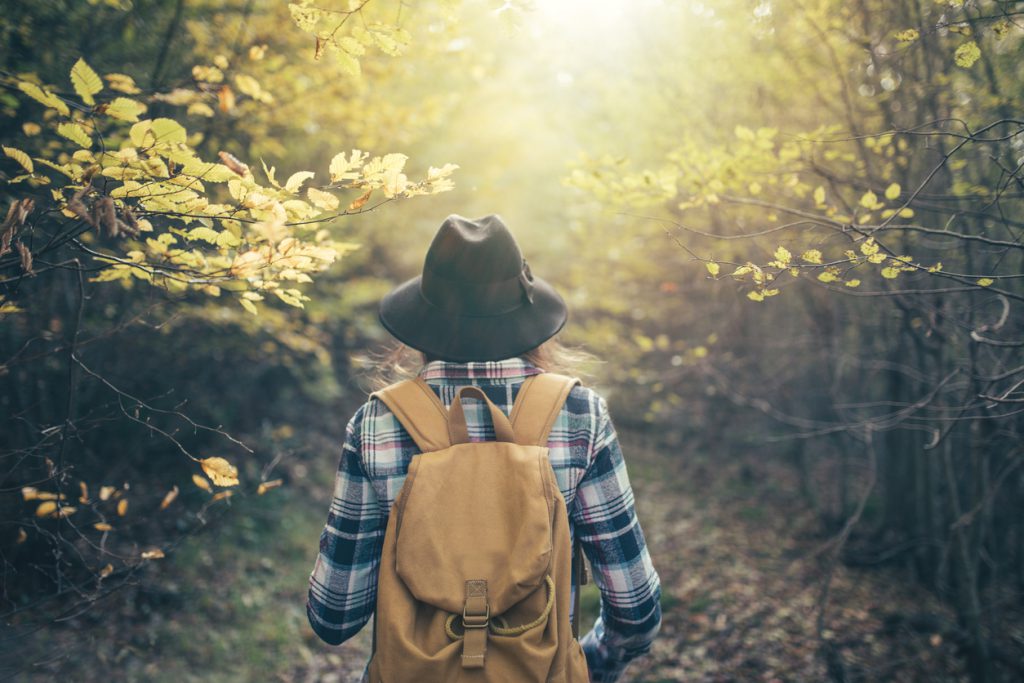 Canyonlands National Park Hiking Trails
Get your heart rate up at Utah's Canyonlands National Park. The park has hundreds of miles of hiking trails suitable for short treks and day hikes as well as longer backpacking trips. Canyonlands' trails range from easy to moderate and long.  Among the best long trails include Alcove Spring, Lathrop, Murphy Loop, and the Gooseberry Trails, while Island in the Sky and The Needles provide opportunities for short hikes.
Colorado Springs Garden of the Gods
Fifteen miles of trails snake through the Colorado Springs Garden of the Gods park. Ideal for those beginning their hiking fitness program, the park features shorter trails with small elevation gains while still offering spectacular views and time among the unique rock formations. According to the National Park Service, some of the best trails include the Siamese Twins Trail, which offers great views of Pikes Peak, and the Scotsman/Buckskin Charlie Trail, which loops through the park and will allow you to enjoy the distance views of the Central Garden formations.
The Appalachian Trail
The Grand Daddy of them all, the 2181-mile-long of the Appalachian Trail is the most iconic hiking experience in the US. Completed in 1937, the longest foot-traffic-only trail in the world, extends between Springer Mountain in Georgia and Mount Katahdin in Maine. Hikers can expect vast expanses of wilderness, with thousands of species of plants and animals along the way. Some of the most popular sections of the trail include The Pinnacle, Sunfish Pond, Mount Mohican, Springer Mountain, and Crampton Gap.  Tackle short spans of the trail or set a lofty fitness goal and train for an unforgettable six-month, 14-state journey.
Lowlands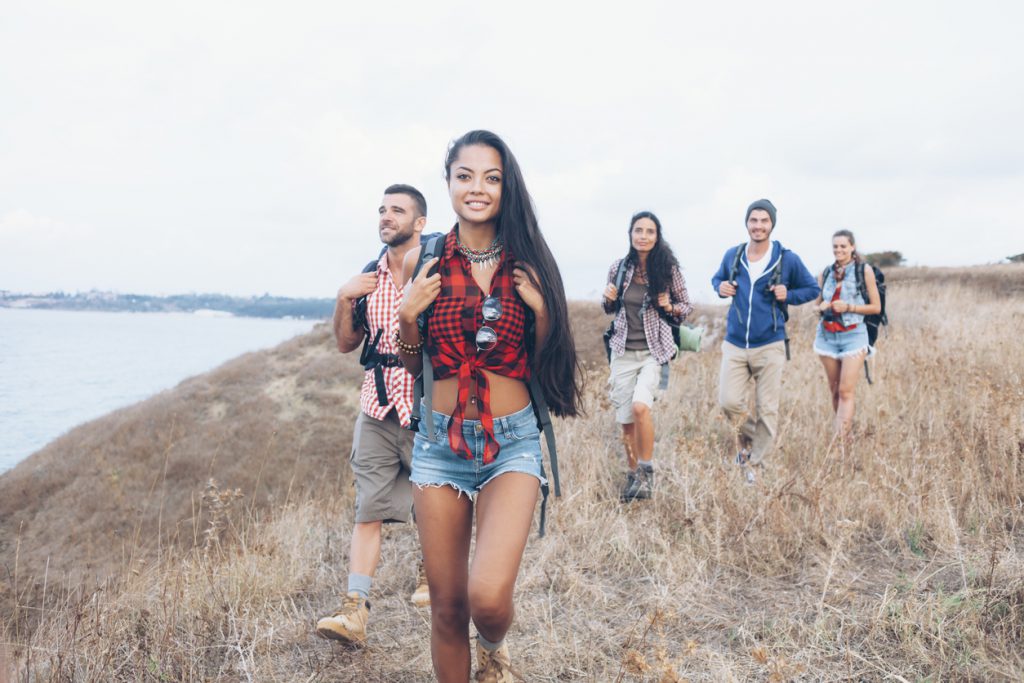 If mountains and canyons are too rugged, too cold, or too challenging, resolve to get fit at the beach.
Edisto Beach State Park, S.C.
Just an hour from Charleston, S.C., Edisto Beach State Park offers beautiful campgrounds and the state's longest system of handicapped friendly hiking and biking trails. Hike among palmettos, pristine marshlands, rivers, and tidal basins.  With most trails under a mile, Edisto Beach is the perfect place to start hiking for fitness.
Key Biscayne, Florida
Snowbirds will find well-maintained hiking trails to fulfill a fitness resolution on Key Biscayne, Miami's barrier island.  Unlike the mainland, Key Biscayne has an abundance of natural trails and parks to kick a resolution into gear – made all the easier by the distraction of beautiful ocean-front views. Start your fitness journey with the 1.5-mile Cape Florida State Park nature trail loop. The trail bisects the natural areas of the park between the lighthouse and marina and features views of Stiltsville in Biscayne Bay.
Join Us
As always, come back every day on the RVUSA blog for the RV Find of the Week on Monday, Travel Destination Tuesday, Featured RV Dealer on Wednesday, Throwback Thursday, and RV Tips and Tricks on Friday. Leave us a message below if you have any thoughts, memories or comments. We'd love to hear from you! If you'd like to receive our daily blog posts directly in your inbox, click here to join our free email list.